Thank You! 
You are in & your
FREE Sourdough Starter Cheat Sheet is on its way to your email!
AD ON

The Easy Sourdough Starter Workbook! $7
Special Bonus!  7 Ways to Fix Your Sourdough Starter Workbook valued at $17 absolutely FREE today only!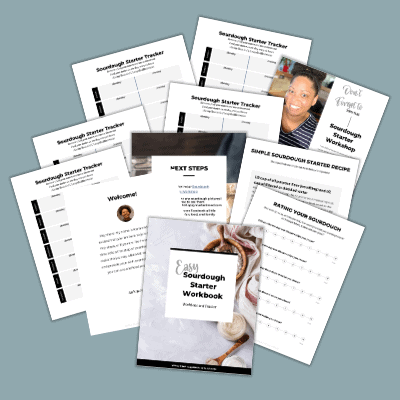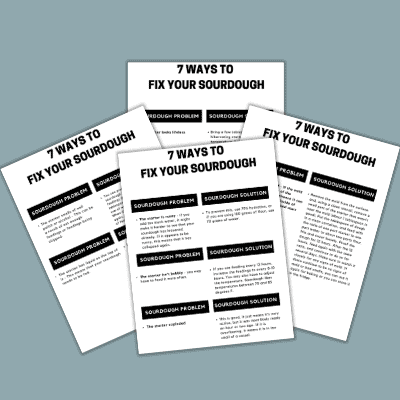 Sourdough Starter Workbook
Learn how to make sourdough that is easy and lower maintenance
Without feeling like you have to watch it 24/7
Making a good sourdough is harder than raising kids!

Ok, not really.
But there were days I felt like I had a newborn all over again. The feedings, the changing, the not knowing why it was fussy. 
But I learned. I learned why and how to get past all of the early stages without all of the struggle and failure. 
Starter: Getting your starter going is one of the hardest parts of sourdough making. You will exact recipe and how to measure and what tools to use. 
Maintenance: This is where it can get tricky. So you will learn ways that you can maintain your starter, even if you are on the road, on vacation or just do not feel like making anything from scratch.
Fix: I have included some of the ways that happened most often to me when I was testing recipes. 50lbs later, I think these are the issues that popped up most. 
I have tried making sourdough for over 20 years, and I have always failed in some way. Even with people starting my starter for me. Somehow, I still managed to kill it.
I did not know how to fix it, the process was so overcomplicated and, frankly, I never wanted to spend that amount of time making it. 
 I do not like overcomplicated recipes.
No More: runny starter, moldy starter, flat starter! And you will get several recipes that just always seem to work.
For you and your lifestyle!
Learn how to pause your starter when you go on vacation or just don't have time to take care of it.
I understand that you do not want to waste your time.
I feel the same way. W
eeding through the different information is the worst! I bought 50 pounds of flour just for testing.
Save Time & Money
I don't always have time to test new recipes. So you don't have to. I have done all the work for you!
But I do have time to get a few quick tips and tricks to help me get to the end result that I want but faster. 
But I know you don't want to lose the quality of good sourdough. Me neither. I will give you three ways that you can start, grow and maintain your starter. 
Let's Get It Started 
Great! Looks like you made it to the end … so now there are only two things for you to do:
START thinking of names for your sourdough (mine is going to be Doughorthy – because I love the Wiz and Wizard of Oz)
BUY the Sourdough Success Workshop