A sheet pan dinner is a complete meal that can be made in one pan and these sheet pan chicken dinner recipes are great for busy weeknights or for feeding a crowd.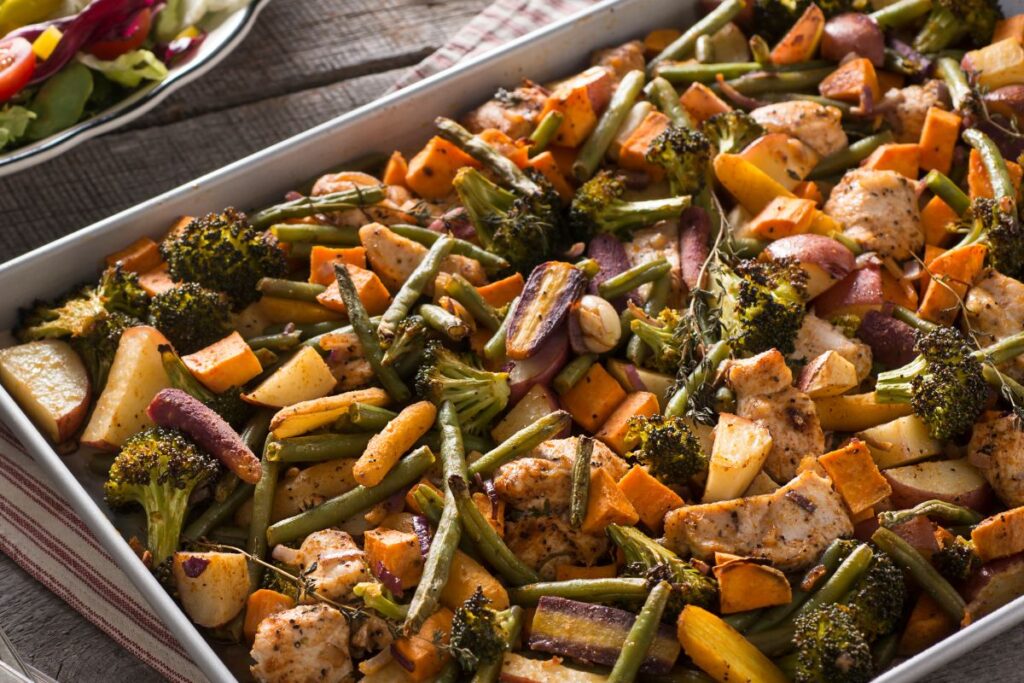 Not only is a sheet pan chicken dinner easy to make, but it is also can be healthy and flavorful.
Chicken is a go-to meal for busy families. It's versatile, fairly quick to cook, and relatively inexpensive. But let's be honest—chicken can get pretty boring after a while.
That's where these nourishing and delicious chicken sheet pan dinners come in.
With a few simple ingredients and less than an hour of prep and cook time for most of these meals, they will help you break out of your dinner rut and help you stop drive through dinners from becoming a habit for your family.
These days, it seems like every family is pressed for time. Between work, school, extracurricular activities, and everything else that life throws our way, it can be tough to find the time to make a home-cooked meal.
That's where sheet pan chicken dinners come in! These one-pan wonders are simple to make and can be tailored to please even the pickiest of eaters.
Keep reading to learn more about the benefits of making a sheet pan chicken dinner.
One Pan Meals are Easy to Make
One of the best things about a sheet pan chicken dinner is that it is an easy meal to make. All you need is one pan, some chicken, vegetables, and seasonings.
There is very little prep work involved and cleanup is a breeze. You can have a delicious and healthy meal on the table in no time at all!
As mentioned above, getting these meals batched is easy to do and then they can become readymade freezer meals.
Sheet Pan Chicken Dinner Recipes are Healthy and Nutritious
Another great thing about sheet pan chicken dinners is that they are healthy and nutritious. When you make your own dinner at home, you know exactly what ingredients are going into it.
This allows you to control the amount of fat, salt, and calories in your meal. You can also choose to use healthy ingredients like lean chicken, whole grain breadcrumbs, and plenty of fresh vegetables.
Sheet Pan Chicken Dinners are Versatile
One of the best things about cooking with a sheet pan is that the possibilities are endless! You can really let your creativity shine when it comes to choosing your ingredients and seasonings.
There are so many different flavor combinations that you can try. You can also mix up the ingredients from time to time to keep things interesting. Don't be afraid to experiment – you might just surprise yourself with how good your creation tastes!
From sheet pan dinners with potatoes to 5 ingredient sheet pan dinners these recipes are healthy and affordable.
Next time you are looking for an easy and delicious meal to make, give a sheet pan chicken meals a try!
Can you freeze sheet pan meals?
Yes, prior to cooking prep all of your ingredients.
Simply thaw the meal in the refrigerator the night before or that morning you wish to use it.
If your meal has a marinade. Please be sure to remove the all of the marinade before placing the ingredients onto your sheet pan, as it will partially steam the meal.
You can pour out the marinade into a pan and reduce it to about half and use it as a glaze if you like.
How do you freeze sheet pan meals?
Oven-ready freezer meals are easy to prepare. Here are the four steps for all sheet pan freezer meals.
Wash and dry all of your ingredients
Chop veggies and slice meat
Add ingredients and then seasonings and/or sauces to freezer bag or airtight container. Be sure to seal shut, removing any excess air.
Freezer the meal. If in a freezer bag, we recommend that you lay the bag flat until items are frozen.
What size sheet pan is best for sheet pan dinners?
The standard sheet pan will be 18×13 and have a 1-inch lip surrounding the pan this is a traditional half sheet pan and is about 1 inch deep.
Do not use a cookie baking sheet as it is meant for soft items.
If you are making your food in a countertop oven you will want what is called a jelly roll sheet pan which is smaller in size.
Many manufacturers are now calling any sheet pan with a lip a jelly roll sheet pan, so do pay attention to the size of the pan.
Here are some of our favorite easy chicken sheet pan dinner recipes. Enjoy!!
1. Sheet pan roasted chicken with root vegetables
2. Herb-roasted sheet pan chicken with potatoes and green beans
3. Sheet pan chicken and sweet potatoes
4. Sheet pan chicken fajitas
5. Sheet pan garlic herb butter chicken & potatoes
6. Greek sheet pan chicken with potatoes
7. Honey mustard sheet pan chicken and vegetables
8. Chicken shawarma sheet pan dinner
9. Lemon pepper chicken
10. Healthy sheet pan chicken and veggies
11. Greek sheet pan chicken
12. Sheet pan chicken and veggies
13. Smoky sheet pan chicken with cauliflower
14. Creamy chicken sheet pan dinner
15. Roasted sheet pan chicken, sweet potatoes, and broccoli
16. Lemon-rosemary-garlic chicken and potatoes
17. Sheet pan chicken and broccoli supper with honey sriracha sauce
18. Chicken sheet pan quesadillas
19. Sheet pan maple apricot chicken
20. Sheet pan chicken potatoes and green beans
21. Sheet pan chicken and green beans
22. Sheet pan chicken with potatoes
23. Spatchcock chicken sheet pan supper
24. Keto sheet pan chicken
25. Honey balsamic sheet pan chicken
26. Sheet pan chicken potatoes carrots
27. Sheet pan cashew chicken
28. Rainbow sheet pan chicken
29. Sheet pan chicken brussel sprouts potatoes
30. Sheet pan chicken parmesan
31. Sheet pan parmesan chicken
32. Sheet pan teriyaki chicken
33. Sheet pan chicken with shallots and grapes
34. Gochujang sheet pan chicken
35. Harissa sheet pan chicken
36. Chicken and asparagus sheet pan dinner
37. Sheet pan pesto chicken
38. Sheet pan chicken and peppers
39. Sheet pan bruschetta chicken
40. Sheet pan tandoori chicken
41. Sheet pan honey mustard chicken
42. Sheet pan bbq chicken
43. Sheet pan hawaiian chicken
44. Moroccan sheet pan chicken
45. Red curry sheet pan chicken with sweet potatoes and crispy kale
As you can see, there are many benefits to making a sheet pan chicken dinner.