This no waste Quick Sourdough Pizza Dough is perfect for using up your discard, freezing and fast for the perfect weeknight homemade pizza. You can find more Recipes Using Discard Sourdough for breakfast, lunch or dinner meals.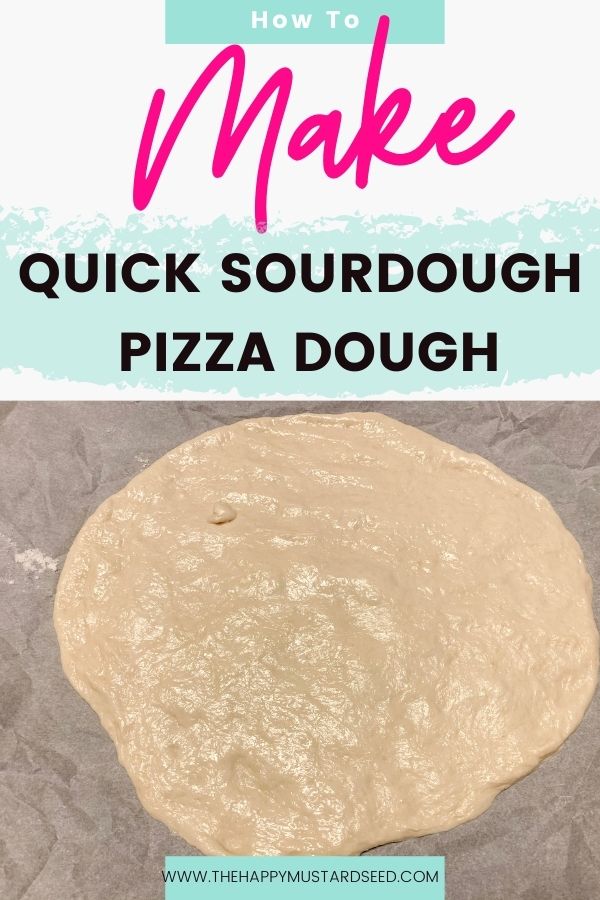 This post contains affiliate links, which means I receive a commission, at no extra cost to you, if you make a purchase using this link. Thank you!
Ingredients
7-1/2 Cups all purpose flour
1 Tbsp. yeast
1/2 Tbsp. Salt
2 Tbsp. Sugar
1/4 C olive oil
1 Tbsp Sourdough
3-1/2 C warm water
Let's Make It
Add dry ingredients to large mixing bowl, mix. Add oil and sourdough, mix, add about 3-1/4 C of the water, mix using dough whisk until it all comes together and flour is mixed in off bottom of bowl. Add small amounts of remaining water if necessary.
Cover with plastic wrap, let rise (up to a few hours if needed).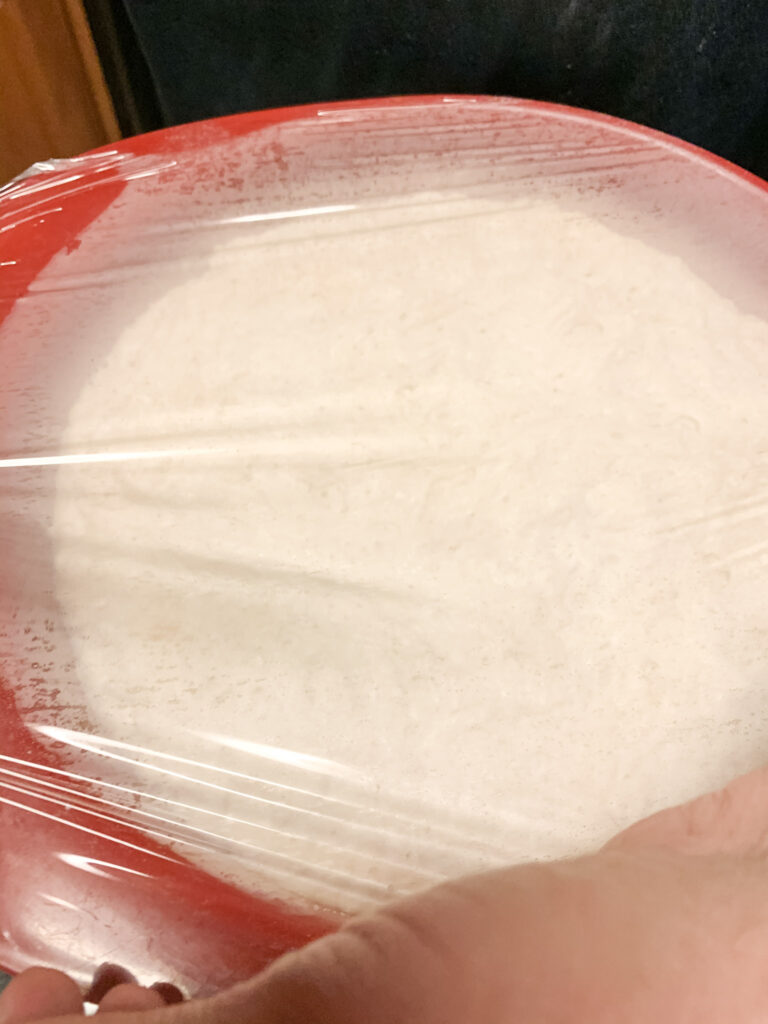 Punch the dough down. Place hand in the center of the risen dough and press down gently about halfway.
Take 1/5 of dough out and begin working the dough into a ball and then pulling apart and remaking into ball.
Add a splash of vegetable oil to dough ball to make it easier to work with and not stick to your hands.
After dough is elastic, place dough ball onto a sheet of parchment paper. Press dough out with hands to form a pizza crust. A rolling pin can also be used. Press/roll dough until it is about 1/8″-1/4″ thick, depending on your preference.
Once dough is pressed/rolled out, bake at 350 degrees for 10 minutes. Remove from oven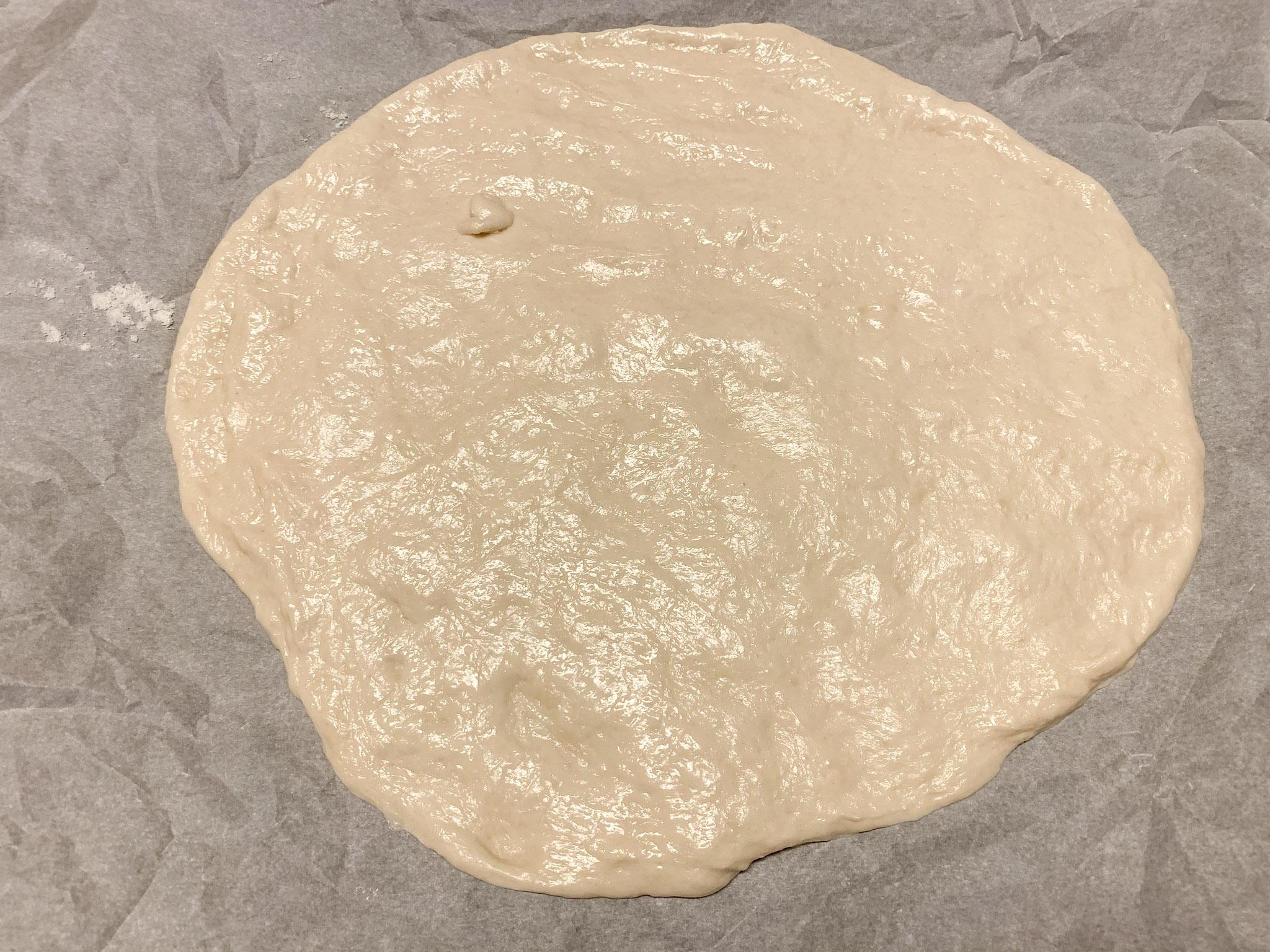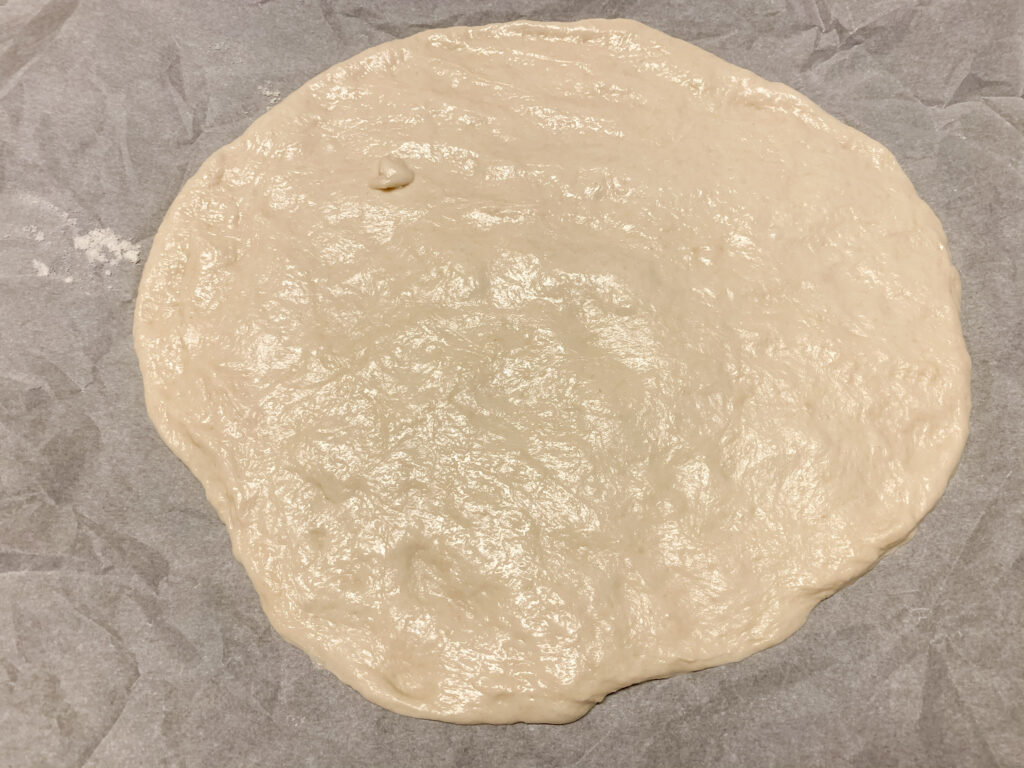 Add desired pizza toppings, and bake at 425 degrees for 8-10 minutes.
Your sourdough pizza crust is ready to bake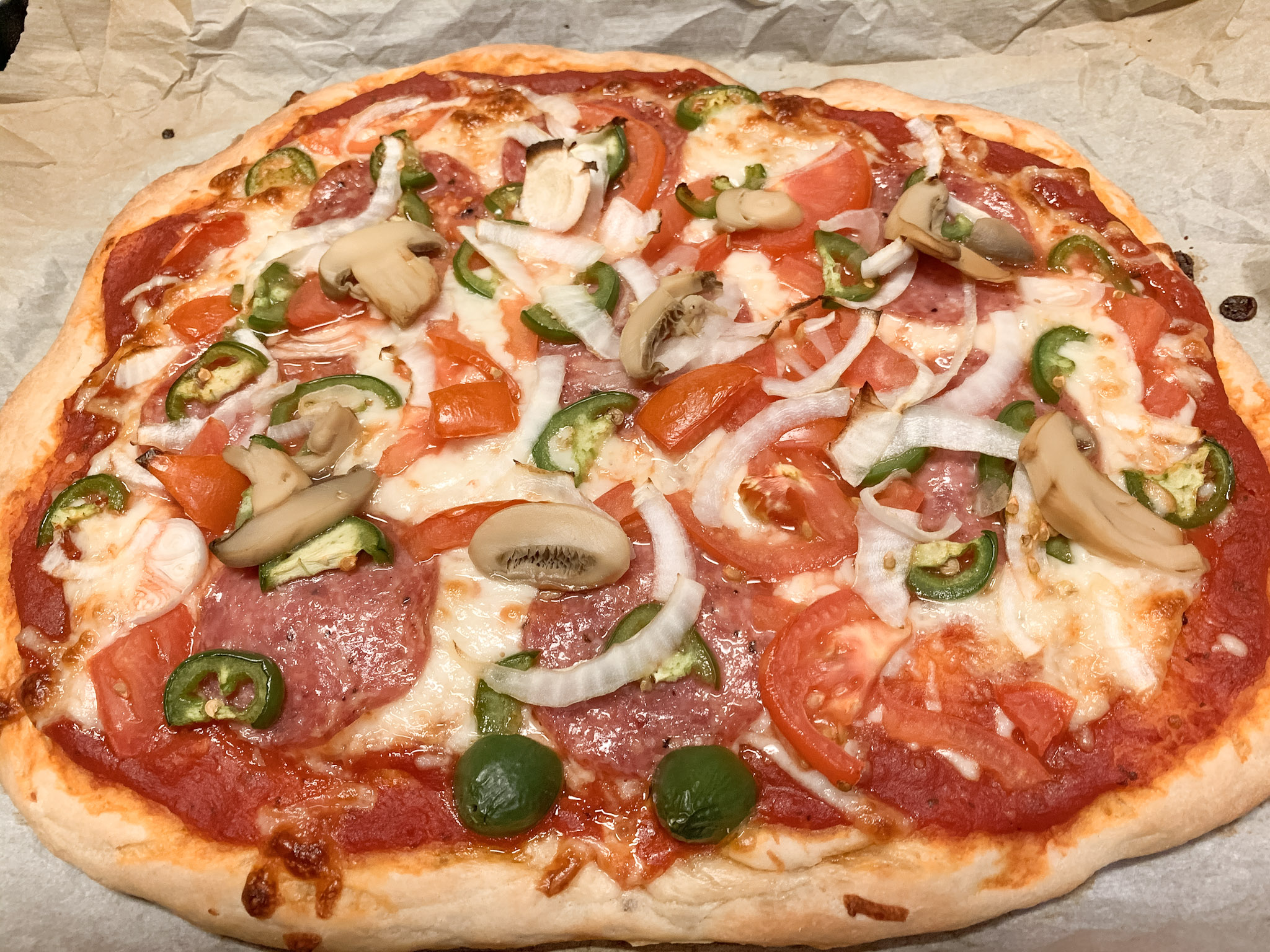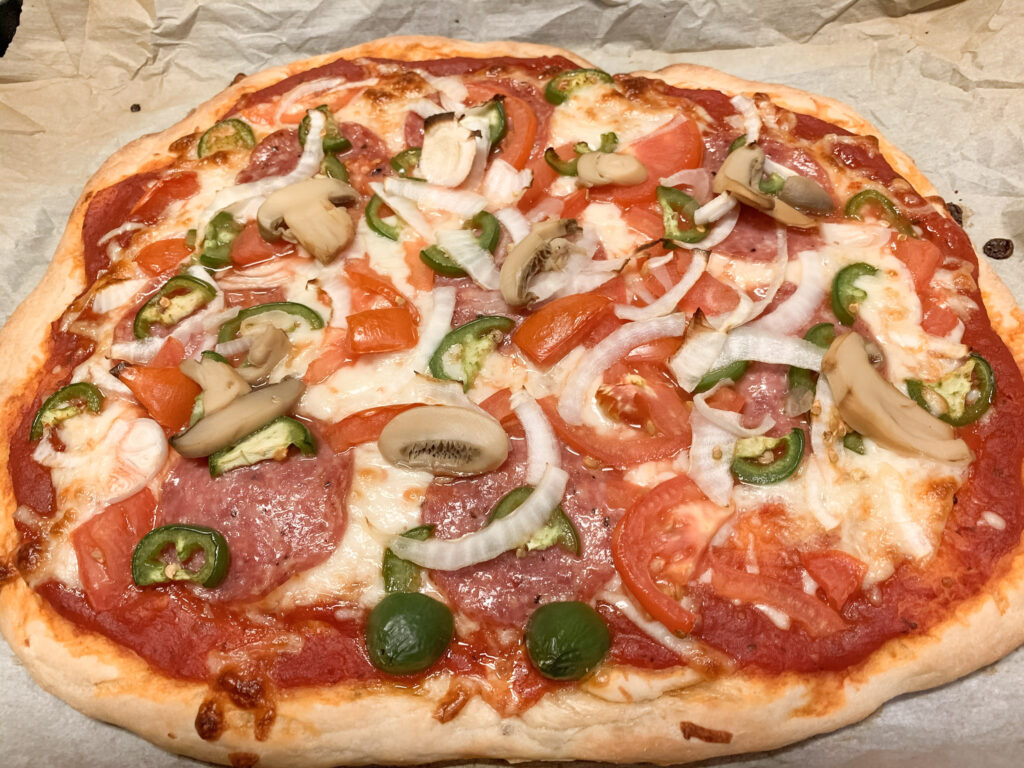 Instructions
Add dry ingredients to large bowl, mix. Add oil and sourdough, mix, add about 3-1/4 C of the water, mix using dough whisk until it all comes together and flour is mixed in off bottom of bowl. Add small amounts of remaining water if necessary.
Cover with plastic wrap, let rise (up to a few hours if needed).
Take 1/5 of dough out and begin to shape the dough into a ball and then pulling apart and remaking into ball. Add a splash of vegetable oil to dough ball to make it easier to work with and not stick to your hands.
After dough is elastic, place dough ball onto a sheet of parchment paper. Press dough out with hands to form a pizza crust. A rolling pin can also be used. Press/roll dough until it is about 1/8″-1/4″ thick, depending on your preference.
Once dough is pressed/rolled out, place on a parchment lined baking sheet and add desired pizza toppings
Bake at 350 degrees for 10 minutes. Remove from oven, add desired pizza toppings, and bake at 425 degrees for 8-10 minutes.
Baking times will vary based on your oven. Please make sure to check your pizza after 8 minutes.
Enjoy
Quick Thin Crust Sourdough Pizza Dough (no yeast)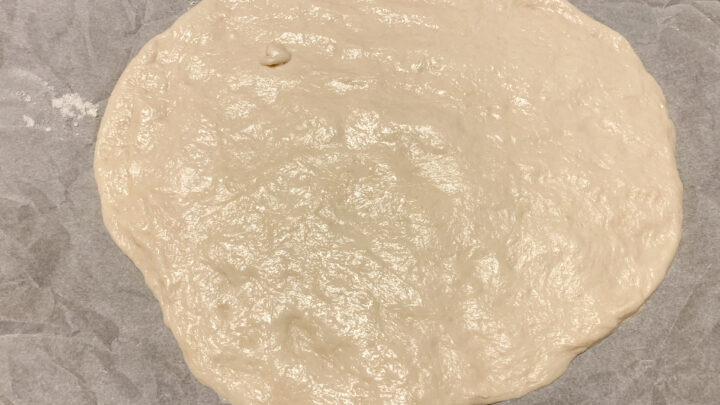 Total Time
2 hours
15 minutes