Welcome to the The Happy Mustard Seed shop. I am so excited that you are here. Family, Food, Gardening and Fun makes me so happy and I love sharing with others so we can build and grow our communities together. We have more coming to our shop, so feel to come back and browse.
Also, join our mailing list for exclusive discounts for members. Membership is free!
Free and Fun new printables are added to the shop pretty regularly. As you know, I create things as they are needed around my home and then share them with you.
Please be sure to sign up for my newsletter here to get shop updates and our community newsletter.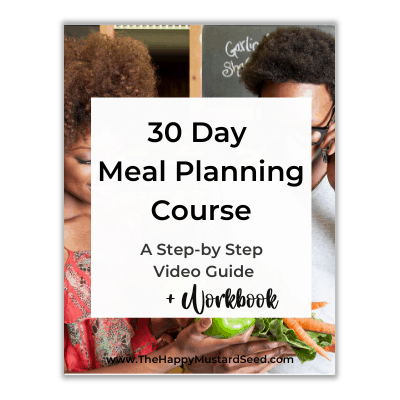 Get meals on a budget ideas, learn how to plan weeknight meals on a budget, and learn that creating an easy meal list is as easy as 1, 2, 3.

Get our 30 day course and learn to meal plan and learn now to make great meals on any budget!

FREE workbook and Video Instructions!