Are you looking to curate a Travel Capsule Wardrobe that will make weekend getaways, road trips, long holidays, or last-minute travel deals a little more hassle-free?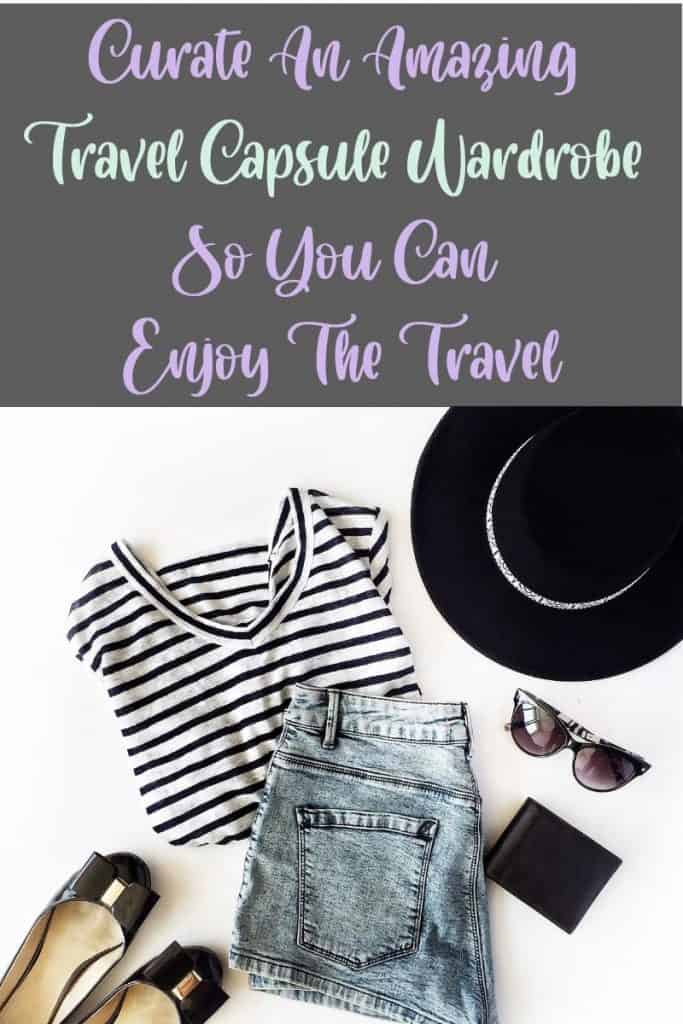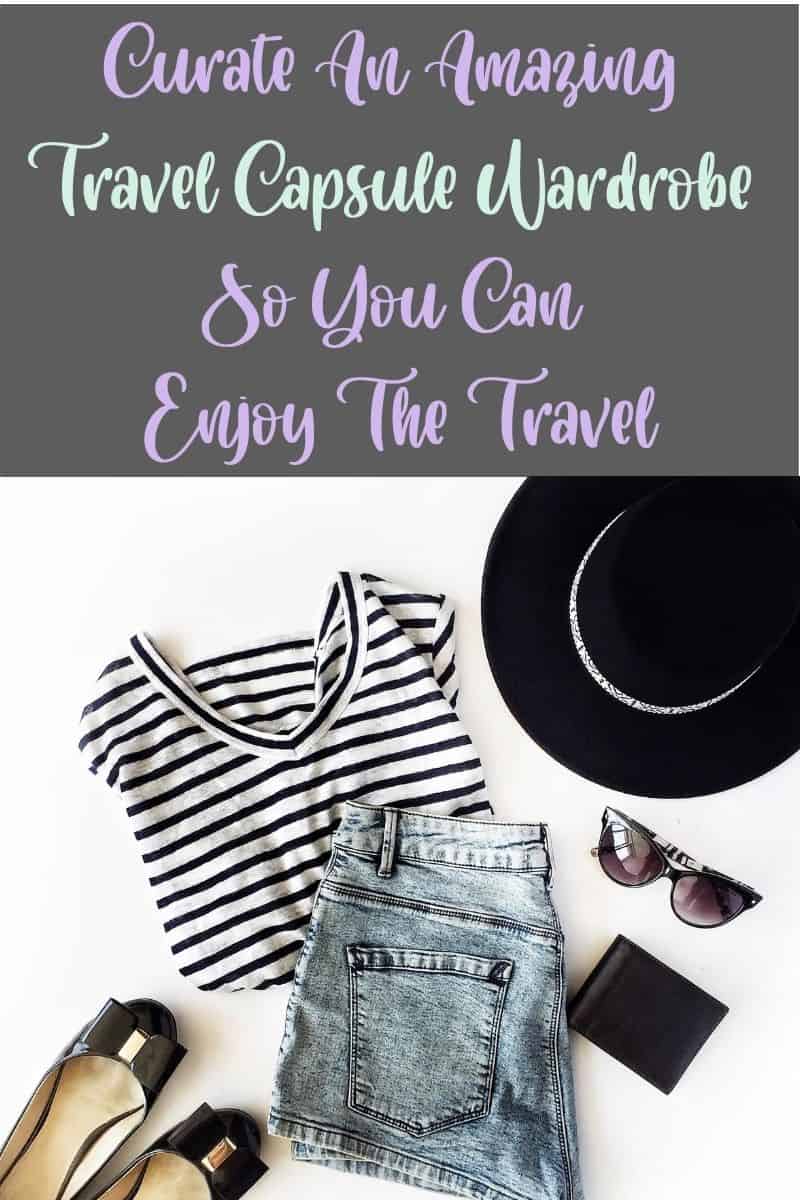 This post contains affiliate links, which means I receive a commission, at no extra cost to you, if you make a purchase using this link. Thank you!
Travel capsule wardrobe can be separated into a few different categories:
Summer/Spring and Winter/Fall
Travel and Summer Travel
Today I wanted to talk more about a travel capsule wardrobe.
What is a travel capsule wardrobe?
You will hear lots of variations about what a travel capsule is, but in truth, it is simply minimizing the number of clothes you take on a trip and making sure that you do not overpack.
If you have been looking for packing secrets from travel pros, look no further. I have been traveling so much that my kids knew how to pack when they were three.
How many outfits do I need to pack?
First, you will need to determine how long your trip is going to be. Is it going to be a short weekend getaway or is it going to be a bit longer?
Plan ahead and know what you will take on any for the following length of stays.
3 days
5 Days
7 days
10 days
14 days
You will need to select your wardrobe by the number of days that you will be traveling.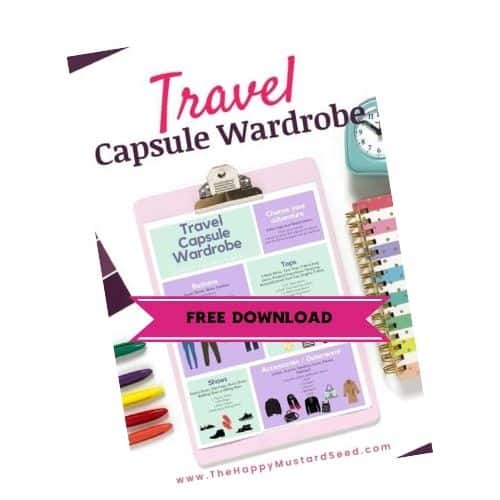 A Quick Capsule Wardrobe Guide
Travel Essentials Clothing
3 days
2 tops 2 Bottoms 1 layer 1 pair of shoes, 2 extra pairs of socks and underwear. 
5 days 
3 tops 3 bottoms 2 layers and 2 pairs of shoes, 2 extra pairs of socks and underwear.
7 days 
4 Tops 3 bottoms 2 layers and 2 pairs of shoes, 2 extra pairs of socks and underwear.
10 days 
5 tops 3 bottoms 2 layers and 2 pairs of shoes, 2 extra pairs of socks and underwear.
14 days 
5 tops 4 bottoms 3 layers and 2 to 3 pairs of shoes, 2 extra pairs of socks and underwear.
Now if you're traveling during hot weather, which, since I'm here in Texas, I often take shoes that are cool and comfortable to wear. And, of course, we get rid of quite a few layers since we live by a travel capsule wardrobe summer edition we are always choosing a light wardrobe to pack.
If you pack everything correctly you can get all of these items even up to 14 days and a travel carry-on bag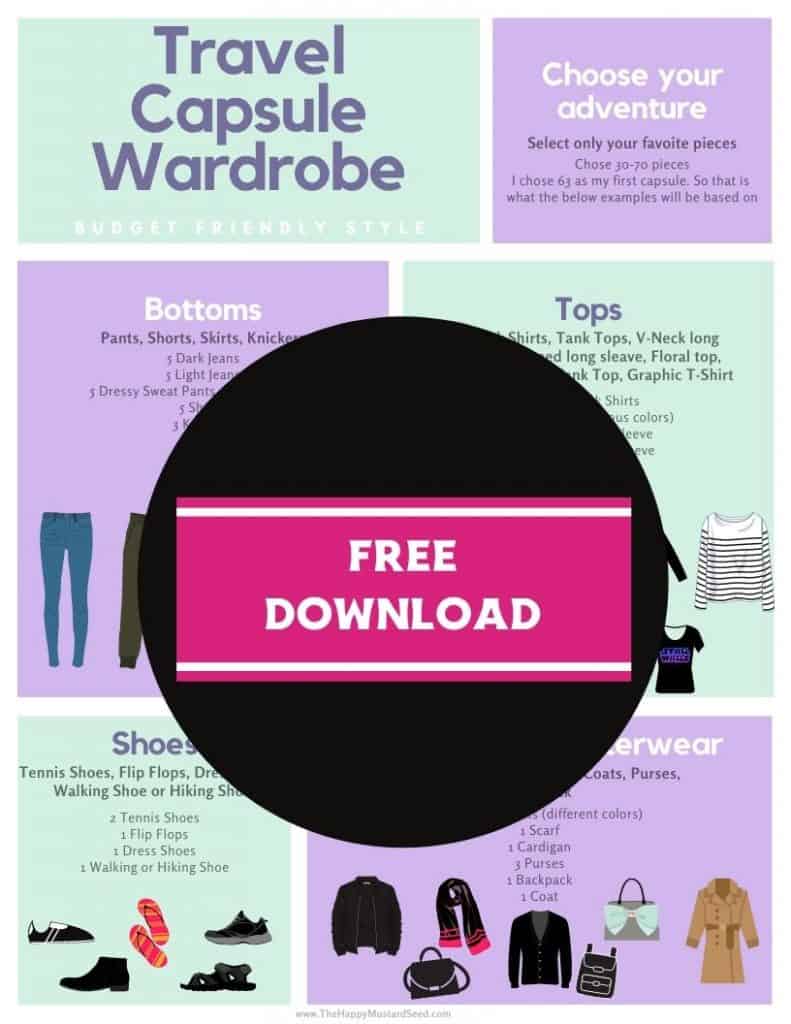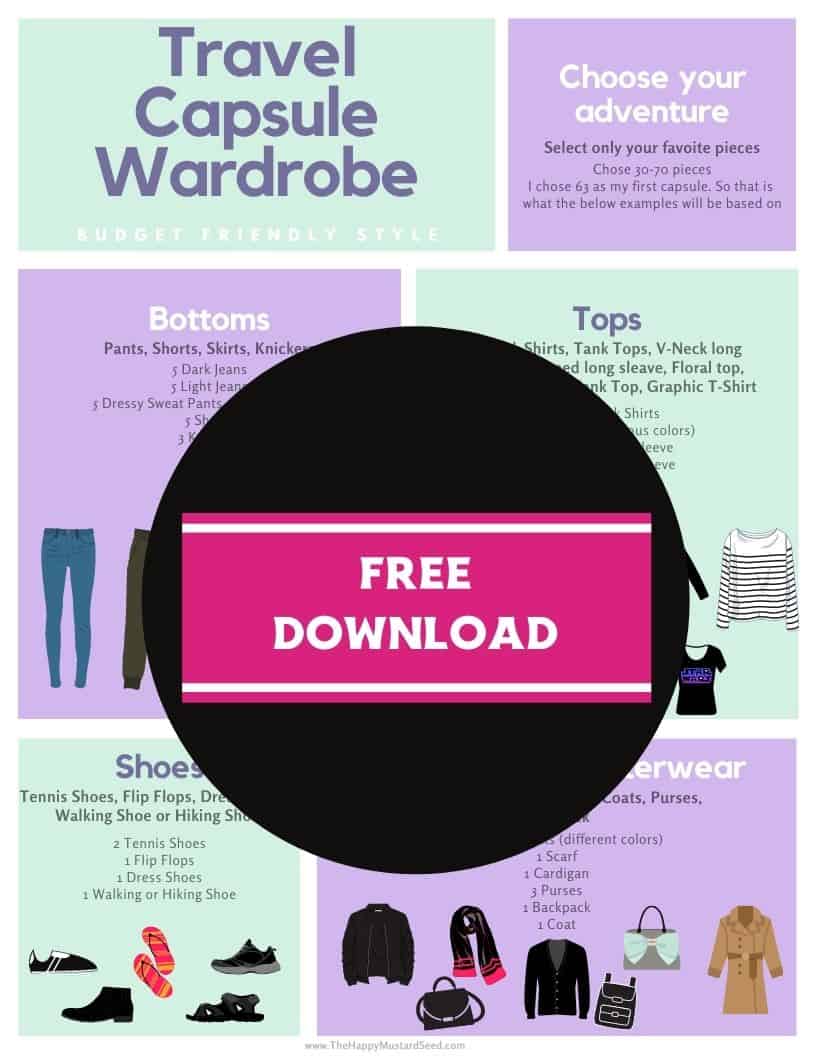 Create a minimalist travel wardrobe that isn't overwhelming
The very first step in choosing my minimalist travel capsule wardrobe is also picking the correct luggage. If you don't have the correct luggage, the wardrobe itself won't fit and will become difficult to try to carry or roll.
I started with a really good suitcase. I switched over from having a soft-sided suitcase to a hard-sided suitcase recently, and I actually loved it, because I generally carry one travel-on suitcase and one backpack. Generally have enough for 14 days on too much every trip that we go on, not because I'm taking the allotted amount of clothes for those 14 days, but because I have enough rotation, and if I'm traveling somewhere that has laundry or Wash and Fold, or I'm staying with family or friends I can always wash my outfits and repurpose clothes that I've already worn I chose to pack a wardrobe that were versatile and lightweight.
What You Need To Build The Perfect Travel Capsule Wardrobe
Quality clothes are a must when building your capsule. I don't think of quality just by the dollar amount, I also look at how long the item will last for the types of trips that we normally take.
Since most of our trips are usually 2-5 days, we usually go with something in the 5 day range of packing, a bathing suit and flip flops.
Now, your suitcase doesn't have to be boring like mine. I generally stick to jeans, jean knickers, and a few black t-shirts, because I know that no matter where we go, I will be dressed appropriately. I make sure that my entire family packs in a similar fashion – not necessarily the color but by the style.
As long as about half the clothes are neutral it doesn't look like we are wearing the same thing every single day. But, then again that would not bother me. But generally I bring jeans that are different tones of blue as well so that I can at least feel like I have a little bit of variety.
I keep one pair of tennis shoes that are comfy and can be a little more muted in style.
I also bring along complementary colors with my black shirts, usually something darker, like a purple or blue, so that If I need to change it up, I can, without the fear of looking mis-matched.
We always buy wrinkle resistant fabrics, since no one really wants to iron on vacation. To me these are just basic pieces of a womans wardrobe.
If they do wrinkle, I will often just hang them up over night and let the wrinkles fall out naturally.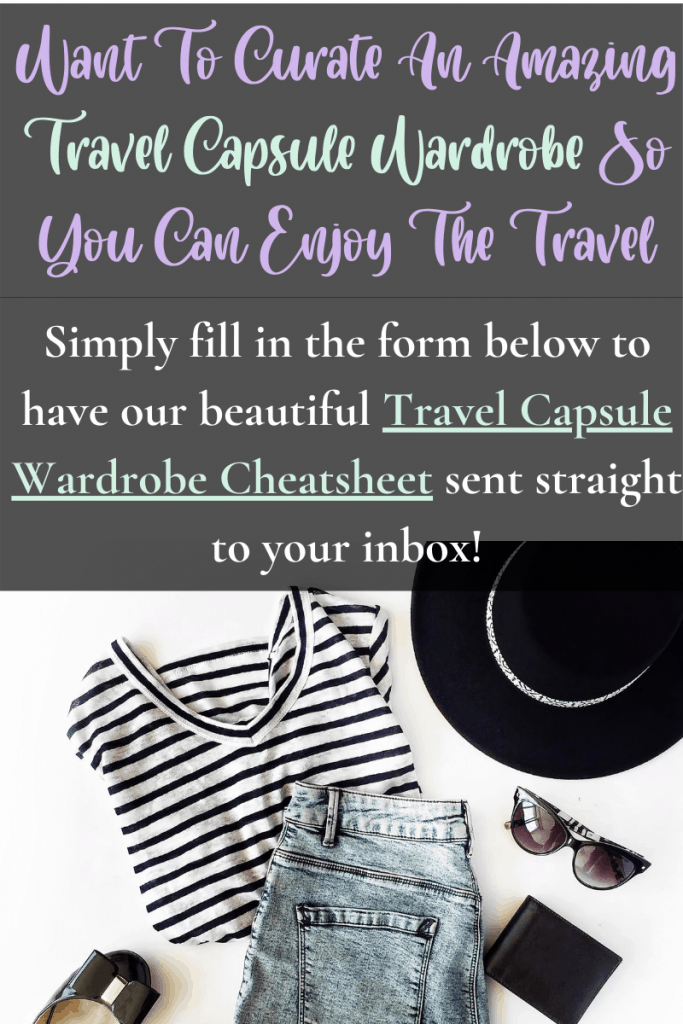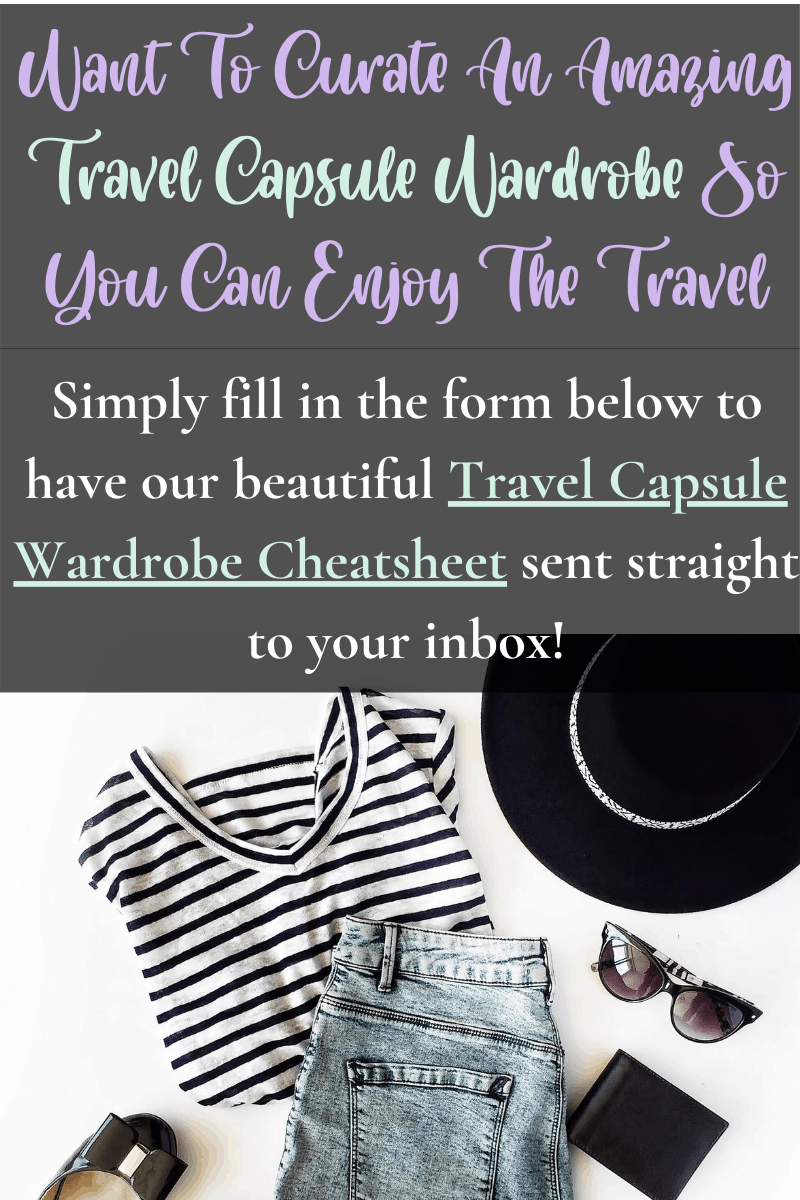 Minimalist Travel Wardrobe Men's Style
I do not mess with my hubby's stuff too much. I have been married long enough to know what he likes and doesn't like when traveling. He does the same basic contents but with a few minor adjustments.
Here are his travel clothes tips for a capsule wardrobe for men.
Cargo shorts
A sturdy phone case that loops around his belt loop
A hat (usually a baseball cap, unless it's really hot, and then he'll wear something with more coverage)
Don't stress about it. I have checked out so many guides and not one of them served me well. In fact, mine is a combination of who knows how many. But it's what I put together over the years, and it's what works for me, and helps me not to stress before, during or after the travel.
Above all, keep it simple. Here's a few things to think about:
Choose how many days you are going
Choose the season
Choose the appropriate clothes/shoes
That's it.
You will find what you love, and maybe you will be like us and tend to gravitate towards the exact same clothes every single trip. And then like us, you may have a bag packed and ready to go in less than 5 minutes. All you have to do is toss in a toothbrush, because everything else is packed.
It doesn't matter if you are looking for things to pack for a road trip, airplane or staycation – these are my packing tips for air travel and for road trips.
What's In Your Travel Bag This Summer?
With everything that is going on this summer, I wanted to be sure to share a few extra goodies you should pack that are not normally on our list. Keep the basics in your bag and always be flexible (being flexible is the key to happy travel!). If you happen to forget something, buy it when you arrive at your destination. But make sure you add it to the top of your checklist for the next trip, or, you can even just buy one to leave in your bag, which is what I do.
Travel Wardrobe Checklist
Travel-sized hand sanitizer
Sunscreen
Hair ties
Bug spray
Foldable hat
Flip flops
Beach towel (lightweight)
Travel journal
Camera 
Selfie stick
Travel wallet
Summer shoes
Summer dresses (I don't wear dresses but included this for those that do)
Tops and basic tees
Summer bags and accessories
Travel app (depending on where you are going, you can find many to aide in travel)
Travel-sized pepper spray
Travel game (cards, bananagrams, anything compact - you never know if you'll get stuck somewhere)
Disposable masks (since you won't be able to wash them, and disinfectant spray can still be hit or miss)
Travel Packing Hacks
The roll is probably one of the easiest ways to pack and save space:
Fold clothes in half and then roll. That's it. If your clothes are a bit bigger/longer, you can do an extra fold and then roll.
Rolling generally reduces the amount of wrinkles in your clothes, so you can leave your clothes in your luggage during your trip.
Any method of folding will do. As long as you remember to keep everything about the same size.
I love space bags so much! I used to always say they were for my grandma's generation. But the last few trips we took, our bags needed a little extra help. Space bags to the rescue!
When you try these methods out, be sure to try them for a few trips. That way you can figure out what your favorite way to pack a suitcase is. We generally pack the same way for all trips so that we can make sure not to miss anything.
Travel Fashion
Every time we travel we have a list of our go to outfits. One of our favorite tips, when we know we are traveling long term, is to take enough outfits for you to wear 2 to 3 times on the trip.
When packing, I try to make sure that over half of my clothes are a lightweight material, so they can be easier to roll, to pack and to shrink down in zipped travel bags.
This goes with the layer idea. If you have lighter weight clothes you can layer them or remove layers depending on weather.
What to wear to fly?
Growing up I remember we would always dress like we were going to a Sunday dinner or somewhere fancy to eat. It made me not like flying. Now I am more into wearing something that is comfortable. When we fly I tell my family to make sure to get their cute airplane outfit ready. We wear it on the way to our location and on the way home. Makes life simple.
Our outfits usually have a decent amount of pockets for when we arrive, but not for boarding. No one wants to wait for us in the security line. So we usually take a travel backpack to house all our goodies that will go in our pockets when we arrive.
We wear comfy outfits, shoes, and we bring layers (because you never know what the temperature will be in flight). My go to outfit is usually jeans, a tank top, a v-neck t-shirt, lightweight zipped jacket, and tennis shoes.
I know, people are always surprised when they ask me where I got my leggings from. Most of the ones I get are really inexpensive. When I tell them I got them from a drug store and that I pay between $5-10 for each pair, they are shocked. These leggings are absolutely wonderful. They are lightweight, last for years and come in all sorts of colors and designs.