These homemade Sourdough Crackers are easy to make because you only have to pour them out. No rolling or kneading required. Recipes Using Discard Sourdough.
Sourdough crackers another one of our sourdough discard recipes and can be so easy to make and with this sourdough crackers recipe, it will take you 5 minutes to get all the ingredients whipped up with very little effort so making them the best crackers to make at home. Of course, I am a little biased.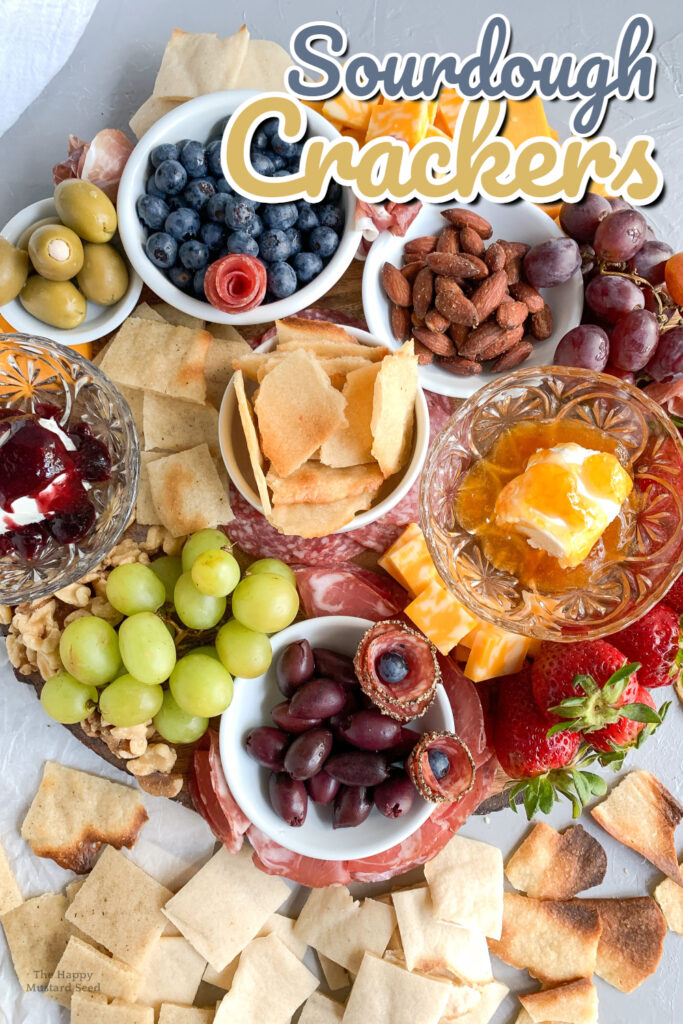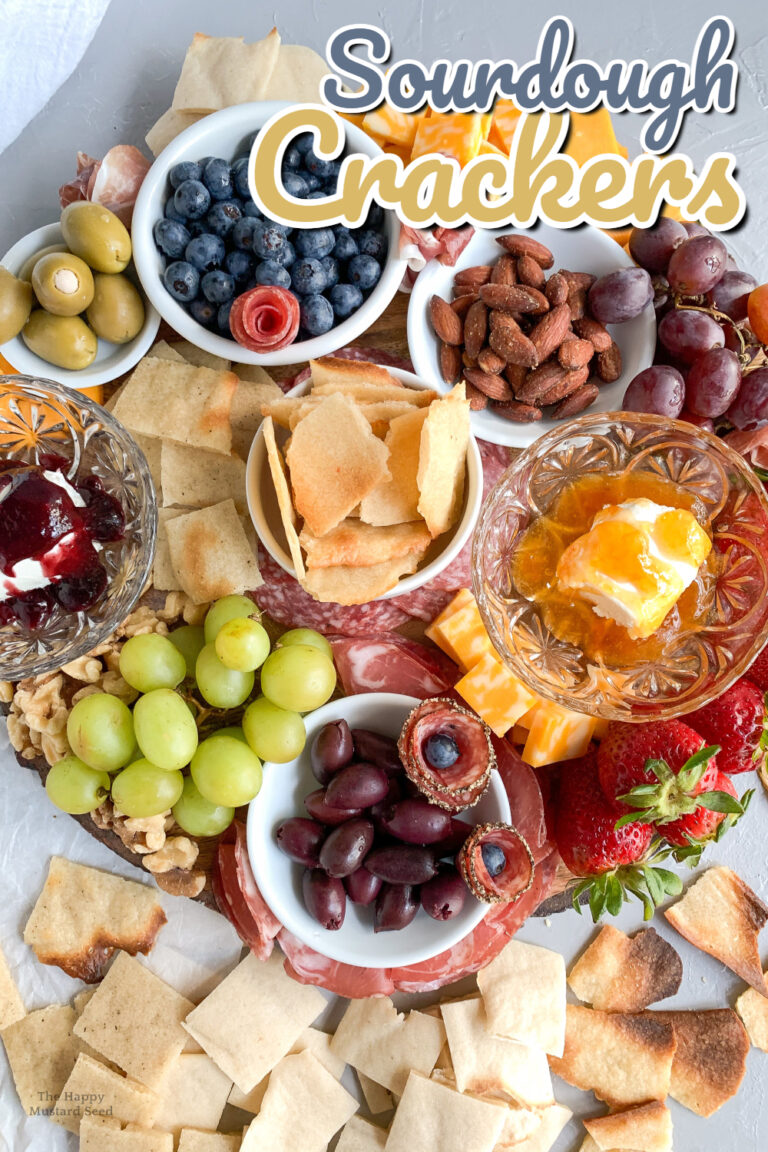 This blog post is sponsored by Bob's Red Mill. Thank you so much for supporting the brands that support The Happy Mustard Seed! All words, views, and opinions are my own
Pourable sourdough discard crackers are so easy to make and they are something that you can make for a busy weeknight meal. They take about 5 minutes to put them together before you toss them into the oven.
What should I serve everything sourdough crackers with?
They are perfect for anything you can tip them into. But here are some great examples of a what to add to a cheese plate and other pairings:
Honey goat cheese
Olives and figs
Blackberry fruit spread
Orange jam
Raspberry preserves
Cambonbert cheese
Honeycomb
Brie
Chocolate
Smoked Salmon
Hummus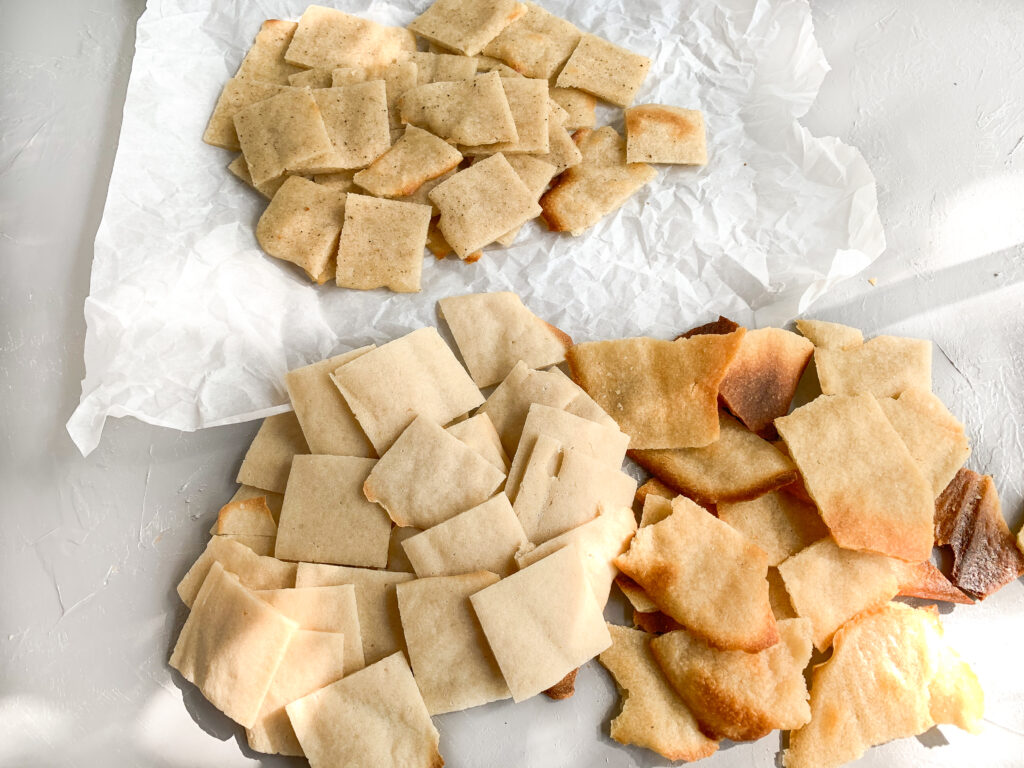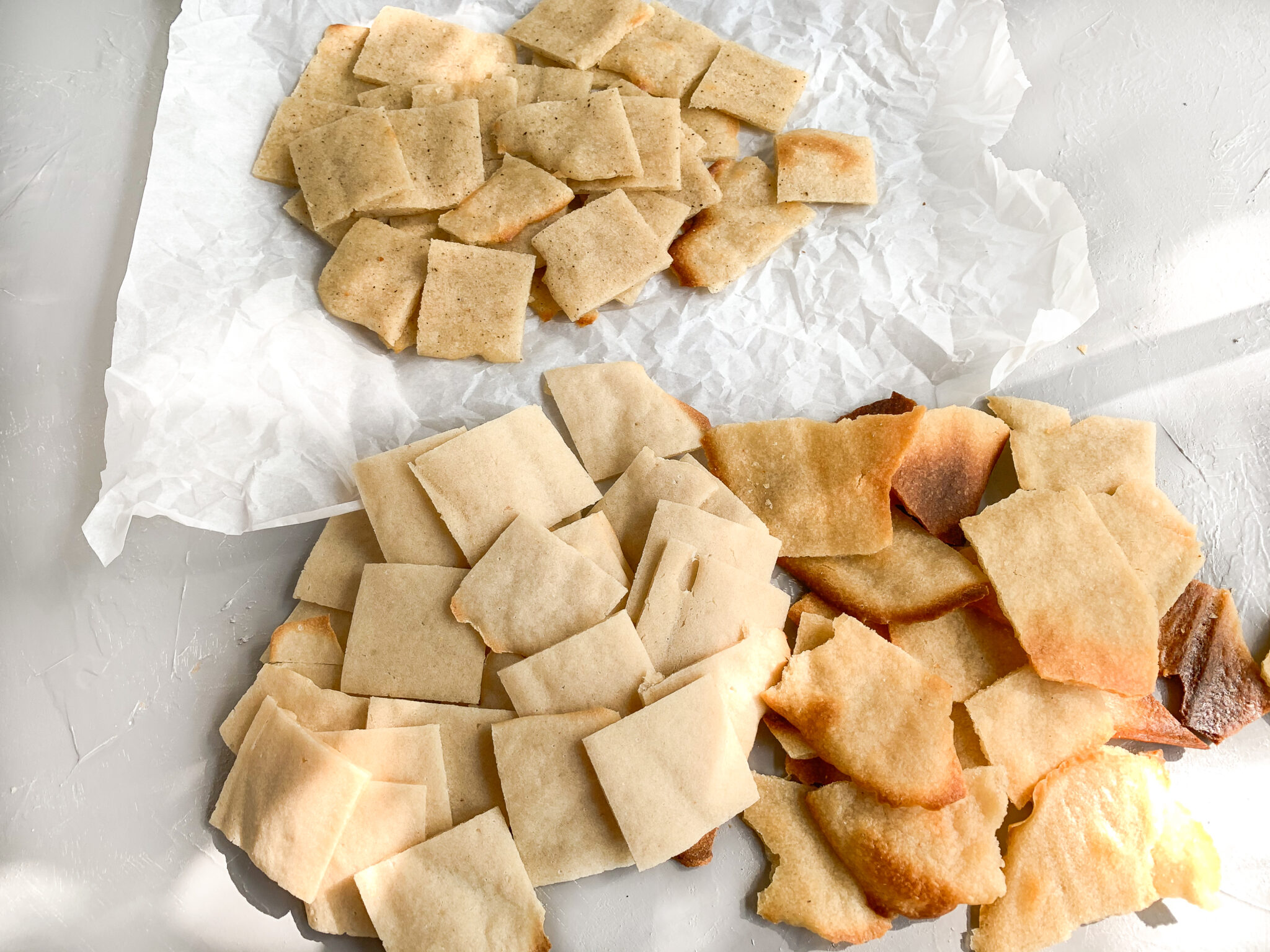 Ingredients
Sourdough discard
Olive oil
Water
Pink Himalayan salt, course
Garlic powder
To Finish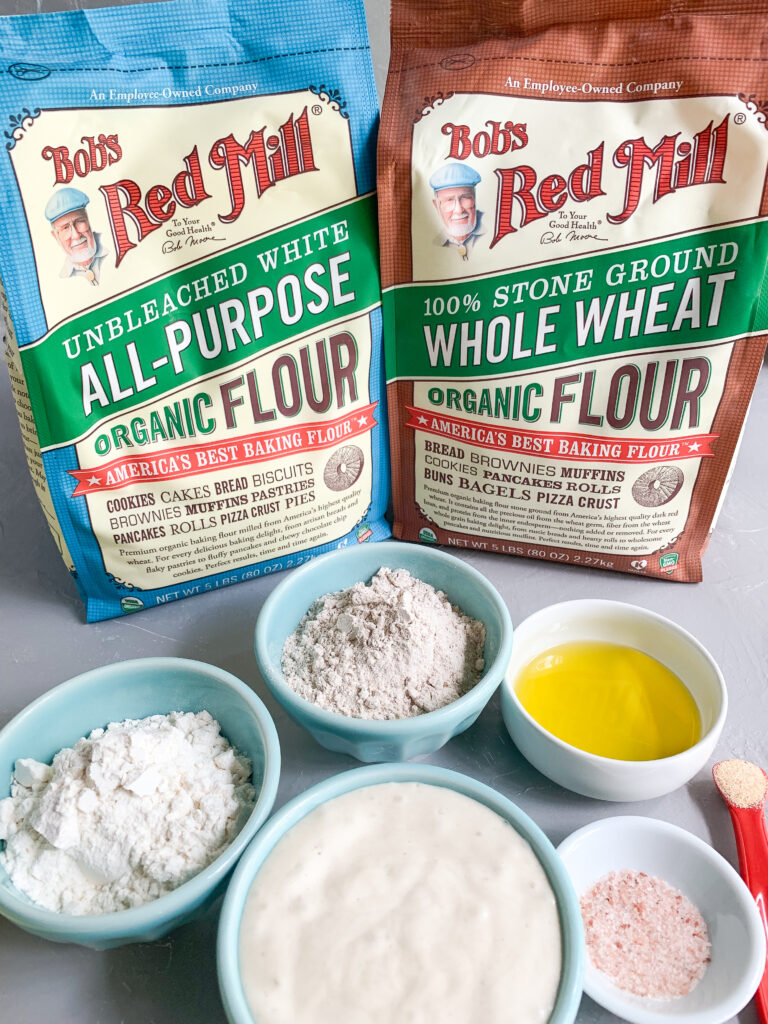 Tools Needed
Large Mixing Bowl
Medium Mixing Bowl
Mixing Whisk
Blender
Jelly Roll Pan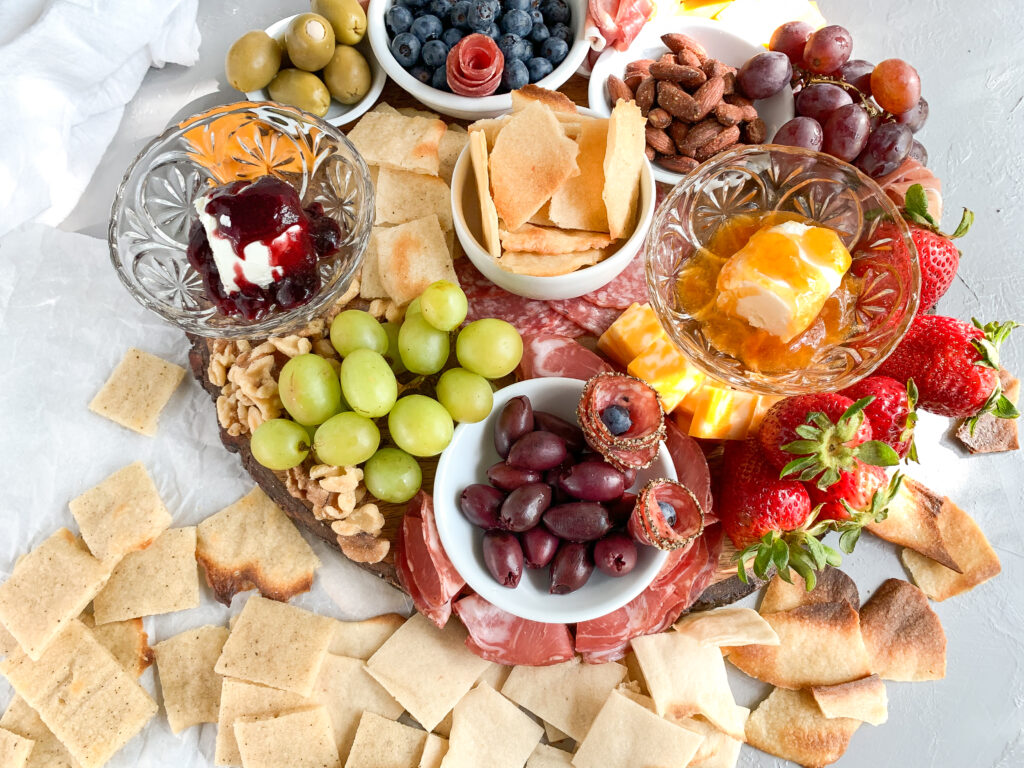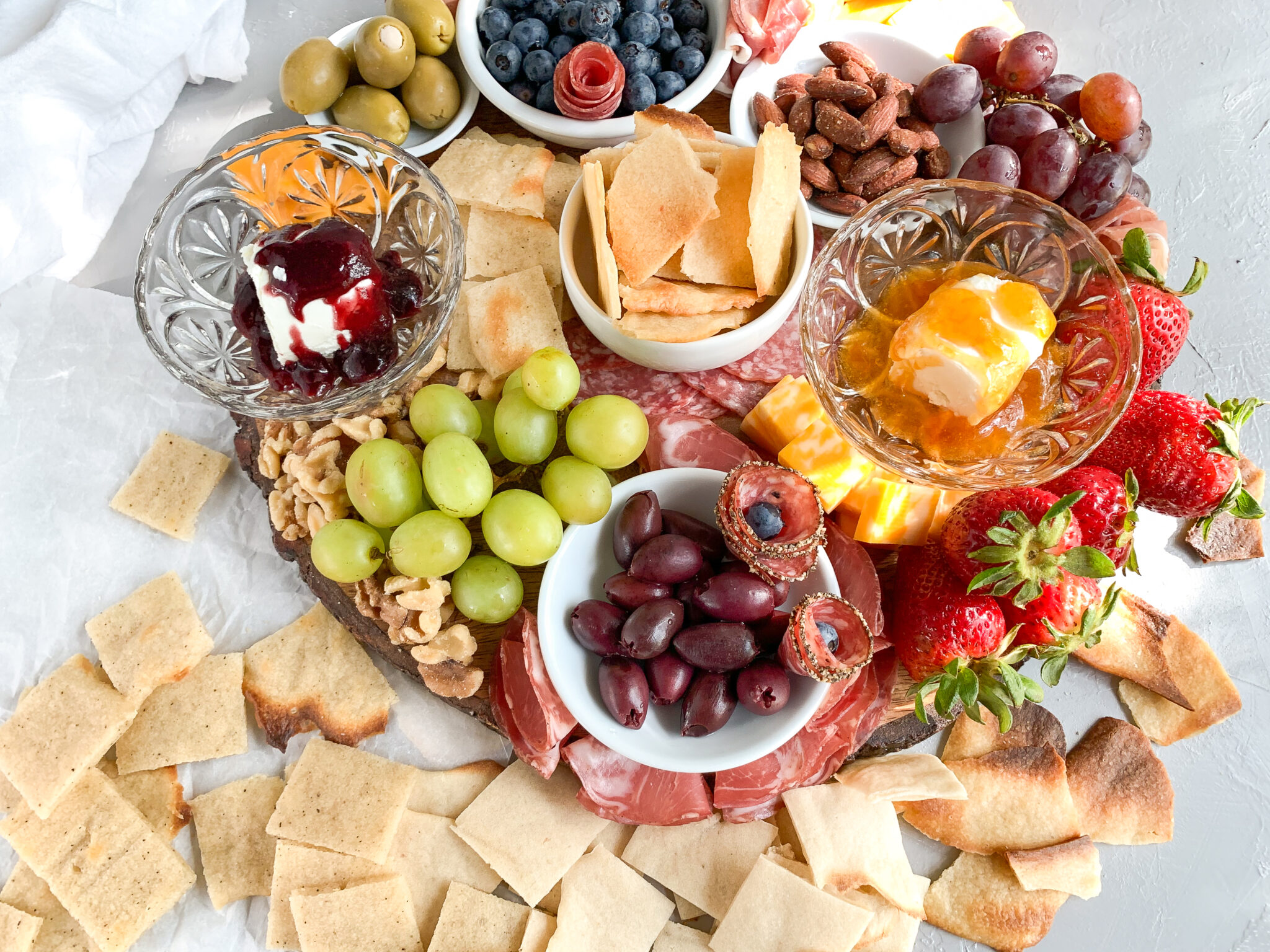 Instructions: Make The Sourdough Crackers
In a large bowl add all-purpose flour, whole wheat flour, garlic powder, salt and combine
In a medium bowl, add sourdough discard, oil, and one cup of water then combine.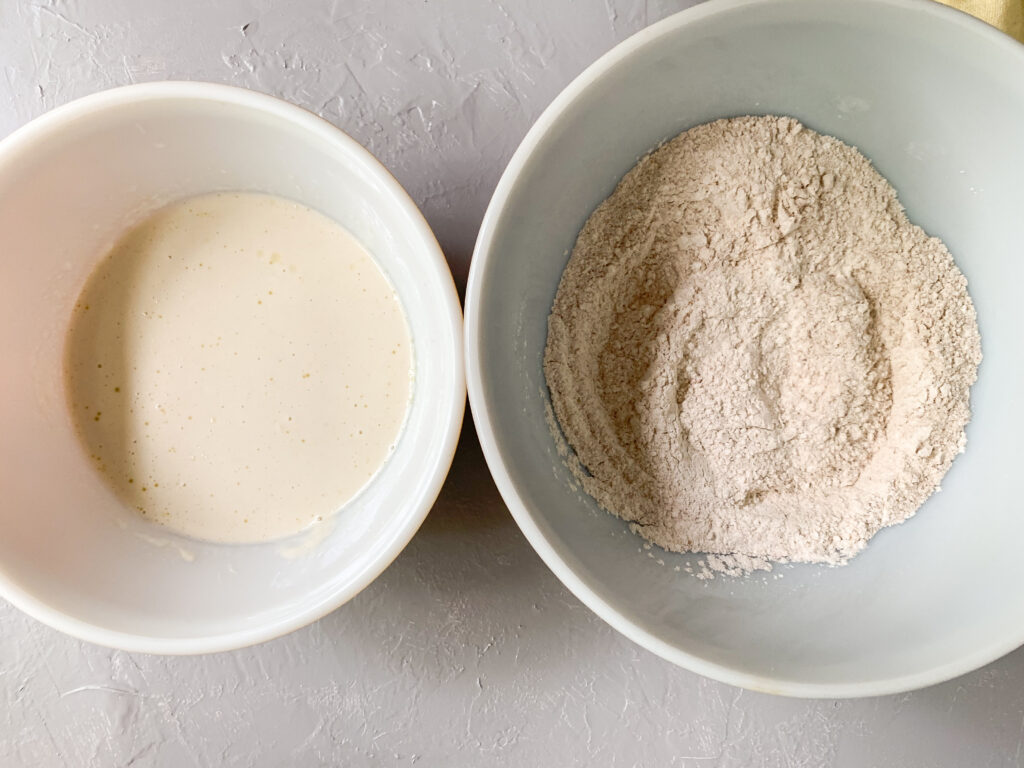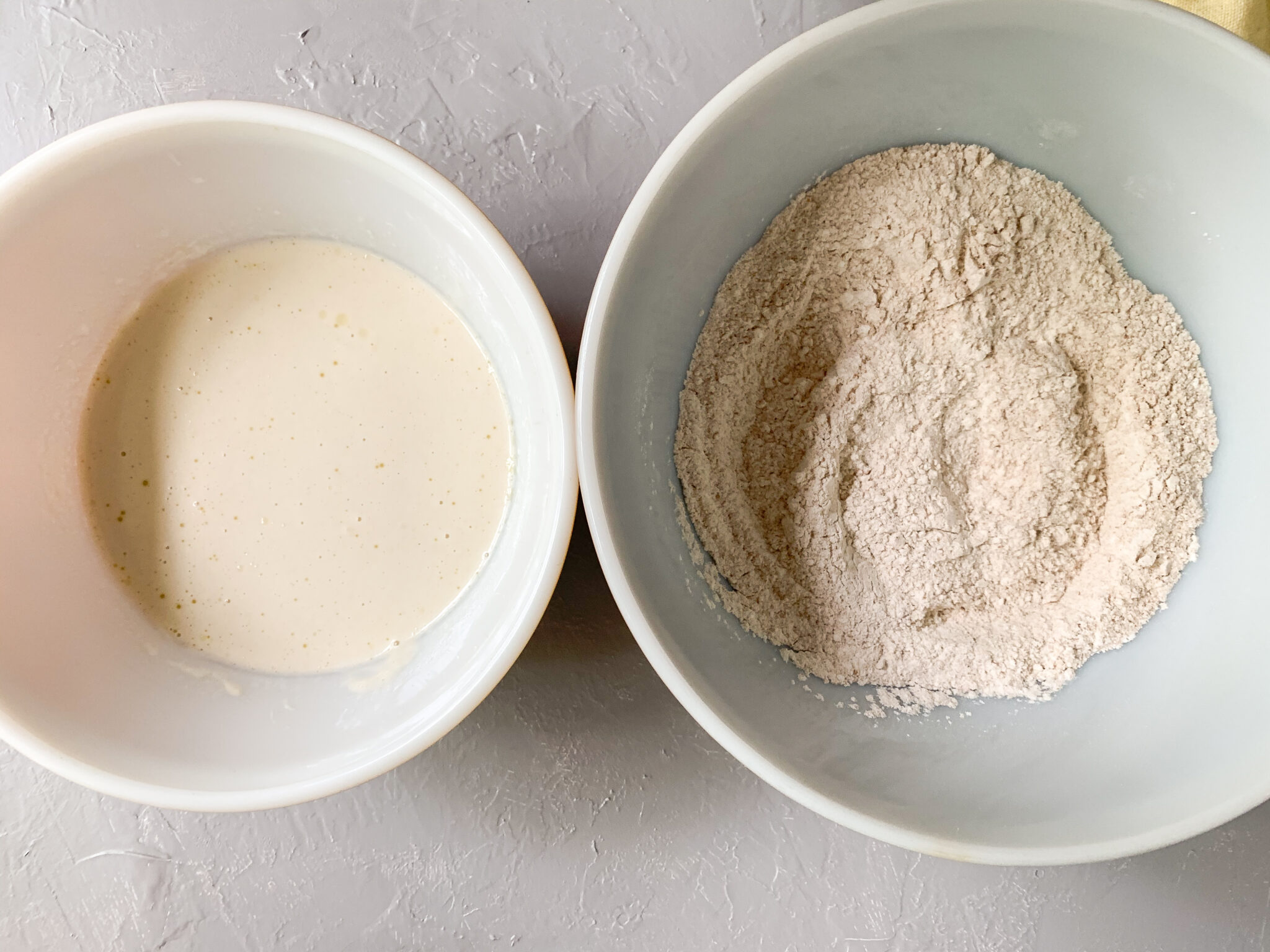 Add ½ of the dry mixture into the sourdough discard and oil mixture and begin to combine. Mix for 1 to 2 minutes.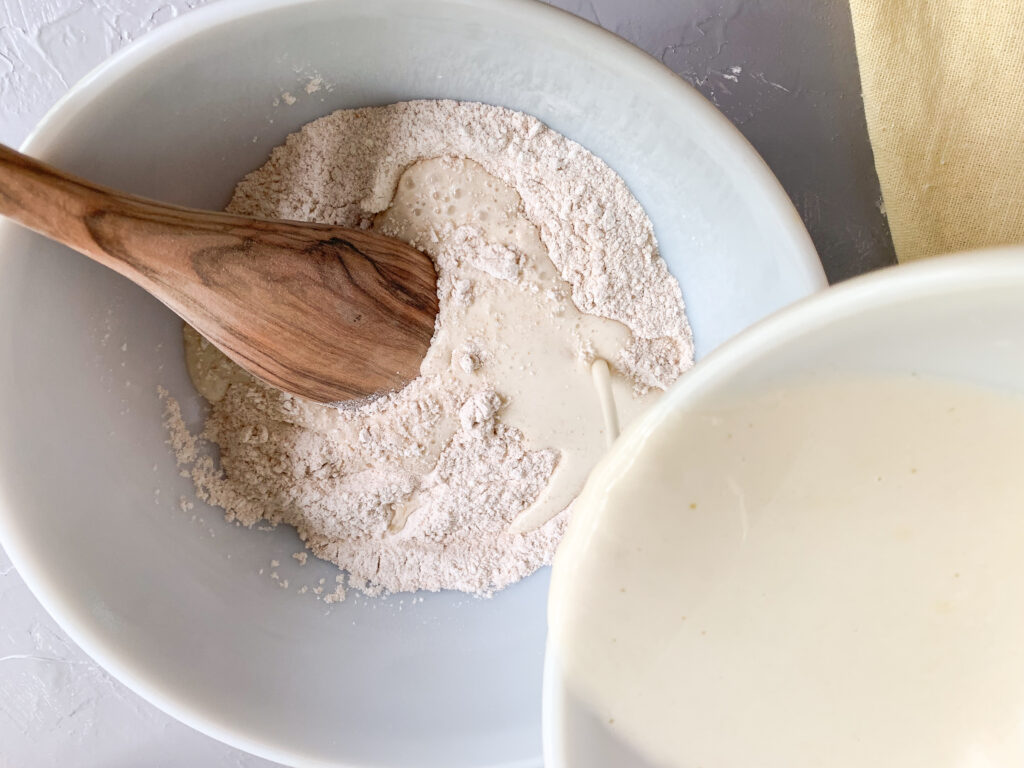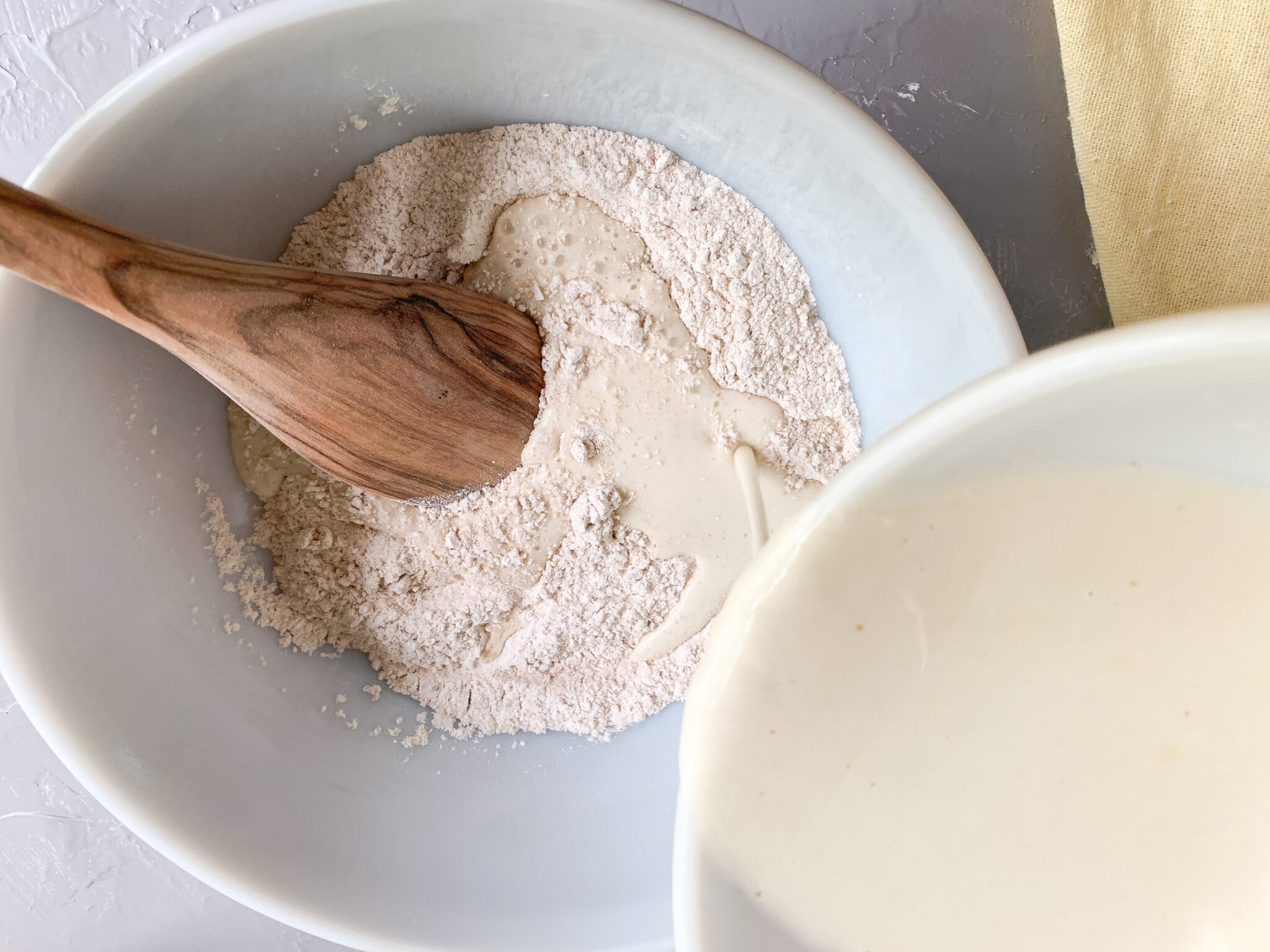 Add the remaining dry mix to the sourdough wet mixture and combine.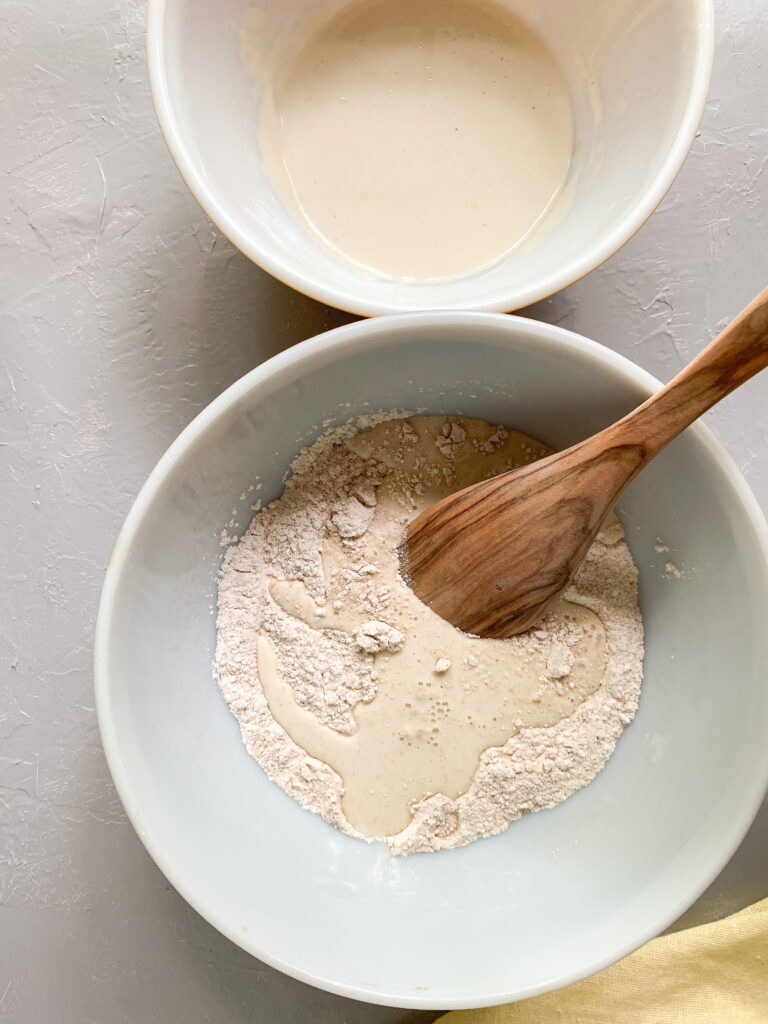 If the dough is still too thick to pour, ¼ cup of the remaining water and mix. Add to a blender and mix until pourable.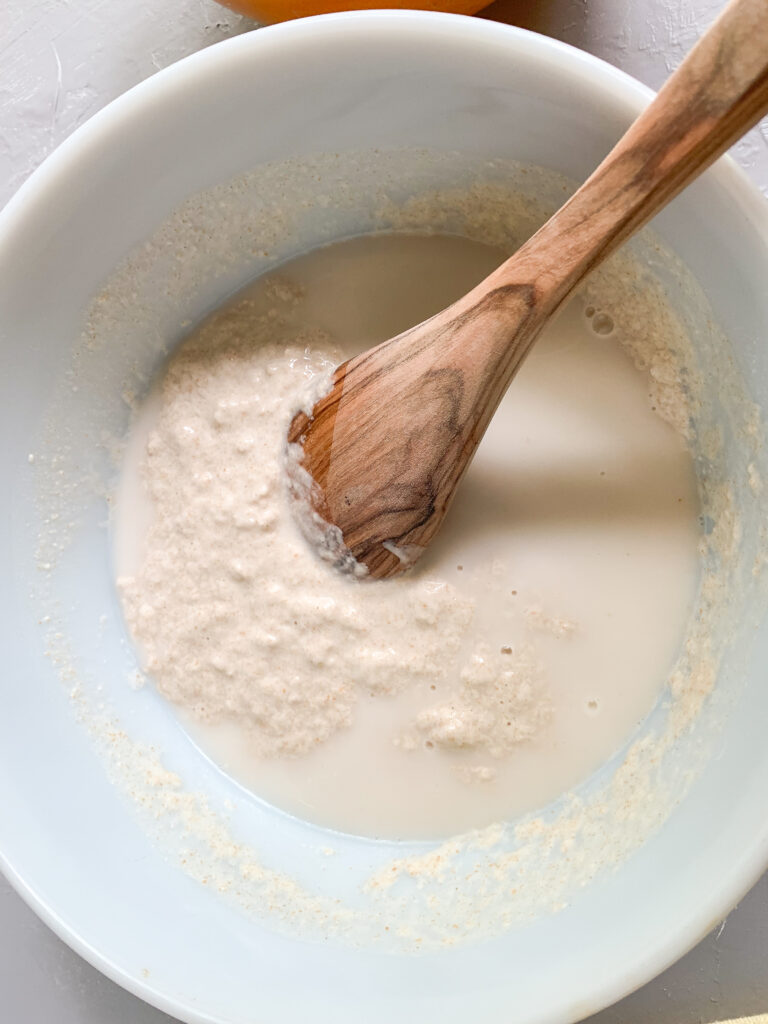 Pour a thin layer of the sourdough dough batter out onto your jelly roll sheet pan
Add the ½ of the pink Himalayan salt to the top of the dough
Place it in the oven on the middle wire rack for 20-40 minutes
Why Make Homemade Crackers?
I like making things from scratch, and love it, even more, when they are as easy as this sourdough cracker recipe.
Are homemade crackers better than store-bought crackers? Comparing both taste and texture, yes.
Sourdough Crackers Ingredients For A little Variety
Flour
Oil
Salt
Water
Options:
Salt and Oil
Herb and Oil
Onion and Garlic
While I love all of the above and more, making an oil cracker is one of my favorites. It allows for the flavor of the food to come through.
What are some variations you recommend?
If you have ever wondered if you can make sourdough crackers, the answer is absolute! And they are going to be a staple in your home. The variety that you can make with them is endless and they are a fraction of the cost with very little effort.
With Herbs
Rosemary
Salt
Everything but the bagel seasoning
How long will homemade crackers stay fresh?
If stored properly, homemade crackers can last up to 5 days. With the number of crackers that you are making in this recipe, a family of 2 will usually have them eaten within 2 or 3 days.
How To Store Sourdough Crackers
It is best to store crackers in an airtight container with a paper towel on the bottom to absorb excess moisture. I prefer to use a glass container versus a plastic container.
How To Make Sourdough Crackers Pourable
It is a simple process, in fact, I actually like to make a pourable batter rather than rolling out the dough, especially on those busy nights. It makes these easy homemade crackers no fuss to get on the table quickly. u003cbr/u003eu003cbr/u003eTo make the batter crackers, simply pour a thin layer of the batter into a greased baking sheet that has sides, also known as a jelly roll pan.  If you prefer, you can also you a piece of parchment paper on the pan, instead of greasing it. This is the method that I will use today. u003cbr/u003eYou can pick the pan up to move the batter around a bit, but I like to just use my whisk to quickly spread it around. The layer of batter will look very thin and that is exactly what you want.u003cbr/u003e
How To Get Crispy Crackers
Sometimes the homemade crackers can be more like lavash, a thicker flatbread, which is not a u003cbr/u003eproblem. But the goal of this cracker recipe is to make them crispy as well. u003cbr/u003eu003cbr/u003ePour your crackers into a thin layeru003cbr/u003eFlip them over once they form a solid doughu003cbr/u003eUse a higher hydration sourdoughu003cbr/u003e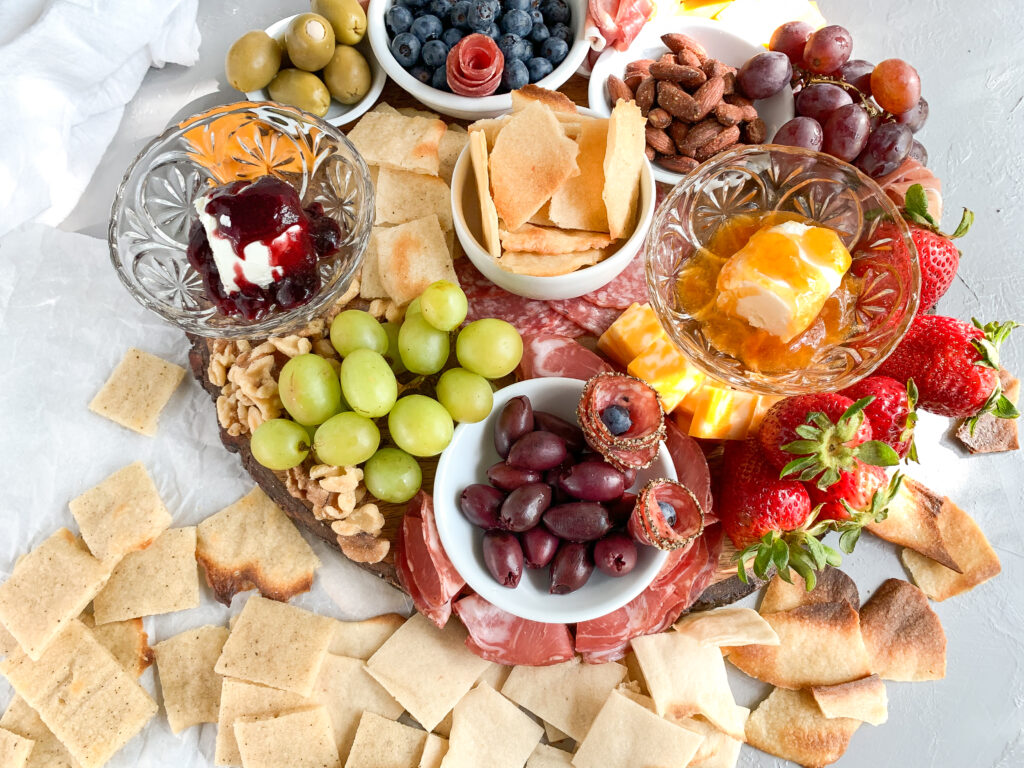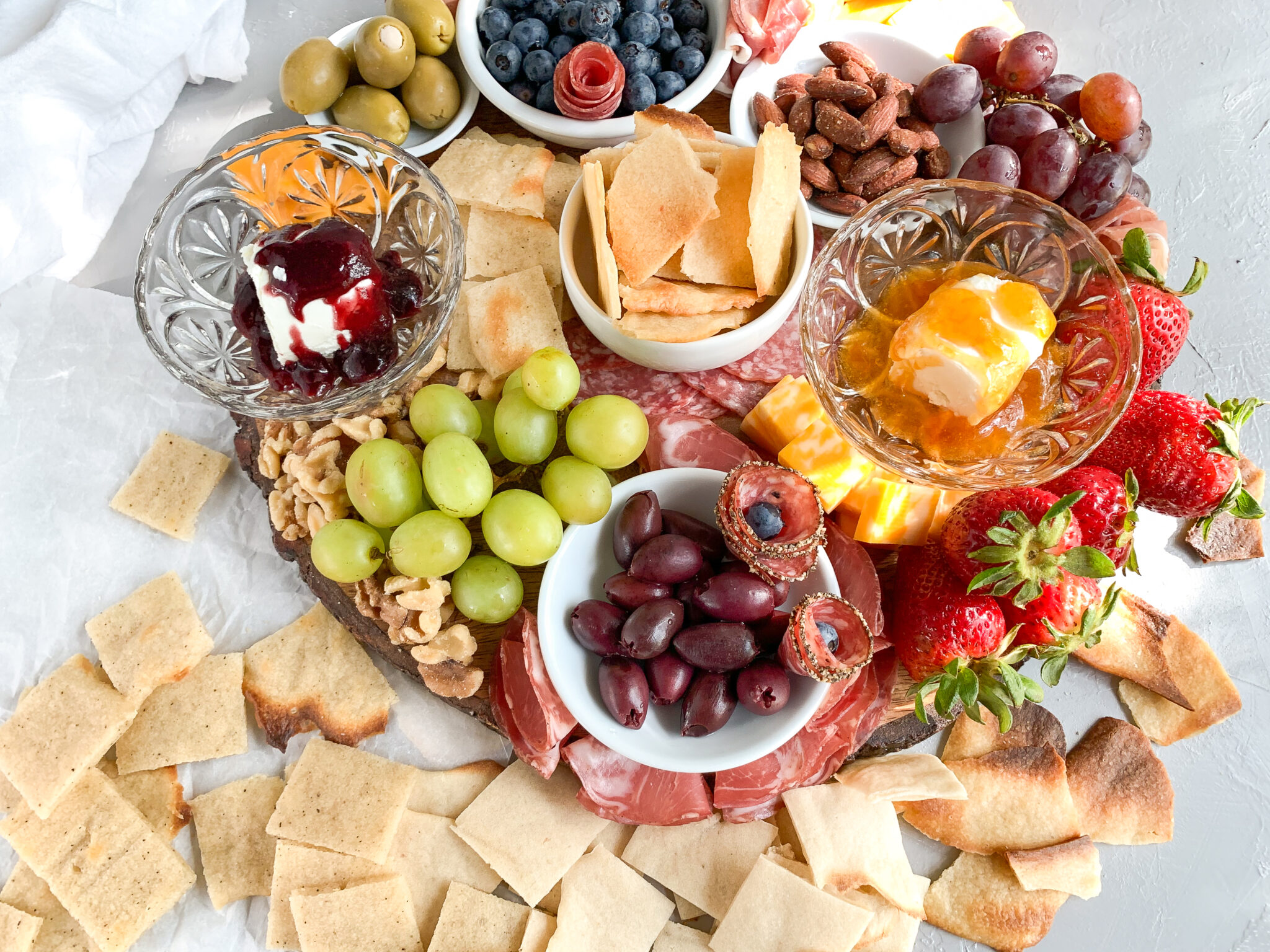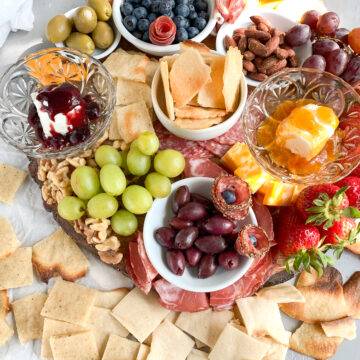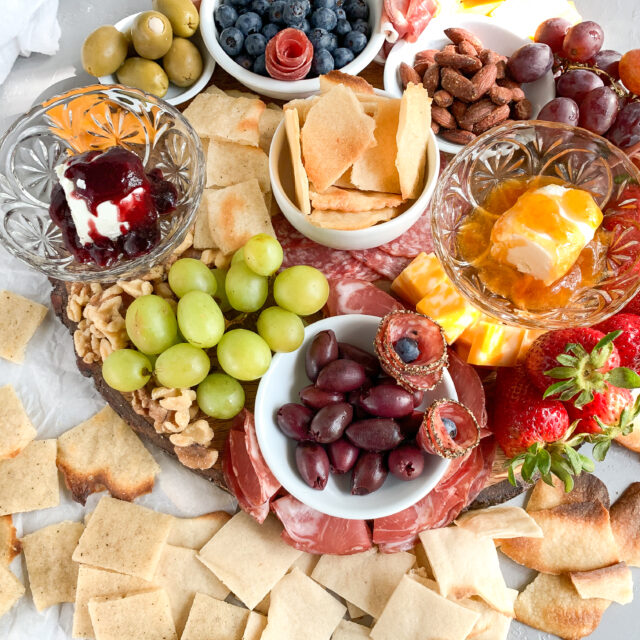 Sourdough Crackers
These homemade Sourdough Crackers are easy to make because you only have to pour them out. No rolling or kneading required. Recipes Using Discard Sourdough.
Notes
Salt:
Please note that I am using course Himalayan salt. If you wish to switch the salt and use either sea salt or another coarse salt
Bake Time:
Since oven times, seasoning of your pan, hydration of your sourdough, and elevation levels all play a part in baking you will want to start by baking for 10 minutes and checking your crackers. Then check again every 10 minutes until the crackers are done to a firmer texture. Make note of this on your printed recipe. Once you try the recipe the first time, you will have a reliable and stable recipe for your environment. 
Crunchy Crackers:
cook for close to 40 minutes. Depending on how thick your sourdough discard is will also determine if you will want to add any additional time. For crunchy crackers, you will want to cook them until they are golden brown.
Be sure to place them on a cooling rack and allow them to cool completely. 
If your crackers are not thin enough, they will not be crunchy, but they will still be delicious 
Tough Crackers:
This recipe will keep you from making your crackers tough. The hardest part of keeping homemade crackers is overmixing, over kneading, or rolling them too thick. 
Jelly Roll Pan
: If you are using a new jelly roll pan, please note that the crackers will not brown as easily, or may not brown at all. 
Make sure that your jelly roll sheet pan is not holding any liquid in the center. If it does, your crackers will be thick in the middle and extra crispy on the sides. 
You can test this by pouring a cup of water onto your jelly roll. If the water sits in the middle, you may want to get a new pan and use this pan for roasting veggies, meats, and other sheet pan meals. You can use your pan for cookies, but you will get cookies that have tails on them because the batter will run a little. Not the end of the world, but just note the cookies that bake in the middle will not be round.
Soft Crackers
: If you pour the batter too thick, you will have soft crackers. Which is not necessarily a bad thing, and they are still an absolutely delicious cracker. These remind me of lavash bread crackers.
To make them softer you will pour the batter a little bit thicker and also bake for less time. 
Double the amount of the batter you pour for the thin crackers and then cook for thirty minutes instead of forty minutes. 
Nutrition
Serving:
6
crackers
|
Calories:
542
kcal
|
Carbohydrates:
49
g
|
Protein:
7
g
|
Fat:
36
g
|
Saturated Fat:
5
g
|
Polyunsaturated Fat:
4
g
|
Monounsaturated Fat:
26
g
|
Sodium:
2366
mg
|
Potassium:
19
mg
|
Fiber:
2
g
|
Sugar:
1
g
|
Vitamin C:
1
mg
|
Calcium:
24
mg
|
Iron:
1
mg
Did You Love This Recipe?
Follow me on Pinterest For More Inspiration! @KarlaHarmer