These Apple Life Cycle Printables are a great way to make learning fun. Your kids can learn how a delicious fruit grows while being entertained.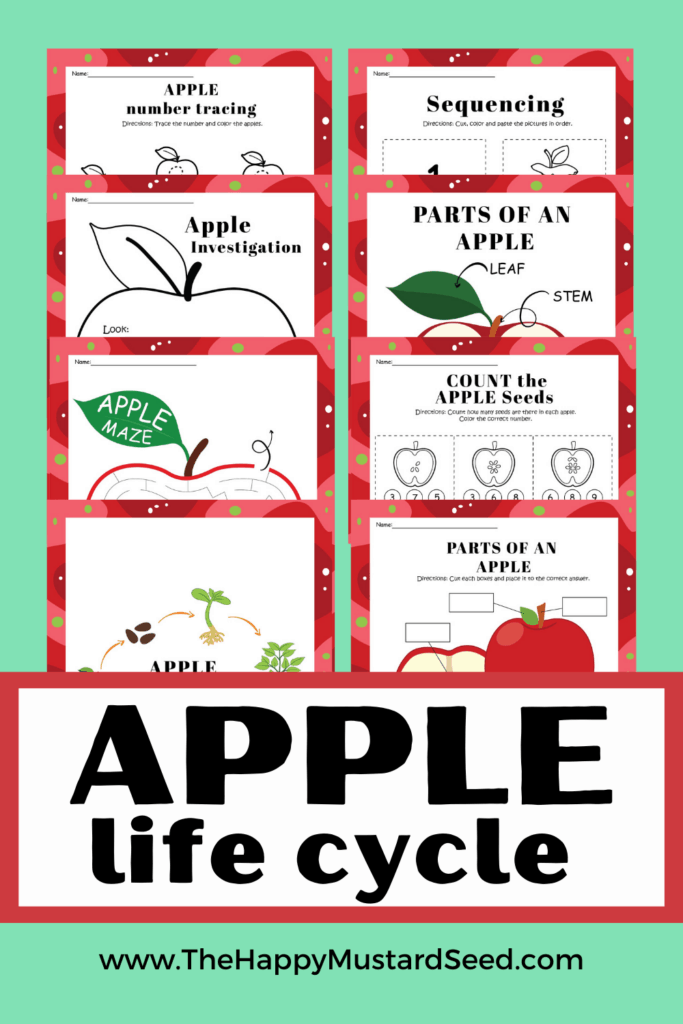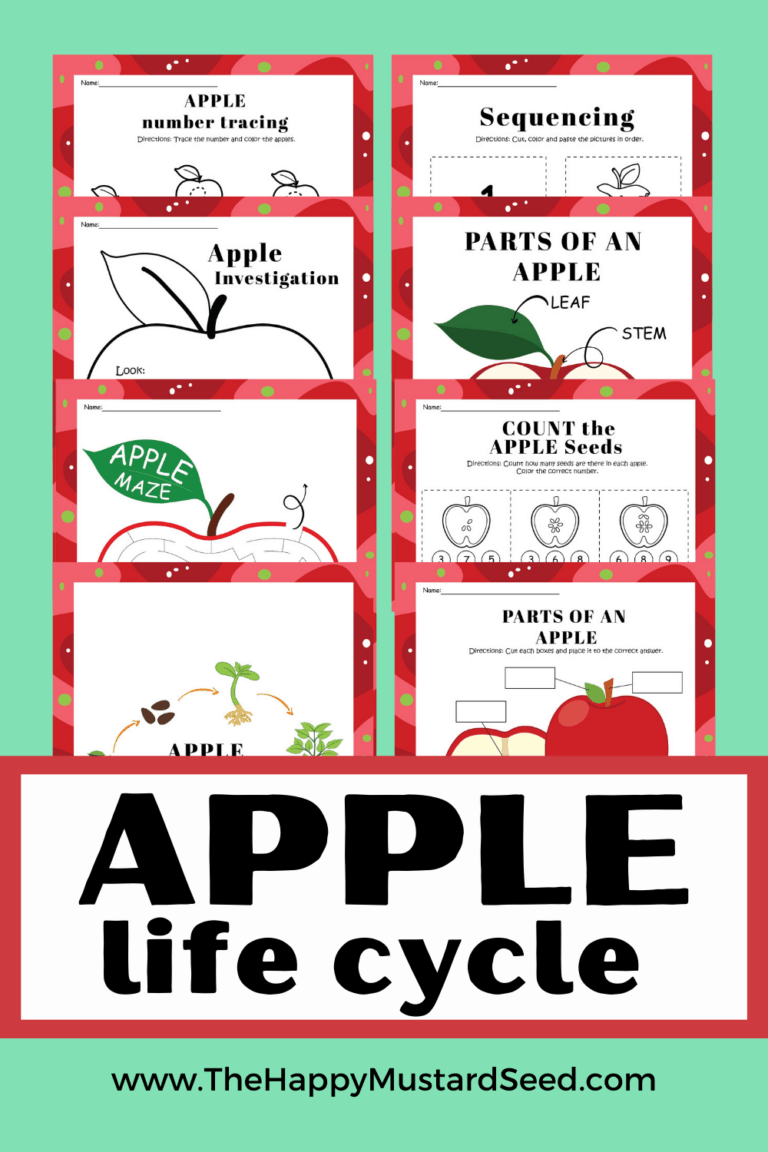 This post contains affiliate links, some of which may be Amazon links which means I receive a commission, at no extra cost to you, if you make a purchase using this link. Thank you!
Apple Life Cycle Printables
Once you print this pack of eight pages, you are ready to teach your child the life cycle of an apple. There are also supplemental activities in this pack to help reinforce the concept as well as work on building other skills.
The cover page of the PDF document gives a visual representation of how apples grow.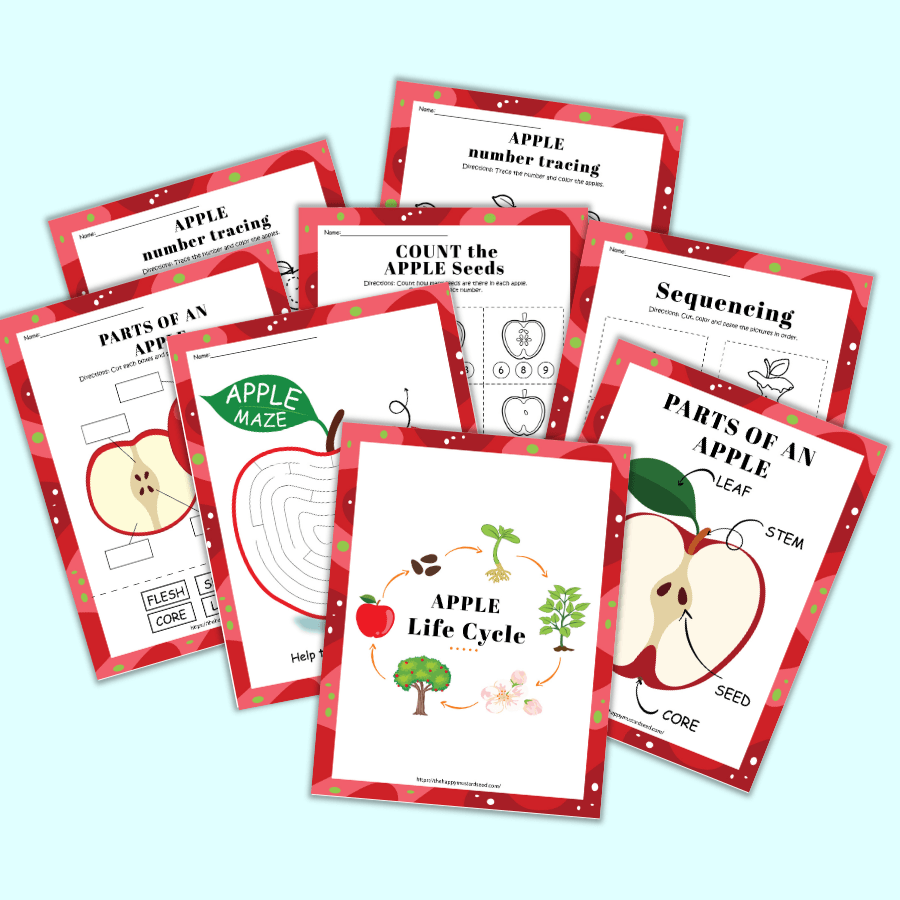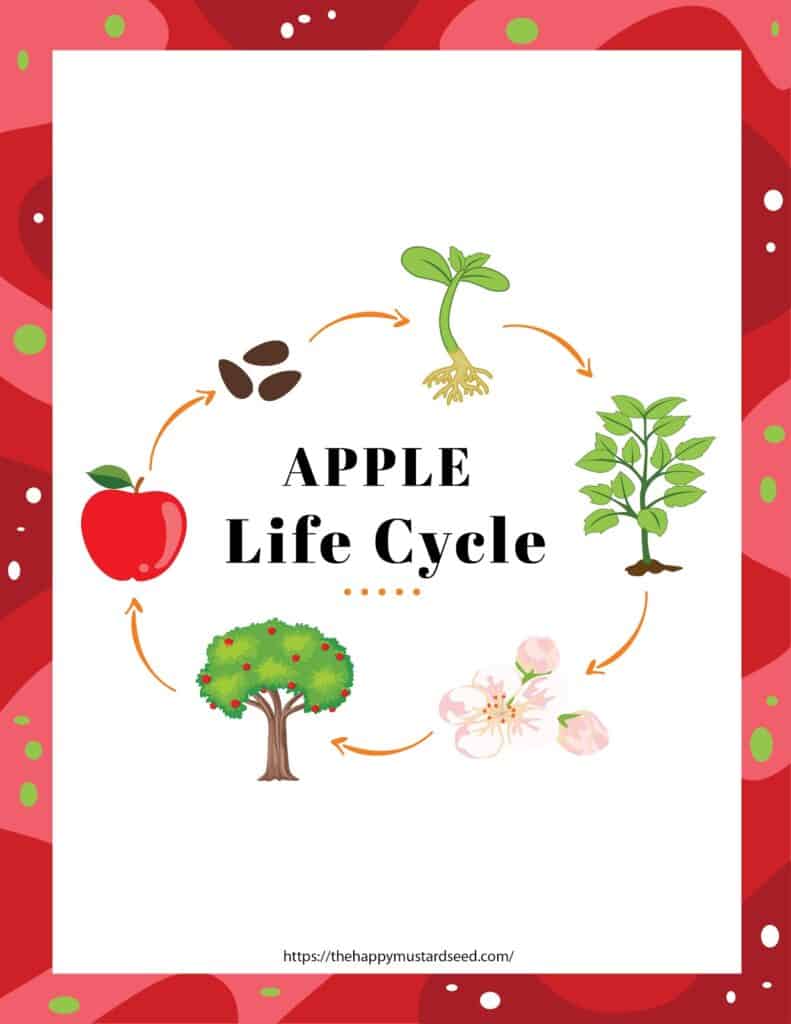 I'll explain the process below.
An apple starts as just a seed
The seed grows into a sprout
The sprout continues to grow until it is a sapling
As the sapling grows into an apple tree, blossoms grow from it.
These blossoms bear fruit, which are the apples we pick!
You can explain the life cycle of an apple with the photos and discuss how each step works in order. Reading a book about the apple life cycle with your kids is a good idea too!
Apple Printables Included in this Pack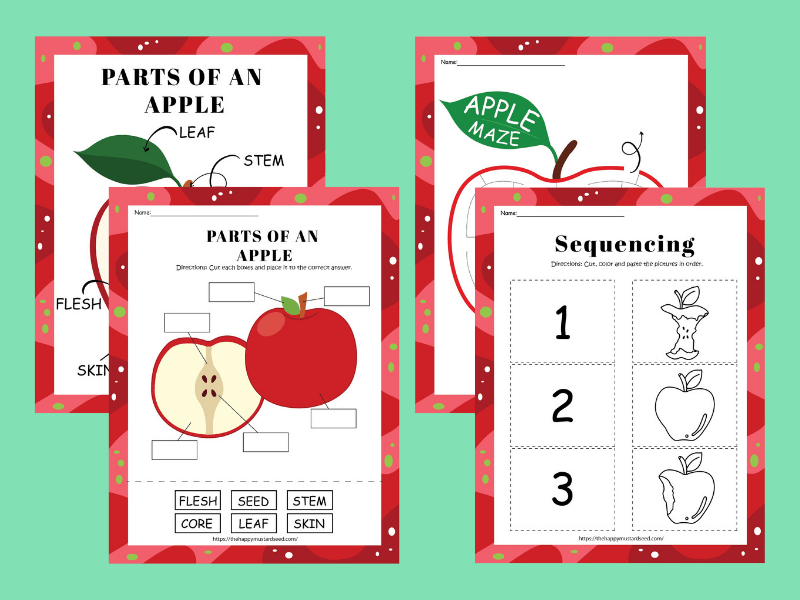 Kids will also learn the parts of an apple with this printable pack. One page has each part labeled, including the leaf, stem, flesh, skin, seed, and core. Another page lets your kids cut and glue the correct word onto the apple to show what they have learned.
A fun Apple Maze lets your child help the worm find his way out of the apple so he can be free!
Next, we have an Apple Sequencing activity. The pictures show the apple in various stages of being eaten. Your children can color, cut, and glue the pictures in the right order. Sequencing is an important concept that kids need to learn for math and storytelling.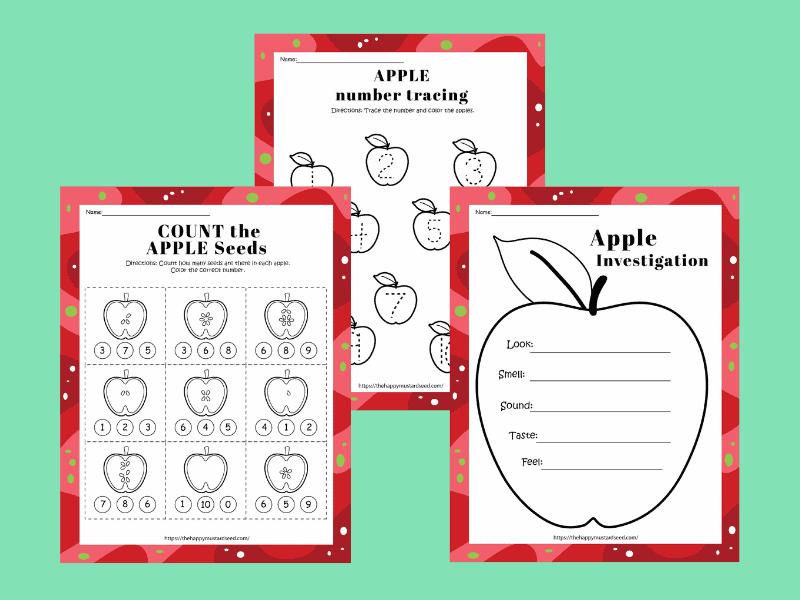 Counting the Apple Seeds is definitely a useful math worksheet in the Apple Life Cycle printable pack. Your kids can count the seeds in each apple, then color in the correct number below it.
Apple Number Tracing helps within the area of math. Your child will practice number recognition as well as hand-eye coordination as he traces each number.
Finally, there is the Apple Investigation worksheet. This activity lets your child use all five of his senses to talk about the apple. Kids get to work on their language arts and writing skills as they jot down how the apple feels, smells, tastes, looks, and sounds.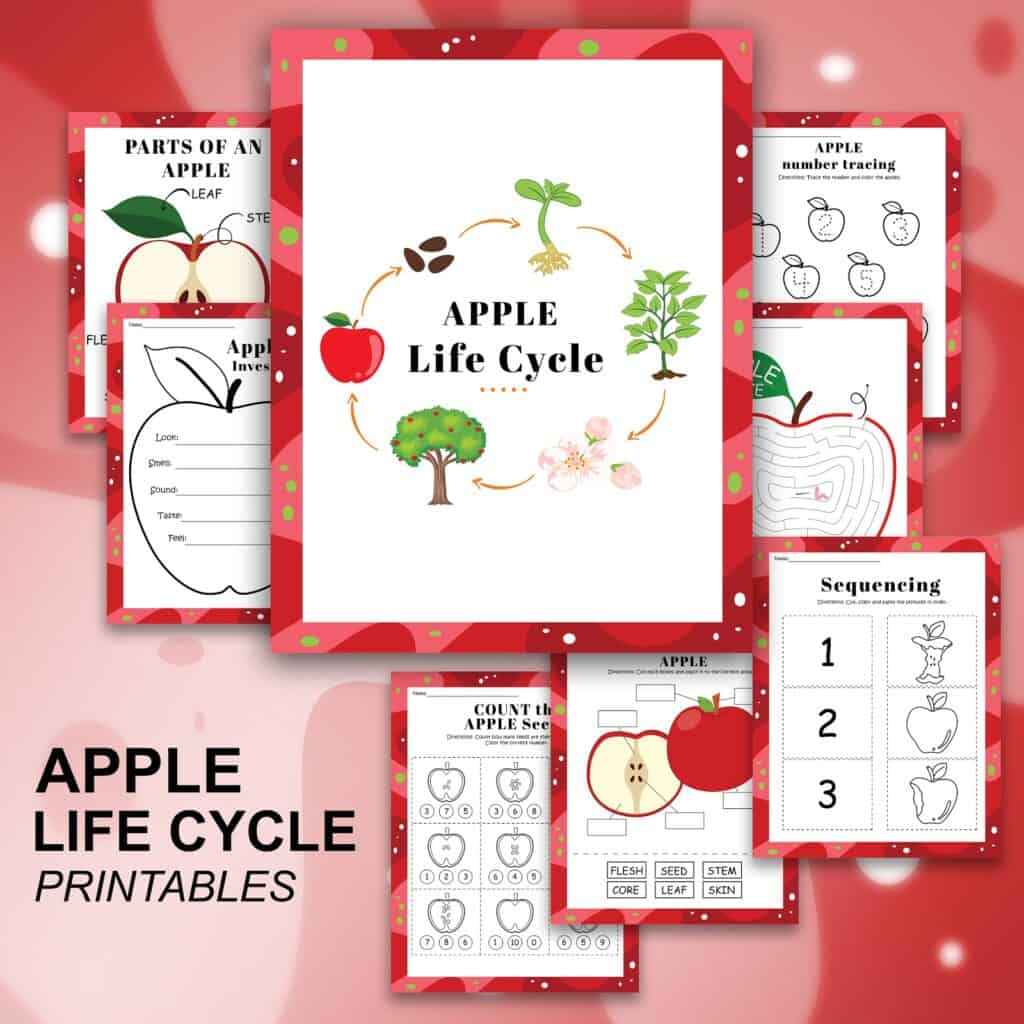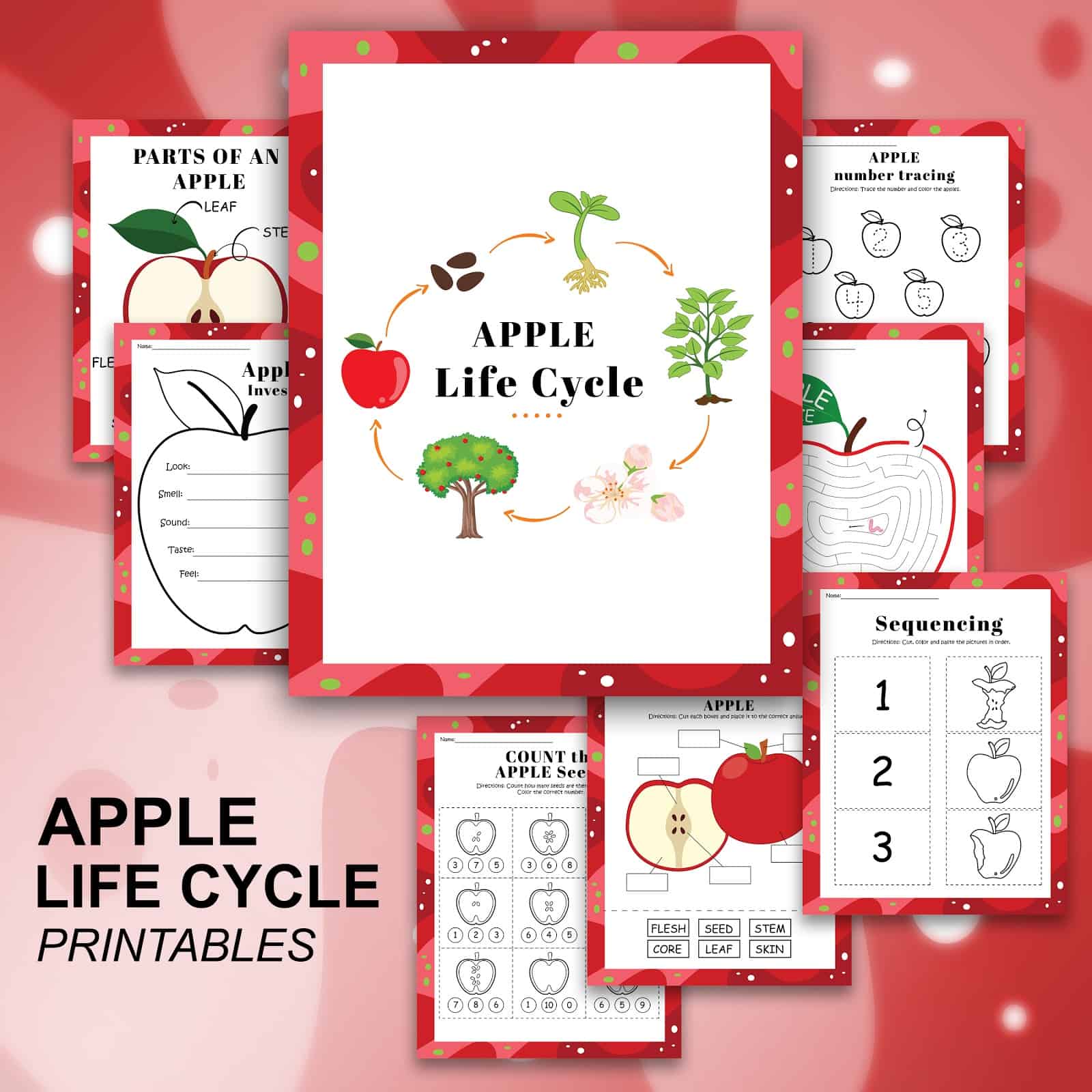 I hope your kids enjoy these printables while learning all about the apple life cycle!
More Apple Activities for Kids