Finding the Best Day Planners For Moms can be tricky. With so many options out there, you simply can't find "the one" without trying them all, right? I used to think that too and it took me a long time to sort through them all.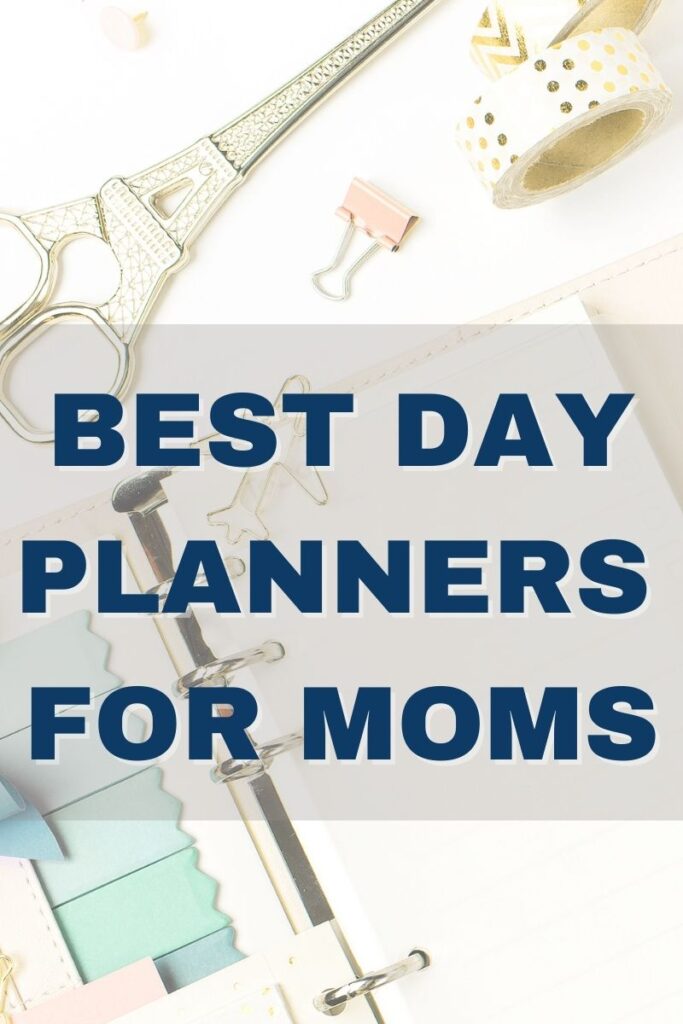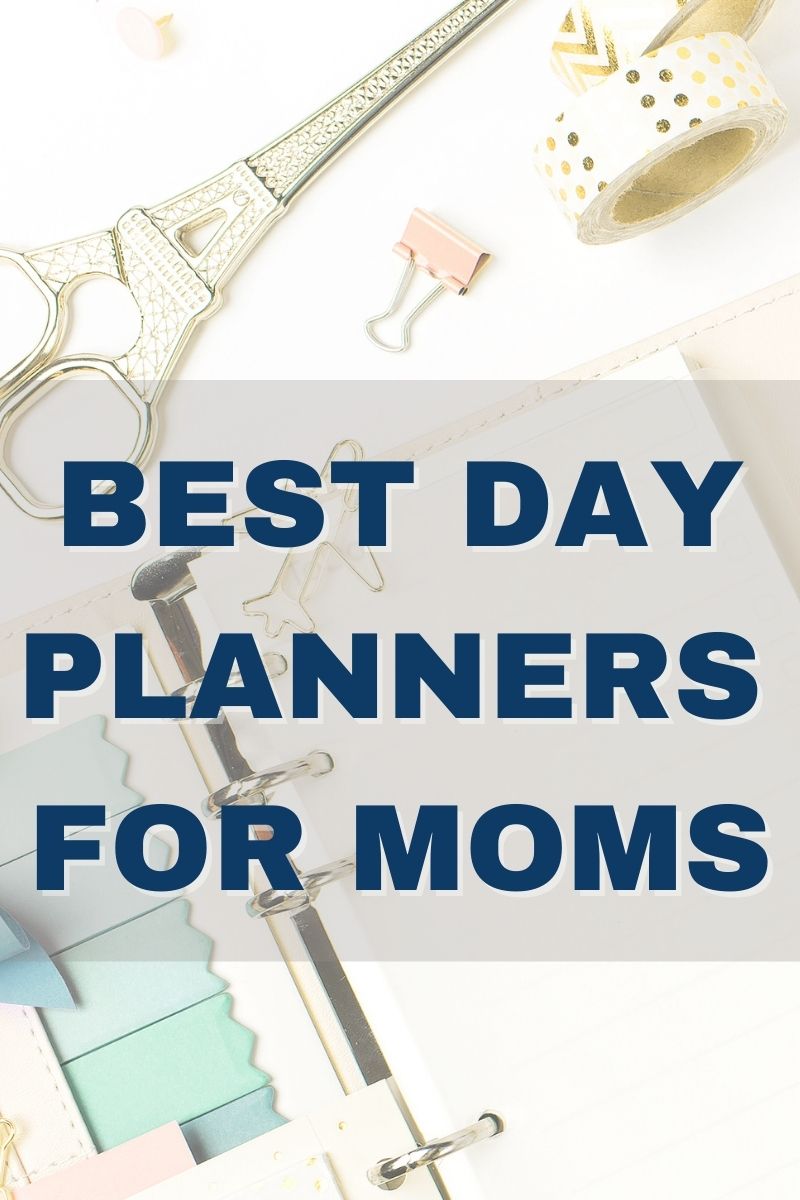 This post contains affiliate links, some of which may be Amazon links which means I receive a commission, at no extra cost to you, if you make a purchase using this link. Thank you!
Here is a break down of some really great planners that can help organize your family life. Everything from bright colors to muted colors to important tasks, specific needs and time management.
We've done the hard work so you don't have to co check out this list of the best planners for moms. Below, you can find the mom day planner that will work for you depending on your goals, needs, and desires.
Ready to get started? Let's jump right into the details so you can find your most organized you.
What To Track In A Paper Planner
The best way to use your planner whether it is monthly pages, notes section, horizontal layout of daily is to figure out what is something that is important to you and your family. Something that you need to keep track of, like doctor's appointments or meal planning. Or something that you need to plan for like a vacation, birthdays, bills, or home repairs. 
Here is a list of some of the things that you can track in a paper planner
Shopping Lists
Meal Planning
Daily/Weekly Chores
Kids Schedules
Recipes
To-Do List
Pet Meds/Vaccines
Family Events
Work Events
Birthdays
Gift Planning
Wish Lists
Yard Maintenance
Pest Control
Work Schedules
Water Intake
Symptoms Tracker
Ovulation/Cycle
Goals
Mood
Taxes Due
Paydays
and so much more.
Whether you already have set-in-stone routines or you're hoping to build new ones, The Mastery Journal can help you do just that.
The setup is simple and smart to allow moms just like you to get up and running in no time. This paper planner works with a 100-day principle. Essentially, it will allow you to develop healthy routines and habits that will stick within 100 days.
Inside, you'll find the standard undated journal pages, as well as assessment tasks to rate yourself and see how effective you were during the week.
The cover is bold and demands attention. Trust us, it'll be hard to slack when this daily schedule planner is staring you down!
The Pros
Simple layout
Bold cover
Undated so you never waste paper
Focused on healthy routines
Easy to get started
The Cons
Cover design may be too baroque for some
For Unbelievably Busy Moms:Happy Planner
Happy Planner has (pretty much) developed its entire planner-making procedure around busy moms! The geniuses behind this company truly understand what mom day planners should look and feel like.
The Me ; My Big Ideas Planner is buildable. In other words, you can add or remove sections that you don't/do need/want. Included in the package is a bunch of stickers and other extras that you can use to spice up your planning time and ensure everything fits your aesthetic.
You can even set up pages for your kids to have their own planner!
The Pros
Dated pages
Buildable design
Reasonably priced
Attractive cover
Lots of stickers and add-ons to choose from
Children can have their own planning space
The Cons
Does not cover the entire school year
For Moms Who Love Goal Setting (And Achieve Them): The Passion Planner
You need a goal-focused planner if this is your main area of concern — and The Passion Planner fits the bill.
The layout is similar to a vision board that you can use to not only plan your day-to-day life but also your future. All you need to do is decide your long-term dreams and set actionable goals to meet them. The planner will help you do the rest.
Inside, there are three page types — monthly calendar, monthly reflection, and weekly pages. On the weekly pages, you'll find handy areas to track your goal progress, personalized to-do lists, and inspirational quotes to keep your motivation high.
The Pros
Loads of layouts in a single notebook
Hundreds of uses
Hardcover ensures durability
Simple and stylish
The Cons
Somewhat time-consuming to fill out
Relatively small spaces for writing
If you're looking to increase productivity then the Daily Planner by Panda is one of the best day planners for moms for you.
It has been designed with psychology and neurological principles in mind. Not only will this increase your productivity but also elevate your mood.
Being a mom and trying to maintain productivity is tough. So, why not take some stress off by using a planner designed entirely for you. Seriously, you won't want to be without it.
The Pros
Dated days
Lots of space to write ideas and to-do lists
Helps to increase motivation and productivity
Elevates your mood
Plenty of reflection exercises
The Cons
Redundant for moms who don't want to increase productivity and explore mental health
Time-consuming if you're not interested in personal development
Not as customizable as others
Some find the layout strange
The Day Designer for Blue Sky 2021 planner has daily view pages, hourly schedules, and a huge, double-page monthly planner calendar. If you're looking to store everyone's events and appointments in one place, you can't go wrong with this planner for family.
It even includes a 4-step "get started" page at the beginning to schedule evening and morning routines!
The Pros
Various styles to choose from
Coil-bound
Large, two-page monthly calendar view
Hourly schedule on daily pages
The Cons
Some redundant pages if you just want to plan
Whether you are looking to plan work life, mom life, set personal goals, eat healthier, or something else entirely, a great way to do this is with The Clever Fox Planner.
The daily calendar, weekly goals, and to-do lists keep everything organized, allowing you to be the best you in all areas of your life. Essentially, you're about to be as productive as all those Instagram moms out there. Who said perfection isn't achievable? Smash those goals, mama!
The Pros
Fun stickers
Stylish design
Bookmarks included
Lots of writing space
The Cons
Too much for those who aren't passionate about planning
I hope that you find the perfect planner for yourself. Send me an email and let me know which one you chose.