Grilled Vegetables Salad is the perfect summer side or lunch. Filled with healthy vegetables, grilled, then cut and tossed in a bowl with olive oil, salt, and pepper. Look no further, this is your new staple side dish this year.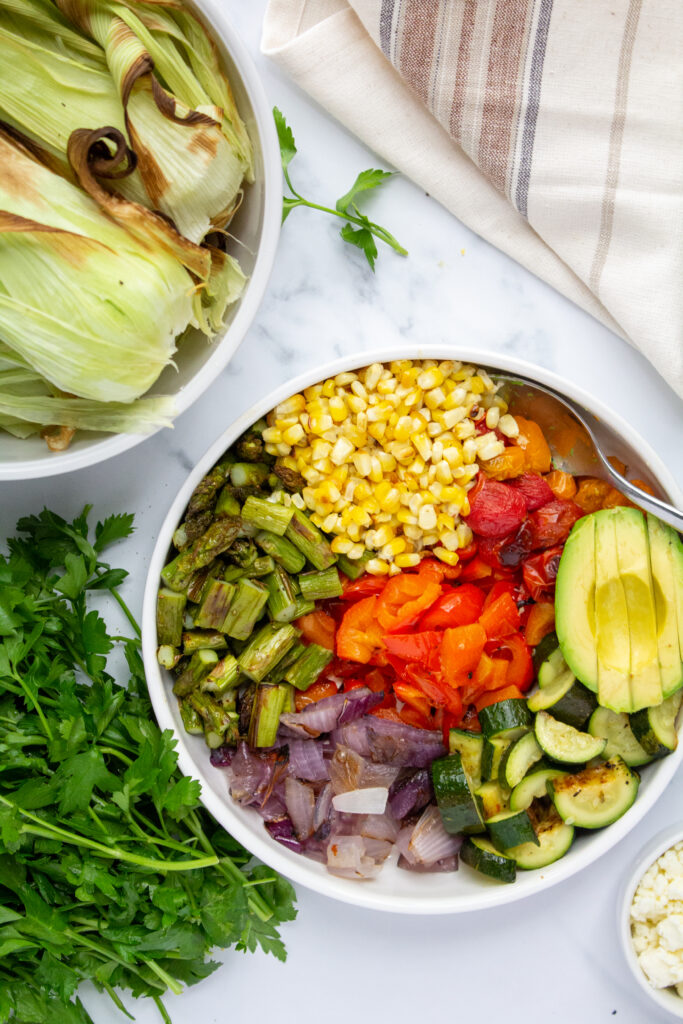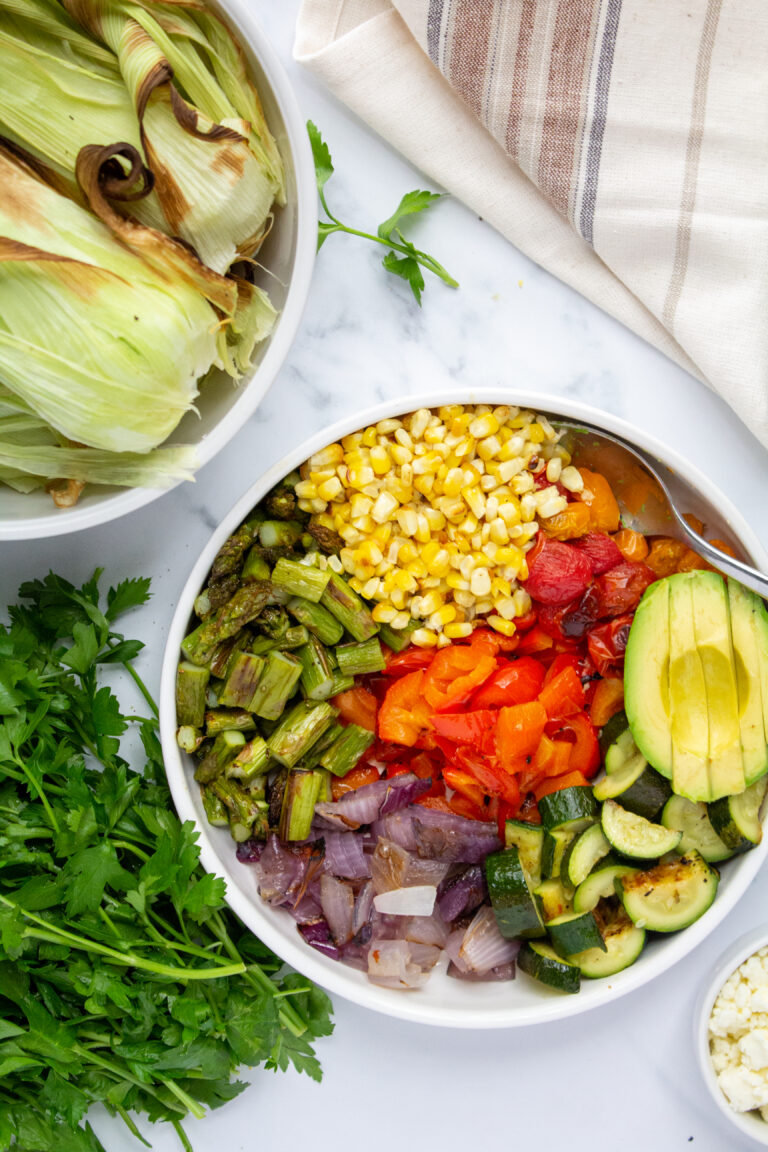 There are so many tasty dishes you can make in the summer and this grilled vegetable salad recipe needs to be at the top of your list. Not only is it easy to make on the grill or in the oven, it's packed with all things healthy! It can be made in 30 minutes and it's mostly hands-off. This means you have plenty of time to prepare the rest of the meal while the veggies cook.
All of these vegetables are bright, flavorful, and in season, but you can feel free to substitute other vegetables. You may already have some at home that you want to use up or some perfectly ripe and local vegetables at your farmer's market that are just waiting to be grilled and diced up. They are fairly interchangeable, but the combination here has been tested and is delicious.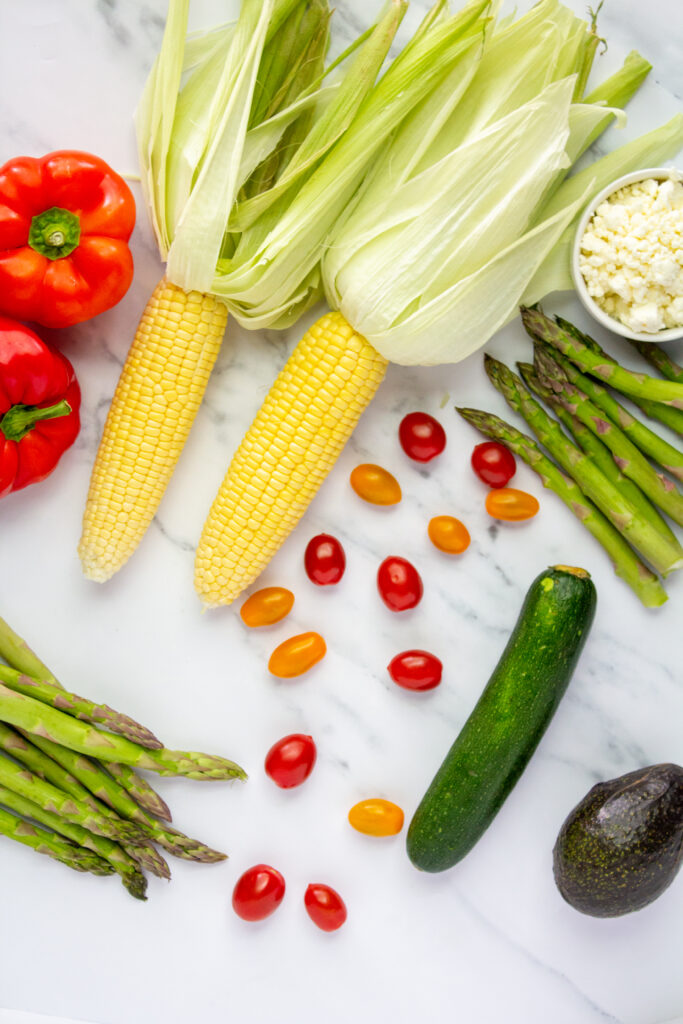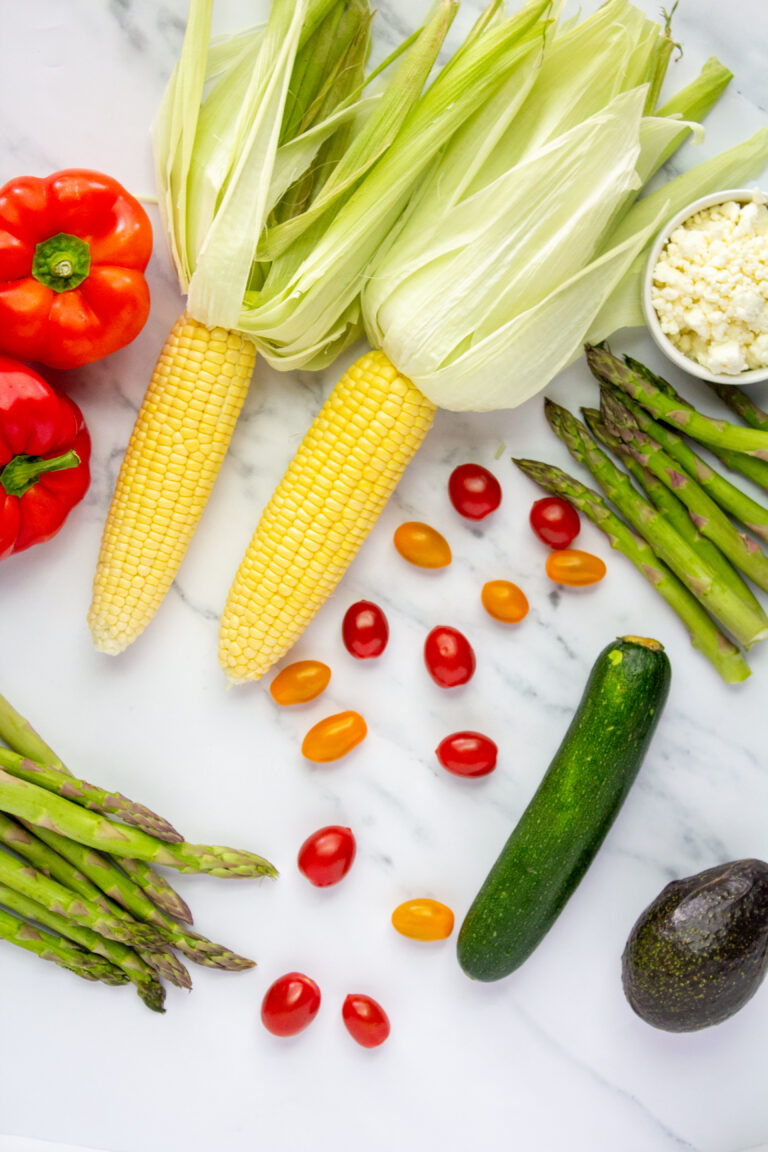 How to make this salad on the grill
Making this grilled summer salad can be done in a few easy steps.
First, heat up the grill.
Next, spray it with oil.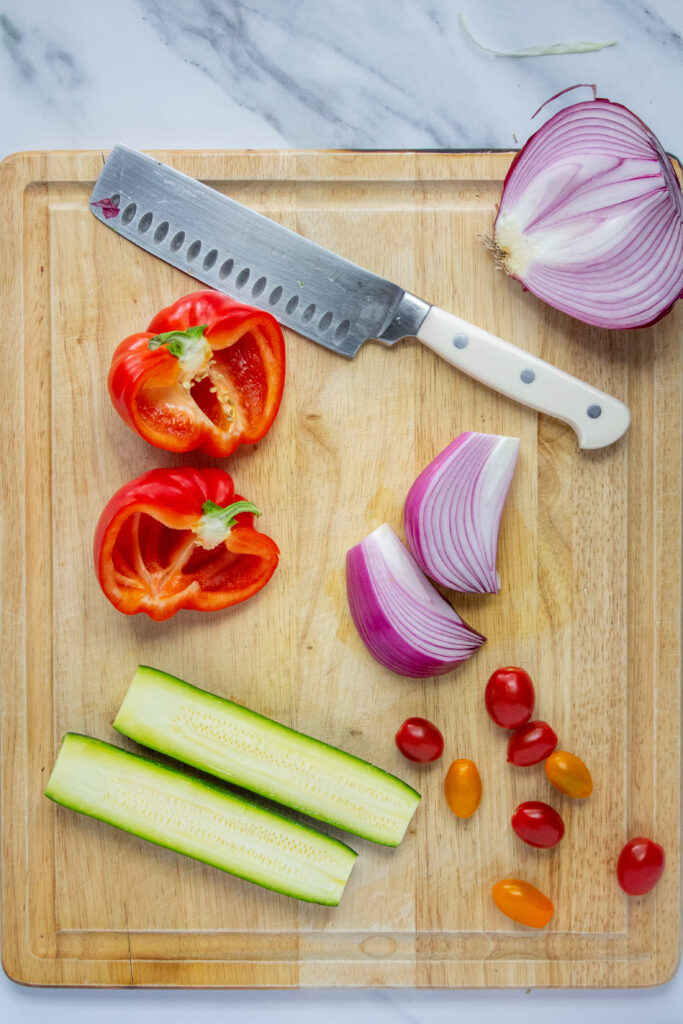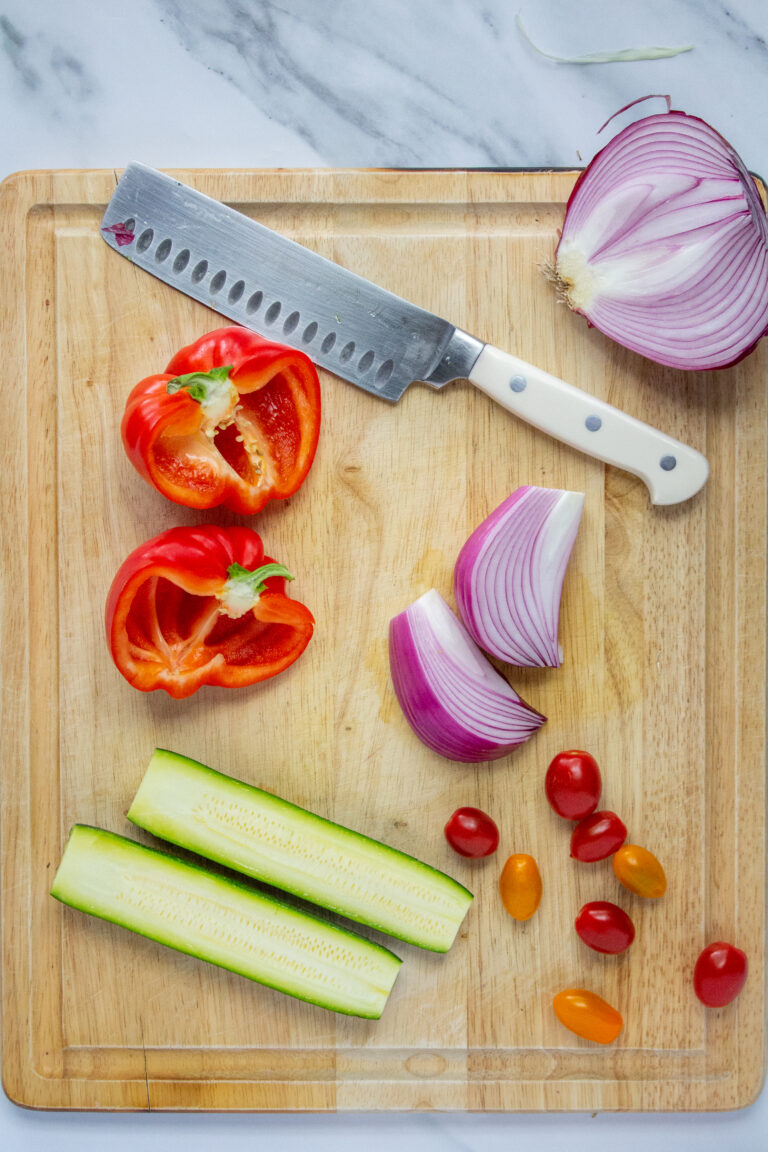 Place the corn on the grill first. It takes the longest to cook.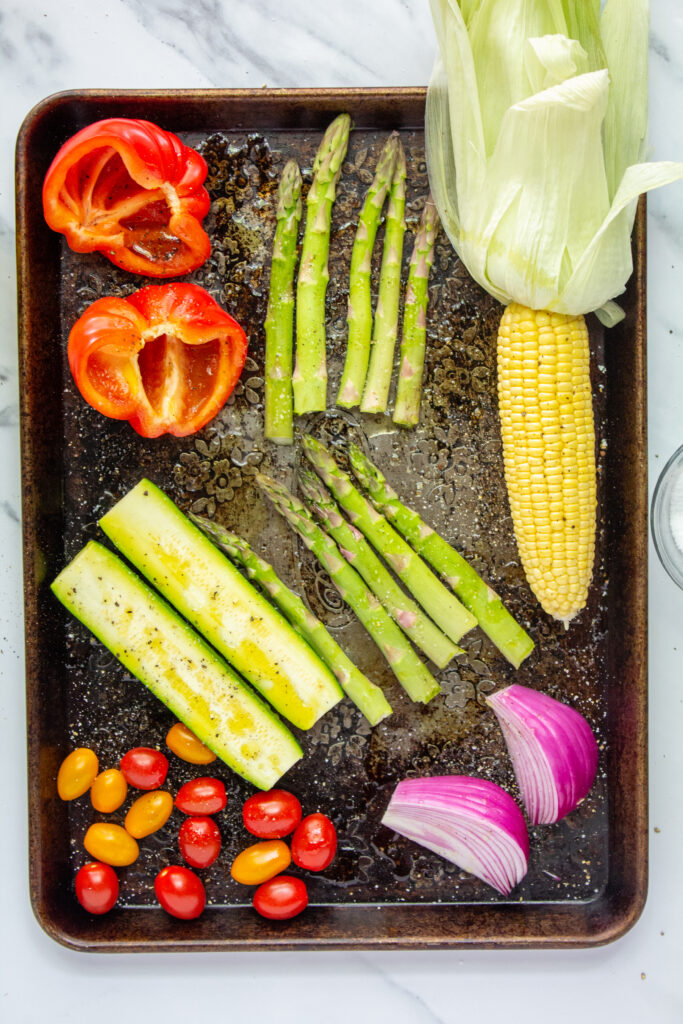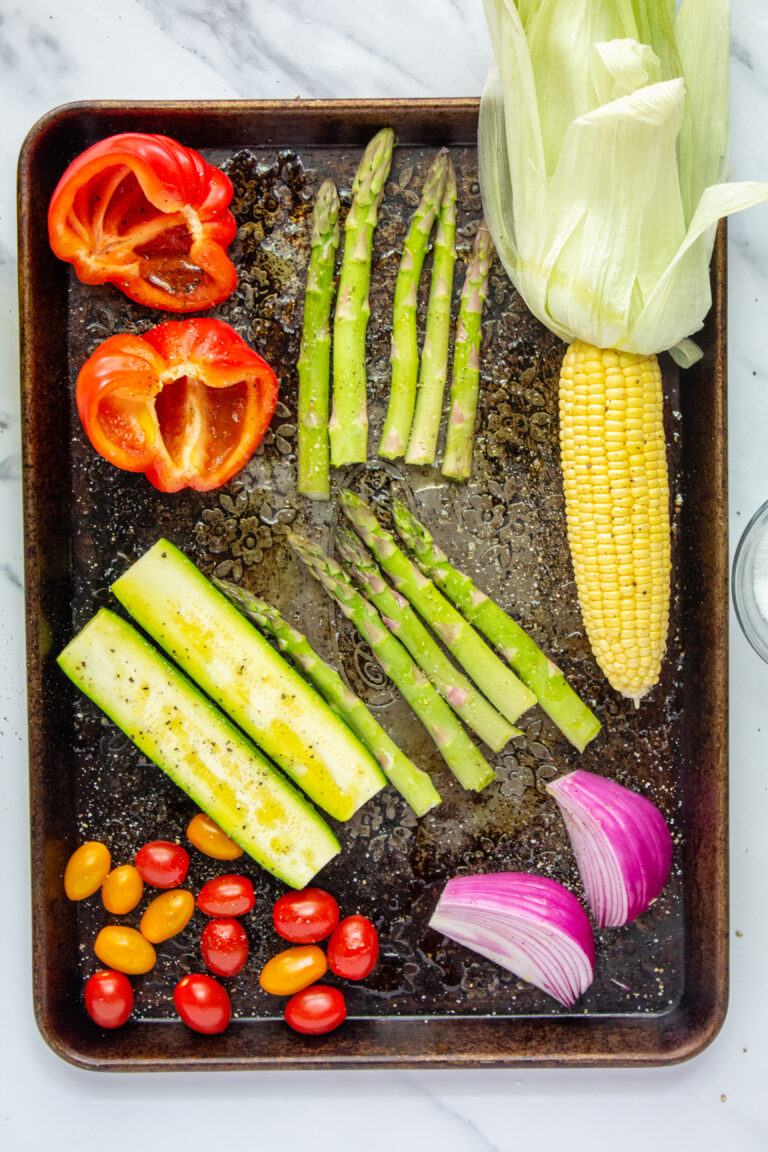 After the corn has been cooked on one side, flip it over and add the other vegetables to the grill.
Turn the corn and flip the other vegetables.
When the veggies have all been charred, remove from the grill and roughly chop.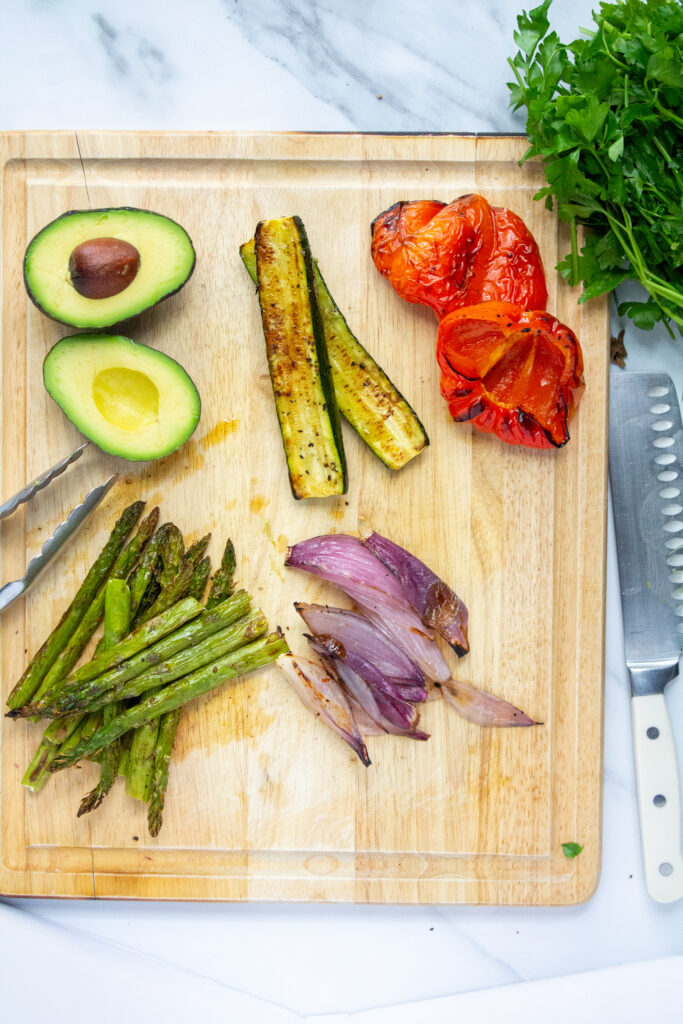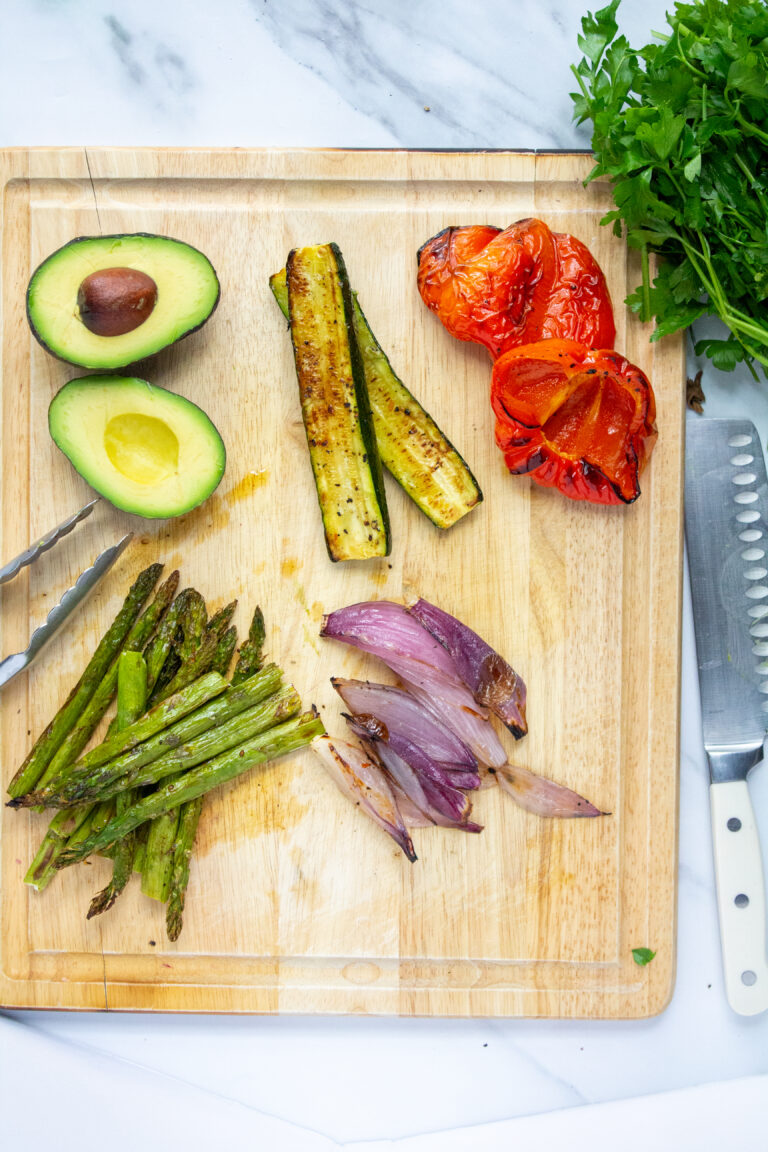 Place them in a bowl side by side for the best appearance.
Top with extra virgin olive oil, kosher salt, and freshly ground black pepper
Serve the grill salad hot.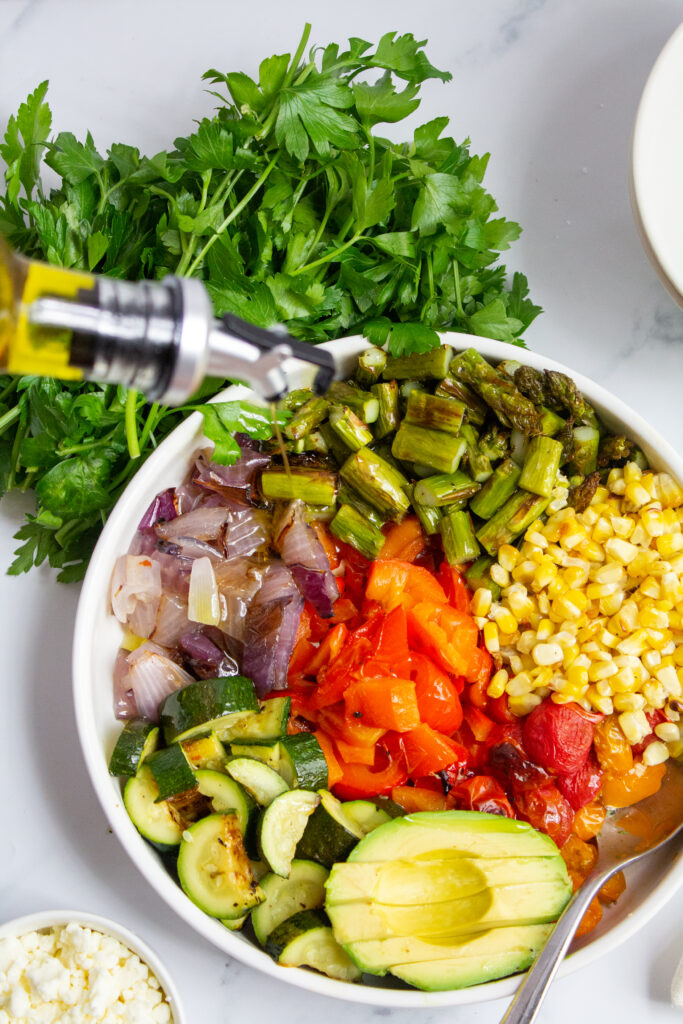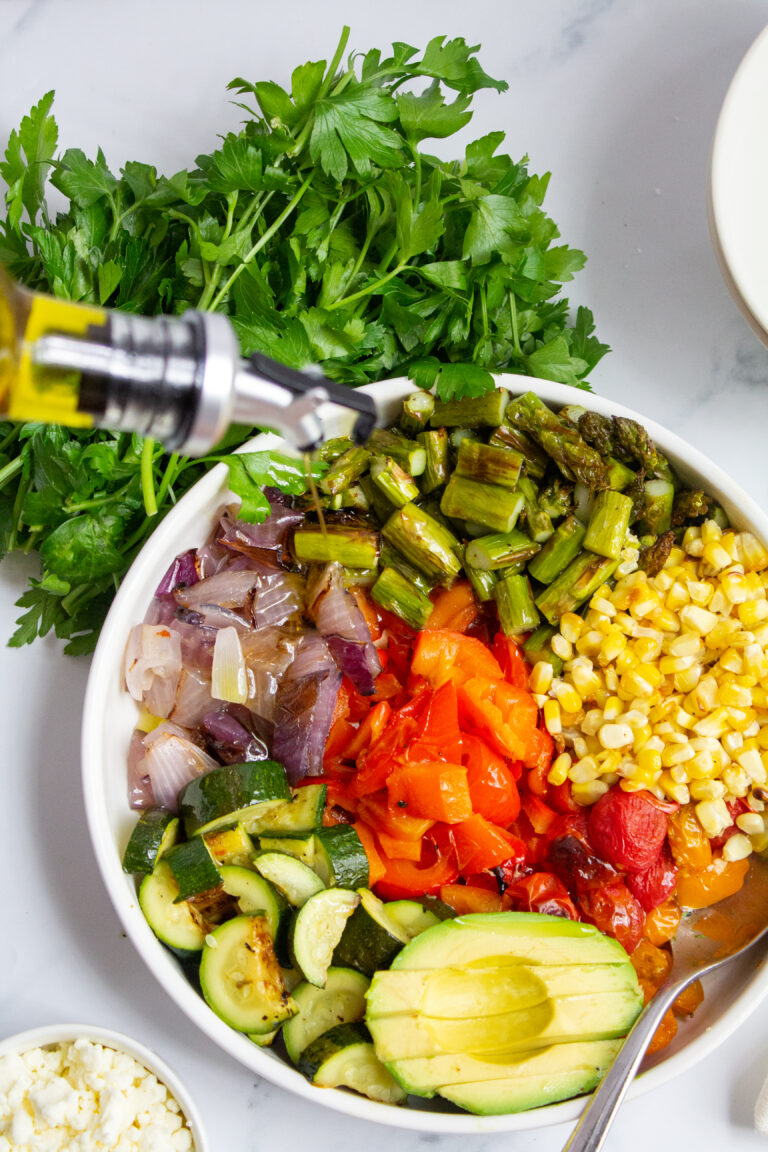 How to make this salad in the oven
If the grill is being taken up by other food or you don't have access to a grill, you can also make this salad in an oven just as easily.
Simply move the rack to the top shelf and heat the oven to Broil on high. After it has heated up, follow the steps above while using a baking sheet, starting with broiling the corn.
The rest of the steps are the same.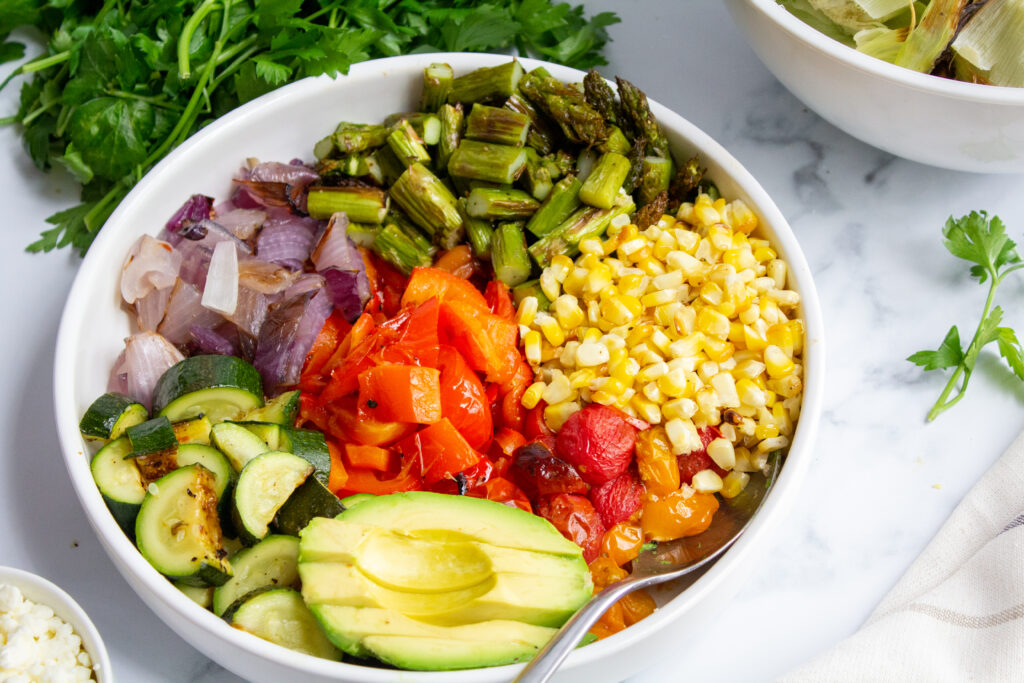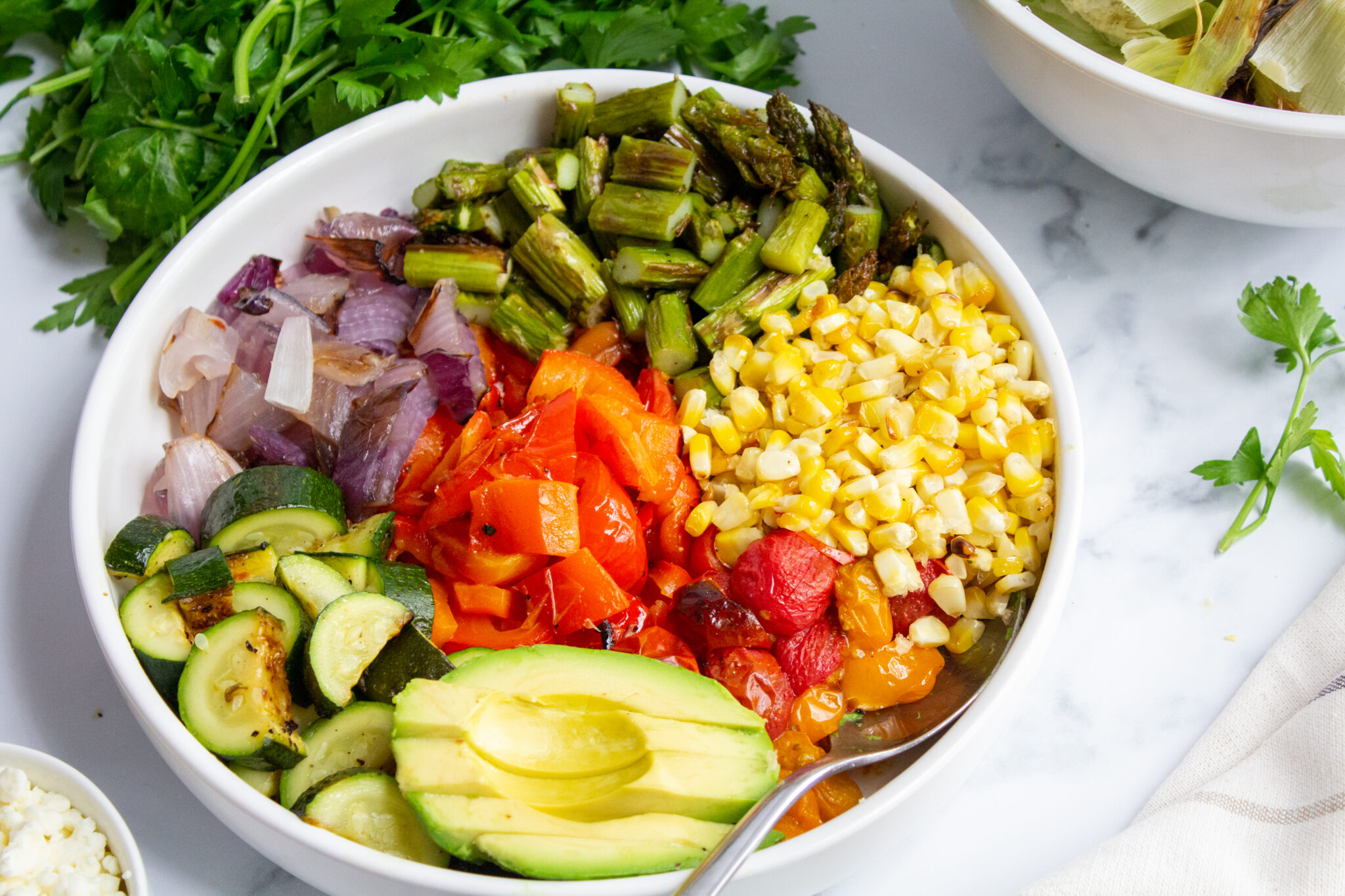 Variations
Here are some easy variations you can make to this grilled vegetable salad.
You can use all kinds of vegetables. Here are some other options:
Yellow or green bell peppers
Yellow squash
White or yellow onion
Broccoli
Cauliflower
Avocado (added in at the end, not grilled)
Brussel sprouts
You can also add a little red wine vinegar or balsamic vinegar to the oil, salt, and pepper and create a vinaigrette dressing. Stir vigorously with a fork until the oil and vinegar are combined and smooth. If it separates before serving, just whisk it back together and then pour it over the grilled veggie salad.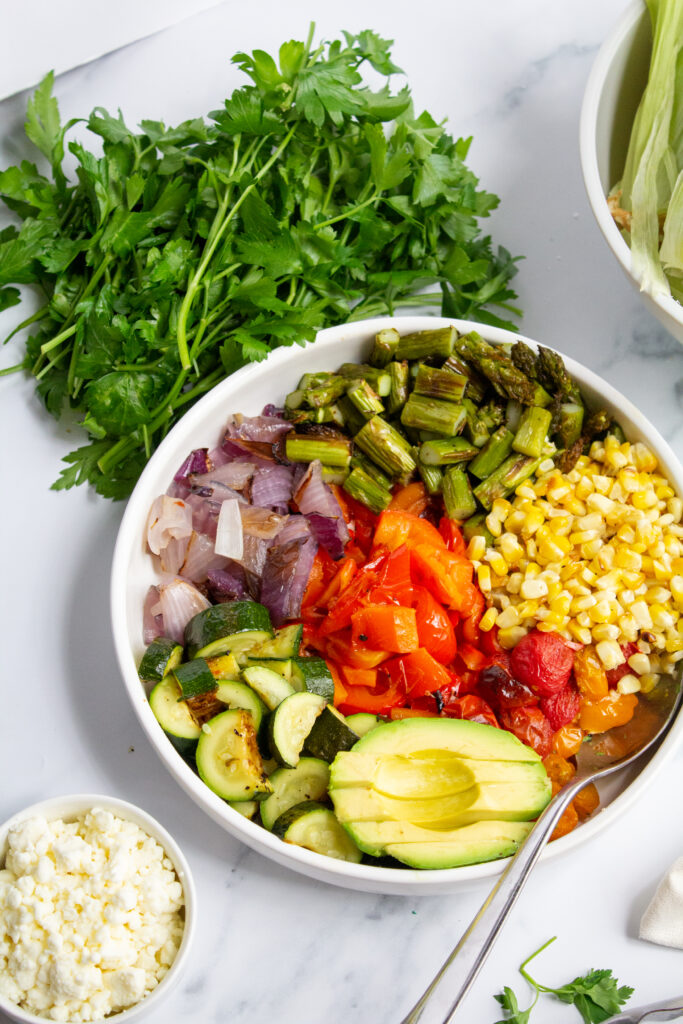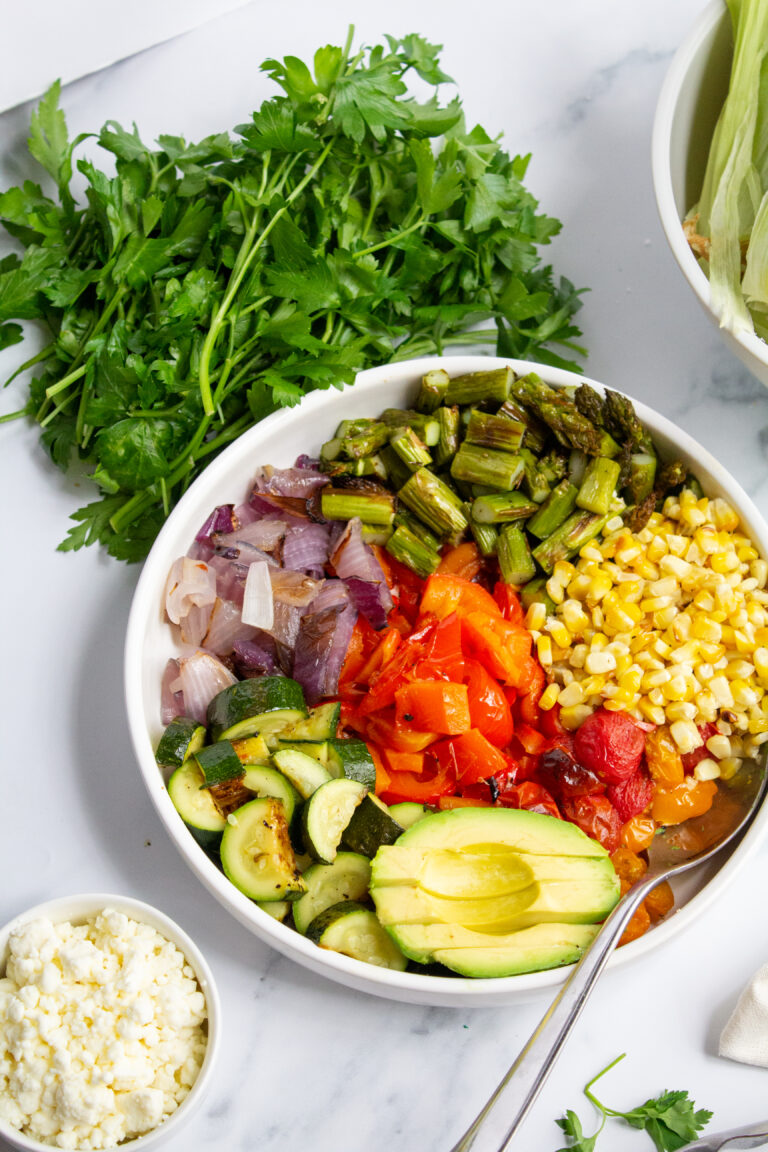 FAQ
Which vegetables are best for grilling?
Some vegetables work well for grilling and others aren't quite suited for it. Larger vegetables that won't fall through the grates are the best. If you have smaller ones, like a red onion or brussel sprouts, you can use a grill basket.
How do you eat grilled vegetables?
After grilling the vegetables, cut them into chunks, top with olive oil, salt, and pepper, and serve them hot. Grilled veggies will cool down to room temperature quickly, so it's a good idea to eat them as soon as they're off the grill, cut, and dressed.
Are grilled vegetables healthy?
Yes! While not all salad recipes are healthy, this one certainly is! Cooking vegetables doesn't diminish the healthiness of them. Also, since the only topping is olive oil, vinegar, salt, and pepper, you don't need to worry about the dressing adding unnecessary calories (unlike a store-bought dressing).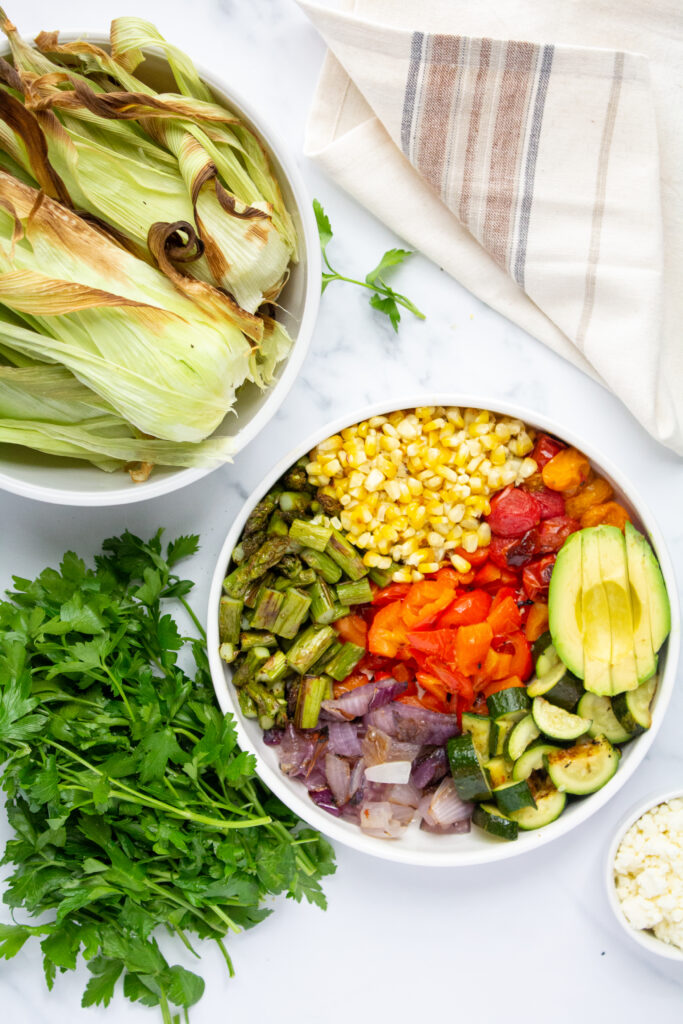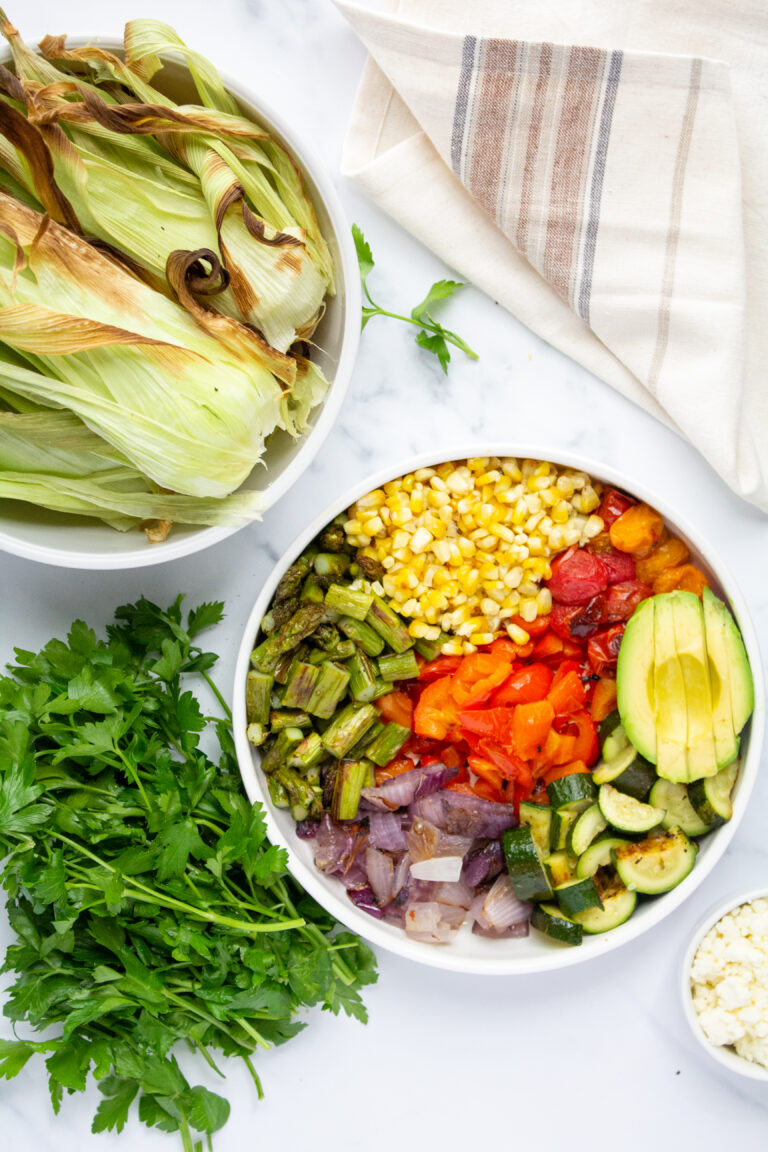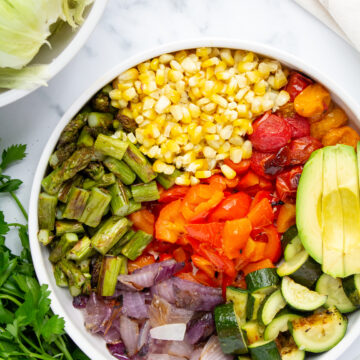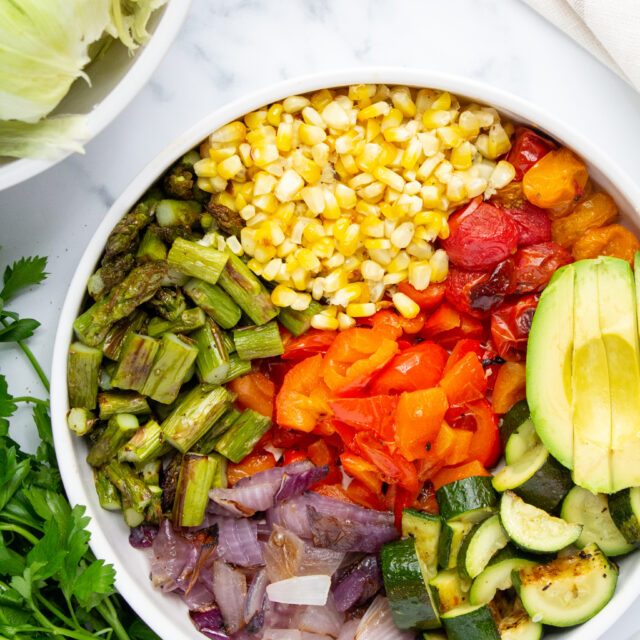 Grilled Vegetables Salad
Grilled vegetables salad is the perfect summer side or lunch. Filled with healthy vegetables, grilled, then cut and tossed in a bowl with olive oil, salt, and pepper. Look no further, this is your new staple side dish this year.
Ingredients
1

ear of corn, shucked

1/2

red onion, with end intact

1

zucchini, cut lengthwise

1

red pepper, cut in half, seeded

1

bunch of asparagus

1

large tomato, cut in half

1/2

teaspoon

salt

1/4

teaspoon

freshly cracked black pepper

2

tablespoons

olive oil
Instructions
Heat a grill or set the oven to broil. Place the corn on the grill or baking sheet and cook for about 10 minutes first, since it takes the longest to cook

Add the rest of the vegetables except the tomato

Once one side has browned, turn to brown the other side

Add the tomatoes at the end since they cook the fastest

When all the vegetables are browned on all sides, remove them from the grill or oven

Cut the corn off the stalk by placing the larger end on the cutting board and holding the top with your fingers if it's cool enough or tongs if not. Slice the kernels off with a sharp chef's knife

Slice the onion into ½ inch pieces

Cut the zucchini into half moons

Slice and then chop the red pepper

Cut the asparagus into 1 inch pieces

Slice and then chop the tomato

Combine all vegetables into a serving bowl, add salt, pepper, and a drizzle of good olive oil, and gently stir. Season to taste

Serve hot
Did You Love This Recipe?
Follow me on Pinterest For More Inspiration! @KarlaHarmer