The only way to truly know how to get any deep cleaning done is to learn from an expert or have an expert do it and watch what they do and try to emulate their process. I know that when I was younger I always seemed to struggle with getting any cleaning done quickly.
I grew up with the mindset that you were supposed to spend an entire day scrubbing away in the house. Well that is not how I run my house now. There is nothing wrong with it. I just choose to break it down into smaller chunks of time throughout the week versus once a week.
Today we will go through a few simple steps that will have your kitchen counter top looking tip top in just 15 minutes.
Getting started
First, let's cover a few quick tips that will help you so that you can move quickly and complete the task with ease.
Don't touch the sink, the oven or stovetop, the microwave, or the dishwasher. There is no magic pill when it comes to doing anything, you just need a system and to get motivated to clean. And oftentimes that motivation can leave you very quickly if you start on a task that is really not a part of the task at hand.
This post may contain affiliate links and we may earn compensation when you click on the links at no additional cost to you.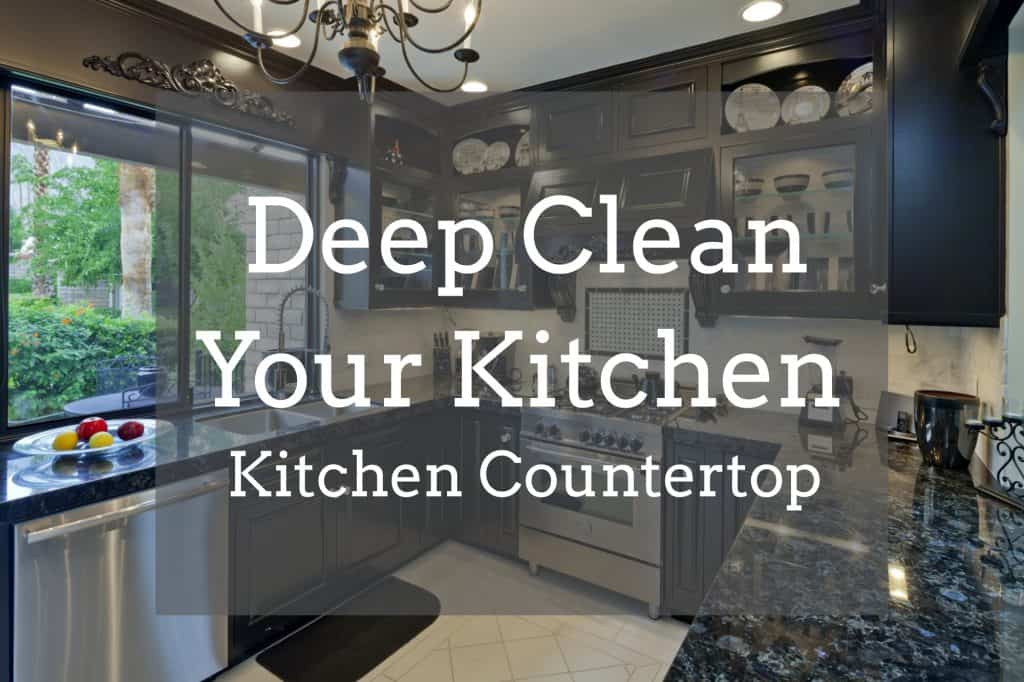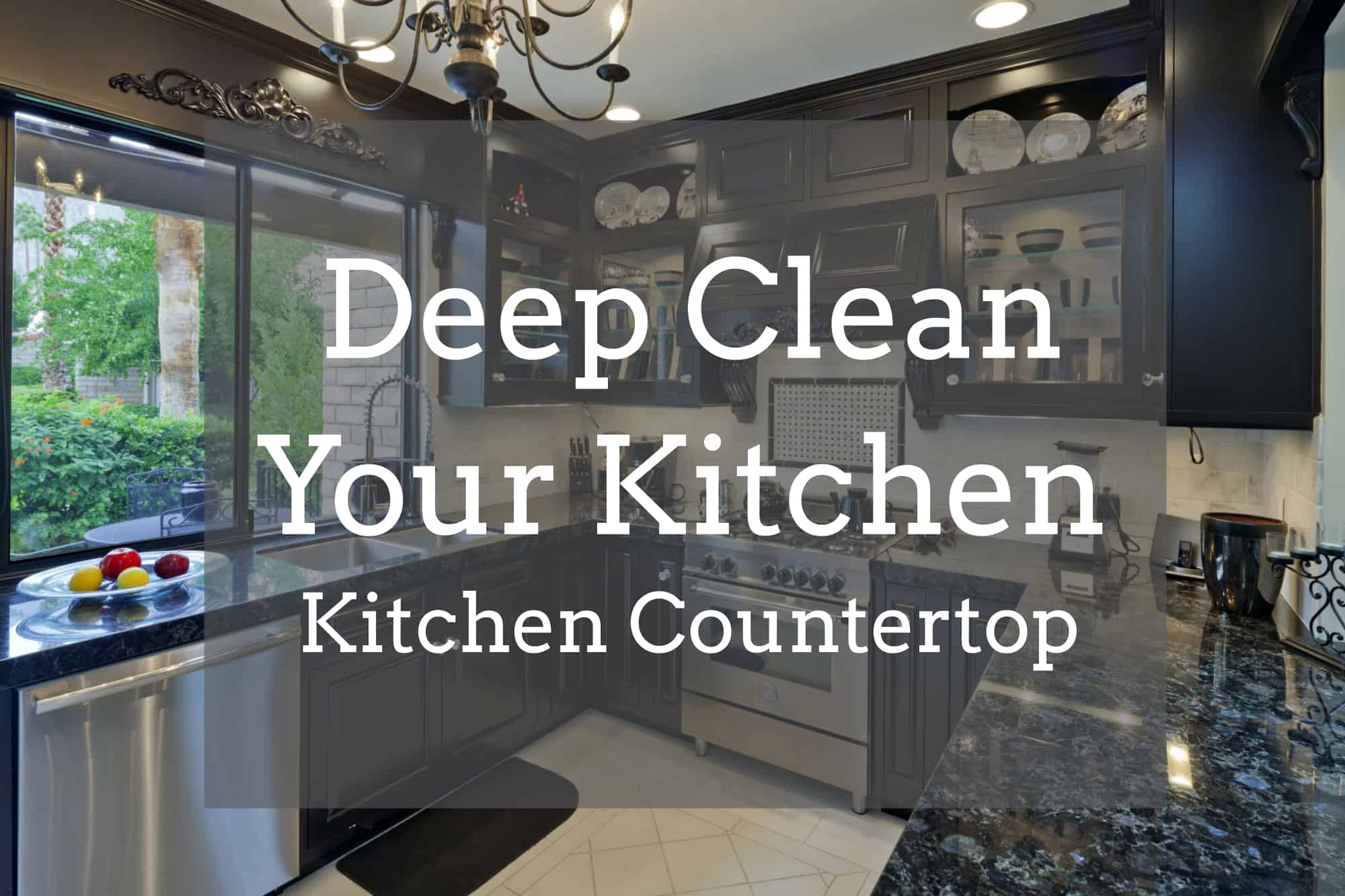 This post contains affiliate links, some of which may be Amazon links which means I receive a commission, at no extra cost to you, if you make a purchase using this link. Thank you!
How to get motivated to clean
This is a tough one because motivation is something different for everyone. Some people need rewards or accolades while others just want to see the final cleal result. Finding what works for you may end up being harder than just doing the cleaning itself. For me my motivation can be different things on different days.
How do I motivate myself to clean?
The top thing that motivates me is not the fact that I get to see the clean dishes when I am cleaning out the sink during our nightly routine. I am more of a setting a timer person. It motivates me in the sense that I feel like I accomplished the job in 15 minutes. I actually set the timer on the microwave so that I can try to beat my best time from the night before. Rarely do I beat my time. But it is fun to make sure that I don't go over my 15 minutes that I allow myself to do the dishes.
Now, I will say that I have been doing this for a long time, and I owned a professional cleaning and janitorial service, so I am fast when I want to set my timer. But that speed came from a lot of training, practicing and fine tuning my process. Again, it does not need to be about speed for you. That is what motivates me. Sometimes, I am just happy to have a little time to clean.
Here are some ideas of how to get in the mood to clean
Set a timer

Clean in small sections

Play your favorite music (I can't play music and set a timer, I am too busy singing)

Use a cleaning product that leaves your home smelling clean for a long time

Reward yourself (sometimes a nice glass of wine or a decadent ice coffee does the trick)
Get Motivated to Clean: Watch this video and clean with me!
This is not about being lazy. People often think that if their home is not cleaned that they are somehow lazy. It really is more about the lack of drive or motivation. For a long time I felt like I was doing a bad job in keeping motivated when I was cleaning. I had to sit back and think about times that I was a little more productive and I found that it was because I had the music blaring and my timer set.
I can't do both. My brain wants to focus on the music and the words and I start to slow down in the actual task that I am supposed to be focusing on.
Honestly I am trying to stay focused on my tasks now. So that means no more music for me unless I am decorating or doing light cleaning not deep cleaning. Deep cleaning I need to be focused on getting the job done well, so it does not need to be repeated again until the next clean. I can maintain it with ease. What do you think you can do to motivate yourself?
Steps to cleaning your countertop
Step 1
Start on a clean countertop (do not start the deep cleaning process when you need to do a tidy of your counters. Spend 15 minutes doing a quick tidy. If they are really cluttered and you want to eliminate that clutter, do 3-5 15 minute quick tidy sessions. Then once tidy start the deep cleaning process.)
Step 2
Grab supplies: Fill a bowl with soapy water and grab a cleaning rag. Get a spray bottle with soapy water
Step 3
Pull all appliances away from the backsplash and spray backsplash generously with the spray bottle. Work from the entry of the kitchen on your left side or from the left side of your sink and work your way around the room back to your starting point. Go to step 4
Step 4
Grab your bowl with the rag in it. Ring out the rag and start wiping down the backsplash. Then begin wiping the counter top, move items and then wipe items and put back once the spot is clean. Work from the back of the counter, the part touching the back splash to the part that touches you. Work from left to right. Work your way around the room until you are back at your starting position.
Step 5
This should be mixed in with step 4, but I wanted to make sure to include it. Make sure that you clean your rag out in the sink if you notice oil and debris build up, prior to putting into your bowl with soapy water. This will help to keep you moving along faster. Go to the sink, rinse rag and ring it out well. If you notice heavy grease, wash at the sink with soap or switch out rags. Then go back to the point of the counter you left your bowl and continue on.
Step 6
Once you are all done make sure that you wash out your bowl and cleaning rag.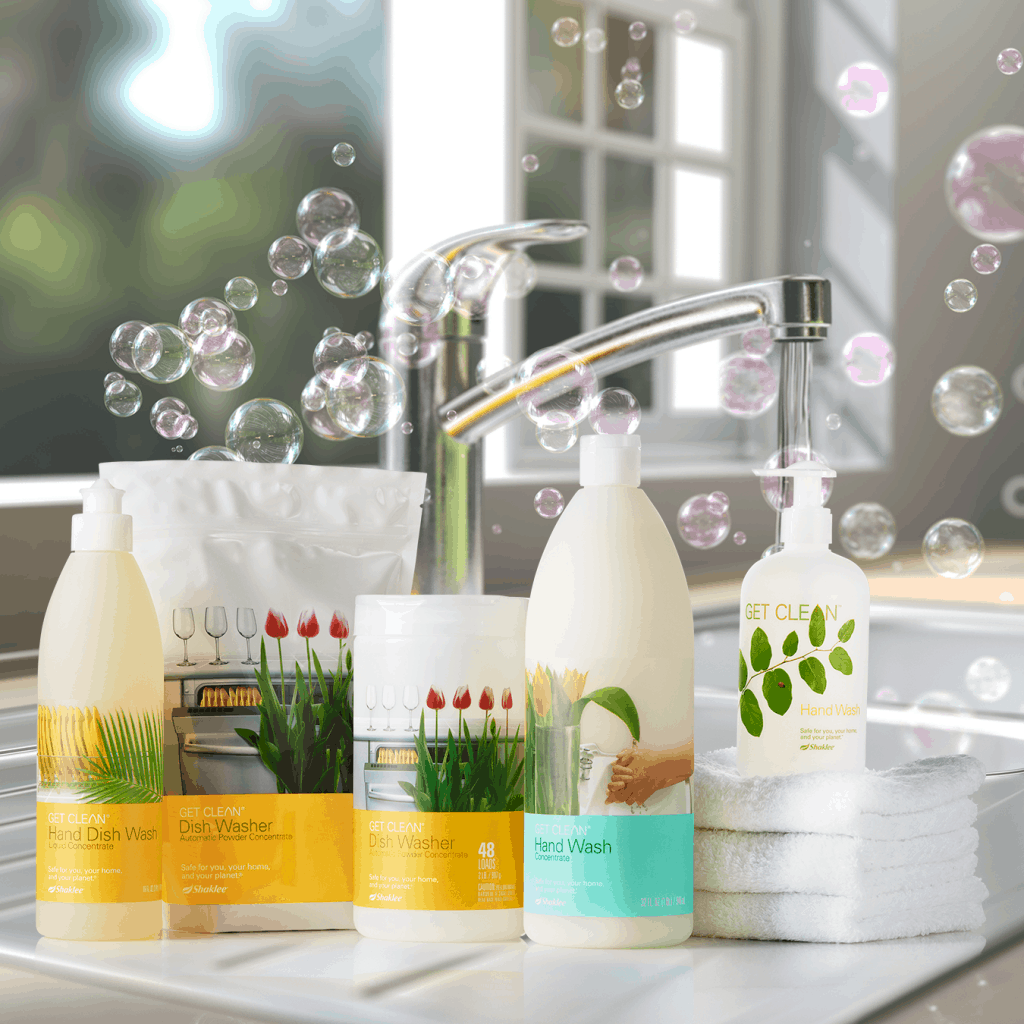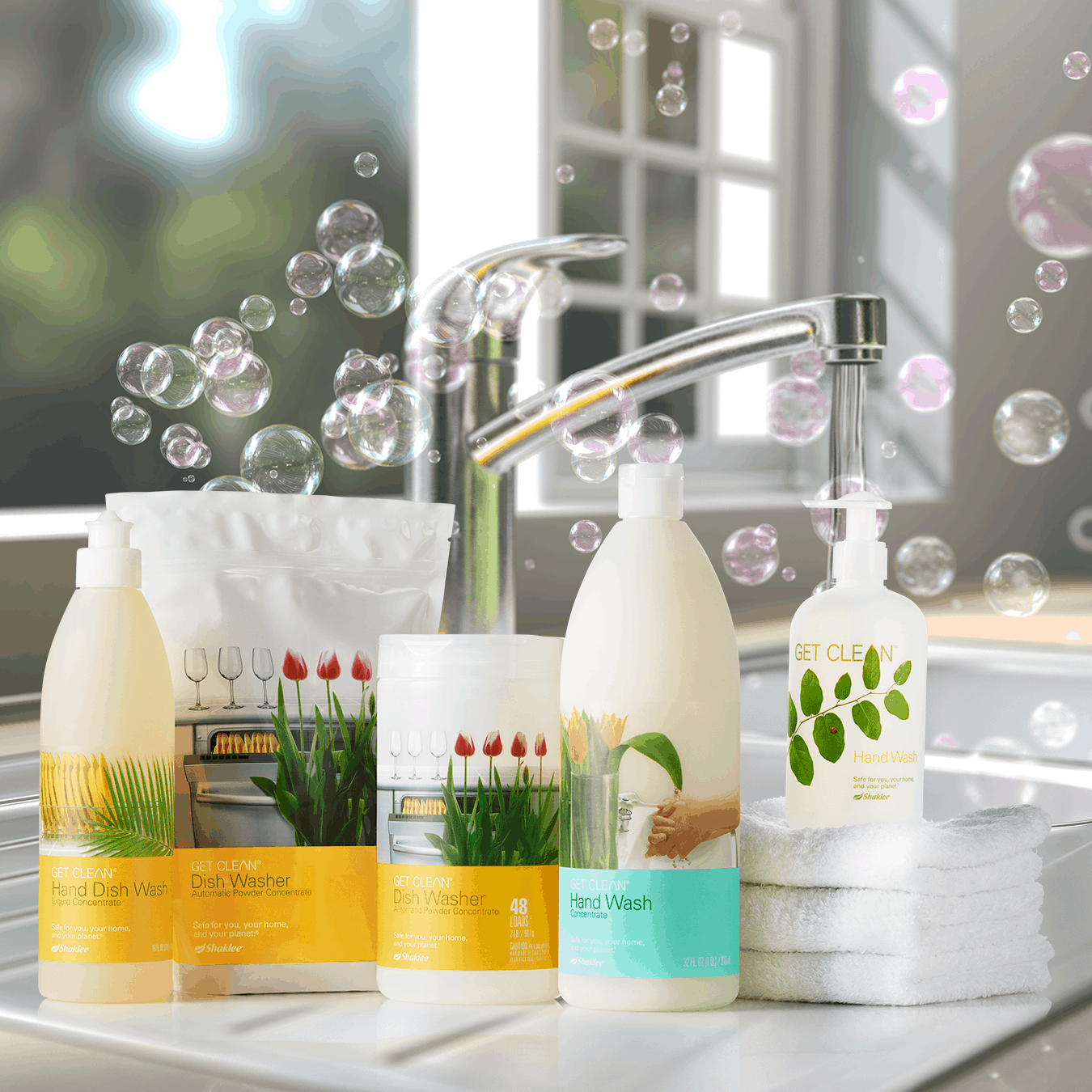 OUR FAVORITE  KITCHEN CLEANING ESSENTIALS
Final Tip and Thought on the cleaning system
Now that you have completed this deep clean, you can easily maintain this for 3 months, before it needs to be done again. If you are cooking spaghetti, or something else that loves to splatter, you can easily spot clean that area in your nightly cleaning. That way, when you go to do your next deep cleaning of your countertops, you will notice that you are moving a bit quicker and you are not seeing the same amount of returns to the sink to wash your rag out.
Using systems to clean is a great way to get motivation to clean house. It is what I find really keeps me going. And cleaning is something that I find that I have to do daily in small chunks of time in order to have a little bit of sanity and not become overwhelmed.
Sometimes, the kids do not want to clean, but I remind them that we all have to pitch in. Now that they are older they do their own laundry. They have known how to do it since they were toddlers, but I always had them in a helping roll until they hit high school. Now it's time that they start practicing systems that will help them run their own homes someday. So they do all their laundry and clean their rooms. Rooms have to be cleaned to my level of clean.I am not the type of person that needs a quarter to bounce off a bed. But I do like to have it pretty neat and free from debris or dust.
Again, having them start really young has helped me to get them into the mindset that just 10-15 minutes of their time is more than enough to clean their rooms. Especially if they keep the area somewhat tidy and have a system to do certain tasks each day, each week, each month, and each quarter.
We don't really do seasonal cleanings as much as we find that with the systems we have in place, we don't need to Spring clean or clean for the holidays, it's already done! Now wouldn't that be nice to have in your home too?!
Cleaning facts
You don't need a million cleaners to clean your house

You only need a few tools to clean your house

You can clean in 10-15 minutes increments and have a tidy home

You can have a clean home with very little effort
I have no energy to clean my house
Working all day, being at home cleaning, making food, tending to kids, all the things. They can be overwhelming. Having the energy can be a really hard thing to do. I used to clean late at night when the kids were in bed.
I was exhausted. At least until I found my favorite time of day to sneak in little pockets of time. Since we homeschool, I have a lot of moving pieces going on during the day. There are questions, there is lunch, calls, mopping, dishes, filing papers, making appointments, paying bills, laundry. Ok, I am tired just typing it all.
One thing that helps is being able to chop up my chores into sections. Cleaning for 15 minutes one to three areas a day gives me a clean home and allows me to have sanity and peace of mind that my chores are not running away from me and that I have the energy to do at least one 15 minute clean of a space in my home. That space can be floors, it can be a bathroom, it can be countertops. If that is all I do, I check it off my list and move on with my day with a smile of accomplishment.
I know that before you read this article, you were probably thinking that I need to find someone to clean my house. Maybe you still do, but now you have a system to keep your kitchen counters sparkly clean! You can also add on to your countertops by doing a deep clean of your utensils.
You don't need a professional cleaning lady to do the work for you. You've got this!