This is my homemade version of Korean Stir Fry. Simple ingredients and easy to make this is great for lunch or dinner and only takes twenty minutes.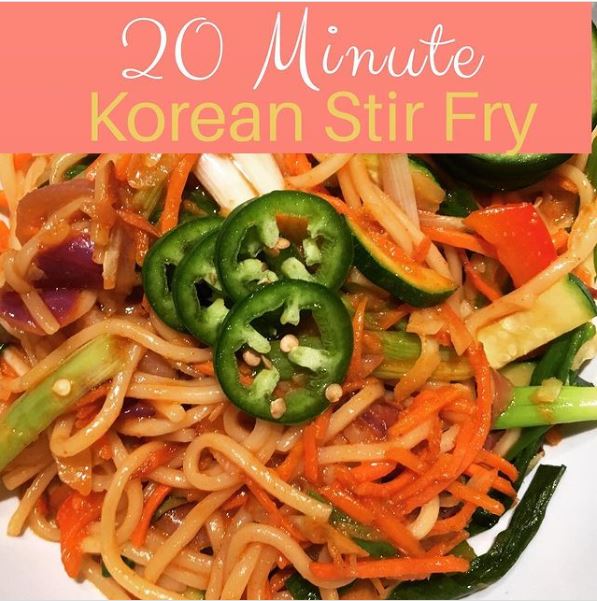 This post contains affiliate links, which means I receive a commission, at no extra cost to you, if you make a purchase using this link. Thank you!
Is Stir Fry Good For You?
This Korean Stir Fry is relatively healthy and definitely better for you than many restaurant variations that use a lot of oil. The vegetables are loaded with vitamins and minerals and are a great way to get more fresh veggies into your family's diet.
For a healthier option, you can replace the oil with about half of the recommended in the recipe. You can also replace the pasta with zoodles or place the stir fry veggies into a lettuce wrap.
How Do I Make Korean Stir Fry Noodles?
For a successful stir fry, you will want to be prepared.
First, prepare the pasta water first so that once you drop the noodles into the water, you can begin stir-frying the veggies.
While the water is coming to a boil, prepare all of your veggies.
Other Veggies To Add To Stir Fry
Stir fry can be used with leftover frozen food, fresh veggies or whatever you have on hand. Below will be a few suggestions for how to combine them.
Carrots and Onions
Carrots, Green onions, Garlic
Onions, Garlic, Tomatoes
Zucchini, Onions, Garlic
Zucchini, Eggplant, Onions
Peas, Onions, Garlic, Watercress
Brocolli, Watercress, Onions
Baby Corn, Brocolli, Onions
Corn, Onions, Garlic, Peas, Brocolli
Bell Peppers, Onion, Snap peas, Garlic
Storing Korean Stir Fry
In a wok or pan over medium-high heat, reheat leftover stir fry by adding a little water or chicken broth to your hot wok or pan. Then add the stir fry and move it around the pan while it heats.
Remove from the heat after being warm and serve.
More than anything, relax and have fun. Cooking is an adventure and making the food is half of the fun! Even if you do not follow the exact steps or have the exact ingredients, your meal will turn out just fine!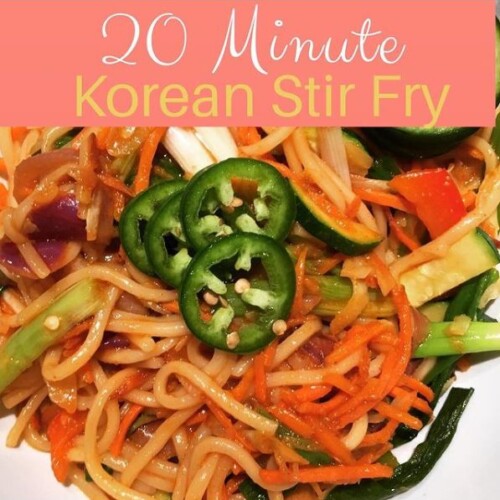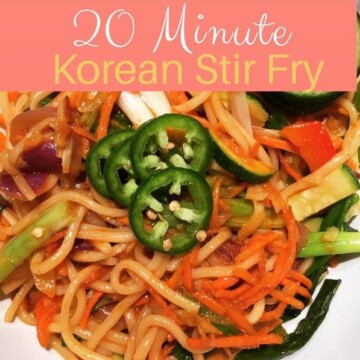 Korean Stir Fry
This 20 minute Korean Stir Fry is easy to make and great for lunch and dinner.
Ingredients
1

cup

Carrots

shredded

1

Zucchini

julienned

3

Green onions

cut into 4 equal pieces

1/4

Red onion

small

1/2

Jalapeño

sliced thinly

1

tbsp

 Korean red pepper paste

1/2

tbsp

Toasted sesame oil

3

tbsp

canola oil

1

lb

pasta
Instructions
Prepare large pot with water and allow to boil.

Place 1 tbsp of canola oil in a hot pan

Place all veggies in a hot pan and begin to stir fry – do not add jalapeños yet

Add pasta to boiling water

Add Korean hot pepper paste

Add pasta. Do not rinse. Take from pot with tongs and add directly to veggies. This will allow for more water. Just a little

Toss pasta with veggies, garnish with jalapeño and then serve
Nutrition
Serving:
4
g
Calories:
588
kcal
Carbohydrates:
48
g
Protein:
11
g
Fat:
44
g
Saturated Fat:
3
g
Polyunsaturated Fat:
13
g
Monounsaturated Fat:
27
g
Trans Fat:
1
g
Sodium:
2488
mg
Potassium:
2562
mg
Fiber:
14
g
Sugar:
32
g
Vitamin A:
24099
IU
Vitamin C:
83
mg
Calcium:
165
mg
Iron:
6
mg