Spaghetti sauce is much easier to make from scratch than you think. You probably have all the ingredients you need sitting right in your kitchen to make this comforting, herbaceous, family favorite.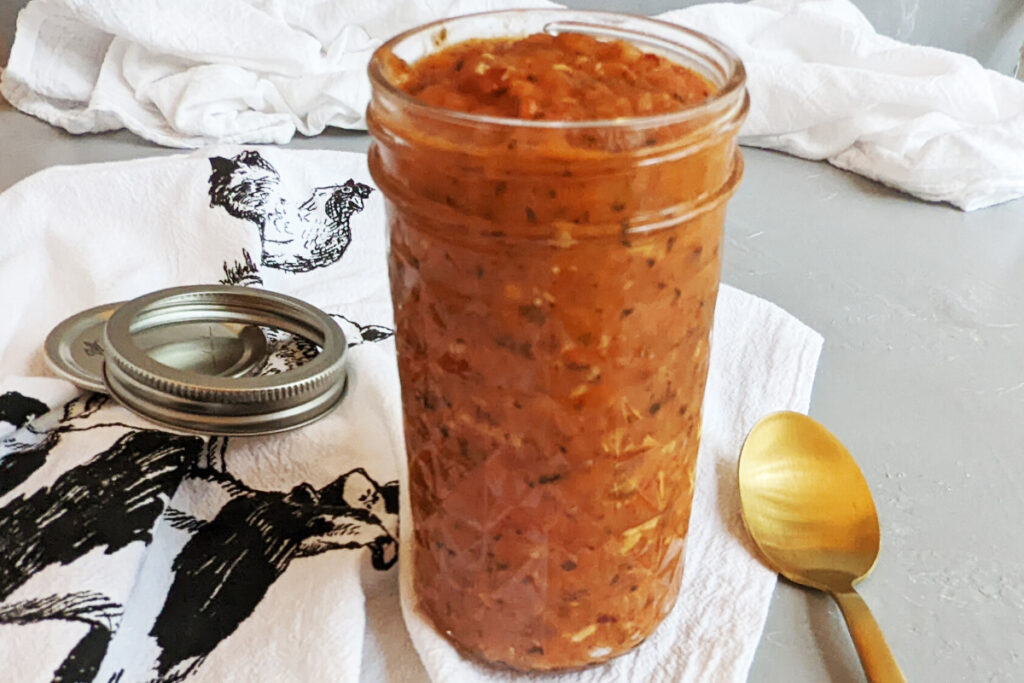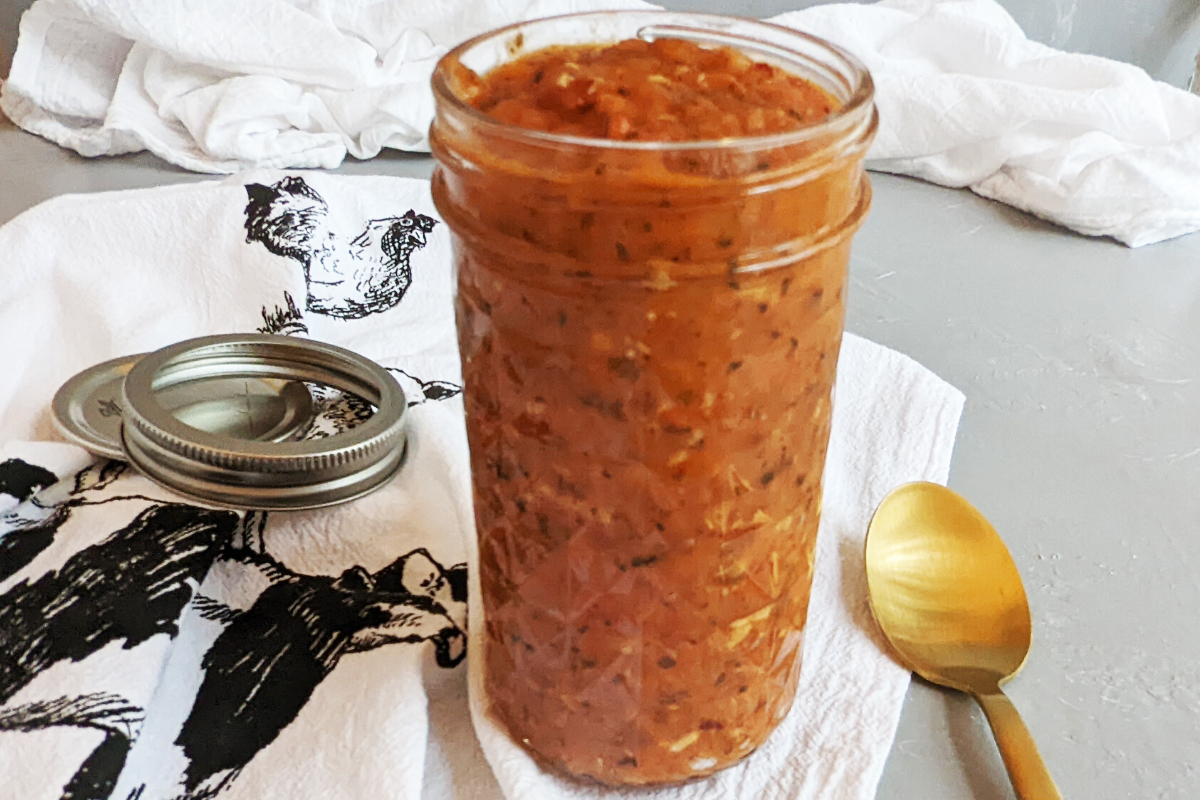 This post contains affiliate links, some of which may be Amazon links which means I receive a commission, at no extra cost to you, if you make a purchase using this link. Thank you!
One of the first things I learned to make when I started cooking was spaghetti sauce, I think I was in my late teens. Homemade spaghetti sauce is so flexible that you can use it for pasta, ravioli, lasagna, and in a pinch even pizza.
RELATED: Homemade Pasta Recipe Without A Machine
What's the difference between marina sauce, spaghetti sauce, ragu and pizza sauce?
Marinara sauce: is typically tomatoes (canned or fresh), onion, garlic and basil.
Spaghetti sauce: will generally range from meat sauce, meatless sauce and have plenty of herbs and spices to make the best homemade spaghetti sauce recipe.
Ragu: is stewed over a long period of time. It contains veggies, a variety of meats like sausages, chopped and ground meat and wine — usually red.
Pizza sauce: also has simple ingredients like tomatoes (canned or fresh) , olive oil, dried oregano and basil. That's it.
What spices are in spaghetti sauce?
Oregano, basil, and parsley are the three main spices to add to the spaghetti sauce. Red pepper flakes are also a staple.
You can use garlic powder in place of fresh garlic as a good alternative when making spaghetti sauce.
Simple and Easy Ingredients
1 1/2 pounds of Roma tomatoes, quartered
1 small onion, diced small
3 garlic cloves, finely minced
1/2 tsp oregano
1/2 tsp parsley
1/2 tsp basil
1/4 tsp crushed red pepper flakes
2 tbsp olive oil
1/2 tsp of salt (optional)
What type of tomatoes should I use for this recipe?
The best tomatoes to use would be San Marzano tomatoes. But I do not always have them in my pantry which means I go with the tomatoes that are readily available, Roma tomatoes.
Yes, you can use grape, cherry or vine ripened tomatoes as well. Using different types of tomatoes will give you a unique flavor each time.
Can I make a large batch and freeze this for later?
Absolutely! This spaghetti sauce freezes well. You can make it in large batches and freeze it for when you want an easy homemade meal.
If you are going to freeze spaghetti sauce place it in an airtight container and freeze the spaghetti sauce recipe for up to 6 months.
How long does pasta sauce last in the fridge?
You can leave pasta sauce in the fridge for up to 5 days.
Once you hit that five days, freeze it and mark the bag…same day no leftovers. This will allow you to use it up that same day you take it out. You do not want it to go bad after you take it out of the freezer. This method will help keep you from throwing out this delicious leftover spaghetti sauce.
How many days can you keep homemade spaghetti sauce in the refrigerator?
A homemade spaghetti sauce can last up to four days in the refrigerator in a clean air tight container.
Homemade sauce will pass the sniff test, but bacteria that grows in the container can not be smelled in it's early stages. If you wish to make a big batch of sauce we recommend using a method to preserve your goods — either freezing or canning.
What if the sauce is too acidic for me?
For those who love marina but just can not handle the acidity of the tomatoes — You can fix the acidity of the tomatoes by adding in a 1/4 teaspoon of sugar or if you do not want to sweeten the sauce you can add 1/4 teaspoon of baking soda.
How to make the best spaghetti sauce recipe
Gather all of your ingredients and prep them so they are ready to go. Once you heat your pant the process of making the homemade sauce goes rather quickly.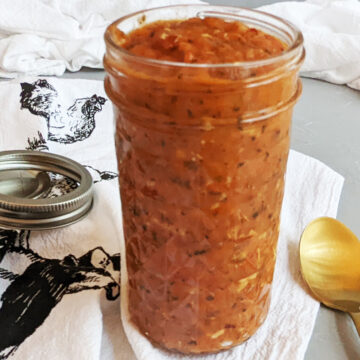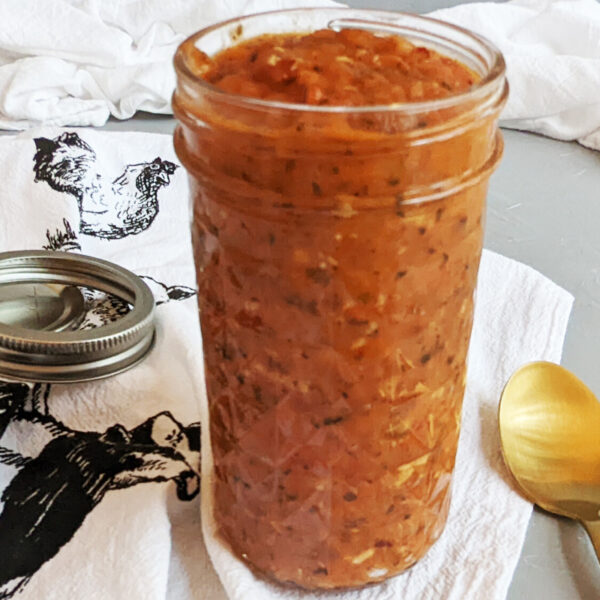 Spaghetti Sauce
Homemade spaghetti sauce is much easier to make from scratch than you think. You probably have all the ingredients you need sitting right in your kitchen. 
Ingredients
1 1/2

pounds

Roma tomatoes

quartered

1

small

Small Onion

diced small

3

garlic cloves

finely minced

1/2

tsp

oregano

1/2

tsp

parsley

1/2

tsp

basil

1/4

tsp

crushed red pepper flakes

2

tbsp

olive oil
Instructions
Over medium high heat add olive oil, wait one minute before adding ingredients

Add red pepper flakes, mix

Add onions and cook until translucent

Add garlic and cook for 1 to 3 minutes

Add in 1 teaspoon of oregano, one-half teaspoon partially, 1 teaspoon of basil

Add in the 1 1/2 pounds of Roma tomatoes

Combine and cook for 15 minutes covered on medium-high heat, turning down to medium after a few minutes to cook

Turn it down to low, mash with a potato masher or blend with an immersion blender to get to your thickness desired, cover, and keep spaghetti sauce simmering for an additional 15 minutes
Notes
Chicken broth:
 if you would like to thin out your sauce add in a small amount of chicken broth. Start with a tablespoon at a time. You can always add more, but you can't take out. Always add at the very end of the cooking process.
Crushed tomatoes:
crushed canned tomatoes can be used for this recipe, but it will alter the flavor a bit. Do not add any broth or water.
Fresh Basil:
fresh basil is a nice to have but not necessary. If you have it already in your home or garden, ‌grab a couple of leaves. Julienne them and place on top.
Ground beef:
can be added to the recipe. Make sure to fully cook your ground beef before adding to the sauce recipe for an alternative to traditional spaghetti meat sauce.
Italian sausage:
is a great alternative or addition to ground beef. Be sure to fully cook before adding to the sauce.
Nutrition
Serving:
2
g
|
Calories:
193
kcal
|
Carbohydrates:
15
g
|
Protein:
3
g
|
Fat:
15
g
|
Saturated Fat:
2
g
|
Polyunsaturated Fat:
2
g
|
Monounsaturated Fat:
10
g
|
Sodium:
18
mg
|
Potassium:
831
mg
|
Fiber:
4
g
|
Sugar:
9
g
|
Vitamin A:
2846
IU
|
Vitamin C:
48
mg
|
Calcium:
50
mg
|
Iron:
1
mg
Did You Love This Recipe?
Follow me on Pinterest For More Inspiration! @KarlaHarmer