13 Habits of a Happy Stay at Home Mom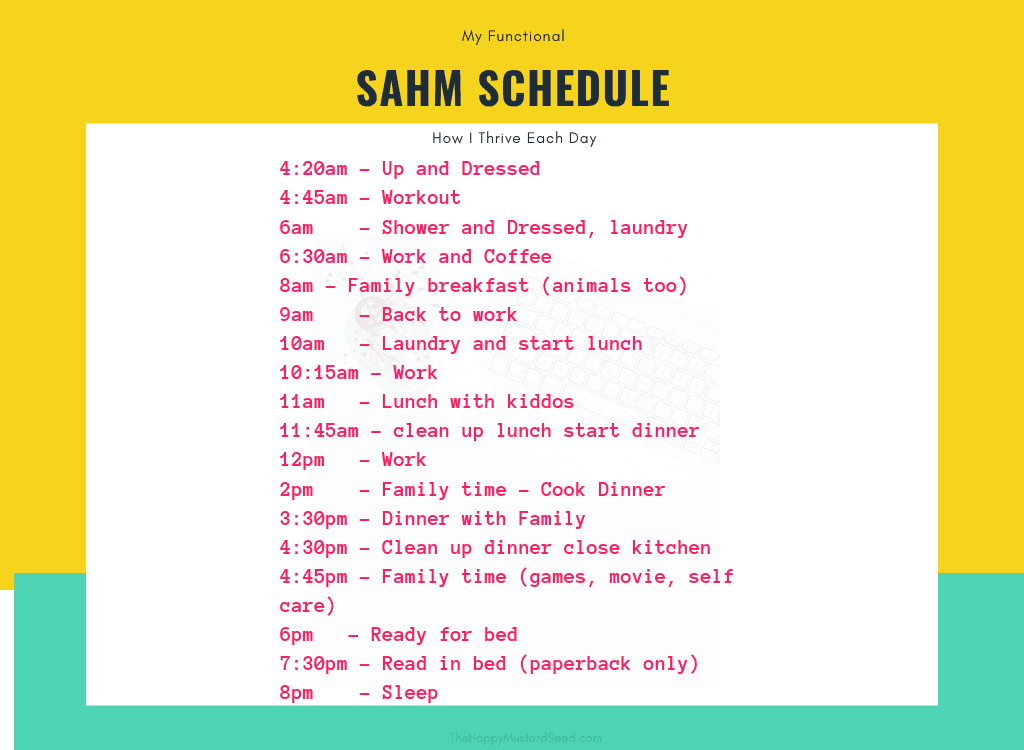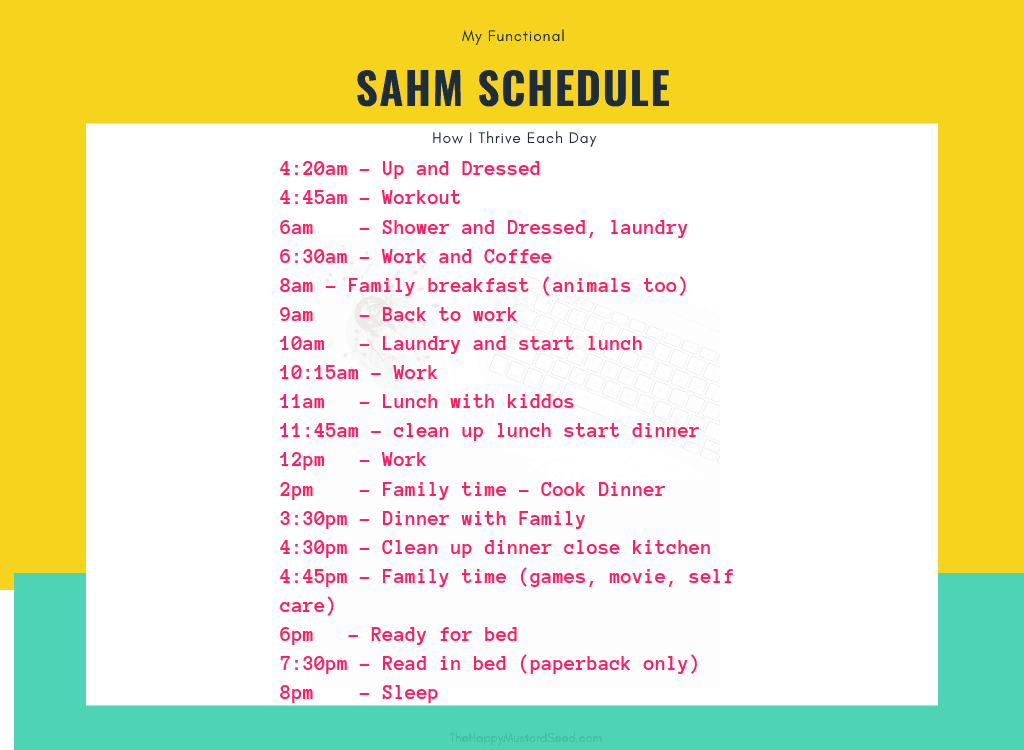 This post contains affiliate links, which means I receive a commission, at no extra cost to you, if you make a purchase using this link. Thank you!

By no means is this meant to be the absolute end all of what a stay at home moms days should look like. But, it's one heck of a start. Built with lots of blood sweat and tears, it's my go to for my daily set of smiles.
1. Stay at home moms stay happy by getting in a good workout
Stay at home mom workout, it is free and easy
Here are some of the things I do at home for about 1 hour total time to burn about 100 calories.
Vacuum Dust Mop Wash cabinets throughout the house Wash baseboards Wash all light fixtures, light switches and doors Wash all appliances/tools in kitchen
You get the point. I can see you cringing already. But it works. Work at a fast pace. 100 calories for a good hour workout cleaning is a good way to motivate your kids, involve them in your workout and get your house clean as a reward.
CG – Camp Gladiator, because we are better together.
Being a stay at home mom is hard work. So since we work hard, we get to play hard. And that is why I love CG. It allows me to play hard!
What is camp gladiator? If you don't know, you'd better check it out.
Camp Gladiator, or CG as us cool kids call it, is the best workout I have had in a long time. I will admit that I have always loved to do something to keep myself simi fit. But this takes the cake for me.
Camp Gladiator is not just a workout, it's a community. Everyone from the trainers to your fellow gladiators are working towards a better goal.
Now, I tried Orange Theory and was surprised at how easy the workout was for me, especially compared to CG. OT was confusing and a little weird but overall I liked it. It was super easy compared to my normal CG workouts.
This post contains affiliate links, which means I receive a small commission, at no extra cost to you, if you make a purchase using this link.
Try Camp Gladiator Send me an email when you sign up. I'll share some tips and tricks with you to help you out.
CG is wonderful! You can try out new trainers in your area at any time. Not that you need to change trainers, they workouts are always changing so you get a good and challenging workout each time you go. And if you are traveling, you can join any camp in the area you are at. It makes life simple.
0,Homeschool Planner (Printable PDF)
Workout early in the morning.
I am a 4:45am at the gym type of person! No, I am no Mark Wahlberg with a 2:30am rise time. But I am up and out and back in the house before the coffee maker even comes on type of gal. 6:30am I am at work and done usually by 8am. Kids are up and dogs are watered and fed before 9am kiddos are finished with school by 2pm and I am finished with chores and work by 2pm dinner on the table by 3:30 pm and
So, I know that I am going to get a few people staring and wondering why I am saying these words. But, it is true. Working out early in the morning is probably the best way to commit to yourself each day to get your workout in.
Stay At Home Mom Schedule
Let's face it, not everyone can get up at the crack of dawn and do a hard core workout, and not everyone wants to. I just happen to be an early riser, and the earlier morning workouts work for me.
If I wait until the end of the day I am groggy, irritated and not willing to do the workout most of the time.
My body shuts down about two in the afternoon, even if I sleep in or don't work out. So I had to find a schedule that works for me and that is exactly what you will need to do as well.
Here is some motivation I got from watching Mark Wahlber's workout that was featured on the James Corden show.
Here is Mark's workout in written form that was shared on Instagram and a copy of my schedule. Now granted, I have two teens that I homeschool and I really have to be flexible on my times. But this is the general best laid plans day. I do fit in a bit more cleaning than I posted on here. But I do short bursts of chores so it stays maintained.
Mark Wahlberg vs Karla Harmer (THMS)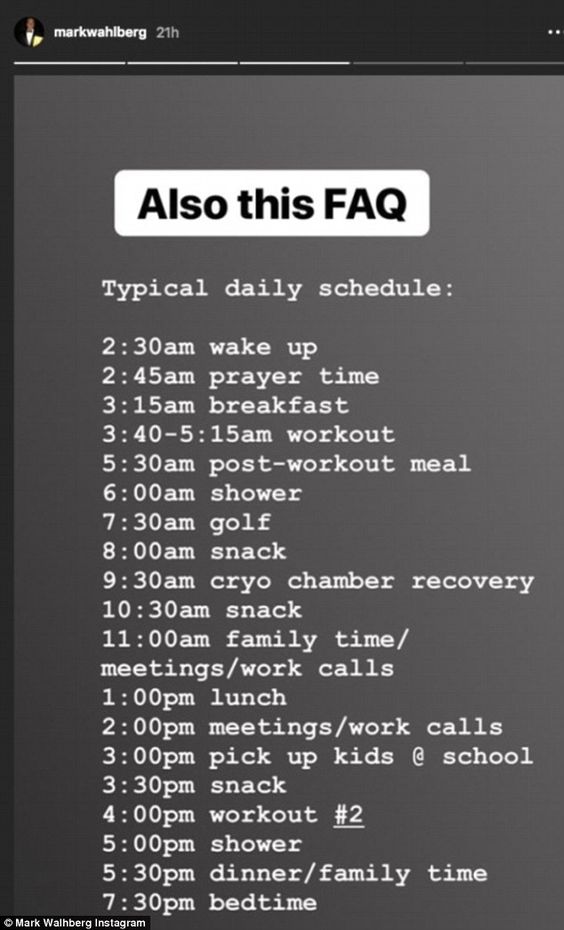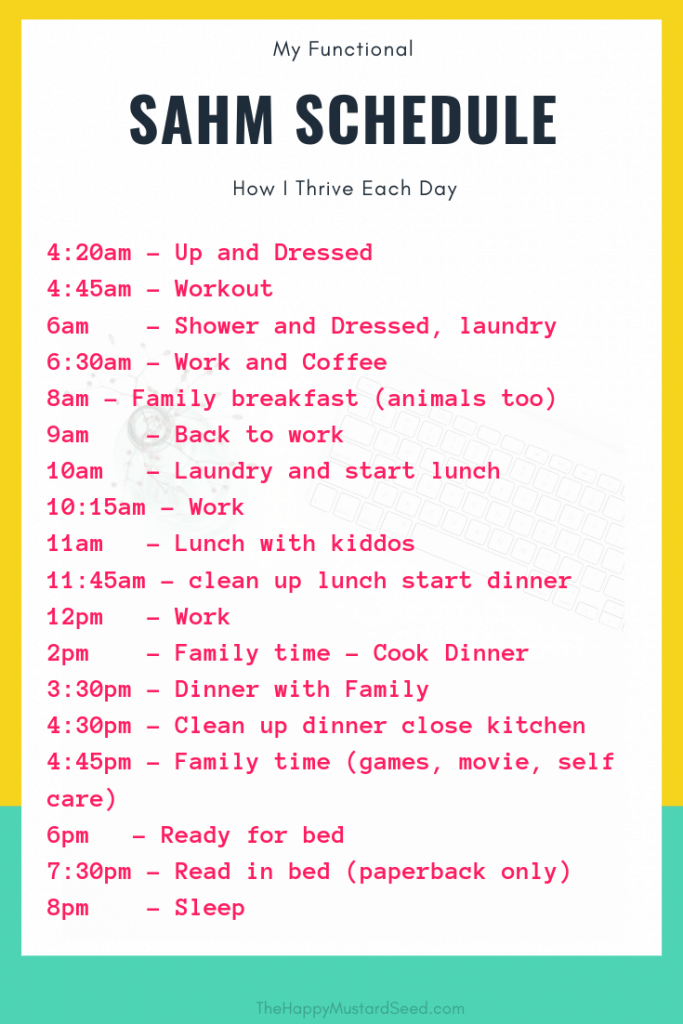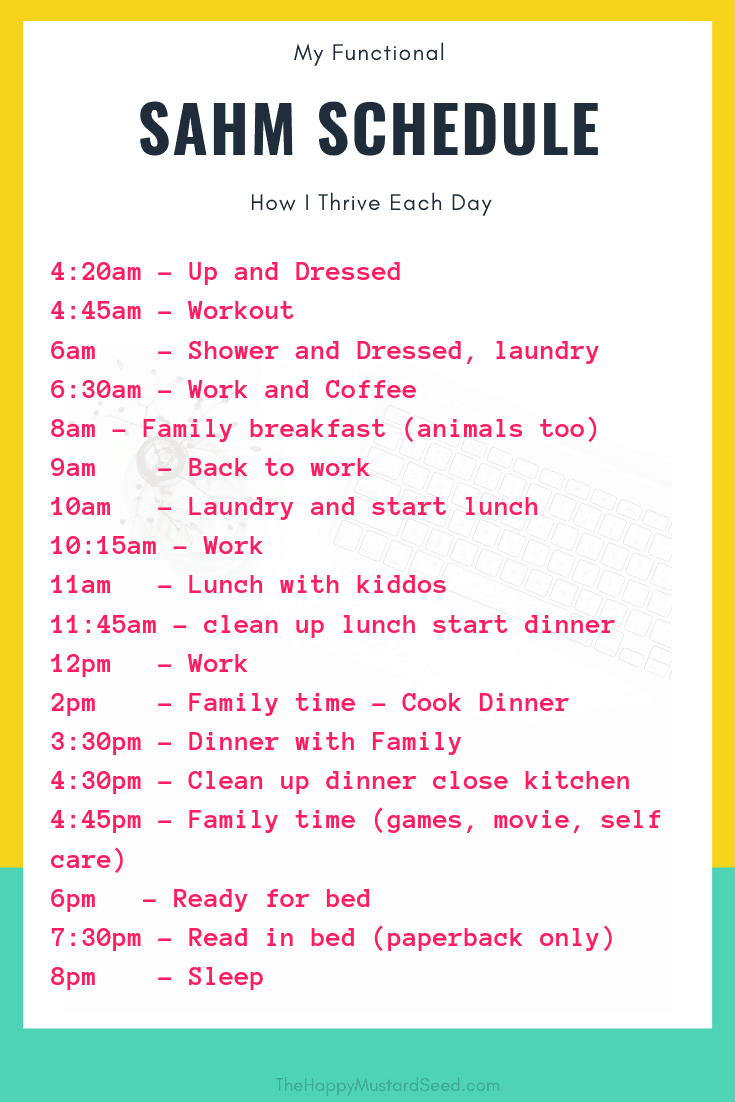 2. Give Yourself Grace
There is no one perfect way to be a stay at home mom. I work at home and see tons of people saying how they "woke up like this" or "chasing my kids is enough of a workout". Don't believe it. It's all an illusion. Staying at home, is a lot of work and it doesn't just happen.
Once you settle in to knowing that it takes some work and dedication, you are going to find your own sense of peace and happiness.
Allow yourself the time to adjust, make mistakes and get better at your systems and routines. It takes time. Be patient and know that each day is a new day to succeed.
3. Stay at Home Moms Spend Time With Their Kids
Things you can do with your kids to spend quality time with them
Cook with them
If you have ever been to my Facebook page you have seen a cooking live with me and my family. We are a little wild in the kitchen, but we have fun. It is important for me to spend time with them and as a bonus they learn how to cook.
Clean with them
Now we don't follow each other around the house cleaning, but we do take out chores and help each other if needed. Their rooms are their rooms to clean, but I will help and guide and hangout while they do them.
They also will help me around the house with chores as well.
Play games
We love playing games. It's a great way to learn about your kids, see their reasoning, see their sense of humor and just have fun. Ticket to Ride, Monopoly Deal, Dominoes, Uno, Scrabble and of course Bananagrams. You name it, we try to play it.
Crafts
Our crafts range in everything from paper crafts to cake making. Each holiday we do a little something special to decorate and to eat. It's a neat way to have the kids come up with something too as they get older.
Help with school
4. Schedule Your Day
Having a schedule gives me a guideline more than a hard time type of system. But, I am sure that I try to complete everything by days end. I don't like to stay up and try to work after kids are in bed. I find that it frazzles me the next morning and I am a little more irritated and short. So for me the stay up late method is no. But, it may work for you. Just check in on yourself and see if the later nights or the earlier morning work for ya. Either way will work as long as you are taking care of your business (home, kid, meals, finances, etc)
You see my schedule for making sure I get my workout in. Well, that is definitely a non negotiable for me. I must get a workout in or a stretch/yoga workout in. Period. I keep track of my daily to dos so that I can be flexible on other life changes
5. Get Ready for The Day
Ok, so every day is not a put on a bra day for sure. But it's still a comb my hair and brush my teeth type of day.
It's also important that I show my kids to get up and get ready for the day. Even if it means we sit and do nothing but play board games and watch movies.
6. Have a night time routine
Even as they become teens, I had my kids prep for bed. They didn't like it. But it kept the habit for them. So when they go to Nonni's house for the weekend they have the routine ready to go. And when they go off to college and start running their own homes, they will have a routine. It will make their lives so much easier. It's just one less thing to think about or stress about.
7. I don't negotiate with Tiny Terrorists (kids)
Sure, we can have a conversation about it, we can agree to disagree, we can even compromise. But I will not give in to the demands.
Some rules are rules that we will not remove. IE: You eat what you are given for a meal, you do your chores, you do your school, you get your sleep, TV, phone, electronics are not your BFF's
Anything outside of that can be negotiated.
8. Don't smother the children
Yes, being at home means more time. But it doesn't mean you are perched on the couch watching every time your child blinks.
I incorporate the kids into the routine. I stop my routine and then incorporate myself into their day. Then we do something at the end of the day together.
I have a lot to get done during the day, and I am well past the mom guilting that can occur in the community. I focus on quality, not stalking my children. They need to learn independence, learning how to be bored and learning how to get un-bored as well. They can't do that if you watch them. They feel as though you don't trust them.
9. Love and Embrace the Chaos, it Happens
The one thing that I love, is that my home is not perfect. Nor do I ever want it to be. We had a friend over and they mentioned that they saw dog fur on the floor. I said, well duh, we have a dog. Where did you think it was going to be? She just stared at me and said, I guess you're right. I have a dog that seems to shed more just because we clean it up. We clean, she sheds. We clean again, she sheds more. I am human and I am imperfect. So let the border collie hair fly free! Ok, not free, I do clean my floors.
10. What's for dinner?
For us dinner is about the same time everyday, Sometimes it's on the table when my husband walks in the door. Some days it is being prepped as he walks in. But most days, the concept is there, but it hasn't made it to the frying pans just yet.
That's ok. I have a plan. It just needs action now. The plan is half the battle.
Another way to prep for dinner is to meal plan. You can do that by having your groceries delivered to your or picked up by you. We use Walmart for our groceries, because they are affordable and consistent in having the inventory correct from store to website when ordering. Try it today and get $10 off your first order! Enjoy $10 off your first order from Walmart Grocery. http://r.wmt.co/jNr66
So even with all the planning in the world, life happens. So like a good Girl Scout, I always say be prepared. I have meals at my ready. These are some of my favorites. $80 Off – $35 & $25 Off the First, Second & $20 Off your Third Orders I gave you a code so that you can save $80 when you order. See details below.
If you don't know what you want, how will you get there? I had to write down goals for the year for me and for the family. Of course now that the kids are older I get input from them as well. But, it makes a huge difference of the things you can accomplish, but also the places you can go as well.
11. Have Crafts Will Travel
When my kids were in school, I made it a point to come to class with ideas for crafts. One, the teacher did not have to use their hard earned money and two I got to spend a little bit more time around my kids.
What to pack
I bought several inexpensive plastic bins with lids so that I could have easy storage and on the go containers. I filled them up with stickers, glue, glitter, paint supplies, washable markers craft paper, and craft kits. They were always ready to go. I had a ton of supplies and I added to the kits each time I found something cute that I thought would be fun for the kids to work on.
12. Wake up before the kids
My day is never good, ok almost never good, if the kids get up before me. It usually means things happened that shouldn't have happened and I will have to fix something.
Also, getting up first let me set my day up the way that I want my day to go. A little more proactive is what I like. I don't like having to be reactive, it makes me cranky. And not one single person can say they like it when mama is cranky.
I actually have a lot more energy when I get up before them too. I feel accomplished and I always joke around saying I did more so far today, than most do all day long.
13. Consistency is key to happiness
Trust me when I say, people kept telling me this. I kept ignoring them for the most part. But breaking that routine is a nightmare.
Consistency, does not mean perfection nor does it mean being rigid. Our kids deserve more than that. Being a Stay at home mom can consume you, it can break you if you don't stay consistent. Take care of yourself, stay ahead of the game and smile. It is a privilege to get to have the opportunity to stay at home and take care of your children.
If You Stay at Home What Do You Plan to Do
This was the most common question I used to get when I would tell people that I was planning on staying home to raise my children. Let me say, that a lot of what I had planned is not what I actually do. The best laid plans, eh?
As I mentioned above, give yourself some grace. You will find a flow. But make a plan of what you want to do, but be flexible.
Plan in your breaks, errands you need to run, naps or rest for yourself, chores, meal plan, meal prep, phone calls. It all has a place in your day.
When I was a part of MOPS (mothers of preschoolers) when my children were younger, I found that I spent more time preparing for and doing things with the group of ladies and their kids so my time and schedule looked nothing like I planned and that was perfectly fine.
Once you make your list of what you plan to do, keep it in a place that is handy and refer to it often so that you can start making habits. Adjust when needed and pat yourself on the back at the end of the day because you did it. You made it through the day and you checked off one or two things on the list!
How To Be A Happy Stay At Home Mom
Following your heart, giving yourself grace and letting your day be flexible are the best advice I can give.
When all is said and done you set the tone for your home. Your children, husband, and even pets will all play off of what you say and do.
Alright moms, share your advice below and tell me what you think would be a great tip to add to this list!