Yield: 4
Eggroll In A Bowl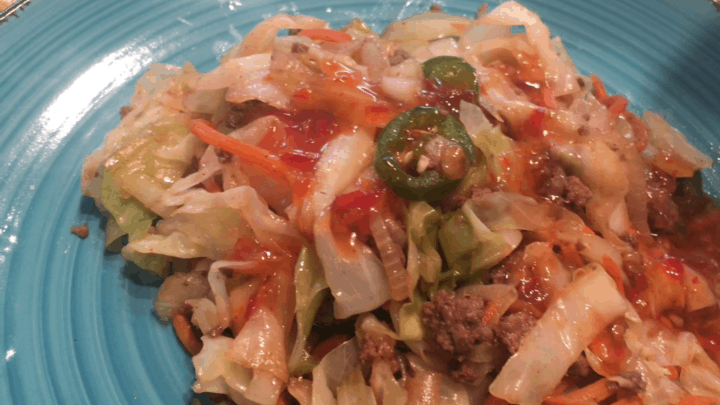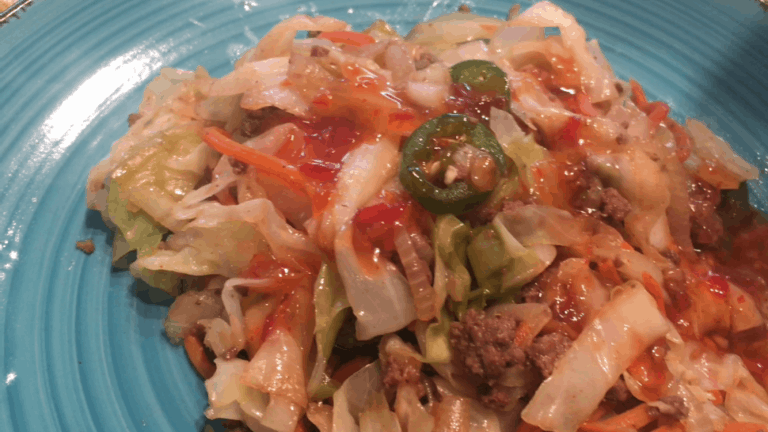 Ingredients
1 lbs Ground Meat, Beef, Turkey, Pork, Chicken, Shrimp
3 lbs Cabbage
5 oz Shredded Carrots
2 Serrano Peppers, Omit if you don't like spice, or ad 3 if you like it extra spicy
Liquid
1/2 cup Water
1/4 cup Soy Sauce
1 tbsp Sesame Oil
2 tbsp Oil, EVOO, Coconut, Veggie
2 tbsp Hoisin Sauce
1 tbsp Rice Wine Vinegar
Seasonings
2 cloves Crushed Garlic
1 small Onion
1 tsp Onion Powder
1 tsp Garlic Powder
Instructions
In a small bowl:
Add 1 lb of meat, vinegar, sesame oil, garlic powder and garlic powder. Mix and allow to marinate while you chop your veggies.
Chop all of your veggies into nice chunks. 1/2 inch
In a larger bowl:
Add soy sauce, water. Set aside
In a large skillet:
Heat a large skillet over medium high heat for about 3-5 minutes. Add 2 tbsp of oil. Do not allow oil to get too hot. Add onions and meat. Allow to brown for 5 to 10 minutes, break apart. Add in carrots. Let carrots soften, about 5 minutes. Add additional 2 tbsp water if pan gets a little bit dry. Add in 1/2 of the hoisin sauce and reserve the rest for later. Add 1/2 cabbage and 1/2 soy sauce and water mixture. Toss together. Add in the remaining cabbage, crushed garlic and remaining cabbage. Cover and Cook 10 minutes. Taste. Add in sesame oil and remainder of the hoisin sauce, serrano peppers, soy sauce and toss again.
Plate and Enjoy!
Nutrition Information:
Yield:
4
Serving Size:
1 Servings
Amount Per Serving:
Calories:

888
Total Fat:

52g
Saturated Fat:

19g
Trans Fat:

1g
Unsaturated Fat:

29g
Cholesterol:

192mg
Sodium:

1319mg
Carbohydrates:

44g
Fiber:

12g
Sugar:

23g
Protein:

63g