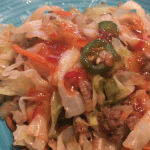 Print Recipe
Eggroll In A Bowl
Ingredients
1

lbs

Ground Meat

Beef, Turkey, Pork, Chicken, Shrimp

3

lbs

Cabbage

5

oz

Shredded Carrots

2

Serrano Peppers

Omit if you don't like spice, or ad 3 if you like it extra spicy
Liquid
1/2

cup

Water

1/4

cup

Soy Sauce

1

tbsp

Sesame Oil

2

tbsp

Oil

EVOO, Coconut, Veggie

2

tbsp

Hoisin Sauce

1

tbsp

Rice Wine Vinegar
Seasonings
2

cloves

Crushed Garlic

1

small

Onion

1

tsp

Onion Powder

1

tsp

Garlic Powder
Instructions
In a small bowl:

Add 1 lb of meat,

vinegar, sesame oil, garlic powder and garlic powder. Mix and allow to marinate while you chop your veggies.

Chop all of your veggies into nice chunks. 1/2 inchIn a larger bowl:Add soy sauce, water. Set asideIn a large skillet:Heat a large skillet over medium high heat for about 3-5 minutes.

Add 2 tbsp of oil.

Do not allow oil to get too hot. Add onions and meat. Allow to brown for 5 to 10 minutes, break apart. Add in carrots. Let carrots soften, about 5 minutes. Add additional 2 tbsp water if pan gets a little bit dry. Add in 1/2 of the hoisin sauce and reserve the rest for later. Add 1/2 cabbage and 1/2 soy sauce and water mixture. Toss together. Add in the remaining cabbage, crushed garlic and remaining cabbage. Cover and Cook 10 minutes. Taste. Add in sesame oil and remainder of the hoisin sauce, serrano peppers, soy sauce and toss again.




Plate and Enjoy!
Notes
Free
5 Day Meal Planning Course
This free email course will teach you to learn how to meal plan and we will focus on two main focuses.
#1 Patience : Do not google and try to FrankenPlan a meal plan for your family. It will only make it more difficult and frustrating. Eventually, you will burn out and open the junk drawer and call for that take out or delivery. 
#2 Be Prepared: As a Girl Scout and a mom to a GS and to a Boy Scout… this is key to success. 
#3 Progress, No Perfection: Give yourself grace. This should be at a slow pace and will take a little practice.