This is the best Pancake Cake – ever. Ideal for breakfast, brunch or dessert and it is so good, you do not need frosting.
If you would like to make a stack of delicious pancakes that will feed a large crowd, including teenagers try my sourdough buttermilk pancakes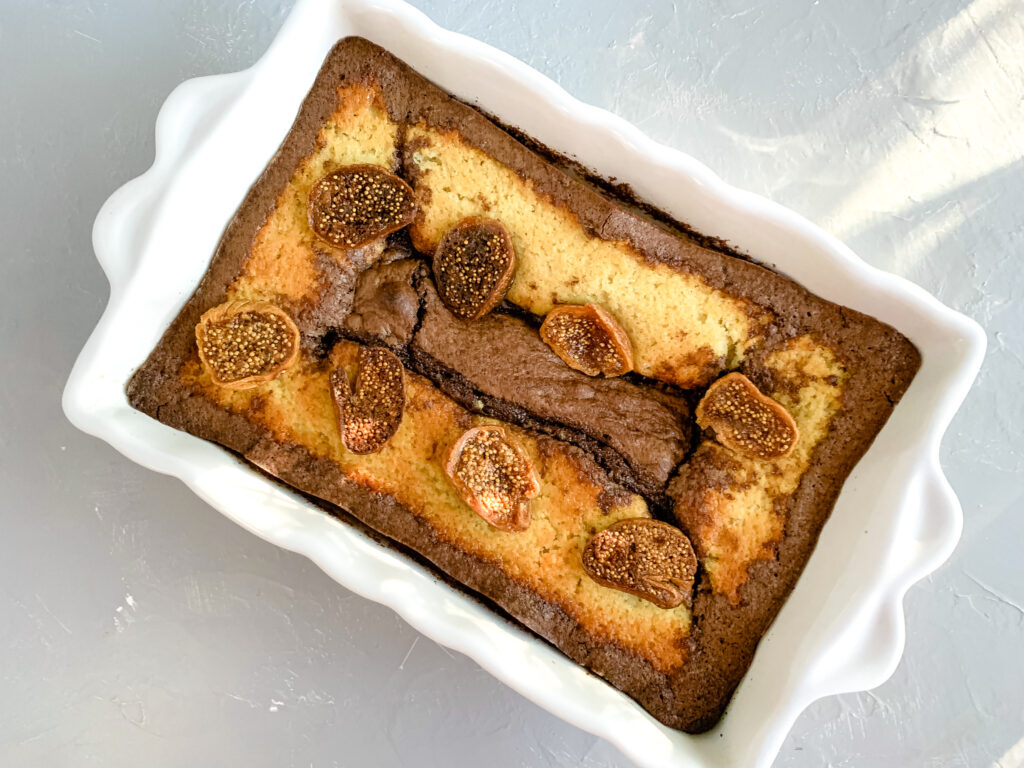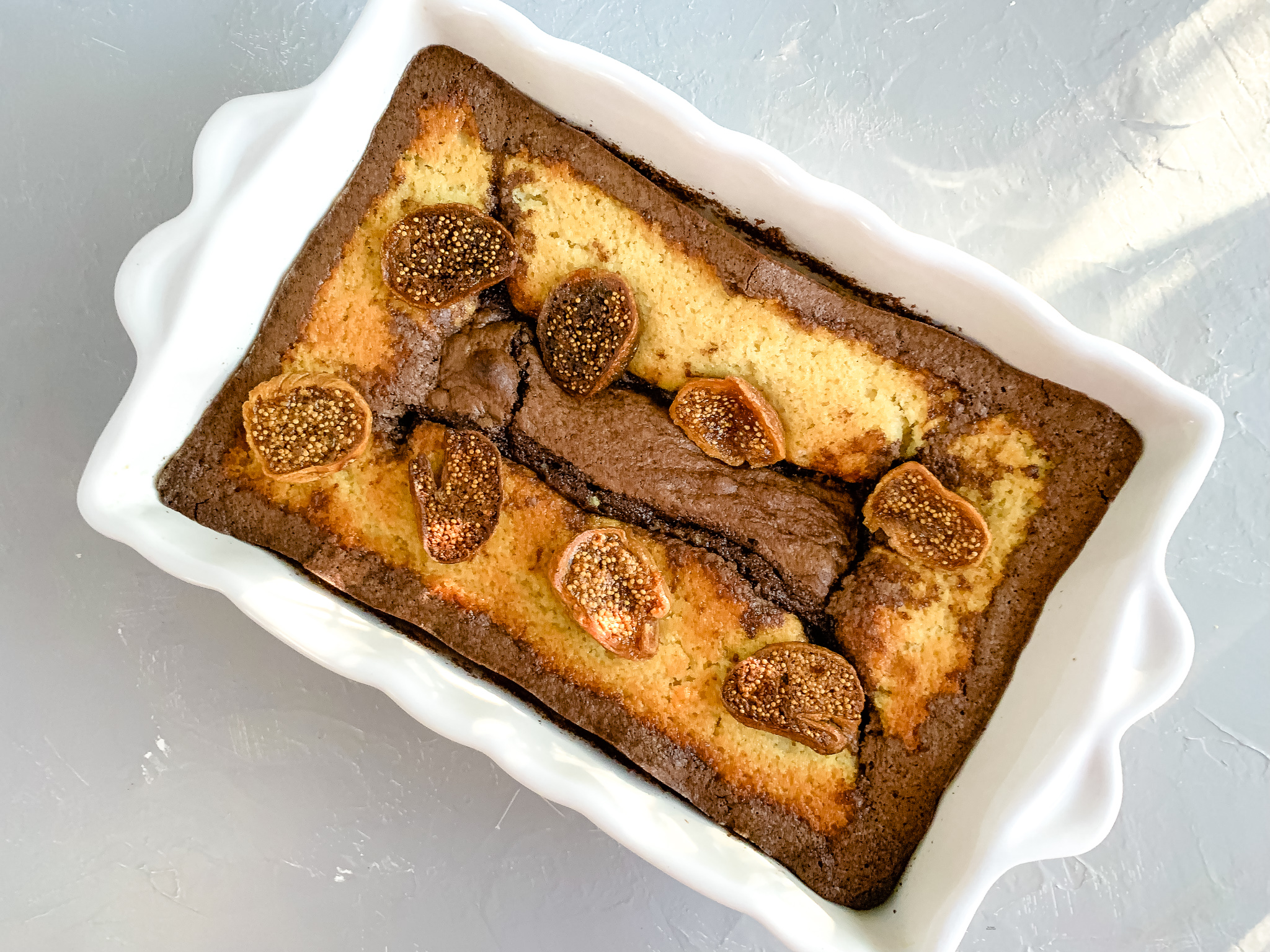 This blog post is sponsored by Bob's Red Mill. Thank you so much for supporting the brands that support The Happy Mustard Seed! All words, views, and opinions are my own
It may look like a cake, but it tastes like a decadent pancake with a brownie mixed in. And the delicious figs on top are the ultimate topping, no icing needed.
We used pancake mix and it couldn't be more simple to create this amazing pancake dessert.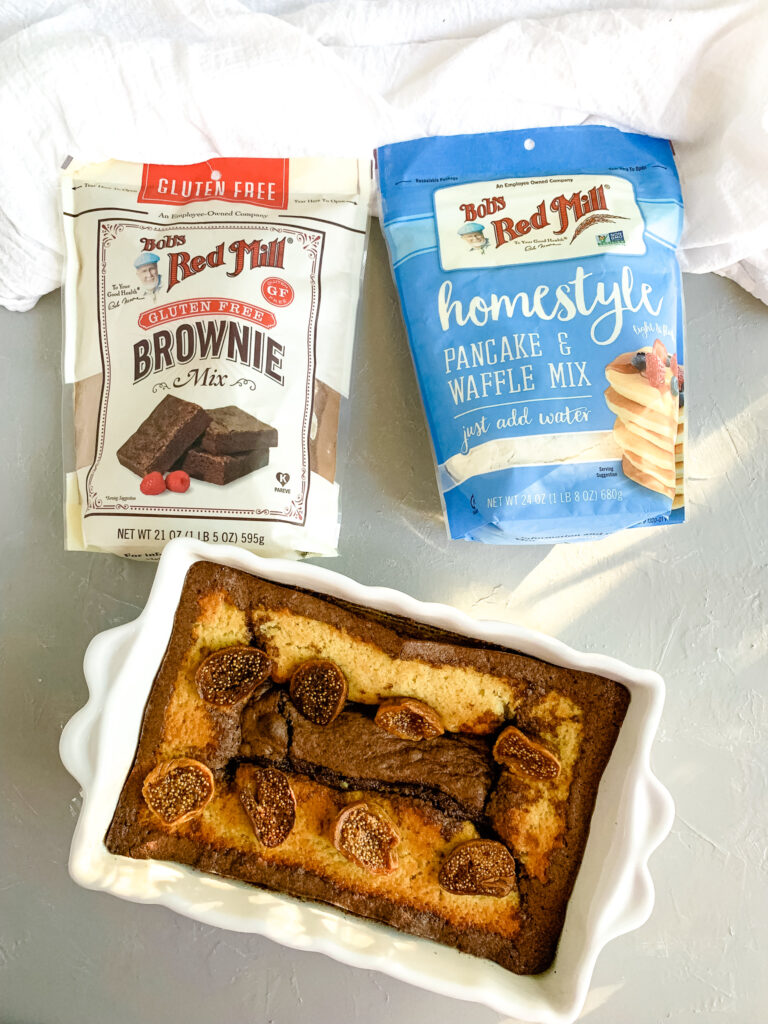 For this post, I partnered with Bob's Red Mill to talk about all things pancake mix. Which is something I can talk about all day long.
Mixes are a vital part of a sustainable home and help to provide me with a well-stocked pantry. We can use both the pancake mix and the brownie mix that is used in the recipe in a multitude of ways. Everything from the suggested use on the package to making cookies, biscuits, lava, and even a pancake dessert recipe that we created today.
Think about how many times you used a mix for biscuits, cupcakes, or waffles and how many times you needed an ingredient and ran to the store. Having a mix ready to go can save you so much time when you are in a pinch.
I Am Not Gluten-Free
But I love Bob's Red Mill Gluten Free Brownie Mix. It is easily a family favorite. 
In fact, the persnickety people in my home did not even know I was using gluten-free until they saw the packaging in the recycle.
I live by the motto of you eat it if it is cooked. So I had shocked and surprised people but no naysayers. In fact, they ask me to put it on our grocery list and we have kept it as a pantry staple.
What Does A Pancake Mix Cake Taste Like
It may look like a cake, but it tastes like a decadent vanilla pancake with a brownie mixed in. And the delicious figs on top are the ultimate topping, no icing needed.
The cake is topped with dehydrated figs. Something else that is a staple in my home. We ran out several times while I was testing this recipe. Not because I was using too many, but because I have teenagers that eat up everything in sight. If you do not like figs you can always exchange them for another fruit like apples.
But I already have an apple cake recipe with fresh apples that we make often so I did not use them again for this recipe.
Can I Make A Cake Out Of Pancake Mix
Yes, you can! In fact, I will say that the flavor of the pancake bake is more along the lines of a homemade vanilla cake by the time it is baked.
This pancake dessert recipe is all about using the mixes that you have in your home in a more original and purposeful way. Without it being overwhelming.
How To Make A Cake With Pancake Mix
First, grab all of your ingredients.
Wet Ingredients
Milk
Applesauce
Eggs
Butter
Vanilla Extract
Dry Ingredients
Granulated White Sugar
Figs
Now grab your equipment. 
If you want the kids to help out: younger kids can gather ingredients and equipment that is easy for them to grab. Then they can help pour and mix.
Older kids you can just hand them the recipe and make it together.
Equipment Needed
6×9 Pan
Pancake Mix
Brownie Mix
Mixer
Large Mixing Bowl
Medium Mixing Bowl
Spatula
That is all you need to get started making this recipe!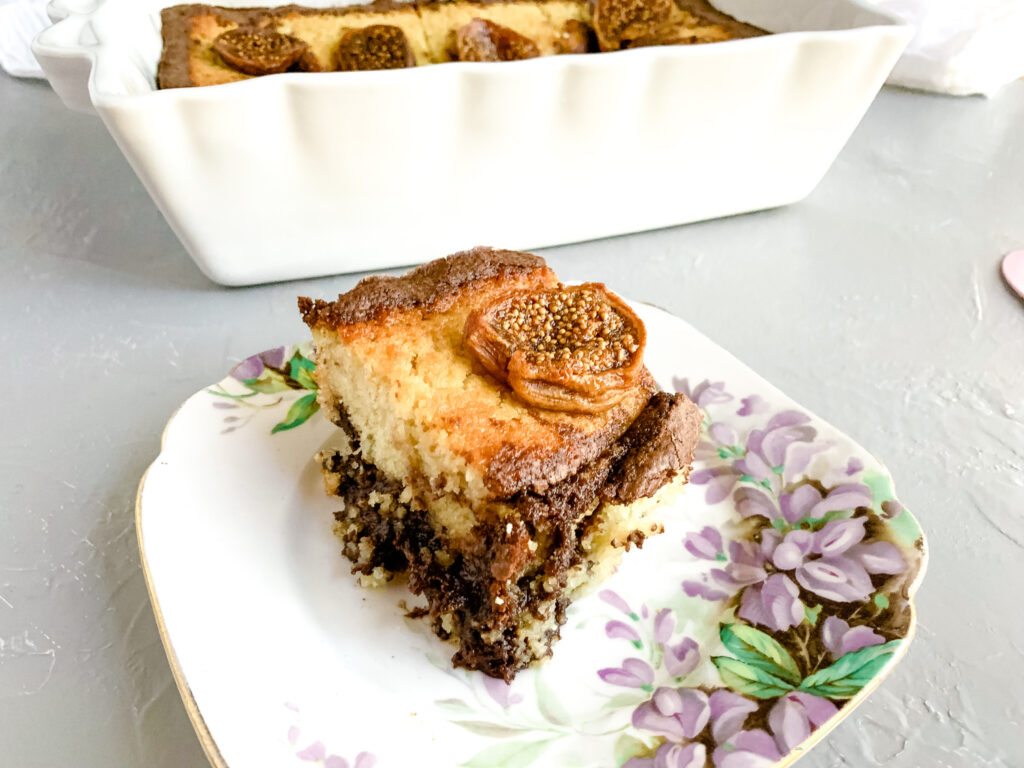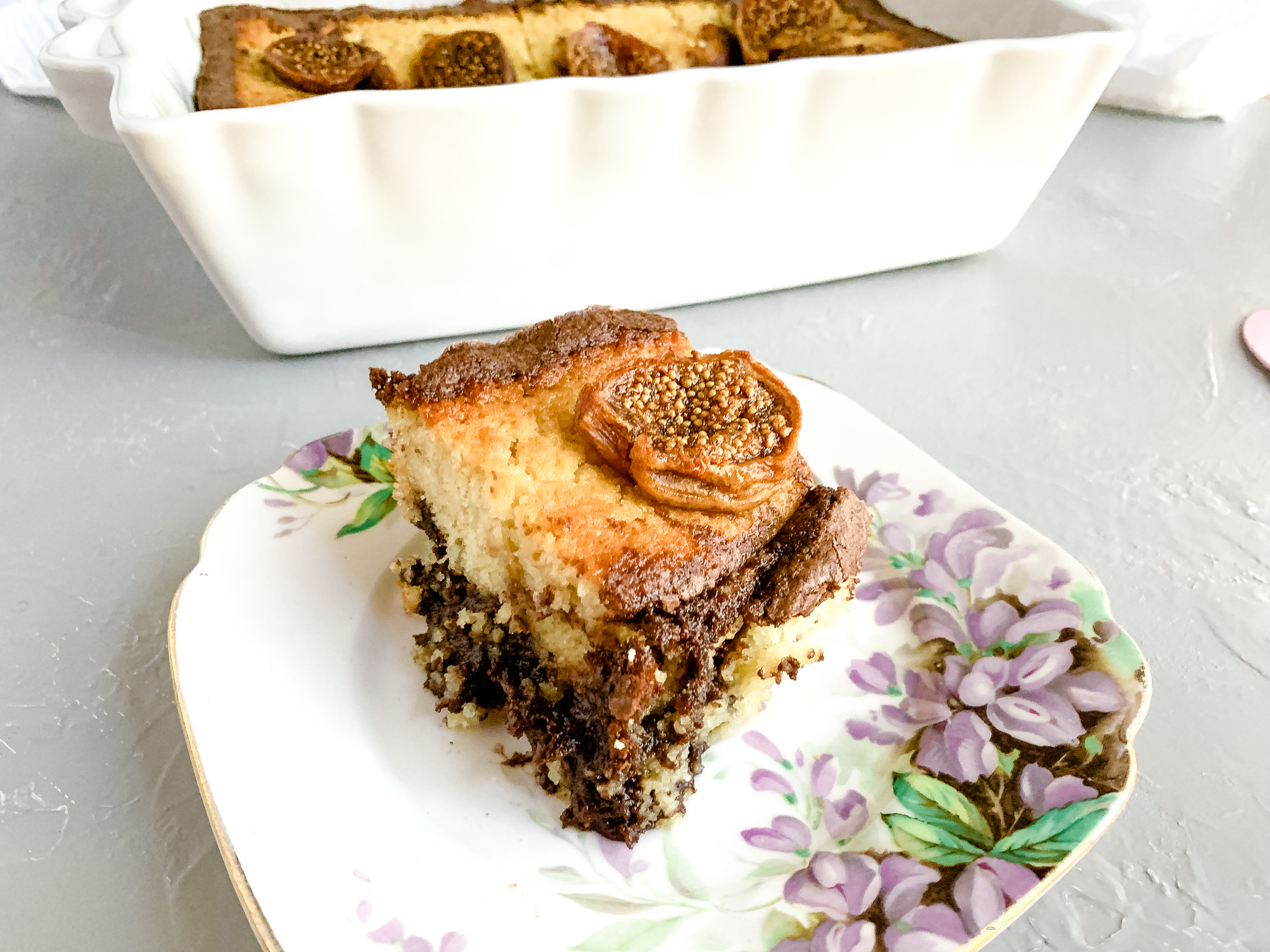 Whenever I am cooking I like to bring in some of the traditional ways of preparing food in order to honor my past, and to share that past with my children so that they can keep that tradition going.
This recipe is inspired by my grandma and my aunts who love cooking and baking. They are always using what they have to create these seemingly miraculous meals and desserts. I thought I would continue to toss my hat in the ring and show them all of their hard work and teachings have not gone unnoticed.
They have always taught me that using only the best ingredients for your recipes will you get the same easy to rely on results. And they are oh so right!
Can You Use Pancake Mix Instead Of Cake Mix?
Yes, you can use pancake mix instead of cake mix or flour. Pancake mix consists of a rising leavening agent so that it will rise much like a cake.
How To Store
You can store the pancake cake recipe on the counter in an air-tight container.
When you make pancake cake you can eat it as a dessert or breakfast item. If you choose to eat it as a breakfast item, you can also store it in the refrigerator.
Freeze it! Yes you can freeze this in individual pieces or the entire cake if you like. That way it is ready to pop out whenever you like.
Just remove it from the freezer and place on the counter. It took about four hours of defrosting from our deep freezer. Well, defrosting as much as the family would let it defrost.
I hope you enjoyed this pancake cake without fondant and get a chance to make it and share it with those you love.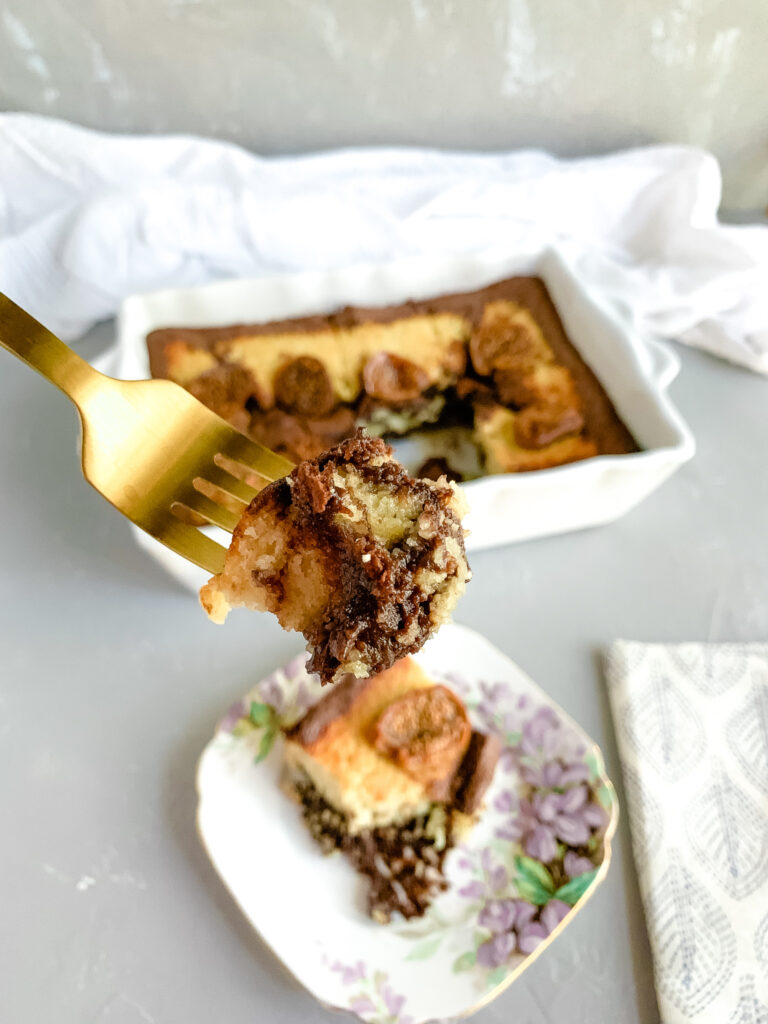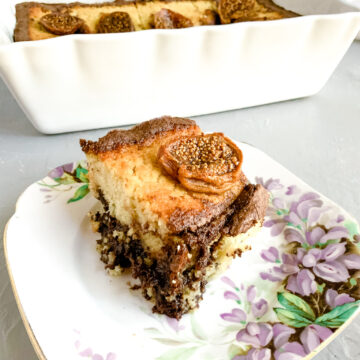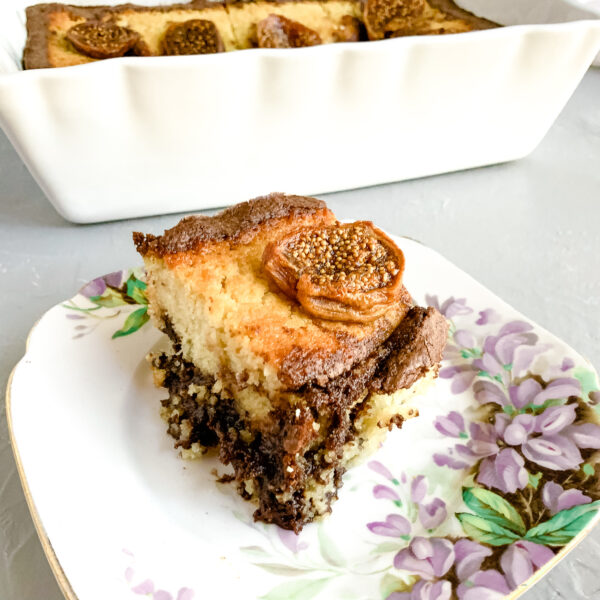 Pancake Cake
This is the best Pancake Cake – ever. Ideal for breakfast, brunch or dessert and it is so good, you do not need frosting.
Ingredients
1

cups

pancake mix

1

cups

brownie mix

1

cups

granulated white sugar

3

tbs

milk

whole

3/4

cup

applesauce

unsweetened

2

eggs

1/2

cup

butter

1

tsp

vanilla extract

4

figs

dehydrated, sliced in half
Instructions
Preheat oven to 350° Faranheight

In a large mixing bowl, cream the sugar and butter on low for two minutes, then on medium for 2 minutes.

Add egg, vanilla and milk and combine.

Remove 1/3 of the mixture and set aside in a medium mixing bowl

In a large mixing bowl that has 2/3 of the creamed sugar mix add your pancake mix and 3/4 of the applesauce. Pour into the cake pan

Clean your large mixing bowl and beater

Add the remaining ingredients and mix to combine. Pour on top of the pancake mix in the pan

Bake for 30 minutes, add figs and check the donesnes. It should still be jiggly.

Bake for an additional 10 minutes. Check for doneness (stick a butternife in the center and make sure it comes out clean. If not, add and additional 5 minutes. But no more than 10. Over 10 may dry out the cake.
Nutrition
Serving:
8
slices
|
Calories:
2565
kcal
|
Carbohydrates:
491
g
|
Protein:
40
g
|
Fat:
53
g
|
Saturated Fat:
15
g
|
Polyunsaturated Fat:
8
g
|
Monounsaturated Fat:
21
g
|
Trans Fat:
1
g
|
Cholesterol:
437
mg
|
Sodium:
1626
mg
|
Potassium:
1211
mg
|
Fiber:
10
g
|
Sugar:
376
g
|
Vitamin A:
1408
IU
|
Vitamin C:
7
mg
|
Calcium:
597
mg
|
Iron:
11
mg
Did You Love This Recipe?
Follow me on Pinterest For More Inspiration! @KarlaHarmer