This Pork and Beans Recipe is the easiest, fastest and tastiest made from scratch pork and beans you will ever make.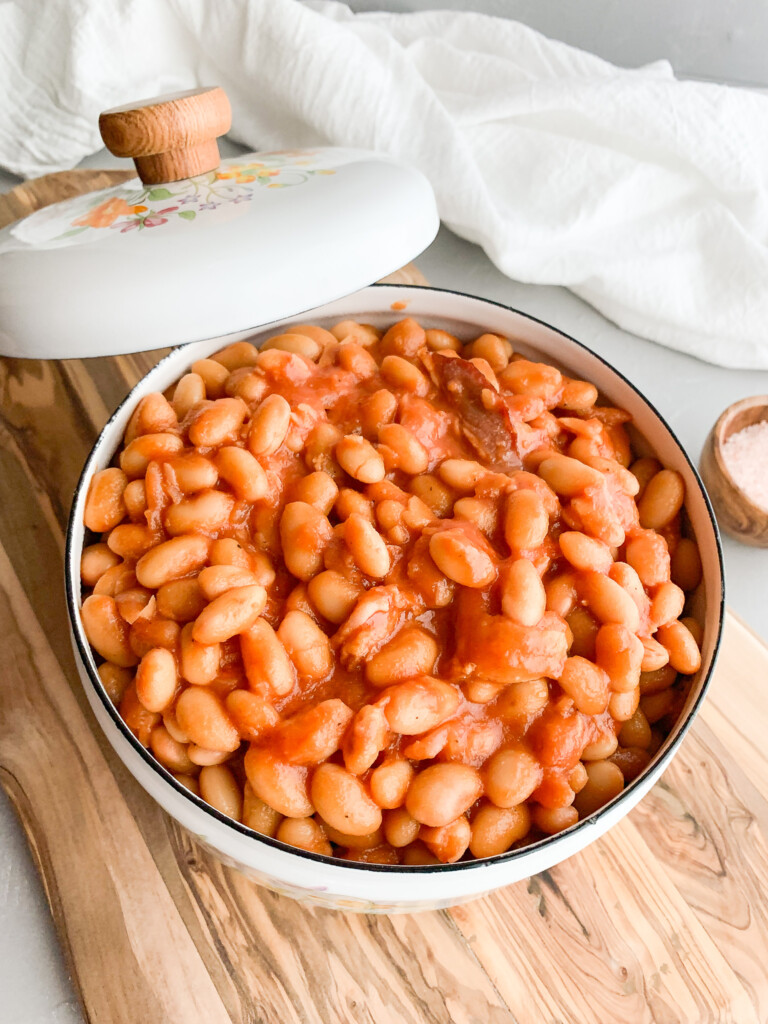 This blog post is sponsored by Bob's Red Mill. Thank you so much for supporting the brands that support The Happy Mustard Seed! All words, views, and opinions are my own
Pork and beans are one of the most popular side dishes to any slow-cooked meat at family cookouts.
Growing up we used to call it pork n beans and we would either have it from the can, semi-homemade from canned beans, or homemade from dry beans.
My favorite is from canned beans like the recipe below. It saves me some time and I get to have them ready for dinner the same day with little effort and the same great taste!
One thing I love is that my recipe is so easy that all skill levels will be able to make it. Which means the kids can make you dinner and/or help in the kitchen.
What Are Pork And Beans
Well, there are many variations. Depending on where you live will depend on how you like your beans and pork.
But the traditional pork and beans are simply salt pork or bacon, beans with pepper to taste. That's it. It is a basic recipe and it is often used in frugal households to fill bellies and save money.
How Do You Thicken Pork And Beans?
My grandma used to say that the bean liquor was the best part of the beans, and I tend to agree.
In order to preserve the liquor, so she would take out a cup of the cooked beans and juice and then mash them down with a potato masher. Then add the mashed beans and liquid back into the pot and let them cook again.
I am thickening my recipe in two ways. One by allowing it to cook longer which will help the bean liquid to thicken and reduce on its own creating the bean liquor I love so much.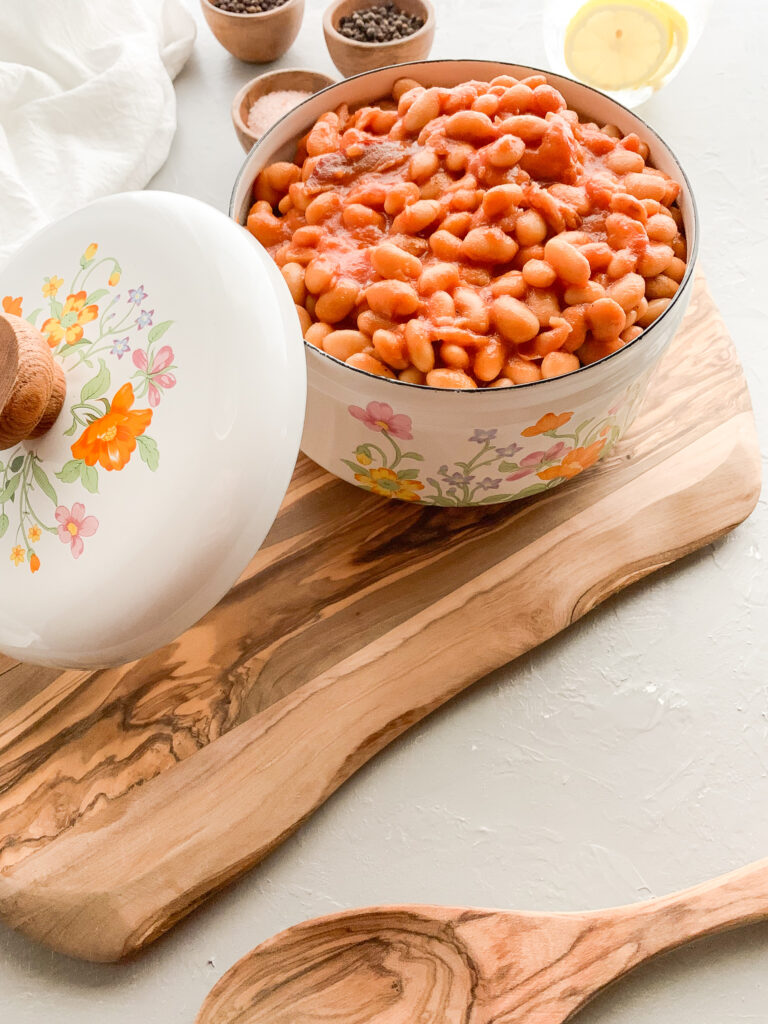 And secondly, with nutritional yeast. I know, it's not something you find in old-fashioned southern cooking, but just trust me on this one.
I want to add in a wonderful deliciousness that you can't get with just mashing the beans and adding them back in. The complex flavors of the nutritional yeast add so much to the dish, without changing the flavor at all!
Of course, this doesn't mean I still won't take out a cup and smash them, I am not about to break the tradition I grew up on. I love the different textures that my grandma's method gives the beans.
But instead of mashing the beans during cooking, I do it upon serving with this recipe.
What Do You Eat With Pork And Beans?
Traditional recipes will often state that the beans and pork dish be served with a side of cornbread, biscuits, or a hot dog bun spread with butter.
We will often make garlic bread out of a hot dog bun and use it for dipping. It's sweet and savory and less time than whipping up something homemade. Especially when you are making old-fashioned pork and beans from scratch, you will want to take the time to savor these beans, even during the cooking process.
You can eat just about anything with pork and beans. But here are a few that are more popular with our family
Bread and Butter
Saltine Crackers
Tortillas
Hot Dogs
Why Is It Called Pork And Beans?
Pork and beans get their name for their main ingredients, pork, and beans. Each having been a traditional staple of the American diet for hundreds of years.
What Kind Of Beans Are Used In Pork And Beans
Pork and beans are traditionally made from white beans. Here is a list that you can swap out to make this recipe your own.
Great Northern Beans
Cannellini Beans
Navy Beans
Pinto Beans
There are so many varieties of delicious beans that you can use for your beans and pork recipe but great northern, cannellini, navy is my go-to beans to use.
Want To Make This Recipe In The Oven or Slow Cooker?
The fact is that you can make it on the stovetop, oven, Instantpot, or even slow cooker with just a few minor adjustments.
If you need your burners for other dishes or just want to make it more of a dump-and-go meal, then you can use the following instructions to make it in the oven or slow cooker.
Oven Method:
In a large oven-safe skillet, lightly brown the bacon. Then add the remaining ingredients, combine well, and place them in the oven.
Bake the beans at 350 degrees for around 3 hours to get them cooked down and allowing them to thicken.
Slow Cooker Method:
Start by cooking the bacon in the bottom of your slow cooker. I put mine on high with the bacon in it so that I can get all the other ingredients ready to add to the crockpot. Usually around 10 minutes.
Then add in the remaining ingredients and cook on high for 4 to 5 hours.
NOTE: Do not add the additional oil from the recipe to the slow cooker or the oven method. Since bacon tends to produce enough fat. If you add the additional oil, depending on the cut of your bacon, it could make your pork and beans taste too greasy. You can always add oil add the end if needed, but you can't take it out.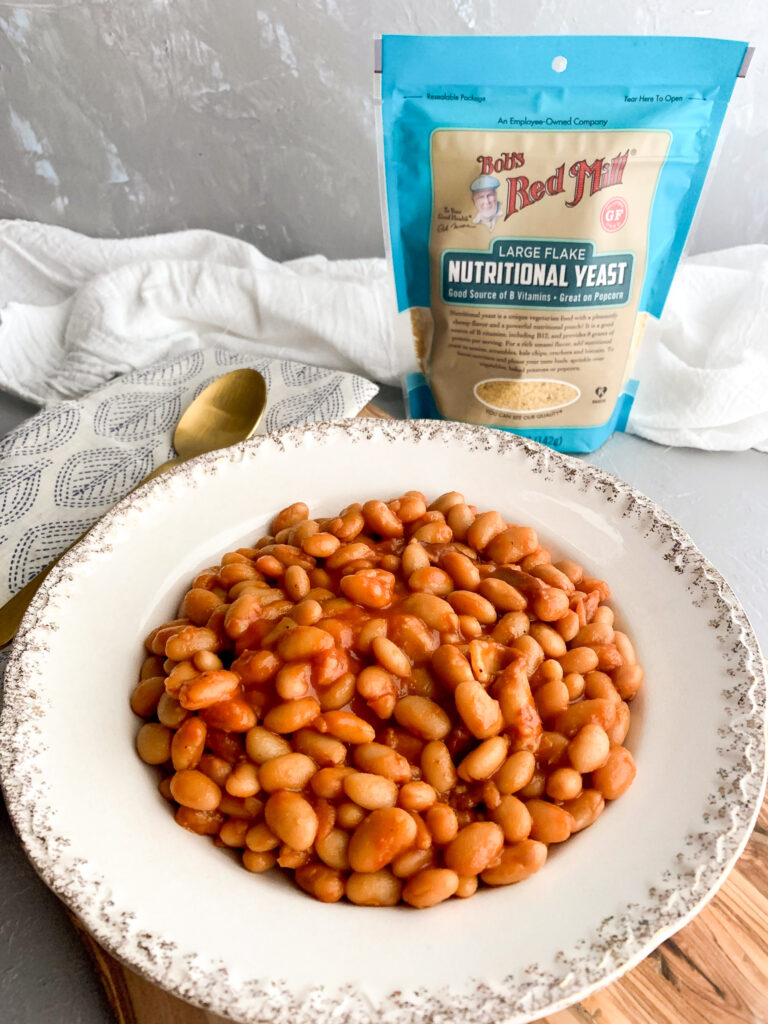 Are Pork And Beans The Same As Baked Beans?
Well, this can often lead to a bit of a debate depending on what part of the county you are from here in the US. u003cbr/u003eSo, I will simply say yes, pork and beans are the same as baked beans in different parts of the US. u003cbr/u003eHere are some facts that can help determine your answer for pork and beans:u003cbr/u003eu003cbr/u003ePork and beans are lighter in color (using little to no molasses)u003cbr/u003eTend to be more savory and less sweetu003cbr/u003eNot as thicku003cbr/u003eHave more liquidu003cbr/u003eLess expensive than baked beansu003cbr/u003eu003cbr/u003eBaked beans can often call for a lot more ingredients, making them more expensive. For example, the addition of smoked bacon, diced tomatoes, bell peppers, chili seasoning, sausage, ground beef, and/or brisket. The list goes on and on. Again, this will depend on the region that you live in.u003cbr/u003eu003cbr/u003eu003cimg alt=u0022Pork-And-Beans-from-scratchu0022 src=u0022https://thehappymustardseed.com/wp-content/uploads/2021/08/Pork-and-Beans-09.jpgu0022/u003e
Ingredients
Brown Sugar
Tomato Sauce
Bacon
Salt
Black Pepper
Cannellini beans (Navy Beans can also be used)
Onion
Garlic
Dry Mustard
Crushed Tomatoes
Worcheschire
Apple Cider Vinegar
Dr. Pepper, optional
Oil
Additional salt and pepper to taste
Why I Am Using Dr. Pepper
Most of the recipes for pork and beans that you see nowadays will call for molasses to sweeten the recipe and to add a deep rich color.
But instead of using molasses on its own, I prefer the old school tradition that my grandma used, which is Dr.Pepper. It is full of its special blend of spices as well as molasses and sasparilla.
Once Dr. Pepper is cooked down it does allow for the molasses to come through. And the sasparilla brings in the caramel sweet taste which adds to the oddly complex yet versatile flavor that I prefer.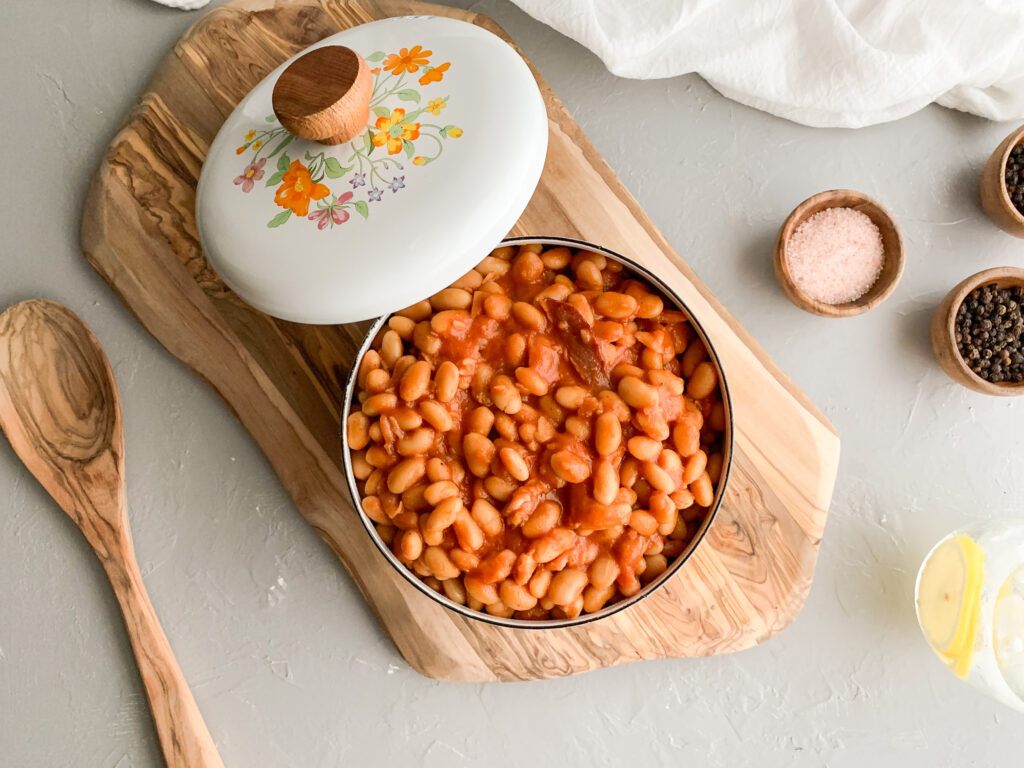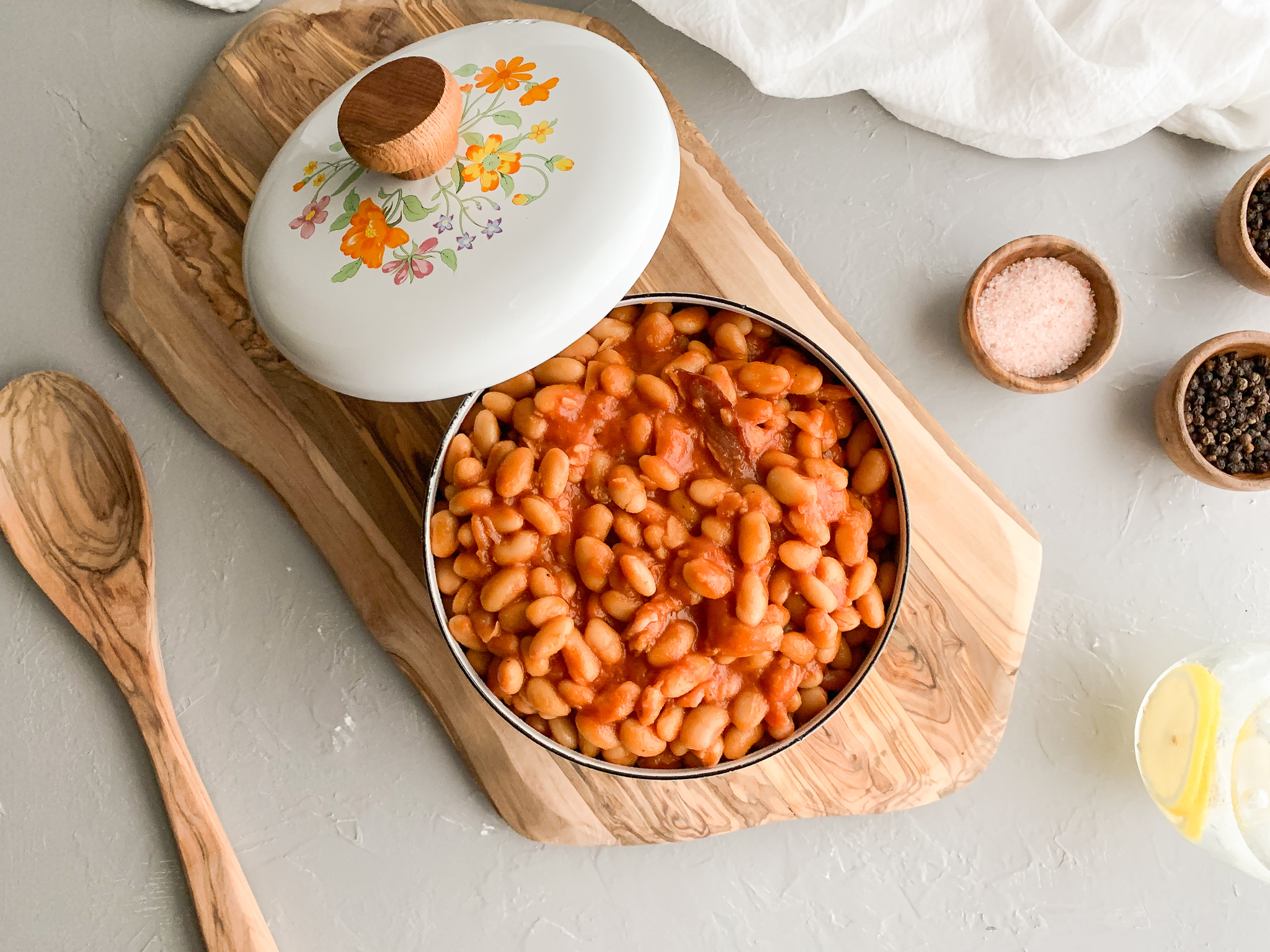 More Recipes You Will Love
Sloppy Joes
Sweet Potato Chili
Candied Carrots
Funnel Cake Fries
Double Decker Taco
Sourdough Tacos
Egg Roll In A Bowl
Stuffed French Toast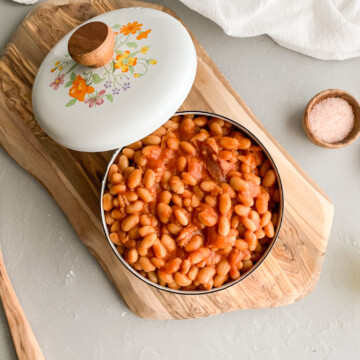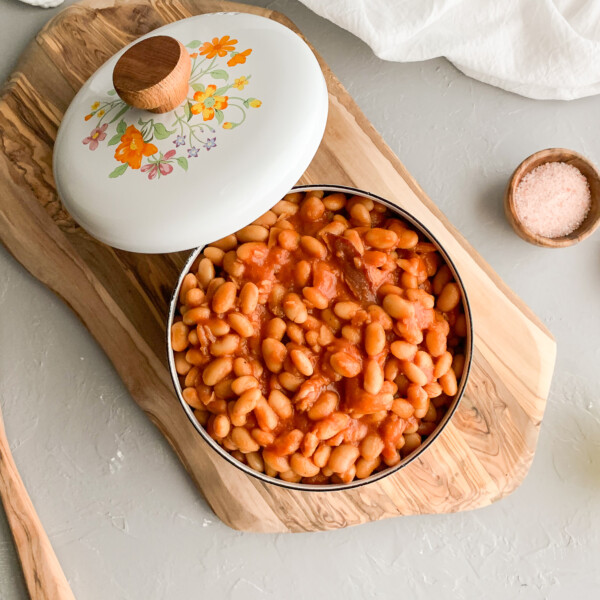 Pork And Beans
This Pork and Beans Recipe is the easiest, fastest and tastiest made from scratch pork and beans you will ever make.
Ingredients
2

cans

Great Northern Beans

oz

1

slice

Bacon

Center cut

1

tbsp

Oil

1/4

cup

Onion

Diced

2

cloves

Garlic

Crished

1/4

tsp

Dry Mustard

1

cup

Crushed Tomatoes

1/8

tsp

Black Pepper

1/8

tsp

Salt

1/4

tsp

Apple Cider Vinegar

1/4

tsp

Worcheschire Sauce

2

tbsp

Dr. Pepper

2

tbsp

Brown Sugar

1

tbsp

Nutritional Yeast
Instructions
In a medium-sized pan over medium-high heat add bacon. Cook bacon for 3 minutes to render out the bacon fat. Because it adds flavor to the dish.

Add oil, onions, garlic, mustard and saute for 5 minutes.

Add tomato sauce and stir to combine.

Next, add beans, Dr. Pepper, Worcheschire, salt, pepper, apple cider vinegar, nutritional yeast, and brown sugar.

Then cook for 20 minutes stirring occasionally.

Lower the heat to low and then cover and cook for an additional 30 minutes.
Notes
Make it Vegan/Vegetarian by removing the pork bacon and replacing it with 1 chopped green bell pepper, and an additional tablespoon of nutritional yeast. The nutritional yeast will add additional flavor to help with the removal of the bacon. 
Good Thick Bacon You can use a thin cut of bacon if that is what you have on hand. But I prefer a good thick slice over several small then pieces. I choose a center cut.
Day Ahead Make these the day ahead for the flavor to be even better. If not, make a double batch. You will thank me later. 
Double Batch 
I make a double batch for the next day because they are that good and they will get better the next day too. 
Please note that preparation times are estimated and will vary according to the efficiency of your kitchen, equipment, and of course your own personal skills. The presentation of this dish may also be affected due to individual preferences such as adding accompaniments, swapping out ingredients, and changing instructions. Also, note that this recipe serves four people.
Nutrition
Serving:
4
bowls
|
Calories:
114
kcal
|
Carbohydrates:
14
g
|
Protein:
3
g
|
Fat:
6
g
|
Saturated Fat:
1
g
|
Polyunsaturated Fat:
1
g
|
Monounsaturated Fat:
3
g
|
Trans Fat:
1
g
|
Cholesterol:
4
mg
|
Sodium:
193
mg
|
Potassium:
258
mg
|
Fiber:
2
g
|
Sugar:
10
g
|
Vitamin A:
133
IU
|
Vitamin C:
7
mg
|
Calcium:
32
mg
|
Iron:
1
mg
Did You Love This Recipe?
Follow me on Pinterest For More Inspiration! @KarlaHarmer