You'll love these easy and delicious slow cooker chicken recipes that can all be cooked in your crockpot slow cooker. From crockpot honey garlic chicken, Moroccan chicken thighs to copycat Olive Garden chicken and pasta. We've got you covered with over forty different dinner ideas.
Dinner will never be the same again!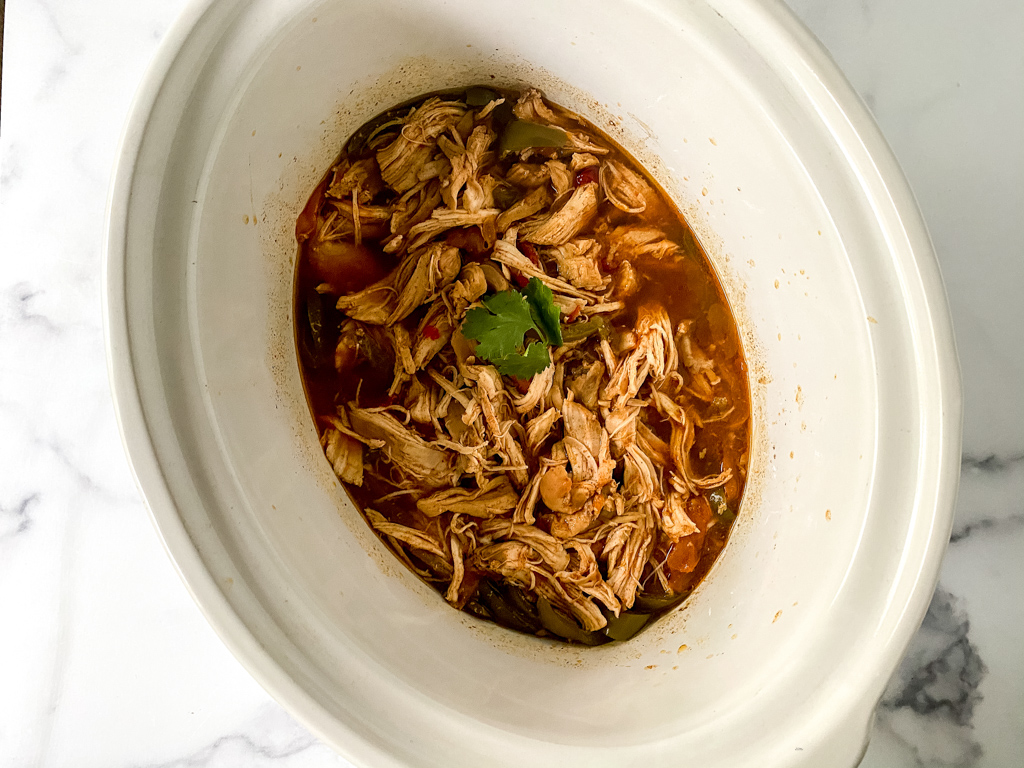 This post contains affiliate links, some of which may be Amazon links which means I receive a commission, at no extra cost to you, if you make a purchase using this link. Thank you!
Can you make frozen chicken in the crock pot?
Yes, you can make frozen chicken in the crock pot. Simply place the frozen chicken breasts in the crock pot and cook on low for 6-8 hours or on high for 3-4 hours.
Since each crock pot regulates temperate differently, we recommend using a thermometer to let you know when the chicken comes to temperature.
Can you over cook chicken in the slow cooker?
Yes, you can overcook chicken in the slow cooker. If you cook it on too high of a temperature or for too long of a time, the chicken will become dry and tough.
How long can you leave chicken in a crockpot on warm?
In order to keep your chicken juicy and tender we recommend keeping in the warm setting for two to four hours.
2. Crockpot sesame chicken
3. Mexican shredded chicken
4. Moroccan slow cooker chicken thighs
5. Crockpot lemon garlic butter chicken thighs
6. Crockpot smothered chicken
7. Slow cooker chicken fajitas
8. Orange curried chicken
9. Shredded salsa chicken
10. Easy Crock Pot Honey Garlic Chicken
11. Crockpot Olive Garden chicken with pasta
12. Slow cooker honey garlic chicken and veggies
13. Chicken tortellini soup
14. Crockpot Tuscan chicken
15. Slow cooker chicken casserole recipe
16. Crockpot chicken & gravy recipe
17. Salty-sweet chicken drumsticks
18. Crock Pot teriyaki chicken
19. Crock-Pot one-pot chicken casserole
20. Slow Cooker chicken alfredo
21. Best chicken pot pie Crock Pot recipe
22. Chicken stroganoff
23. Crock Pot chicken and rice burrito bowl
24. Ultimate Crock Pot chicken spaghetti
25. Slow Cooker sweet and sour chicken
26. Slow Cooker seasoned chicken, green beans, and red potatoes
27. Chicken stew
28. Slow Cooker ranch chicken sandwiches
29. Slow Cooker honey garlic chicken
30. Buffalo chicken dip (Crockpot Recipe)
31. Crock Pot chicken and rice recipe
32. Crock Pot chicken wings
33. Crock Pot bbq chicken
34. Chicken noodle soup
35. White chicken chili
36. Chicken tortilla soup
37. Whole chicken
38. Mississippi chicken
39. Sweet Hawaiian chicken recipe
40. Chicken and stuffing
41. Orange chicken