These super easy Sourdough Tacos are a great way to use your sourdough discard without tossing it out and they are also fun for the entire family. You can find more of our Recipes For Discarded Sourdough Starter here.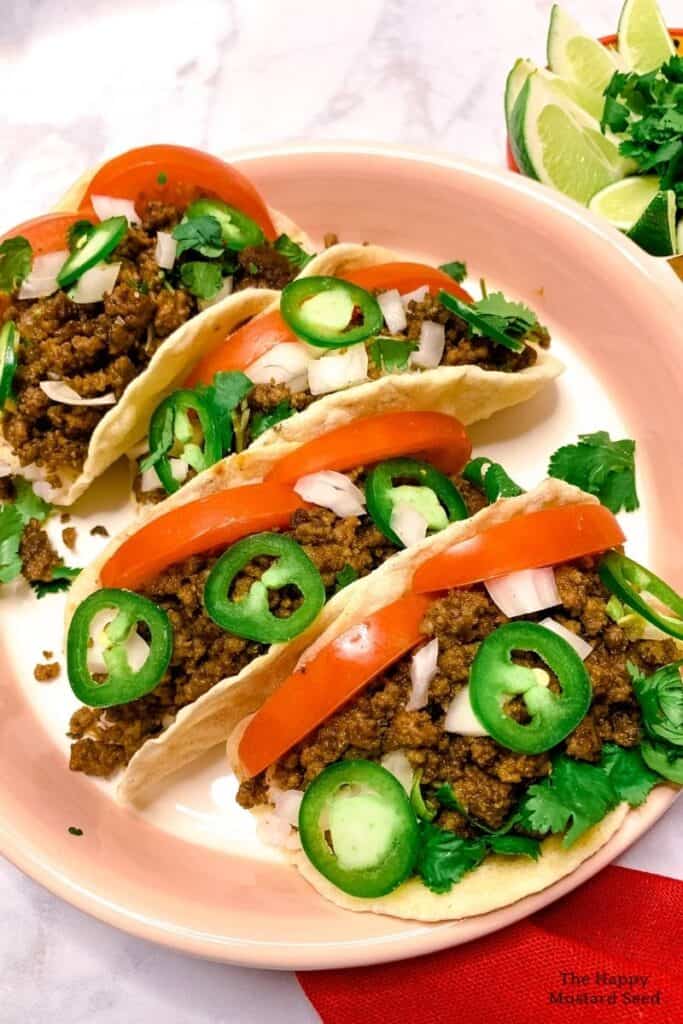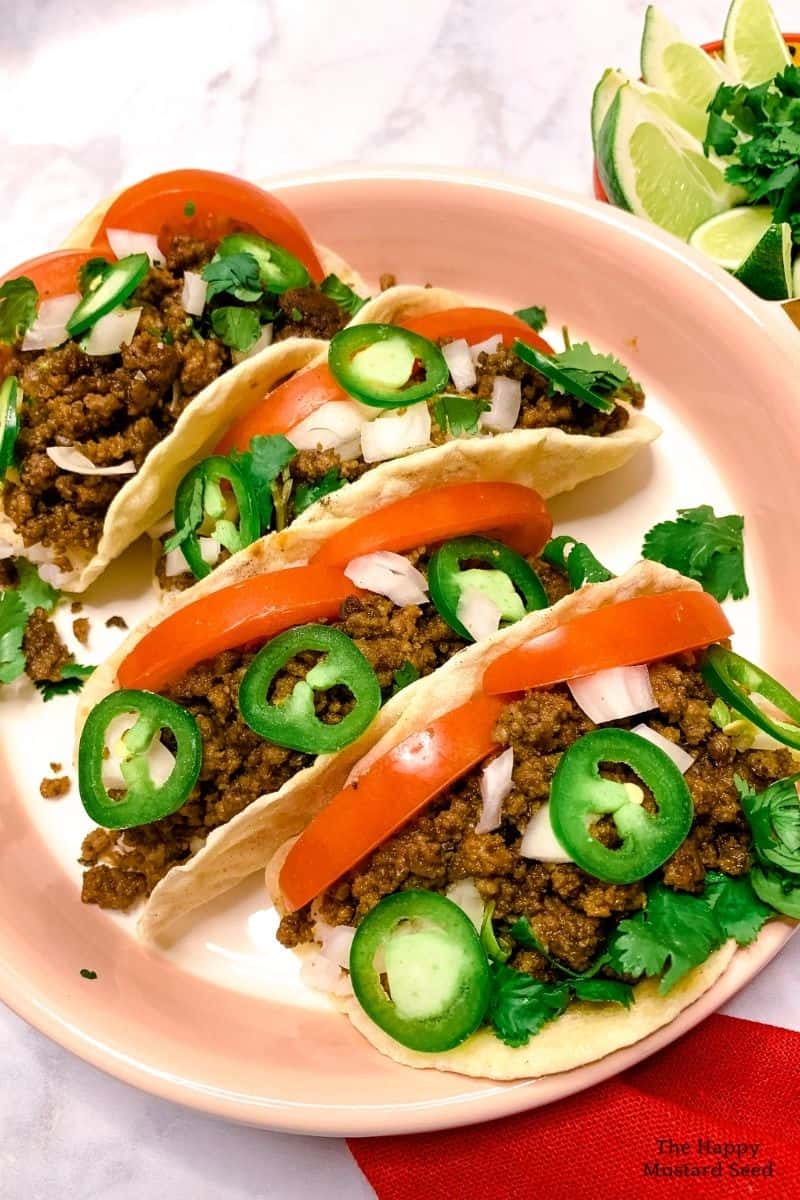 This post contains affiliate links, which means I receive a commission, at no extra cost to you, if you make a purchase using this link. Thank you!
I love tortillas so much that I try to make them every single week. I think we make them almost as much as we make bread. No, that's not true, we make tortillas more. Because they are so versatile!
I want to share how everyone in the family can enjoy taco night.
How To Make It Family Style
We all know that there is nothing worse than standing over a hot stove and preparing a meal for our family for them to turn up their noses to the meal you prepared.
One way I keep it family friendly is to make it family style.
I grab all of the ingredients, lay them out on platters and in bowls and let everyone make their own tacos. Now this works for other things besides tacos, but I want to focus on just tacos for this blog post.
So I try to make it as presentable as I can. Sometimes I lay it all out on the island if I have a lot of ingredients or I just place it on the table if need be.
But if everyone has everything they need at their fingertips, there is no need for a picking though the food.
I also make an effort to hide the onions in garlic in the food because some people around here do not like the textures of them. so I grate them into the meat so that it just looks like there is meat and very little of anything else in it.
Place All Ingredients At Levels Where Everyone Can Reach
It is not always possible to do this, especially when the kids are younger, but it does help when you make it a habit when they are smaller.
They get used to what is supposed to happen and they can easily learn to share and also not take all of their favorite ingredient.
With exception, keep the spicy things out of reach. I have know a kid or two to grab a mouthful of jalapenos thinking they were bell peppers, so please keep them up higher or in a container with a lid on the table so it is harder for the little ones to get to.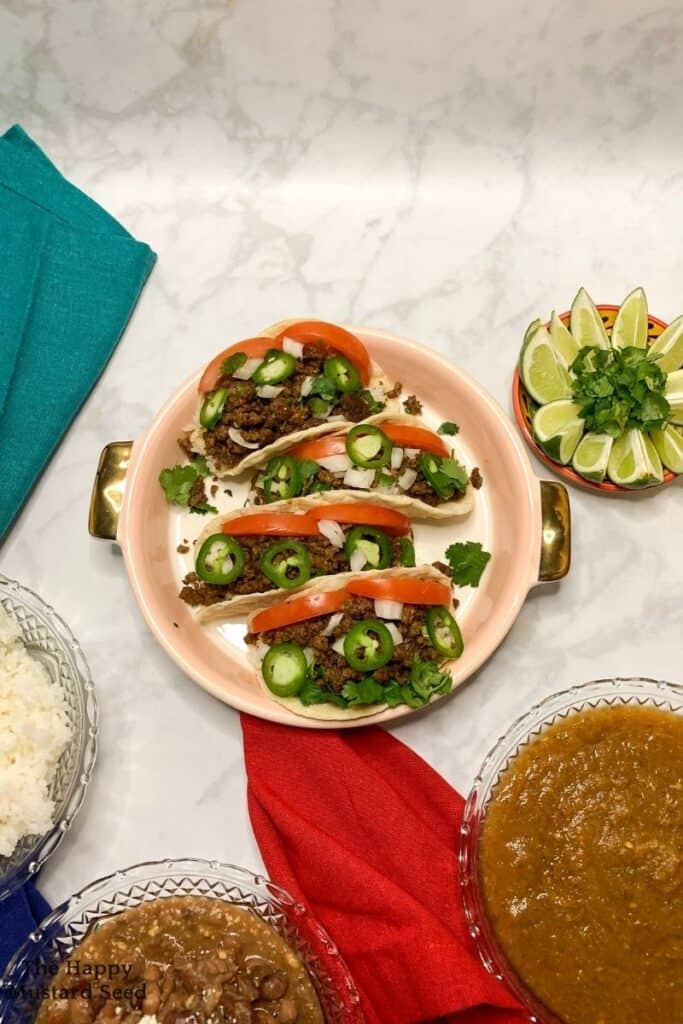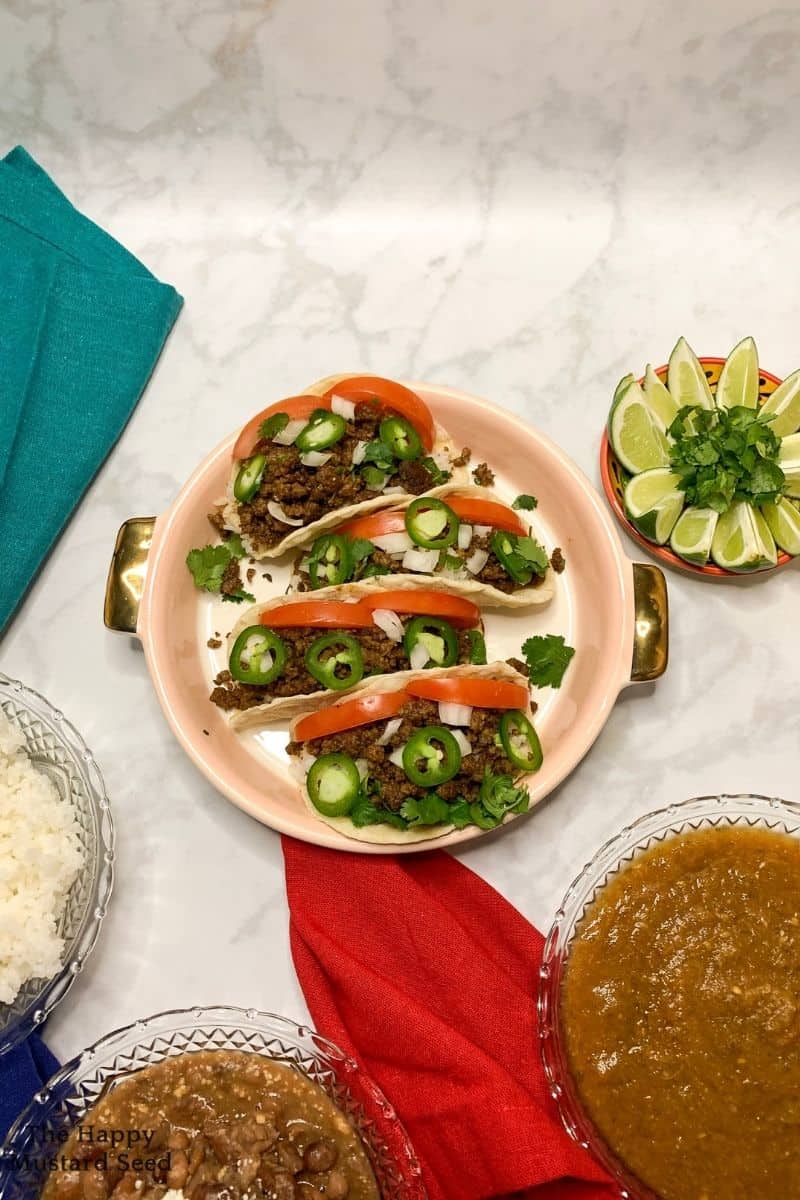 How To Make Sourdough Taco Recipe
Sourdough Tacos Ingredient List
¼ small onion, grated
3 cloves garlic, grated
2 lbs 97% lean ground beef
½ tbs adobo seasoning
½ tsp Mexican Oregano
½ tsp cayenne pepper
½ tsp paprika (I used Hungarian)
1.2 tsp black pepper
½ tsp cumin
1 ½ tbsp brine/liquid/juice from Hot Pepper Sauce (vinegar if you do not have)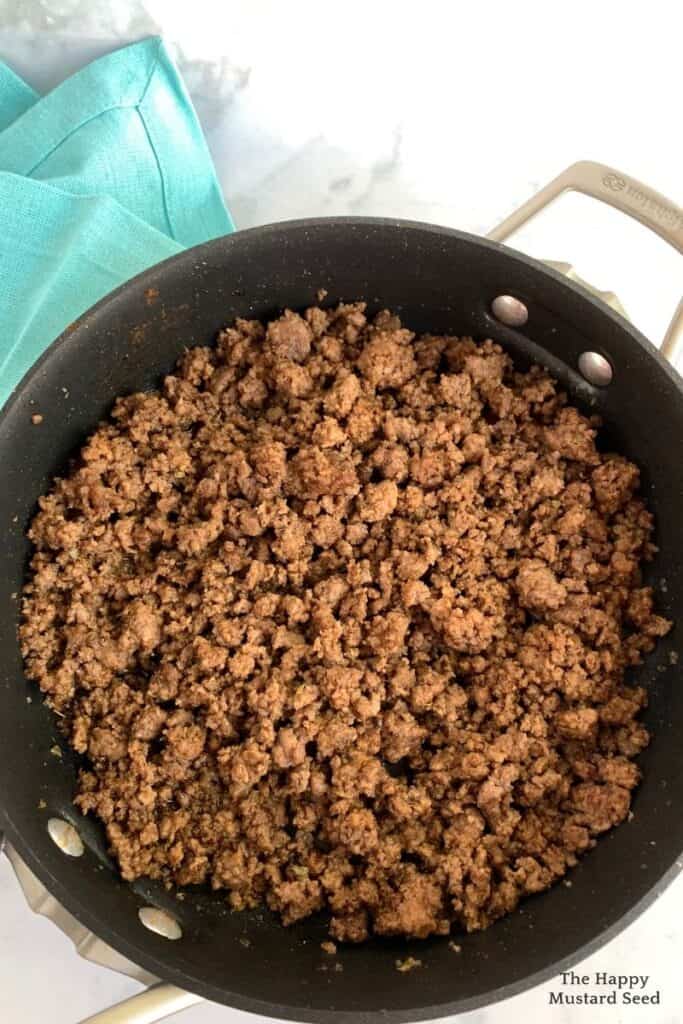 How Do You Make Taco Meat?
Add the meat to a pan over medium high heat
Break the meat apart. As it browns begin to season with the dry ingredients. Combine
Then add in your onion and garlic. Combine well
While the meat is cooking, prepare your sourdough tortillas (place on a plate and under a towel to keep warm) If you already have cooked tortillas you can skip this part.
After the meat has cooked for about 10 minutes add in the juice from the hot pepper sauce. Turn down the heat to medium low and let cook for another 10 to 15 minutes cook time until meat is done
Add to your sourdough taco shells, add your favorite fillings and serve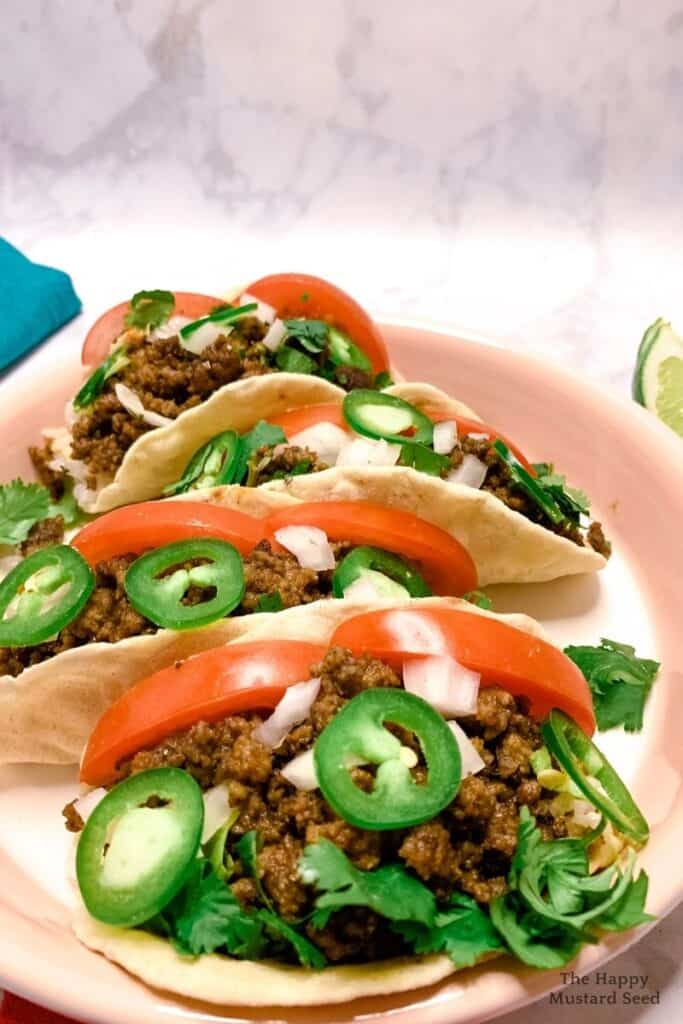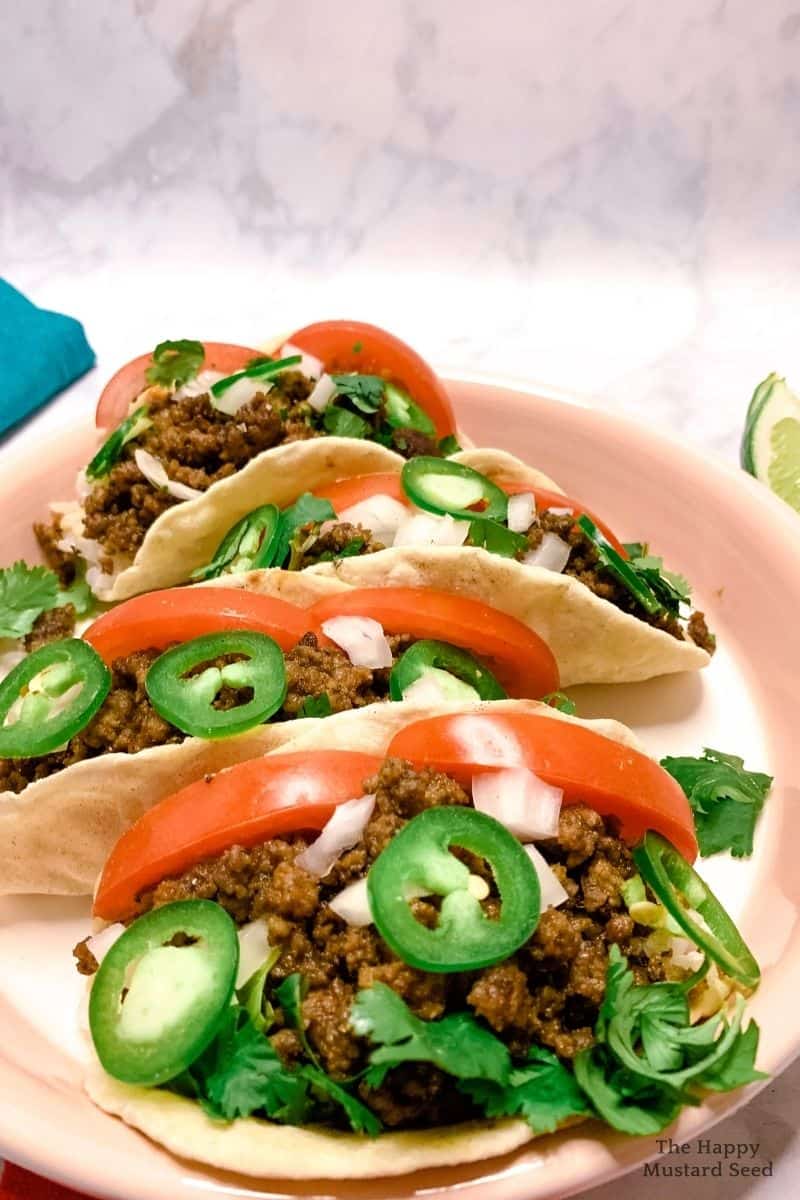 What Is The Best Ground Beef For Tacos?
I teach my kids that you should really have a standard for what type of meat you buy and use. This way, you know how you are going to prepare it and can take less time during the preparation.
Here is how we choose our meat. We normally only buy 97% because that is the easiest for me to prepare and most recipes can be made very easily with it since there is no need to drain the meat from excess fat.
What Ground Beef I Choose And Why
80/20 is my favorite when I am craving a good homemade taco. They will be a little greasy and very juicy. We use this on special occasions or when I do not have a lot of other ingredients to fill the taco with.
97/3 is my next favorite to use. I use this most often since I had a liquid to my beef while it is cooking to add both moisture and flavor. I usually will add either chicken stock, the juice from a fruit or something pickled or just a splash or two of water with some additional herbs.
90/10 is also good. I usually do not see it in the store enough to make it a household favorite. But it is good and you can use less liquid with this. I prepare it the same as the 97/3
Grab my sourdough starter discard tortilla recipe here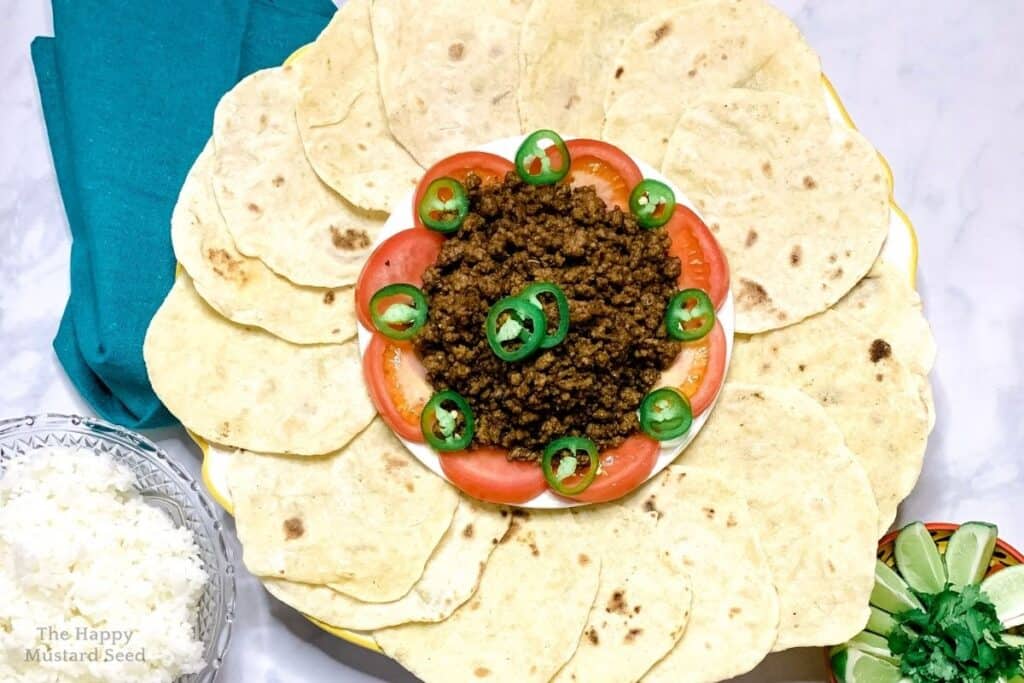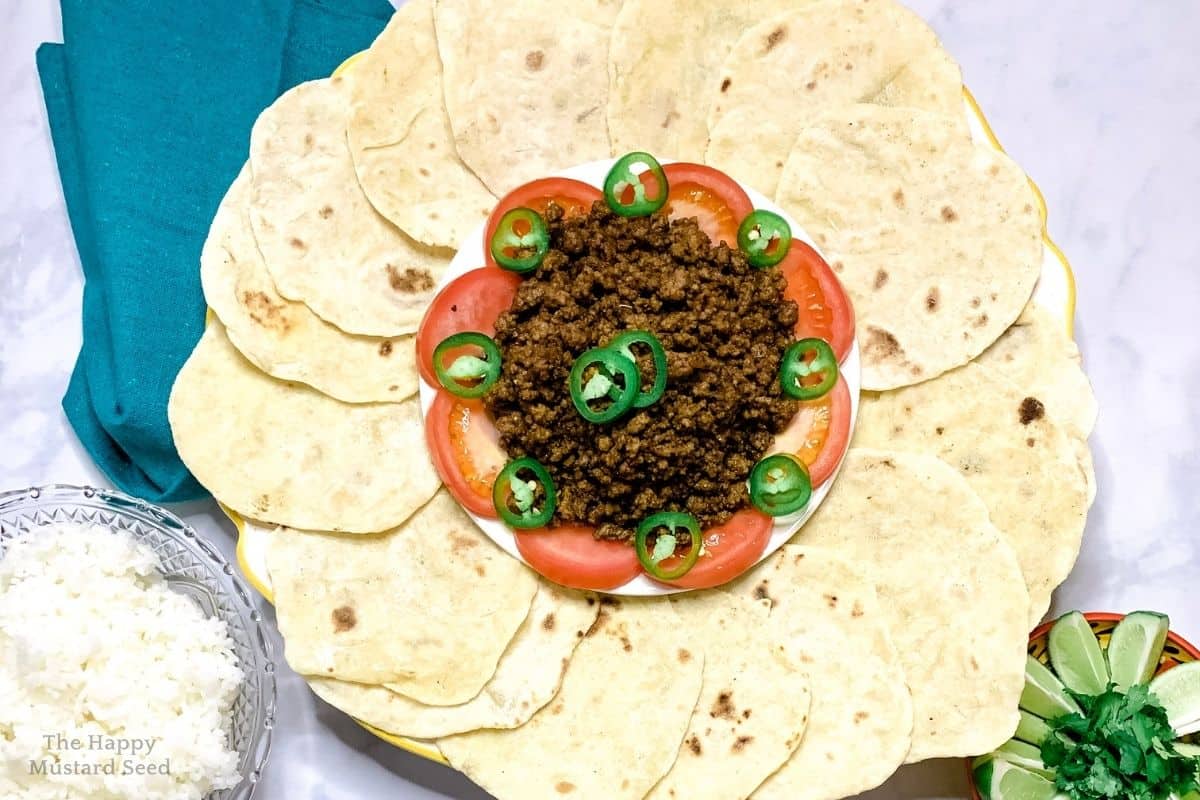 What Are The Best Toppings For Tacos?
I usually lay everything out so that everyone can build their own tacos. Here are some of the taco toppings we use
Rice (plain, lime or cilantro lime)
Tomatoes
Jalapenos
Cheese (queso fresco, mild cheddar)
Olives
Cilantro
Avacado
Lettuce
Onions
Beans (black or pinto)
Corn
Salsa
Pico De Gallo
Salsa Verde
You will love this recipe so much I know you are going to want to add this sourdough discard taco recipe to your list of sourdough recipes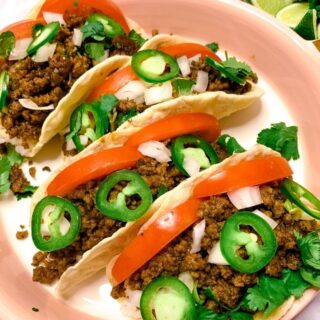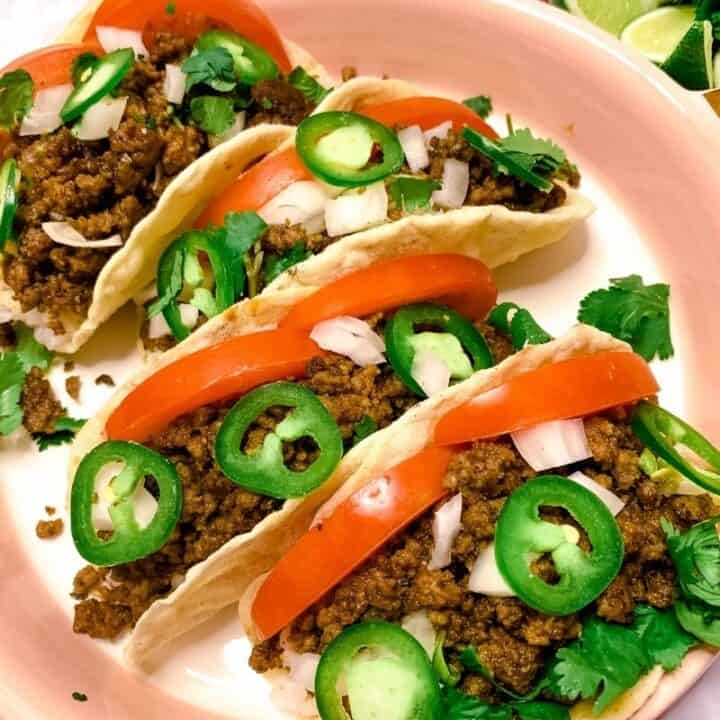 Sourdough Tacos
These super easy Sourdough Tacos are a great way to use your sourdough discard without tossing it out and they are also fun for the entire family.  You can find more of our Recipes For Discarded Sourdough Starter here
Ingredients
¼

small onion

grated

3

cloves

garlic

grated

2

lbs

97% lean ground beef

½

tbs

adobo seasoning

½

tsp

Mexican Oregano

½

tsp

cayenne pepper

½

tsp

paprika

I used Hungarian

1.2

tsp

black pepper

½

tsp

cumin

1 ½

tbsp

brine/liquid/juice from Hot Pepper Sauce

vinegar if you do not have
Instructions
Add the meat to a pan over medium high heat

Break the meat apart. As it browns begin to season with the dry ingredients. Combine 

Then add in your onion and garlic. Combine well

While the meat is cooking, prepare your

sourdough tortillas

(place on a plate and under a towel to keep warm)  If you already have cooked tortillas you can skip this part.

After the meat has cooked for about 10 minutes add in the juice from the hot pepper sauce. Turn down the heat to medium low and let cook for another 10 to 15 minutes cook time until meat is done

Add to your sourdough taco shells, add your favorite fillings and serve