Finding time for yourself hard work in itself, but to try to get in a good Stay At Home Mom Workout can be overwhelming, so I am sharing some of my favorites below. Looking for more tips and tricks to be a Happy Stay at Home Mom we've got you covered.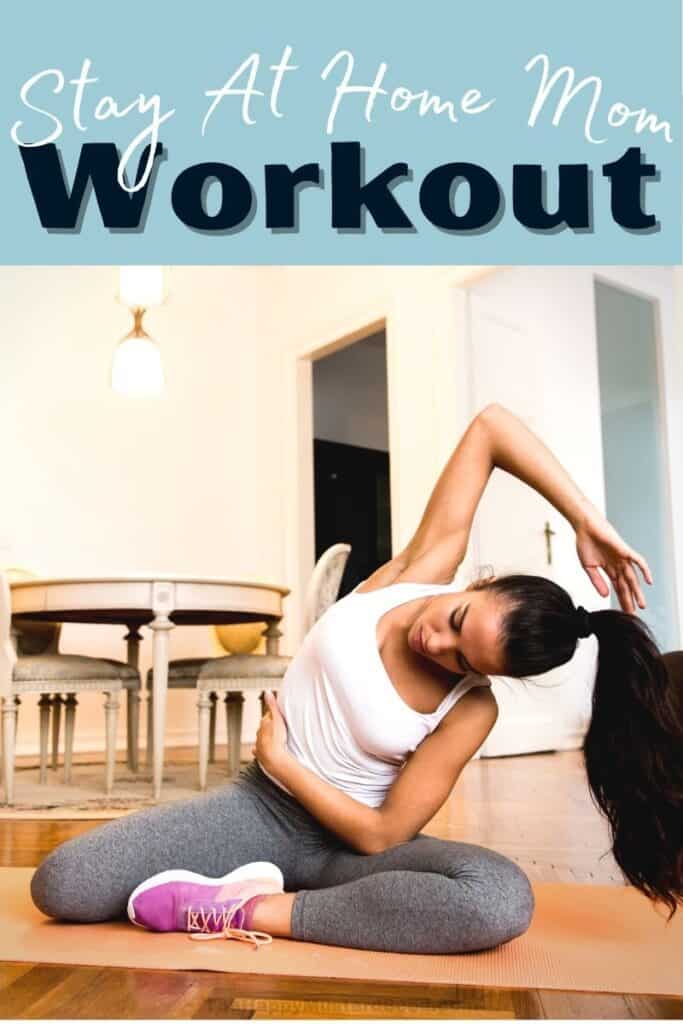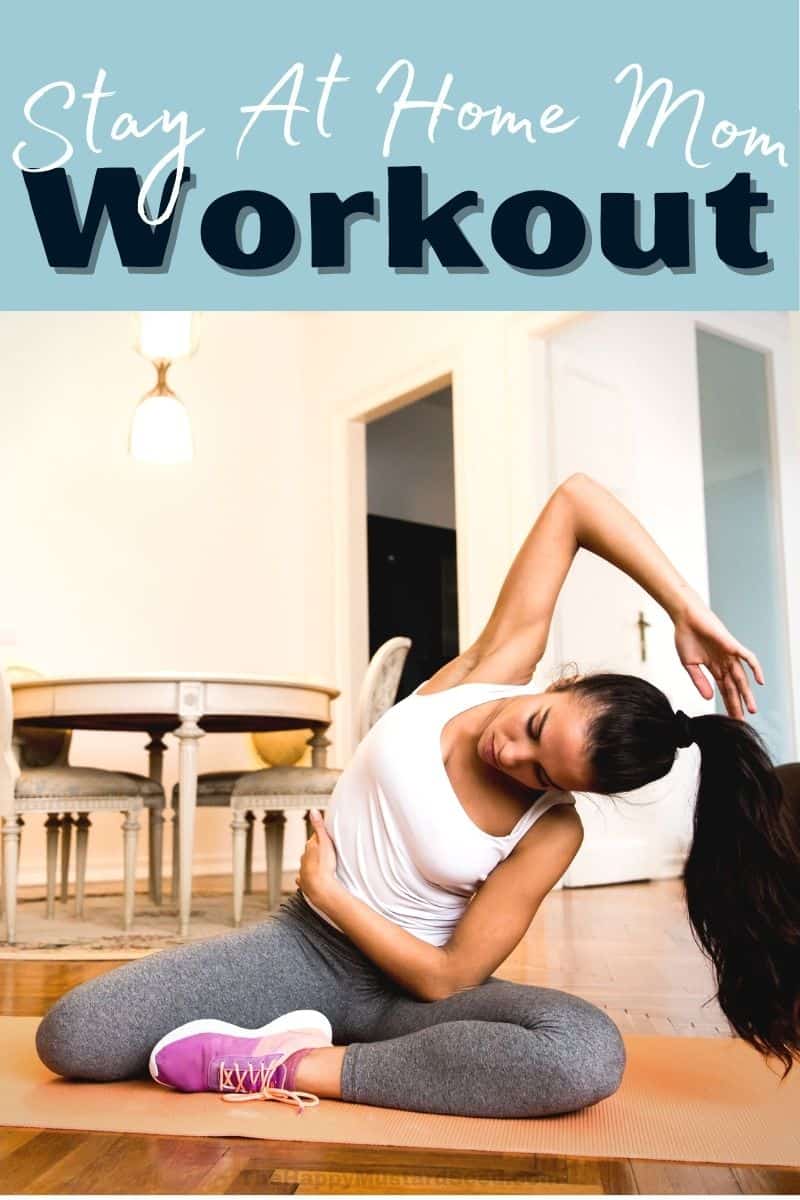 This post contains affiliate links, some of which may be Amazon links which means I receive a commission, at no extra cost to you, if you make a purchase using this link. Thank you!
Whether you're feeding children, getting them to school, cleaning the house, or doing everything at once, it's easy to forget about yourself.
But as the saying goes — you can't take care of others if you don't take care of yourself. So, let's take a look at some easy exercises you can do at home to nourish your mind, body, and soul.
Best Workouts to Do On Your Own
If you have some precious moments away from your little ones, it's time to bust out some workout moves! Everything listed in this section can be done without equipment since we'll discuss equipment-based workouts later.
Wall Squats
Lean against the wall and pretend to sit in a chair.
Hold for 30 seconds at a time.
Repeat 3 times
Crunches
Lie on the floor, knees bent, engage abs to lift shoulders off the ground.
25 reps x 3 sets (rest for 60 seconds after each set)
Plank
Hold for 30 seconds at a time
Repeat 3 times
Jumping Jacks
20 reps x 3 sets (rest for 60 seconds after each set)
On-the-Spot High Knees
30 seconds x 3 sets (rest for 60 seconds after each set)
Donkey kicks
Start on your hands and knees, tighten your abs, lift one leg (keeping it bent) toward the ceiling and bring it back down.
10 reps each side x 3 sets each side
Superman
Lie on your stomach, engage your core, lift your arms and legs straight up off the ground.
Hold for 5 seconds, and lower.
5 reps x 3 sets (rest for 30 seconds after each set)
Don't worry if you can't find the time to do the whole regime! Just do whatever you can, whenever you can. A short workout is better than no workout.
Easy Workouts To Do With Your Kids
On the days where you can't get a moment for yourself, you can try exercising with your kids. You never know, it might become a regular occurrence!
The easiest workout to do isn't necessarily a "workout" for everyone. However, you could simply go for a walk. At least you'll both be outside, exploring nature and raising your heart rate.
For those who want to step it up a notch, however, try some of these:
Jumping Jacks
Turn it into a competition and see how many you can do .
Touch Your Toes
Stretch all the way up and all the way down ten times.
Bounce the Ball
Grab a couple of exercise balls and sit on them.
Try to bounce for as long as possible while engaging your quads and abs.
Rocket Jumps
Squat and touch the ground.
Jump upwards with your arms over your head like a rocket.
Do this as many times as you fancy.
Plank
Hold it for 10 seconds.
Relax
Hold it for 10 seconds.
Relax
Hold it for 10 seconds.

Tuck and Roll (Somersaults)
See if you can both master this mat-based exercise. Don't time yourselves though otherwise, you might cause an injury!
Best Inexpensive Workout Machines to Buy For Stay at Home Moms
Now, if you are a stay-at-home mom who prefers to use exercise equipment, this section is for you. We're going to take a look at the best rowing machine, bike, and all-in-one packs for home use.
Inexpensive rowing machines that still maintain a decent quality are hard to come by. However, we stumbled upon the MaxKare model that works a treat.
This rowing machine easily folds away to save space plus it has a big LCD monitor to track your progress.
If you want to save even more space, then this X-frame folding bike is a great option. It can be stored neatly in the corner when you're not using it, yet be comfortable and sturdy enough when you do hop on.
All-in-One Workout Gear Kit
For those who just want a simple set of weights or resistant bands instead of a bike/rower, these kits are your best option:
The Bottom Line
What are you waiting for? Get to your living room — you're about to become one fit and healthy mom!