The Beginners Guide to Being a Happy Stay at Home Mom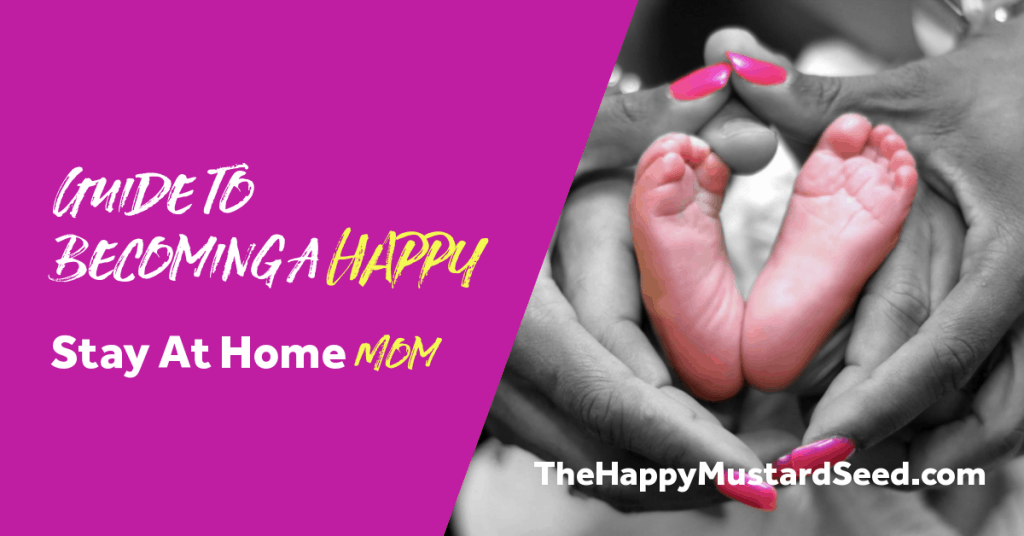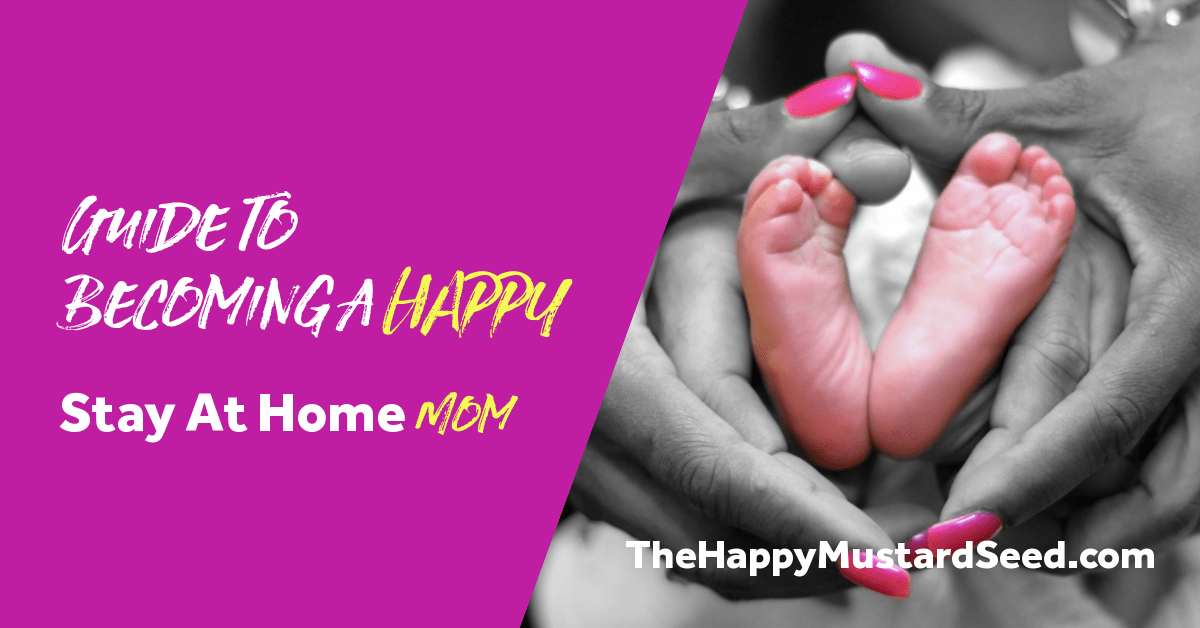 This post contains affiliate links, which means I receive a small commission, at no extra cost to you, if you make a purchase using this link.
What is a Happy Stay at Home Mom?
In order to be a happy stay at home mom there are a few key tips that you will need to follow.

Understand that isolation is not the solution

Social media can help for short term connections, but human face to face interactions are absolutely the best.

Lunch Dates

You can meet up and split a chips and salsa and have a glass of water with lemon. It really doesn't need to be a $40 meal.

Movie Dates

Many movie theaters have special rates for afternoon that are often less expensive than the regular matinee pricing.

Amazon Prime

is amazing for kid/family movies (sign up for a FREE 30 Day trial and get: Amazon Prime 30-day Free Trials.

Instantly watch thousands of movies and TV episodes

Borrow Kindle books

Get unlimited FREE two-day shipping (no minimum order size)
Park Dates

These are awesome for kids and moms. Pack a quick basket full of goodies and hit the road. Find a park that is kid friendly and has benches and tables if possible to for the moms. Enjoy

Reading Dates

Libraries have readings all the times for kiddos during the day. Even if they don't, you can still go to the library and check out great books, movies, games and music for you and the kiddos to listen to.

Audio Books

can be an amazing way to travel via car and nice to have playing during lunch time and snack time

Click the link about to get a 30-day Free Trial of Audible. Audible, an Amazon company, offers the world's largest selection of digital audio books and spoken word content.
Finding Balance

Never think you can get it all done. Giving yourself grace and finding balance in your daily to do list and check lists are going to be a saving grace for you life.
Being a stay at happy home mom is not about sitting around and eating bon bons, drinking wine and margaritas all day. On the flip side, it's also not about having a perfectly immaculately clean home either. Many people have come to my home and made comments about how my home could use a tidy or some decluttering. They automatically assume that my house should be ready for Better Homes and Gardens to walk in and do a photo shoot. Unfortunately, with social media, again there are a lot of misconceptions on what is real and not real in this area of life. I can assure you my home is not hiding monster size dust balls, but it is also not so clean you can eat off the floor. It's a happy balance of clean and tidy vs two teenage kids, two dogs and a bearded dragon.
Other Stay At home Mom Articles
Enjoy Being a Stay At Home Mom
Meal Planning For Stay At Home Moms
Becoming A Stay At Home Mom
Stay At Home Mom Schedule
Stay At Home Mom Money Management
Tips For Stay At Home Moms
Reasons To Be A Stay At Home Mom
Projects For Stay At Home Moms
Planners For Stay At Home Moms
Workouts For Stay At Home Moms (with and without kids)
How to get started with becoming a stay at home mom
Start with talking to your spouse.

Is this something that you both want, is it something that you can see yourself doing for an established period of time? A year, two years, 20 years? Will you go back to work part time or full time if this is not what you both like?

Who will be in charge of the finances?

This is very important, and each household is different. But setting up the boundaries on this is key for long term success. I always say that my hubby is very loose with money and I am more of the budget type. So having that balance is a really good

Who will be the point person for the meals (planning, shopping, cooking, storage, etc)?

This is one of those lessons that can really cause a ton of arguments if you are not careful. Define the rolls quickly. Even if they are shared.

Not having this role defined can lead to spending too much on food (including eating out), frustration and then a finance nightmare.

What if any schooling at home will be done?

Will it be formal or informal?

What are the expectations that you have in staying at home?

Do you plan to play all day, clean all day, what will your day look like?
My favorite tips for Success in becoming a stay at home mom
Plan, Plan, Plan! Many times we forget that nothing comes to us without a plan. It may not be a good or great plan but it needs to be planned out nonetheless.

Be consistent. Wake up the same time everyday, set a schedule of things to do for the day and the week. Make sure that you have a food meal time planned as well. It will help with naps and chores down the road.

Eat at home. Don't plan all your days running around and doing errands. This leads to eating out, a lot of times. Just plan your meals in the slow cooker / crock pot or your instant pot so you know that you are coming home to a home cooked meal.

Laundry, let's just say it, it's the devil. The only way it can be defeated is with prayer and action. We make sure to stay on top of laundry and I have consistently had the same basic laundry routine for 20 years. It has saved me so much time and energy when it comes to not having mountains of clothes in every room.

Take some me time. It is so important to take care of yourself first. Just like they say on the airplane, your mask goes on first. Never forget that, because you are the backbone to this successful and delicate life you are creating and molding. Here are a few things I try to do before bed, I pick one or two every night.

Long bath at night

Good audio book

Early bedtime

Quality time with spouse, early bedtime 😉

Quiet dinner/dessert/drinks with spouse after kiddos go to bed

Do your nails

Put on an overnight mask for you hair and face

Wash your face and put on some heavy moisturizer, you'll thank me later

Prep your coffee/tea for the morning
Last but not least, Kids. Always remember they come first. So no matter what, I try to make what I do look easy and that it can be done with some trial and error if need be. But I don't try to fuss over every little thing not being perfectly in the right place or don't properly. The kids will learn from our actions. Spend quality time with them. But don't think that every waking moment needs to be about talking to them, and 1:1 time. Let them still learn how to spend time alone, get board and figure out new things to do. It's the invention of creativity. You will be surprised what the kiddos can come up with in a short amount of time. Granted, it's not always what we want them to do. But redirect gently if it's dangerous (yes, I have creative kids, we have been through many a projects and we own many fire extinguishers), love them and encourage them to keep up the good work.
Common Questions/FAQ For Stay at Home Moms
What is a stay at home mom called?
Depending on what part of the country you live in, and a number of other circumstances stay at home moms are called anything from housewife to director of child development. Here is a short list of just a few.
Housewife

Domestic Engineer

Homemaker

Household CEO

Soccer Mom
And some of the funnier and more creative titles I've seen and heard.
Director of Child Development

Doll Medic

Sleep Scientist (night shift)

Professor of Imaginative Studies

Dental Hygienist

Party Planner

Anger Management Therapist

Philanthropist for Tiny People Art

Family Law Enforcement

What is a stay at home mom?

A mother thats work is to stay home during the day to take care of the child(ren), home, finances, food etc and who is often times unemployed outside the home allowing the husband to take care of the producing income for the financial responsibility of the home.

What do stay at home moms do?

Spend quality time with her child(ren), have a larger amount of time spend in the raising and guiding of her children

How to survive being a stay at home mom?

Make sure to spend some alone time with your spouse. Give a few updates, don't give a daily blow by blow. Give yourself time each day to spend by yourself, even if it's just 15 minutes. You will need it. Make sure to tuck the kiddos in and give yourself at least an 30 minutes before bed to do whatever it is you want, not needs for the house.

What is a stay at home mom schedule?

Everyone's start time is different. I am up by 6am except that days I workout and then I am up at 4:15am. I have a good shower, do a little bit of work, get dressed, make the food for the animals and then wake up kiddos. Then I start a load of laundry, prep the breakfast for the humans and we sit down to eat after animals are taken care of. Kiddos start school and I start chores and work. We have lunch about 11am and after we clean up we are back to our work/school about 12pm sometimes later or sooner depending on the lunch and clean up. We can have anything from leftovers to homemade pizza.

Why become a stay at home mom?

There are so many reasons to stay at home. But each family is different and each family will have a unique situation. Some great reasons for our family were we were able to save money, educate our children, spend more time traveling and get to have a hand in growing our kids creativity.

Stay at home mom and Finances?

How is it possible to live on one income? First off, you can always go back to work if need be. But, trust me, you're a survivor and thrives and you will be able to adjust and be amazed at all the things you can save money on. I stopped spending tons of money on makeup, clothes, fuel, vehicle maintenance since I do not put the wear and tear on the car daily, maid service, hair salon, daycare, uniforms for school, school supplies (the Clorox wipes, tissue, excessive glue sticks, etc), doctors appointments from constantly sick kids, doctors appointments for the us when the kids bring home all the cooties, and so much more.
The Last Thing You Need to Know about Being a Happy Stay At Home Mom
You will spend some serious quality time with your kiddos and have a hand in their early education and future education as well as the type of adult they will become. Your finances we also be a bit more in control and that can cause you to be able to take extra family vacations, pay off those student loans sooner and just have a bigger nest egg.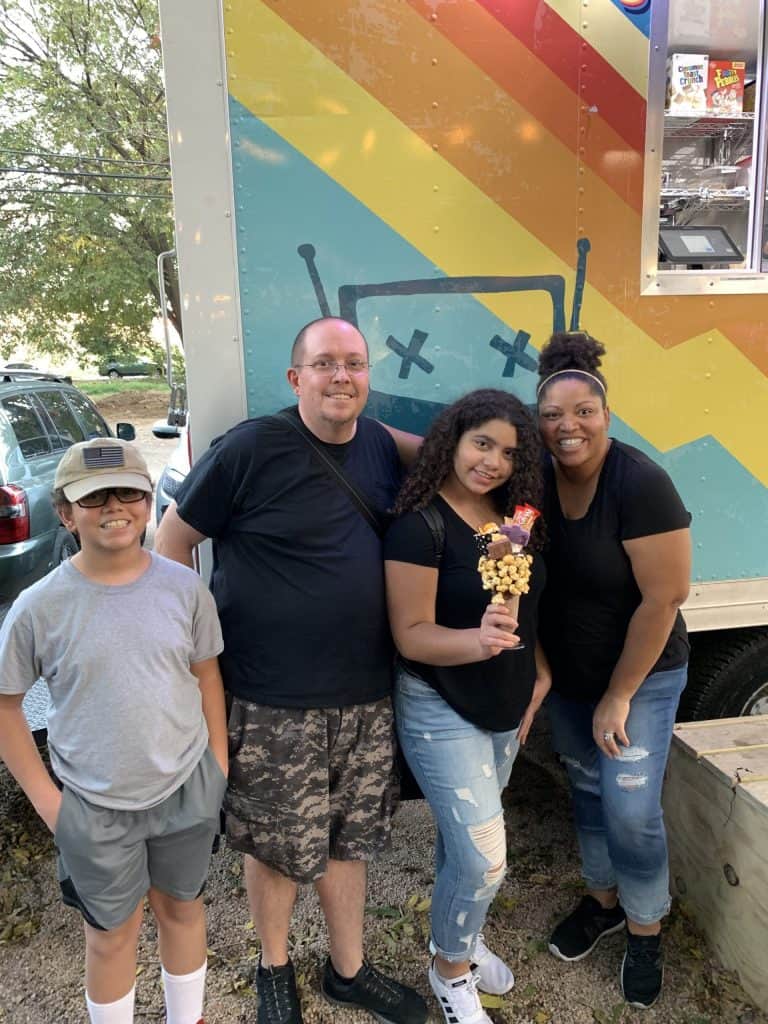 The family at an event for a new food truck in Austin, Texas
What was the one tip that you loved and thing you can give a try? Comment below!