Looking for the Best Planner for Stay at Home Moms to help organize you and your family's busy lives? Look no further! We've got the 9 best planners just for you. Need more tips visit our Happy Stay at Home Mom page.
If you are anything like me, you like to evaluate the pros and cons and before you make a decision. So here is a breakdown of a few of my favorite planners.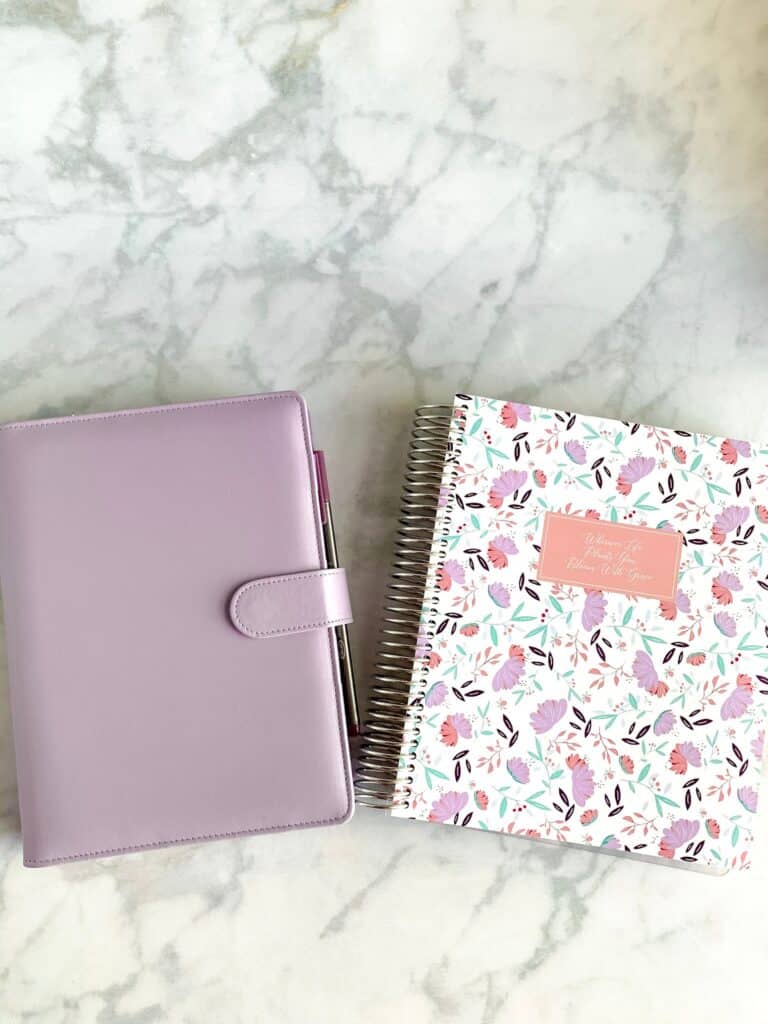 This post contains affiliate links, some of which may be Amazon links which means I receive a commission, at no extra cost to you, if you make a purchase using this link. Thank you!
See Also
________________________________________________________
_________________________________________________________
PurpleTrail Planners
PurpleTrail has a multitude of planners to suit anybody. Whether you want one that is specifically tailored to moms and parents or you'd rather go for a business or fitness planner, this company has it.
The best part? Everything is customizable. You can set the start and end date of your planner, as well as customizing the cover to suit your aesthetic. The most flexible mom daily planner I have found.
The Pros
Endless cover and page customization options
Comes with stickers if desired
Optional back pocket
The Cons
Can see like an overwhelming number of options to pick from
You can check out the Mom Planners for PurpleTrail Here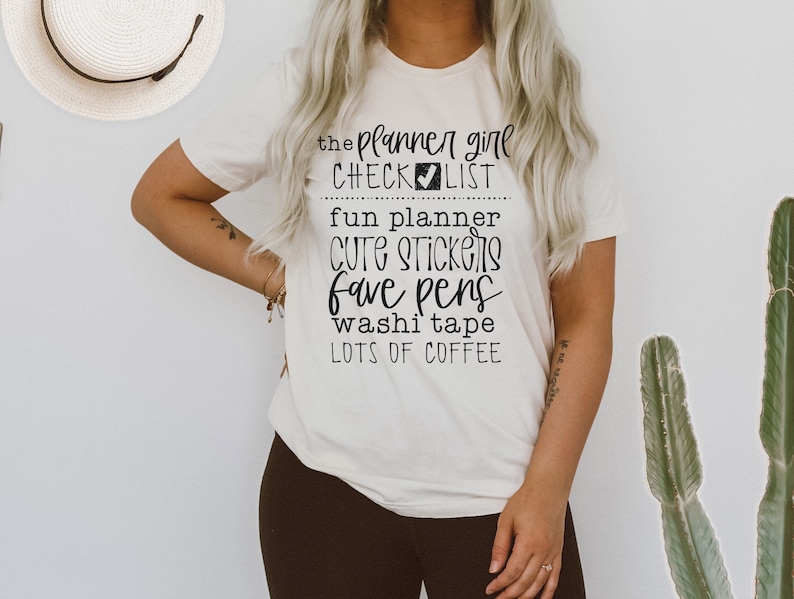 Planner Girl Checklist Planner shirt Planner Girl Tee
Franklin Covey (Daily Planner)
If you want a huge amount of space to write own your tasks and trackers each day, the Franklin Covey Original Daily is the one for you. Why? Because it comes with a whopping two pages for all 365 days of the year!
Its simple layout makes it easy to see exactly what you should be doing each day — a must when you have children running around.
The Pros
Incredibly structured
Simple layout
Easy to schedule appointments by the hour
Yearly and monthly overview pages included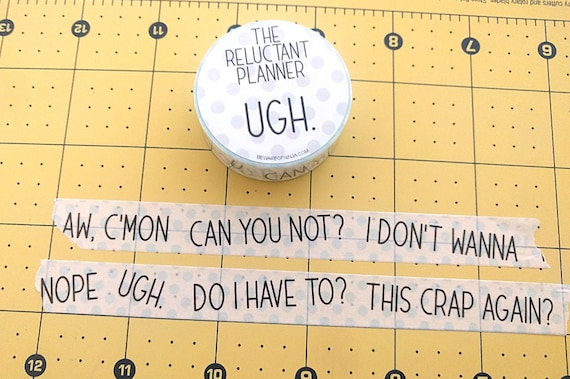 Ugh Washi Tape Reluctant Planner Funny Washi Tape Sarcastic
The Cons
Too plain for many
Can feel overwhelming
You can check out the Franklin Covey Daily Planner Here
Blue Sky (Monthly Planner)
The customization options are amazing with the Blue Sky planner. You can even purchase an additional parent planner that can seriously help you streamline your family's life.
The Pros
Lots of cover options
Affordable
Lightweight
Has optional add-ons (fitness tracker, coloring, party planning, parent planning, etc.)
Various accessories (business card holder, stickers, snap-in sticky notes)
The Cons
Paper quality is prone to bleeding through
Becomes bulky if you purchase all the accessories and add-ons
You can check out the Blue Sky Monthly Planner Here
Amy Knapp's The Very Busy Planner (17 Month)
With this all-in-one planner, you get everything from stickers to goal pages to bullet journal layouts. It allows you to have a bit of time for yourself and focus on your journey not just as a mother, but as a woman. I have used the refrigerator version of the mom agenda planner as well.
The Pros
Perfect for all women
Designed to help self-reflection and growth
To-do lists and goal setting pages
250 stickers included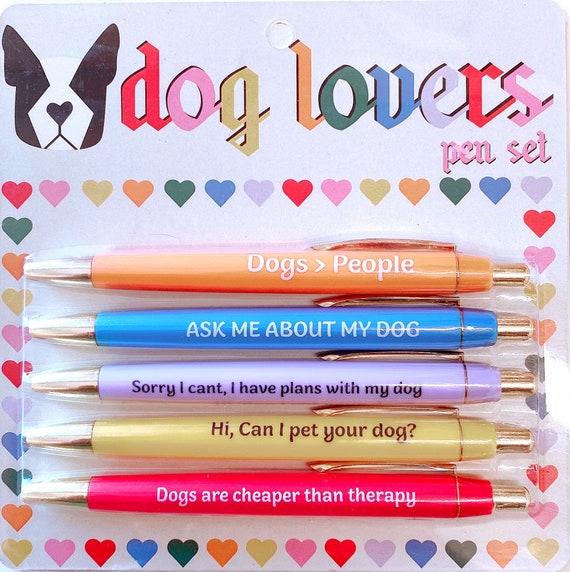 Dog Lovers pen set
The Cons
Might feel too busy for those looking to just plan their week
You can check out The Very Busy Planner Here
Live Whale (Undated Hourly Weekly Planner)
The Live Whale planner comes with everything a traditional planner has and more. With the addition of meal planners, habit trackers, and motivational quotes, you can not only structure your family's life but take care of yourself too.
There is also a great money-back guarantee that comes with it. So, it's a risk-free purchase!
The Pros
Undated for maximum control of your life
Easy to plan appointments down to the hour
Doubles as a self-care journal
Habit tracker on each weekly page
Meal planner and daily priorities included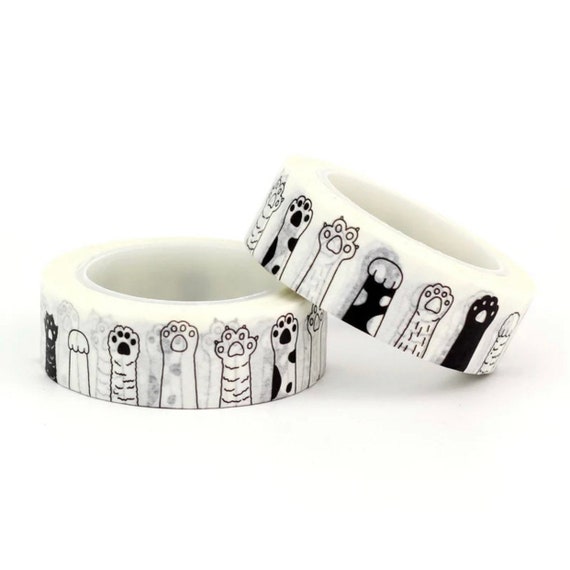 Paws Off Washi Tape
The Cons
You can check out Live Whale Here
Leuchtturm Planner (Weekly A5 for On-the-Go)
Leuchtturm is known for its high-quality notebooks and planners. This A5 weekly version is no exception.
With bright white interior pages, you have a clean, uncluttered space to plan your week. Consider it a well-deserved break from the usually messy life of a stay at home mom!
The only downside here is that the paper is rather thin which means your pens may bleed through to the other side.
The Pros
Bright white paper (unusual for sewn notebooks)
Light and softcover
Various cover colors to pick from
Week number printed
Portable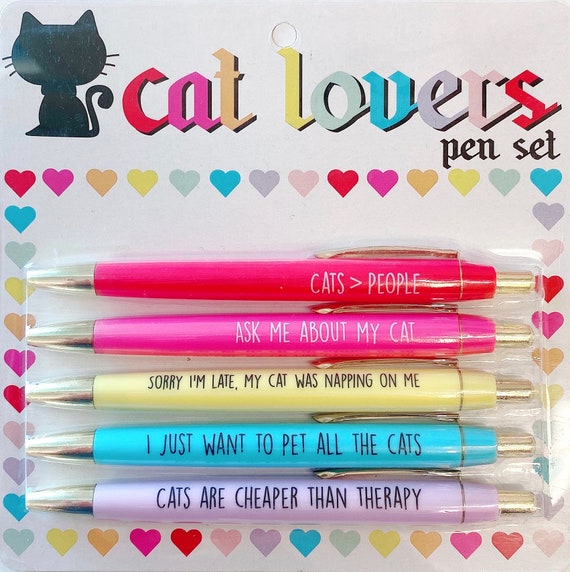 Cat Lovers pen set
The Cons
Very thin paper promotes bleeding
No monthly overview
You can check out Leuchtturm Here
I have used all of these different planners above for different stages of my life. With exception of the PurpleTrail planner. But, that one is hopefully on it's way this year. Because there are so many variation, I can use it for just about anything.
I can't wait to see which stay at home mom planner(s) you choose.