Growing up our Thanksgiving menu did not really consist of pumpkin pie. Or at least I do not remember it. We had sweet potato pie and chocolate cake with caramel icing.
But all desserts were generally prepared ahead of time or someone made them and brought them to dinner.
If you are making the desserts yourself, you may want to prepare them early so that you can have a stress-free, or less stressed Thanksgiving Day and Christmas Day. Or as close to having less stress as we can on those busy holidays.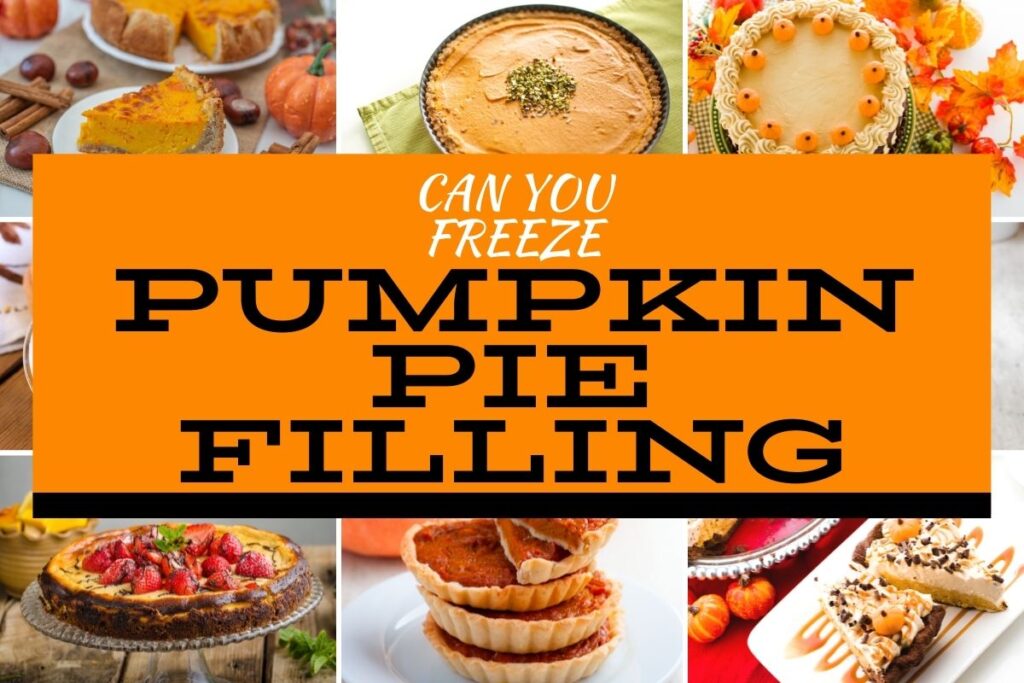 This post contains affiliate links, some of which may be Amazon links which means I receive a commission, at no extra cost to you, if you make a purchase using this link. Thank you!
Does pumpkin pie freeze well?
Yes. pumpkin pie freezes well, baked or unbaked.
How long does pumpkin pie filling last in the freezer?
Usually, when we store pumpkin puree it lasts for up to twelve months.
We freeze it in both small and large containers or bags, depending on how we think we will use it in the upcoming months.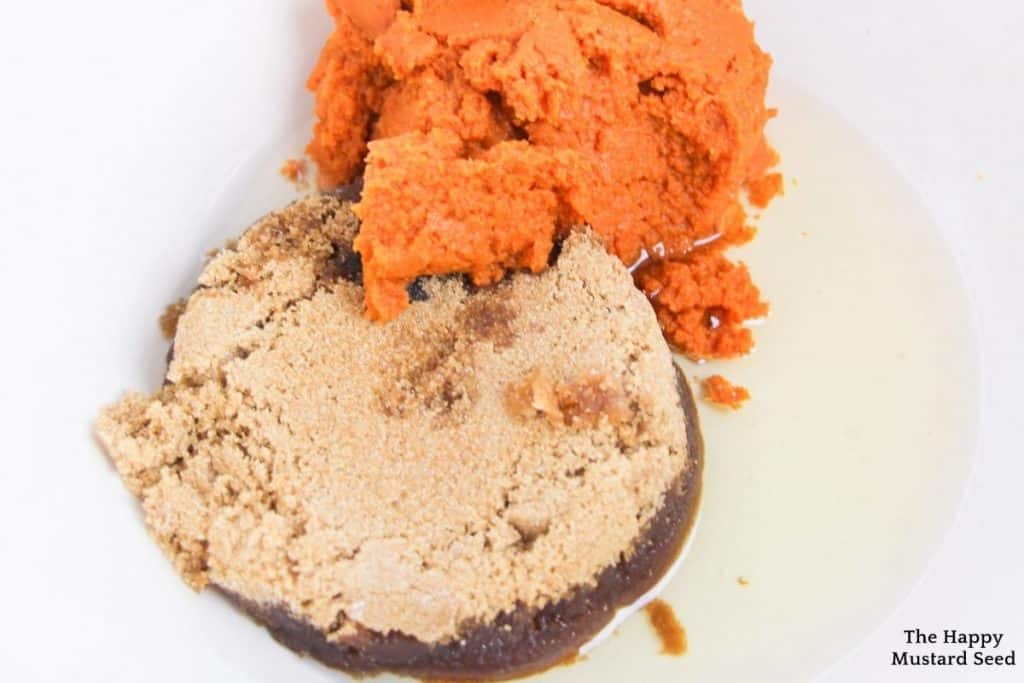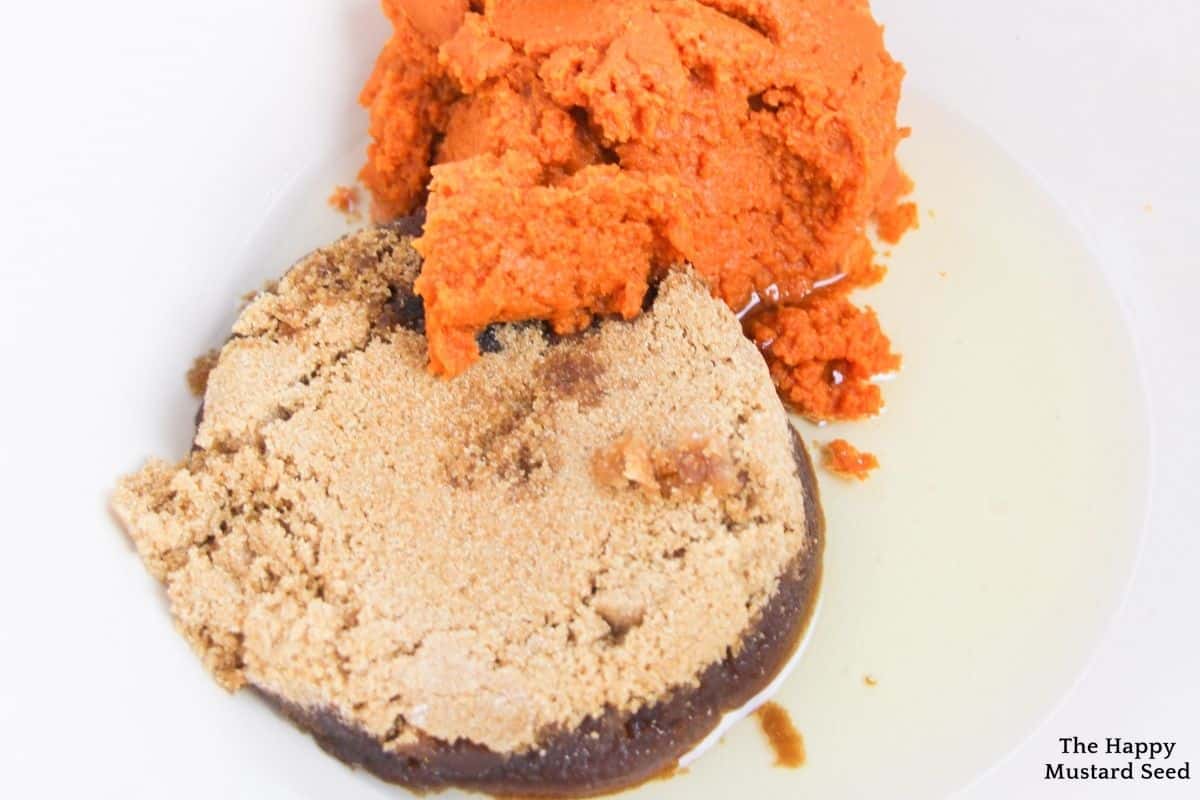 How to store your pumpkin pie filling
For example, smaller bags or containers will be for making things like pumpkin pancakes, pumpkin hand pies, pumpkin muffins or pumpkin cupcakes.
Lager bags or containers will be for pies and cheesecakes.
How To Store Canned Pumpkin After Opening?
If stored properly in an airtight container, open pumpkin pie filling can last for up to five days in the refrigerator.
Can pumpkin pie be frozen after baking?
There is a bit of debate about this, but in our family, I have seen my aunts freeze sweet potato and apple pies that were baked first all the time. So I know that it works!
How to freeze your pumpkin pie
The pie is going to need to cool completely, which will take some hours. Flash freeze the pie first. Lightly cover it with plastic wrap. Then wrap the frozen cooked pie tightly in plastic wrap and then a layer of foil. Write the name of the pie and date on the foil and place in your freezer. I
Make sure to not put anything on top of the pie. I will over place a baking rack on top of my pie in the freezer, as a reminder to myself and to others that it can not have anything placed on top of it.
Baking the pie in a disposable aluminum plate may result in a quicker freeze and perhaps stop freezer burn.
How long can you keep a baked pumpkin pie in the freezer?
Frozen pumpkin pie can be frozen for as long as six to nine months. The festive celebration can go on if you bake an extra one and freeze it.
How Long Do you Defrost A Pumpkin Pie?
Defrosting will depend on the type of freezer you have. If you have it in your normal refrigerator freezer it may not take more than ten hours.
However, if you have it in a deep freezer, like we do, then it will take as many as 12 hours.
Does Feezing Ruin The Pie Crust?
No. In fact premaking pies and freezing is used in homes and bakeries all over the world.
Be sure to place it in the fridge to thaw out. Leaving it on the counter will cause a soggy crust.
Once thawed, place in a 200-degree oven for 15 minutes to warm or serve chilled.
If you leave it on the counter to thaw, leave it for up to three hours. You may need to refresh it. Place in a 450-degree oven for about 20 minutes.
Can You Freeze Canned Pumpkin In Ice Cube Trays?
Yes, you can! In fact this is great for dropping into soups and stews. Or even thawing to put into your desserts.
Be sure to remove them from the ice cube tray once they are completely frozen and place them in an air-tight container or bag. Label the vessel so that you know what it is and add the date so you can use it up before it begins to taste like the freezer.
Recipes You Will Love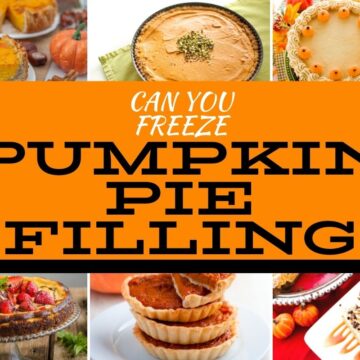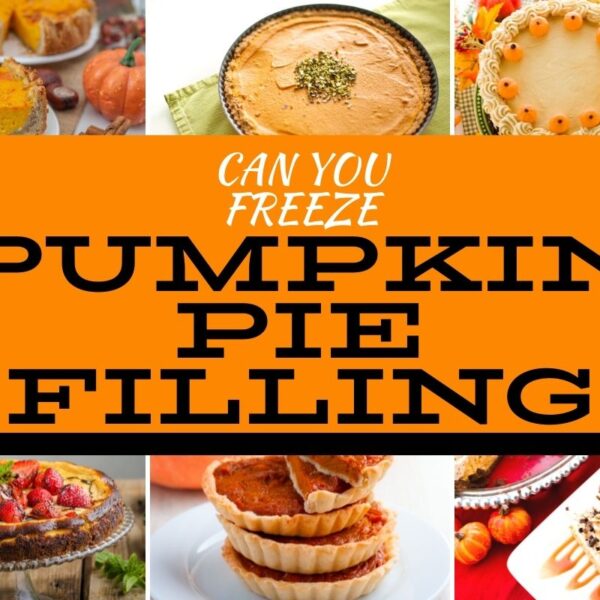 Can You Freeze Pumpkin Pie Filling
Learn how you Can Freeze Pumpkin Pie Filling
Ingredients
Pumpkin Pie Filling

canned

Pumpkin Pie Filling

Fresh, homemade
Instructions
Remove the pumpkin pie filling from the can

Place in an airtight container or zip top bag
Freeze In Ice Cube Trays
Scoop the pumpkin pie filling from the can into the ice cube tray

Allow the pumpkin pie filling to freeze completely

Once frozen, remove from the ice cube tray and place in airtight container or zip-top bag
Notes
Expired Cans When I have cans or homemade jars of pumpkin puree that is about to expire I put it into the freezer to extend the shelf life. I do this using the steps above. 
Did You Love This Recipe?
Follow me on Pinterest For More Inspiration! @KarlaHarmer