This Turkey Chili With Sweet Potatoes is fast and in one of the best 30 minute recipes that we have in our recipe binder.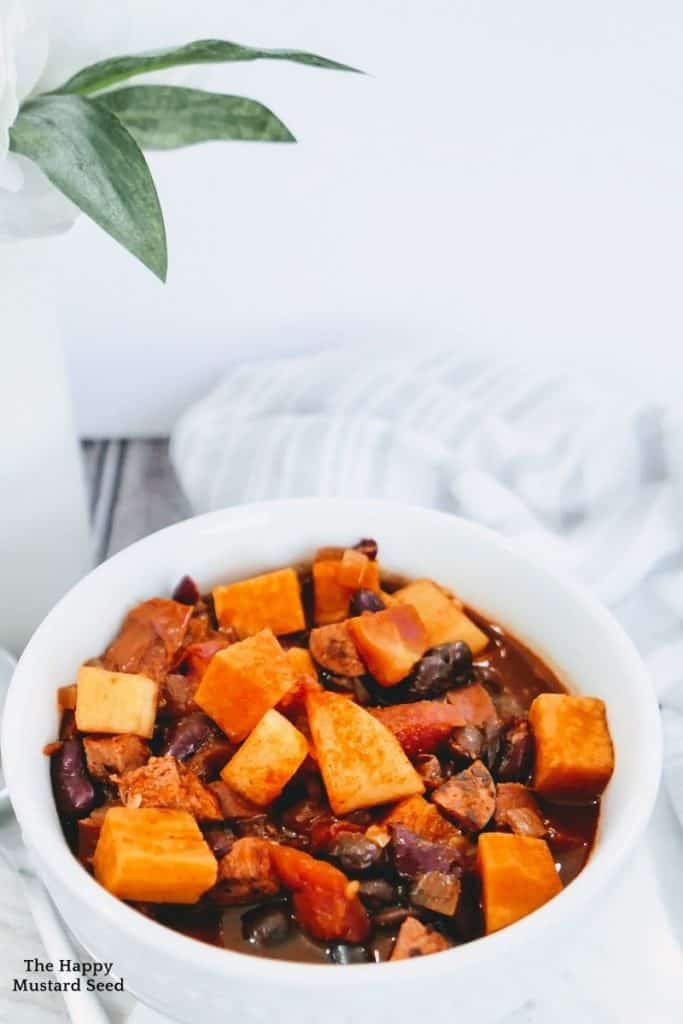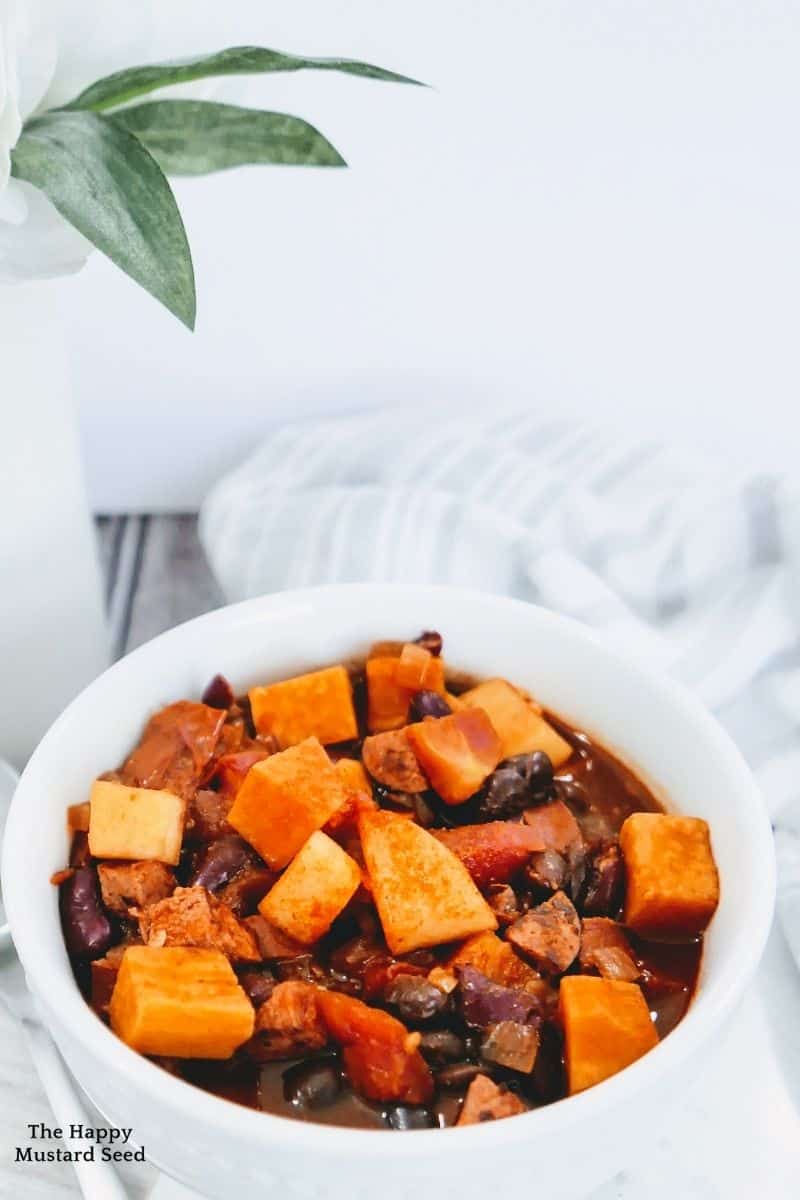 This post contains affiliate links, which means I receive a commission, at no extra cost to you, if you make a purchase using this link. Thank you!
Turkey Chili With Sweet Potatoes
Since we started growing sweet potatoes in our garden, I was looking for more ways to incorporate them into our recipes. This is easy and perfect.
The kids and hubby love this turkey sweet potato chili recipe, so that makes it a winner in my book.
It is a hearty chili recipe so we typically serve smaller servings of cornbread, garlic bread or just a slice of homemade bread with butter.
This delicious sweet potato chili can be served year round. Everything in the chili recipe can be found at your local grocer.
You can also adapt the sweet potato turkey chili for your slow cooker and your Instant Pot. This truly is the best chili recipe!
MORE RECIPES YOU'LL LOVE
Lemon Chicken
Easy Cheese Board
Garlic Chicken
Sloppy Joes
Eggroll in a Bowl
Ingredients
Olive oil
Medium sweet potato, peeled and cut into small chunks
Medium onion, diced
Minced garlic
Chili powder
Ground cumin
Smoked paprika
Salt
Water
Black beans
Kidney beans
Diced tomatoes
Lime juice
Granny Smith apple, diced
Turkey Polska Kielbasa, cut into small chunks
Optional: sour cream or greek yogurt, jalapenos, diced onions, diced tomatoes, bacon and cheese for topping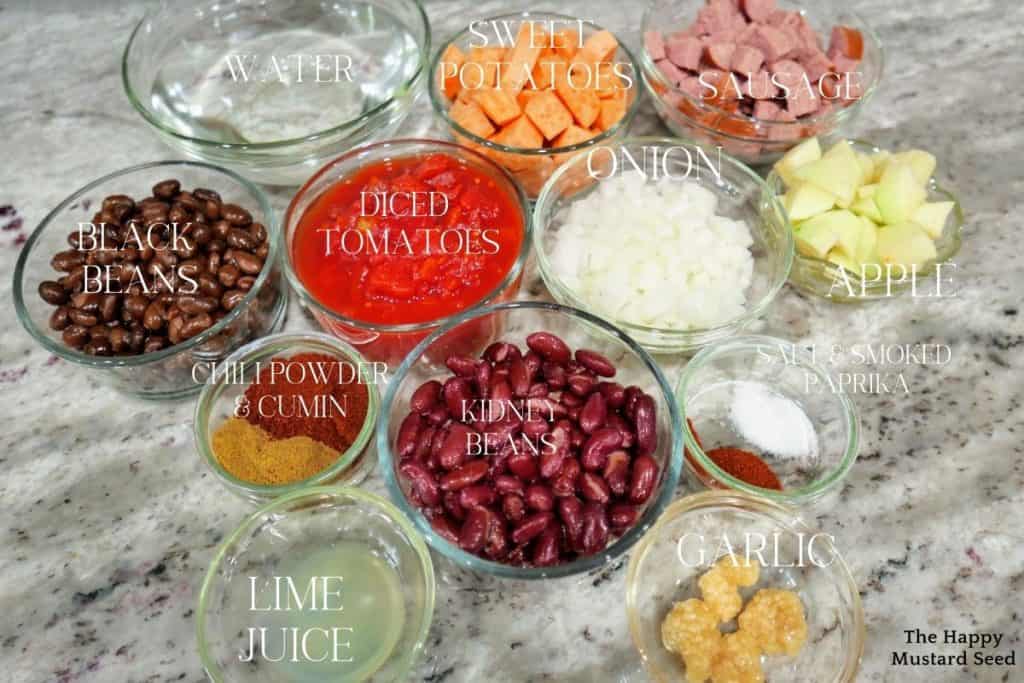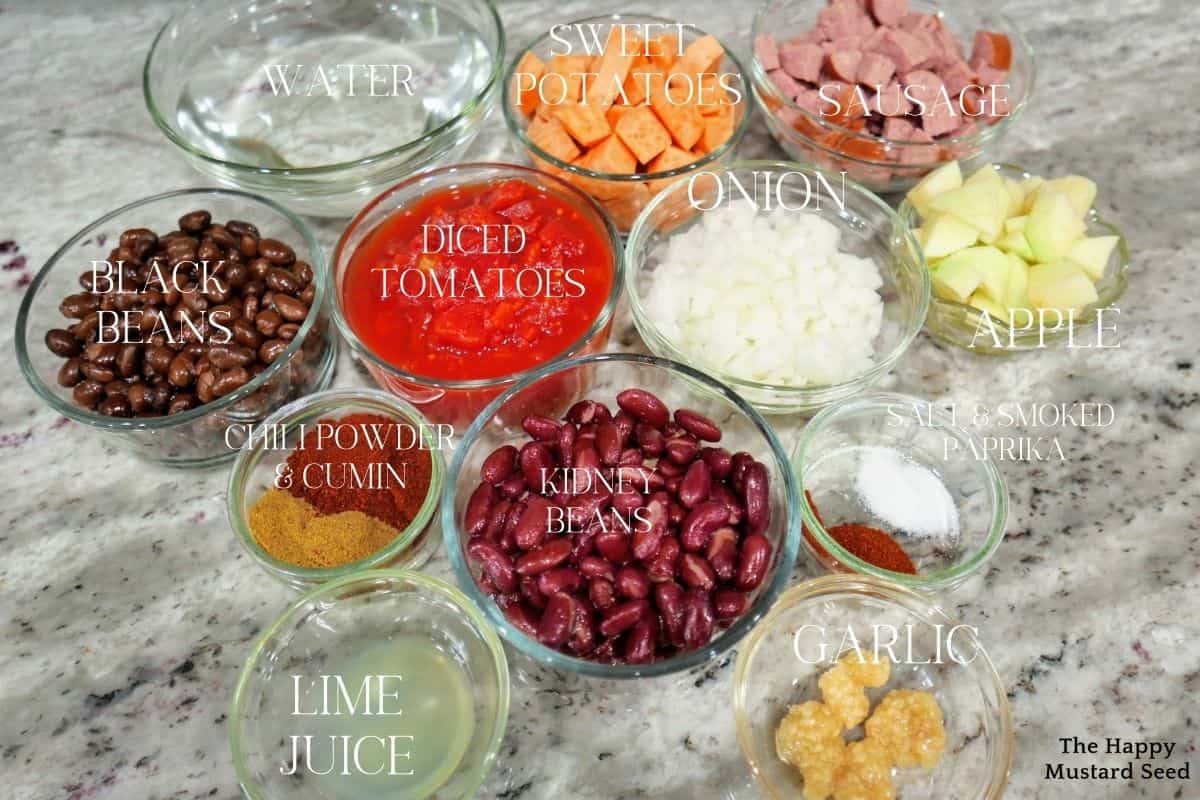 How To Make Sweet Potato Turkey Chili
Place a large pot over medium-high heat
Add oil, cut sweet potatoes, and onion. Cook until onions soften. Approximately 5 minutes
Add ½ of the lime juice over the apples to keep them from turning brown
Add the minced garlic, chili powder, cumin, smoked paprika, and salt
Continue cooking for one minute, stirring constantly
Add the water, and bring to a simmer
Cover, and reduce the heat to medium-low. Simmer for approximately 10 minutes, or until the sweet potatoes are tender
While the sweet potato mixture is cooking, heat a large skillet pan over medium-high heat
Add the turkey kielbasa to the pan
Cook approximately 5 minutes, stirring constantly, until the turkey is lightly browned on each side. Set aside
Add the black beans, kidney beans, tomatoes, and remaining lime juice to the sweet potato mixture
Increase the heat to high until the mixture returns to a simmer, stirring often and making sure to scrape the bottom of the pot
Reduce and cook over medium heat, and add the turkey kielbasa and apple. Stir well
Let simmer for about 5 minutes. Remove from heat and serve.
Top with your favorite chili toppings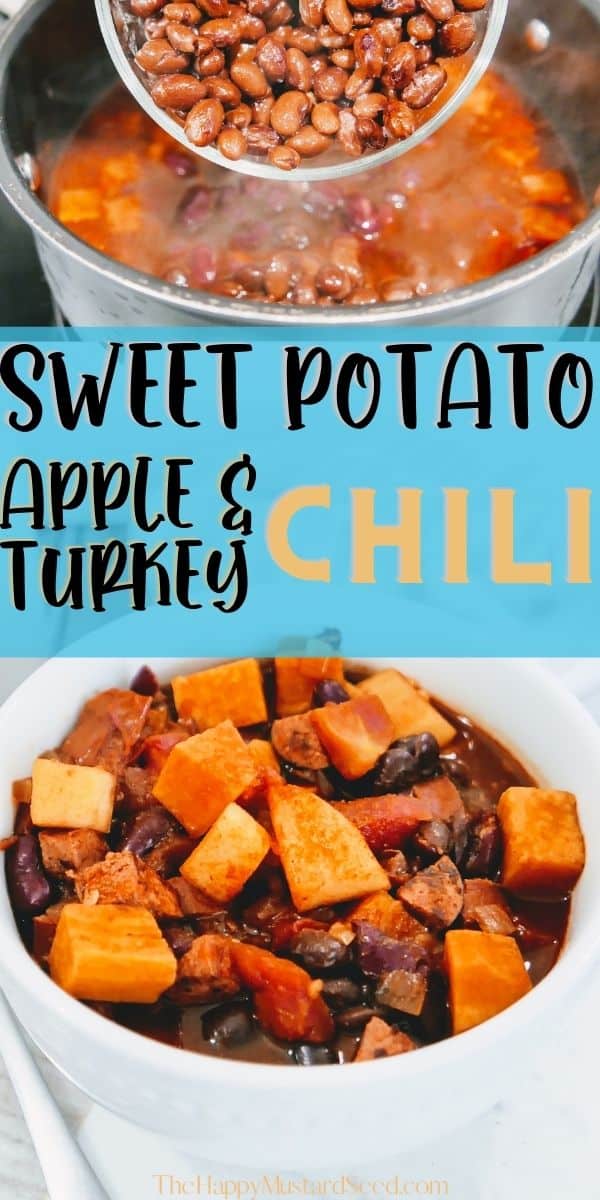 Variations of turkey chili
Chili variations are really endless. It's important to build a thick, rich, tomato base but beyond that, you just need to find ingredients that go well together in this setting.
Here are some options you can try:
Different kinds of beans: pinto, cannellini, black-eyed peas
A basic mirepoix with onions, celery, and carrots
Turkey Kielbasa is a great option, but you can also use lean ground turkey, ground chicken, lean ground beef, or ground pork or leave out the meat all together
You can use fresh diced tomatoes, fire roasted tomatoes, or a little bit of tomato sauce for a boost of that tomato flavor
Instead of the sweet potatoes, you can use butternut squash instead
This can also be made in a crock pot instead of on the stove
FAQs
How do you make turkey chili from scratch?
Making any kind of chili from scratch is very easy! All it takes is to start with the right base ingredients, sweat them in the pan first, add in the liquid, bring it to a boil, reduce the heat and add any extra mix-ins, and simmer.
What is the best secret ingredient for chili?
This really depends on what you want your chili to taste like. The secret ingredient in this recipe is the lime juice.
What can you not put in chili?
Some people say that beans don't belong in chili, however, adding beans is done everywhere just the same. The point is that you can add many different ingredients and still make chili. For example, in this healthy turkey chili recipe we used a large sweet potato which isn't a common ingredient.
Can I make turkey chili dairy free?
Yes! In fact, the only dairy that's added is the sour cream as a topping. All you need to do is leave off it off to make the chili dairy free.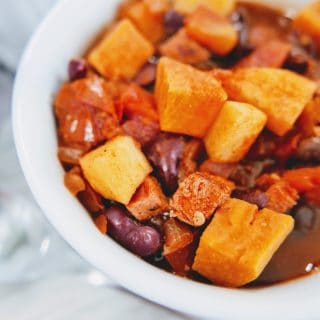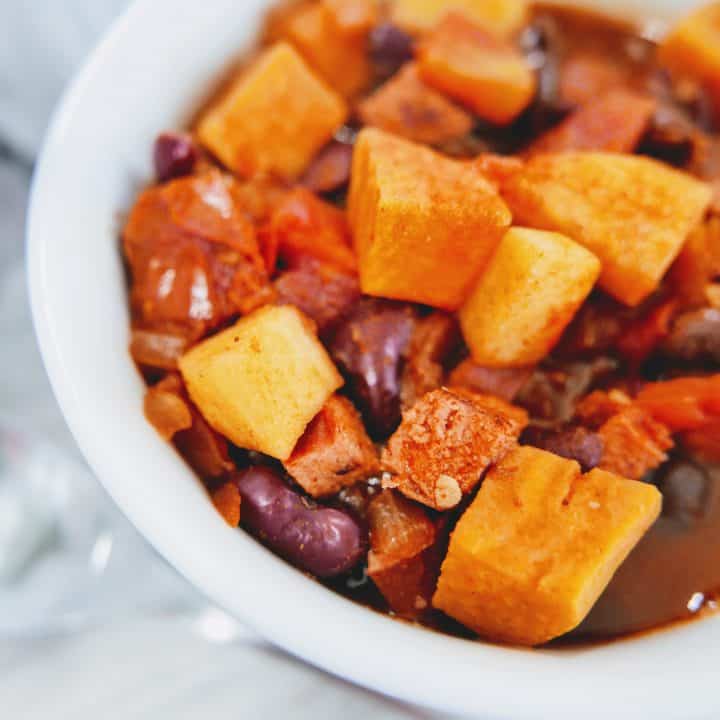 Turkey Chili With Sweet Potatoes
This Turkey Chili With Sweet Potatoes is fast and in one of the best 30 minute recipes that we have in our recipe binder
Ingredients
1 ½

tbsp

olive oil

1

medium sweet potato

peeled and cut into small chunks

1

medium onion

diced

1 ½

tbsp

minced garlic

2

tbsp

chili powder

4

tsp

ground cumin

2

tsp

smoked paprika

¼

tsp

salt

2 ¾

c

water

1 15

oz

can black beans

1 15

oz

can dark red kidney beans

1 14

oz

can diced tomatoes

3

tsp

lime juice

1

large Granny Smith apple

diced

1 13

oz

Turkey Polska Kielbasa

cut into small chunks

Optional: sour cream or greek yogurt

jalapenos, diced onions, diced tomatoes, bacon and cheese for topping
Notes
Place a large pot over medium-high heat
Add oil, sweet potato and onion. Cook until onions soften.  Approximately 5 minutes
Add ½ of the lime juice over the apples to keep them from turning brown
Add the minced garlic, chili powder, cumin, smoked paprika, and salt
Continue cooking for one minute, stirring constantly
Add the water, and bring to a simmer 
Cover, and reduce the heat to medium-low. Simmer for approximately 10 minutes, or until the sweet potatoes are tender
While the sweet potato mixture is cooking, heat a large skillet pan over medium-high heat 
Add the turkey kielbasa to the pan 
Cook approximately 5 minutes, stirring constantly, until the turkey is lightly browned on each side. Set aside 
Add the black beans, kidney beans, tomatoes, and remaining lime juice to the sweet potato mixture
Increase the heat to high until the mixture returns to a simmer, stirring often and making sure to scrape the bottom of the pot 
Reduce the heat back to medium-low, and add the turkey kielbasa and apple. Stir well
Let simmer for about 5 minutes. Remove from heat and serve. 
Top with your favorite chili toppings
Nutrition
Serving:
1
g
Calories:
988
kcal
Carbohydrates:
76
g
Protein:
66
g
Fat:
48
g
Saturated Fat:
15
g
Polyunsaturated Fat:
30
g
Cholesterol:
187
mg
Sodium:
2138
mg
Fiber:
22
g
Sugar:
18
g