Having Projects For Stay At Home Moms to do is crucial to your happiness. Finding time for yourself as a mom can be tricky. But it's just as important as it was before you had children, even more so, in fact. Want more mom help check out our Happy Stay At Home Mom page.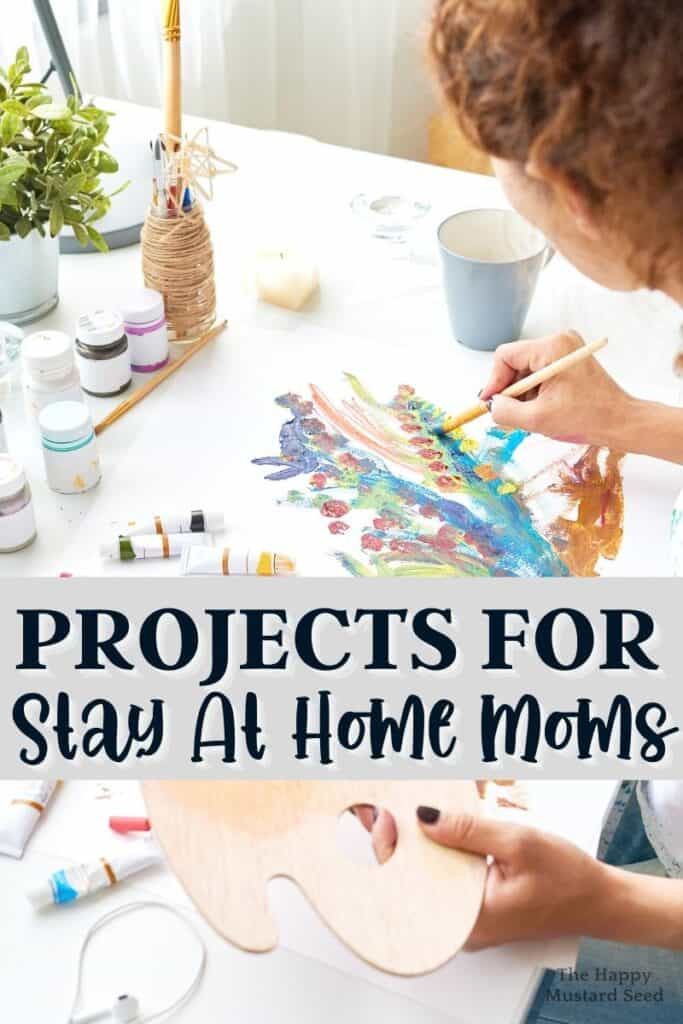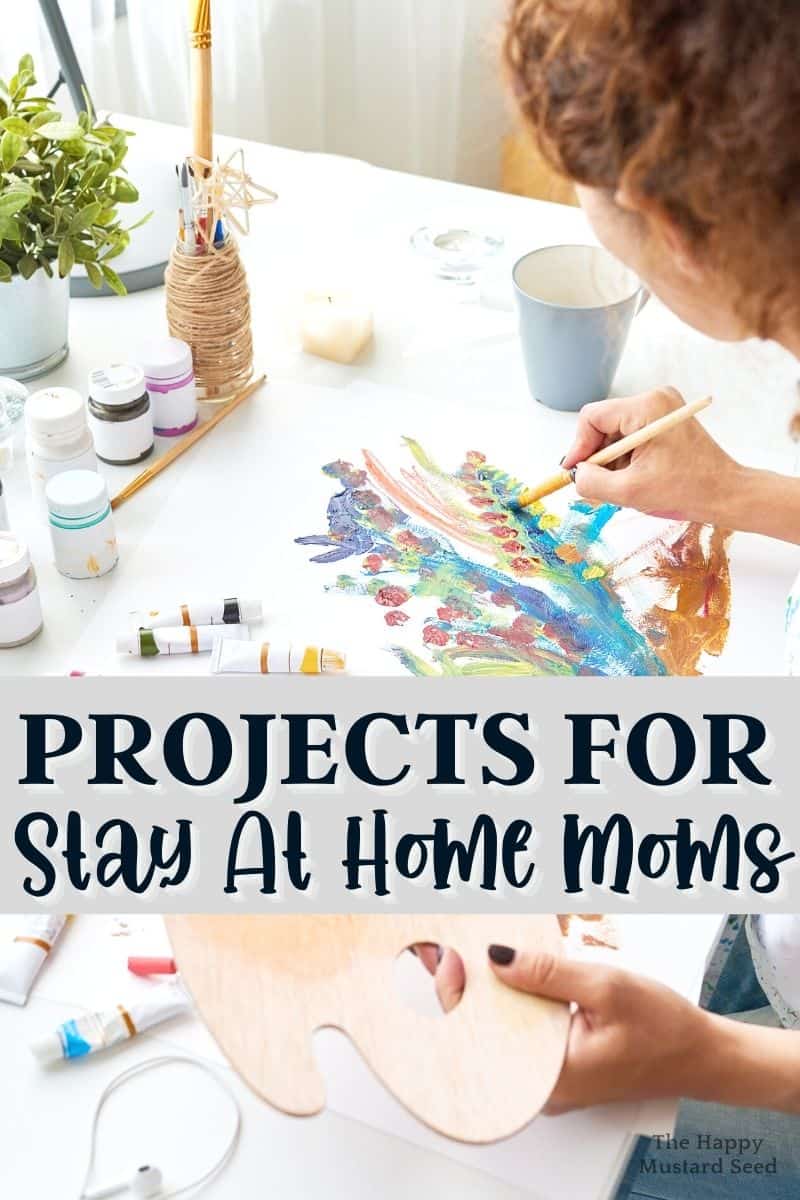 This post contains affiliate links, some of which may be Amazon links which means I receive a commission, at no extra cost to you, if you make a purchase using this link. Thank you!
Do not lose who you are as a person and as a woman. Those things never go away after the children move out.
Why Hobbies Are Good For Moms
Hobbies are important for moms for several reasons including the following:
Gives perspective
Helps to rejuvenate your mind
Prevents you from losing yourself
So, with that in mind, let's take a look at some ideas that can get you started.
Top 5 Design and Art Hobbies For Moms
Before you were a mom, did you love DIY crafts? If so, these hobbies will be perfect for you!
1. Painting
Painting is a fantastic hobby that can provide some much-needed escapism for all of you busy moms out there. The best part is that you don't need to be Picasso to have fun with it — just buy yourself a paint by numbers kit and go crazy!
Here are a couple of great kits to kick start your hobby:
2. Scrapbooking
To begin with, taking time for yourself will probably cause a boatload of mom guilt. So, doing something that still involves your family in some respect may help wash away those feelings.
Scrapbooking allows you to get stuck into a project while recording all those precious moments of family life.
Contrary to what Instagram will tell you, it's possible to start scrapbooking without investing a lot of money. Try this DIY kit to begin.
3. Graphic Design
Not all craft ideas need to be messy (we're sure your children make enough at times!). So, graphic design might be the way to go.
For those of you who already have an iPad or tablet, this is easy to get into especially with apps like Procreate. No setup needed.
You can also get started with programs like Canva which is free and web based.
4. Furniture Restoration
Okay, this is quite hard to get into but it's totally worth it if you've always dreamed of refinishing your chest of drawers. There are plenty of books on Amazon that walk you through your first restoration DIY projects. Here are a few of our favorites:
5. Cake Decorating
This one is sure to make your mind and soul smile. Not only will the finished product be beautiful but it'll be tasty too!You can buy a 203 piece starter kit on Amazon for a mere $27. Minimal investment, maximum reward. What more could you ask for?
Top 5 Outdoor Hobbies For Moms
1. Gardening
Regardless of the size of your garden, you can make gardening a very rewarding hobby — especially if you go down the build your own garden bed route. This is perfect for smaller spaces as they can add depth and possibly height if you go for a vertical-raised garden bed with 5 tiers.
2. Biking
Granted, you and the kids might go on a bike ride now and again but it can feel rather freeing if you do it alone from time-to-time.
Ideally, you should ensure that somebody knows where you are at all times to prevent any safety mishaps. Plus, always take a repair kit with you!
3. DIY Bird Feeder
You just can't be the sound of birds in your garden. Building them a home is a fab hobby that will benefit your entire family. Not to mention that it's quite easy to stop with the right kit.
We suggest opting for this Wild Birds DIY Bird House Kit. Yes, it does say that it's for children. However, it's a wonderful place to start if you've never tried anything like it before.
4. Hiking
No explanation needed! Just put your shoes on and head outdoors. It's a fab way to reconnect with yourself and the environment around you. Nature can provide a fantastic sense of peace, regardless of the calamity of everyday life.
5. Outdoor Yoga
If you're already a yoga or pilates fan, switching up your routine and taking your mat into the garden can provide better healing, restorative, and calming benefits than doing child's pose in the living room.
Of course, the same can be said for other workouts too!
Top 5 Social Hobbies For Moms
1. Host Craft Nights
Combine crafting and chatting with this one! Whatever crafty activity you and the girls like, grab a load of supplies, set a date, and enjoy. A bottle of wine or two never hurt either.
Unsure what craft to pick? Try these:
2. Attend Book Clubs
Bit of a bookworm? Find a local book club and make your way there each week. Taking time to read when you have children is essential for bringing your brain some peace — at least for a second, anyway.
3. Go to Exercise Classes
Think outdoor yoga but with the added social element! You can get all your health, mental, and emotional needs met in an hour per day (or more if you'd like). How great is that?
4. Game Nights
Craft nights aren't the only thing you and your friends can do together. Why not try scrabble, the game of life, or kerplunk for a bit of a laugh once a week?
5. Dog Walking
Finally, you can rally your friends and go for a long dog walk. Even if you don't have a pooch, ask if you can accompany someone who does!
Take time for yourself. You deserve it.