So many recipes may call for honey as an ingredient to sweeten the dish, both baking, and cooking. There are various ways you can substitute for honey in recipes, these are a few of our favorites.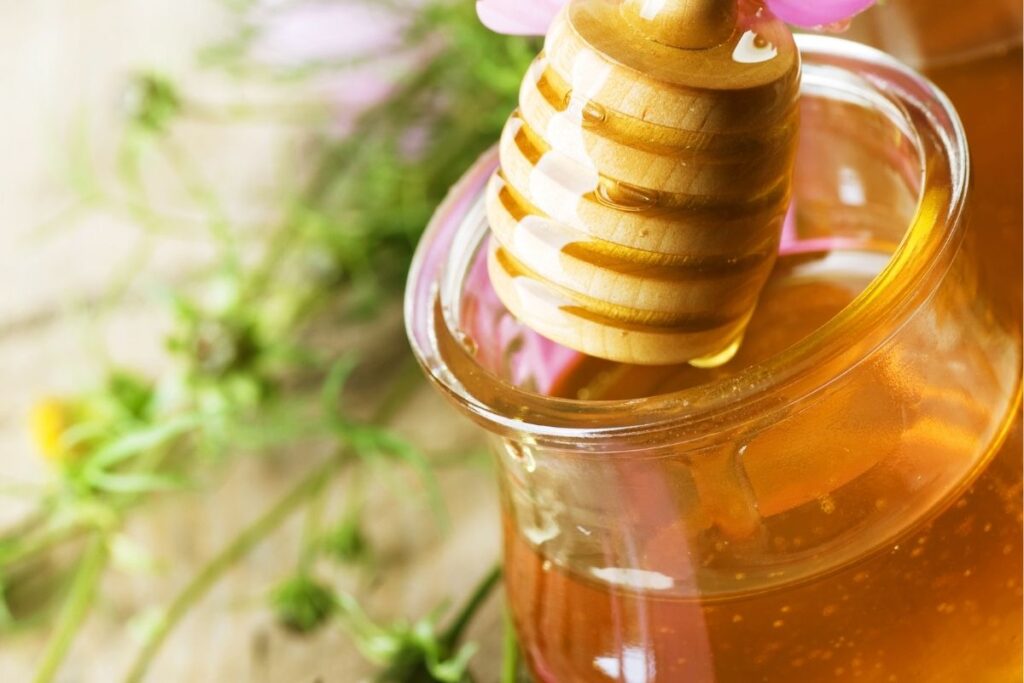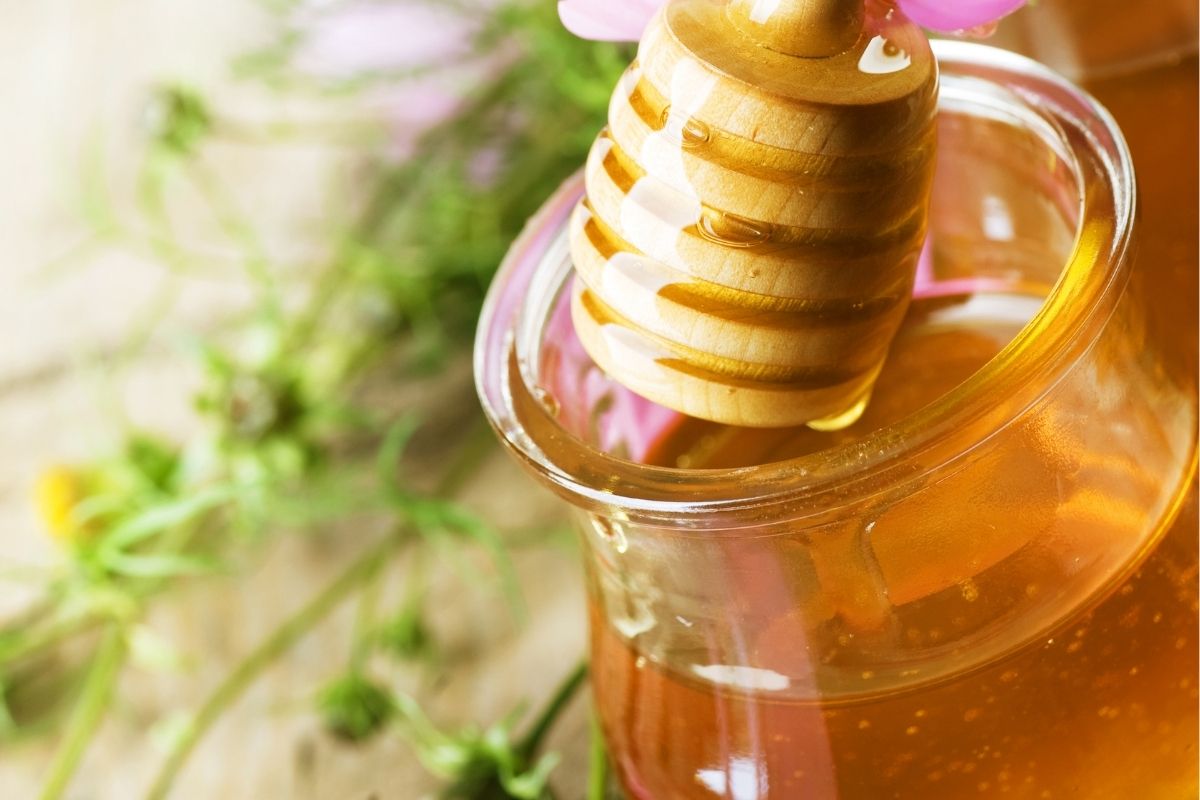 This post contains affiliate links, some of which may be Amazon links which means I receive a commission, at no extra cost to you, if you make a purchase using this link. Thank you!
List of Substitutes For Honey
We wanted to share items that we use in our kitchen and that we know work as substitutions in a variety of recipes both in a savory dish and for sweet dishes.
Most are a good fit for vegans or people allergic to honey.
Get our full list of the best honey substitutes below.
Maple Syrup
If you do not have honey on hand you can substitute maple syrup. It is a great substitute and is also a vegan substitute for honey. and can be widely used in many honey-based recipes. You can use usually use maple syrup as a 1:1 for a honey substitute.
We use maple syrup in our barbecue sauce recipes rather than honey. It adds depth and works well in conjunction with ribs, pork chops, and wings. It's easy to obtain and in theory, you'll have some lying around as a pantry staple.
Barley Malt Syrup
Malt syrup is made from brown rice and has a significantly lower glycemic index than sugar so it can help maintain proper blood sugar levels. It is also said to be full of vitamins, minerals, and amino acids. It seems to also have some people saying it is good for your gut.
We use it in both sweet and savory dishes as a natural sweetener.
Brown Sugar And Water
Simple mixed brown sugar and water is one of the best alternatives to using honey in a recipe. It's basically a simple syrup that you are making, but with a thicker consistency.
Make it so that there's more sugar than water for a similar texture and consistency as honey.
The best way to work out what quantity you will need is to put it teaspoon by teaspoon and taste the recipes each time to get the required taste.
Golden Syrup
has a more subtle flavor than maple and smells like caramel. It works best for sweet recipes as a substitute for honey, so use it in your cakes and biscuits recipes.
One of our favorite ways to use golden syrup is making caramel popcorn.
We do however recommend no golden syrup in savory dishes since these caramel flavors are very distinct and might ruin your savory food.
Rice Malt Syrup
is an easy vegan alternative to honey. It also is an excellent option for people who eat fewer types of white sugar.
However, one problem with it is the high glycemic index that is higher than sugar. It's also expensive unless you choose the one I share above.
White Sugar
We try to lower our sugar intake, and white sugar
is on our list of items we use less often. If we do, we try to get a better quality product.
White granulated sugar will have a bit more depth of flavor than honey and it dissolves quickly in all recipes making it perfect for blending well into both sweet or savory dishes.
Can I Use Sugar Instead Of Honey?
We'd recommend adding slightly more white sugar to your recipes to replace honey.
Generally, with a recipe that says the use of a teaspoon of honey, try two teaspoons of white sugar in lieu of the same amount of honey.
I recommended tasting it each time you add additional to make sure it does not get too sweet.
Molasses
The best molasses you can get are light and dark molasses.
Light molasses would be the best of the two and you can use it as much as honey. It is the sweetest and the most common of all of the three in baking. It helps cookies to be softer and bread crustier.
Blackstrap molasses is too powerful and bitter to add as a straight substitute for honey since it will detract from your recipe.
Try half a teaspoon per teaspoon of honey – and then add additional if you find it necessary after tasting it at least three teaspoons of it. If you only use this dark molasses you may need less.
Corn Syrup
would be the best option for a subtle flavor. Again we use it, but not as often in our kitchen.
Dark corn syrup has a slightly overpowering taste and it is a good idea to use less of it than honey.
You should always taste it to test for the sweetness desired.
Try using only a teaspoon of the light corn syrup per teaspoon of honey, or half a teaspoon of the dark corn syrup per teaspoon of honey.
Agave Nectar
Agave nectar is the nectar of the agave plant which is a class of cactus. The actual fruit used for tequila is sweet as you might imagine.
How much agave do I substitute for honey?
Try using about 25% less agave syrup than honey, use three-quarters of two teaspoons of nectarines.
When you are creating the recipe you need to add around half a teaspoon of agave nectar in order to avoid adding more sugar to the mixture.
Apple Sauce
Applesauce is substituted for honey and it does very well. It contains more water than sugar but still can be used on its own as a honey substitute.
However, in most cases, applesauce should only be used when cooking or baking a recipe when replacing honey.
It gives the correct amount of sweetness required for sweet or savory items if you use sweetened applesauce.
Coconut Nectar
Coconut nectar is a natural sugar produced in coconut trees by the flower on its petals. It can be quickly and easily discarded without the use of cooking.
It has the right proportion of sweetness and consistency to bring the dishes together.
Yacon Root Syrup
Yacon root syrup is a natural softening agent that is very sticky. Extraction from yacon roots can serve as a great honey substitute. It is somewhat less sweet than honey but tasty.
Recipes with honey
Try these recipes to find a favorite alternative to honey.
I hope you find a substitute honey idea that works for you! Let us know what substitute or recipe you recommend for honey.