Have you found a new love in brioche bread? Well, let me help you add a few more ways that you can eat it. This What To Serve With Brioche will cover sweet, savory, and delicious leftover brioche recipes.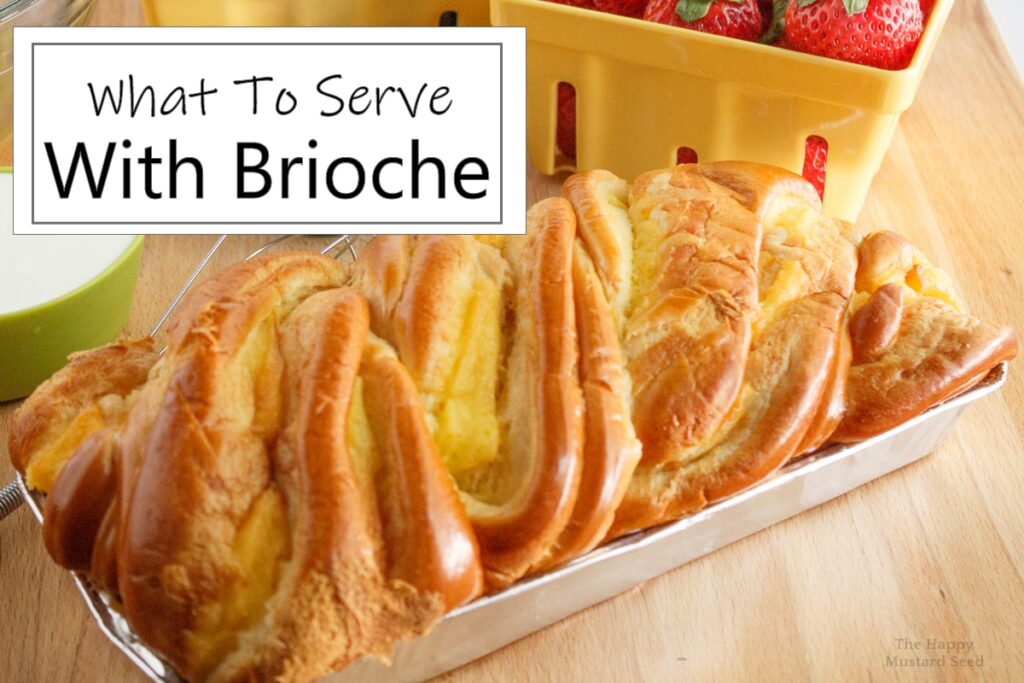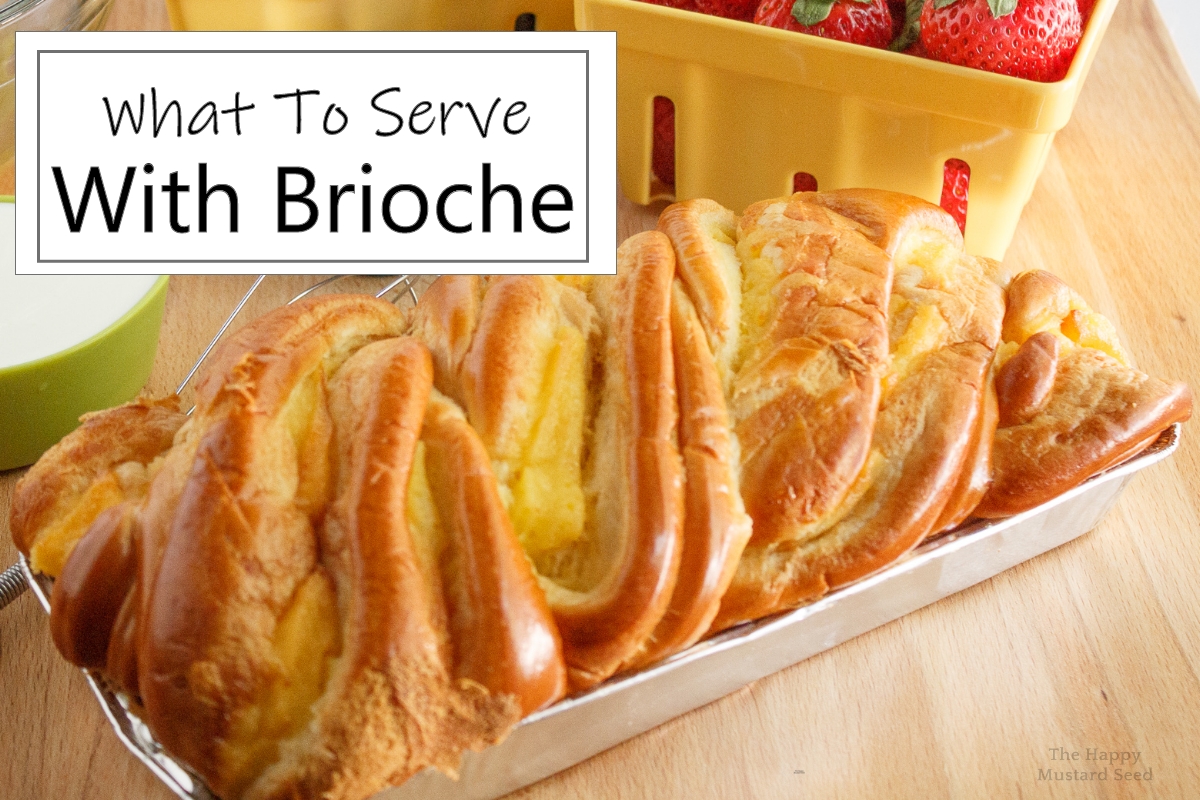 This post contains affiliate links, some of which may be Amazon links which means I receive a commission, at no extra cost to you, if you make a purchase using this link. Thank you!
Growing up, I had never paid much attention to brioche bread (we had it here and there but it was not a staple in our family).
My first time falling in love with brioche (thanks to my daughter and her love of French Toast I now make this brioche French toast recipe for her often) was at my granmas 90th birthday, we went on a family trip and the restaurant had brioche french toast.
My daughter ordered the french toast, took a bite, and then put a big forkful of one of the brioche slices next to my mouth. The look on her face was one of amazement.
So of course, I took the bite, expecting nothing. I was so surprised! It was AMAZING.
Now we make brioche bread recipes all the time because you can never have too much brioche.
Can Brioche Be Frozen?
Yes, and it will usually last for up to six months in an air tight container and stored properly.
If you are making your brioche fresh, you will want to let them cool completely prior to freezing them.
Leftover Brioche
There are so many ways that you can eat leftover brioche from slices to a brioche bun.
Grilled Cheese Sandwich
Grilled cheese is a treat for kids, but you can level this classic sandwich by using thick slices of brioche and adding ham or any other sandwich meat, raspberry jam, sautéed shallots, your favorite cheese (gruyere, gouda, Havarti, brie).
Add some mayonnaise on the outside of the bread or dip in a beaten egg and toast (make sure the egg is fully cooked) until golden brown perfection!
This makes for a great sandwich lunch or brunch item.
Brioche Croutons
The soft texture of freshly baked goods like brioche is vastly superior to regular white bread.Don't be worried about having to get freshly baked brioche, because day old, even three day old, is equally amazing.
Brioche Crouton Ideas: basil with grated parmesan, dried Italian seasoning tossed in butter, sauted in bacon drippings (grease) and fresh garlic,
How To Use Croutons: You can use these croutons for anything from topping soups, salads, casseroles (whole or ground up to make bread crumbs), coat your chicken (for chicken parmesan or fried chicken), coating for fish, stuffing tomatoes, add to parfaits and ice cream sundaes and more.
If you are anything like my kids and I … we just pop them like candy.To Store: Be sure to seal in an air tight container. Will last up to 3 or 4 days.
Breakfast Crostini
We love to make crostinis for a quick, and easily uncomplicated breakfast or early meal. You can toast up slices of brioche french bread and toast it then top with your favorite breakfast items.
Just in case you did not know. A crostini in Italian is a little toast.
Top Your Crostini: creme fraiche and smoked salmon, cream cheese with purple onions and bacon, two slices of bacon and fried eggs drizzled with syrup, topped with cinnamon and sprinkled with sugar, creme fraiche topped with fresh fruit.
One slice is usually not enough we usually make 2 to 4 slices of brioche per person.
Cut the slices into smaller squares and you have perfect crackers. I top them just like I would melba toast.
Ice Cream Sandwich Using Brioche Buns
Effortlessly make brioche bun ice cream sandwiches.
Ice Cream: Simply scoop out two scoops of chocolate with almond and coconut, sea salt and caramel, raspberry delight, caramel truffle, pistachio, or sweet berry,
place on your brioche bun bottom and top with the top bun.
Hope you enjoy this brioche gelato treat!
Brioche Stuffing (Dressing)
Dressing (stuffing) has a long been a celebrated dish in many families over the holidays and Sunday dinners.
You can easily swap out your regular bread or cornbread for brioche bread and make stuffing.
The sweetness of the bread works perfectly together just as your sweet breads and cornbread would.
Brioche Sliders
Brioche slider buns are perfect for leftover brioche! Simply fill the buns with your favorite meat (pulled pork, brisket, tuna salad chicken salad), cheese and veggies and place in a pan and bake. 350 degrees Fahrenheit for 20 minutes.
Brioche Garlic Bread
If your bread is on day 2 or 3 this is an alternative for loaves of brioche bread.
If it is getting stale, turn it into garlic bread or thicker slices for Texas toast.
Garlic Bread Toppings: garlic butter topped with colby jack cheese or mozzarella cheese, compound basil garlic butter,
How To Use Brioche Garlic Bread: Serve on the side of spaghetti, dip in your favorite marinara, on the side of soup, dip in your wine sauce from your muscles, linguine and clam sauce
Brioche Waffle
Making waffles can be a piece of cake when you are making brioche waffles. Why?
No batter required!
Take two slices of brioche, place them in your waffle maker for the recommended time and voila! You now have a delectably sweet waffle ready to consume after adding your favorite toppings.
Brioche Casserole
You already have my recipe for brioche French toast casserole — I mentioned above and now you learn how to make a brioche egg bake casserole savory using brioche.
Start With A Base: I love a good custard. You can use my customer from my french toast bake then add any combination ideas you like.
Brioche Casserole Ideas: ham with cheese pudding, Italian sausage (no fennel for me) with bell peppers and sliced onions, mushroom leek and onions, ham with mustard and cheese, spinach butter and garlic, broccoli onions with cheese, prosciutto with gruyere, brown butter with sage and ham.
That's it! As we find more ideas we love we will add them here.
I hope you enjoyed all of these ideas to serve with your