Dutch Baby Pancakes are a fun and easy breakfast that can be whipped up in just minutes. They're perfect for busy families, and you don't need any special ingredients to make them!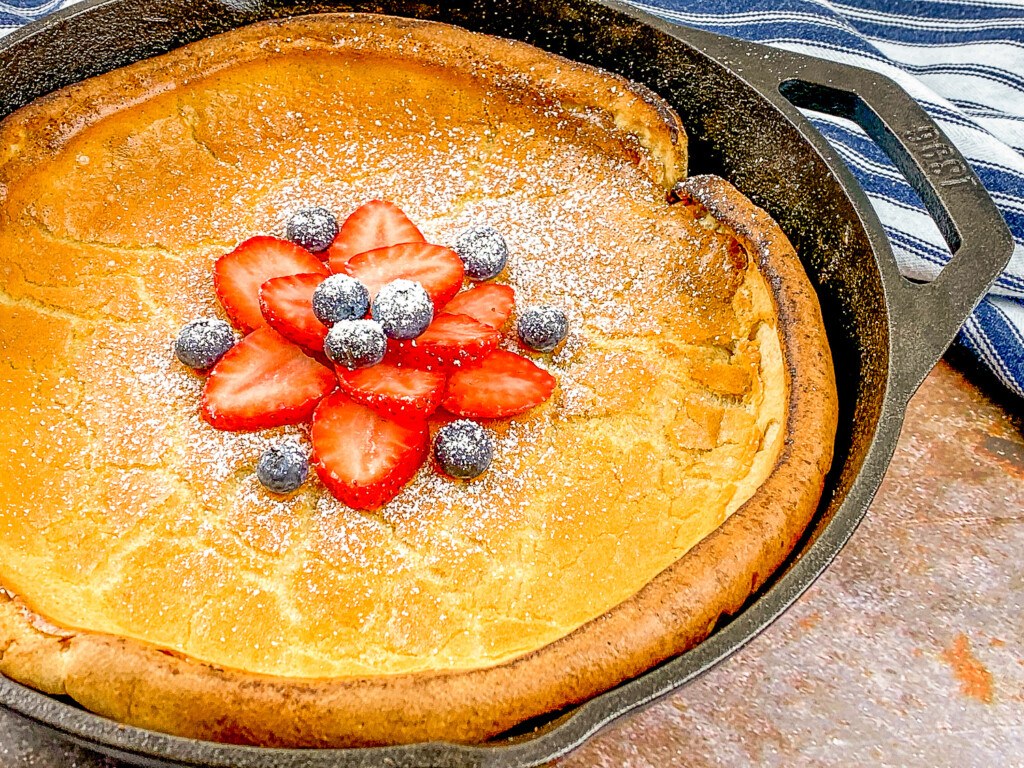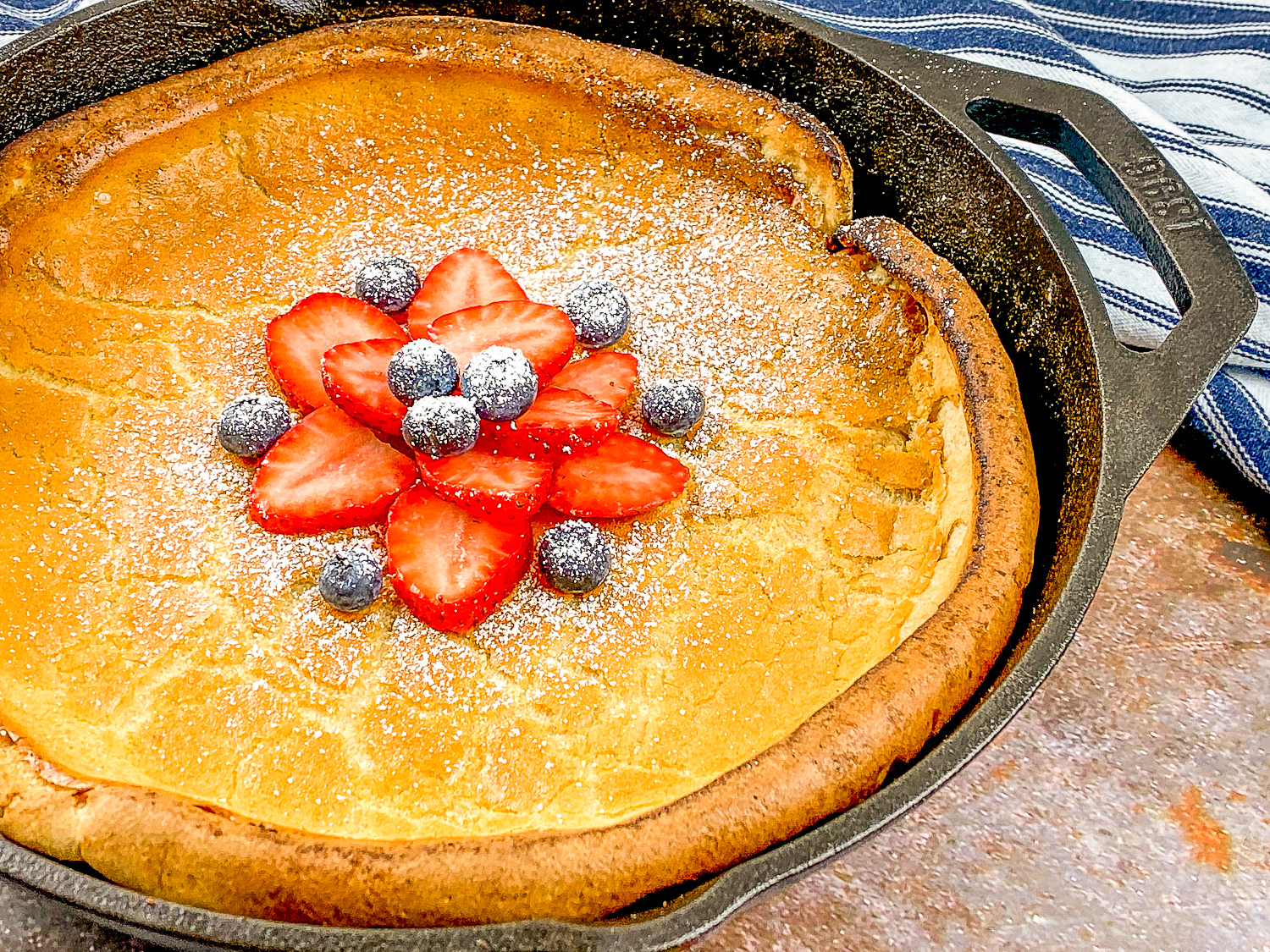 This post contains affiliate links, some of which may be Amazon links which means I receive a commission, at no extra cost to you, if you make a purchase using this link. Thank you!
This recipe is great for family breakfast, lunch or dinner any day of the week. You can even make it for brunch for holidays like Thanksgiving and Christmas. It is sure to be a crowd pleaser.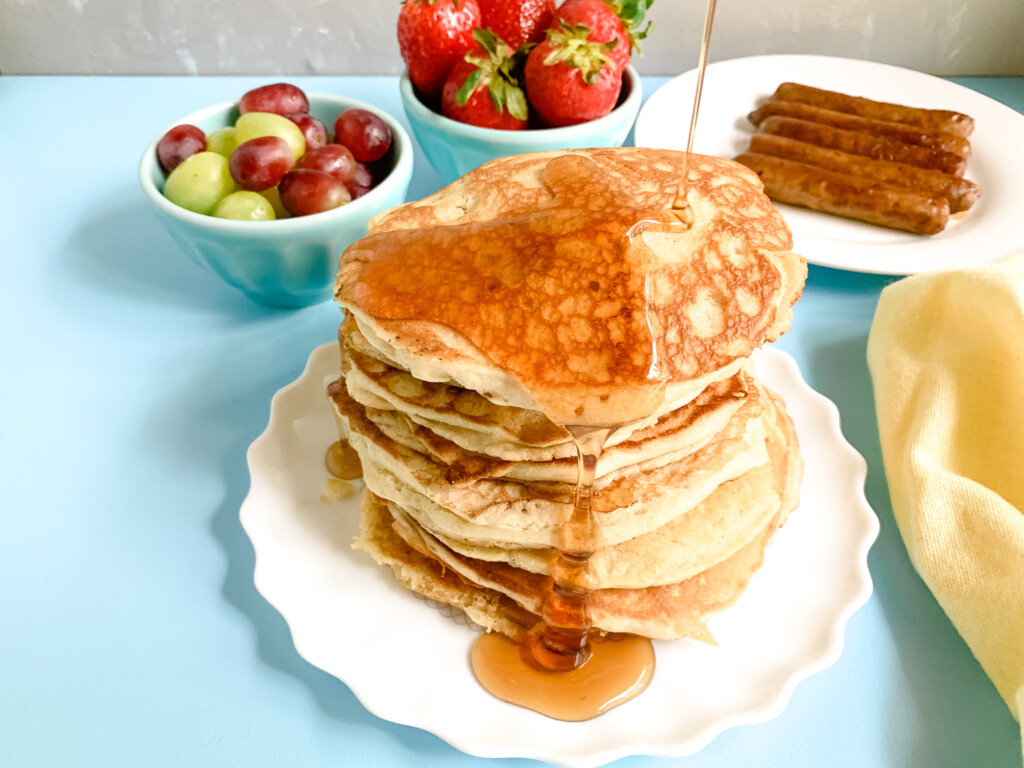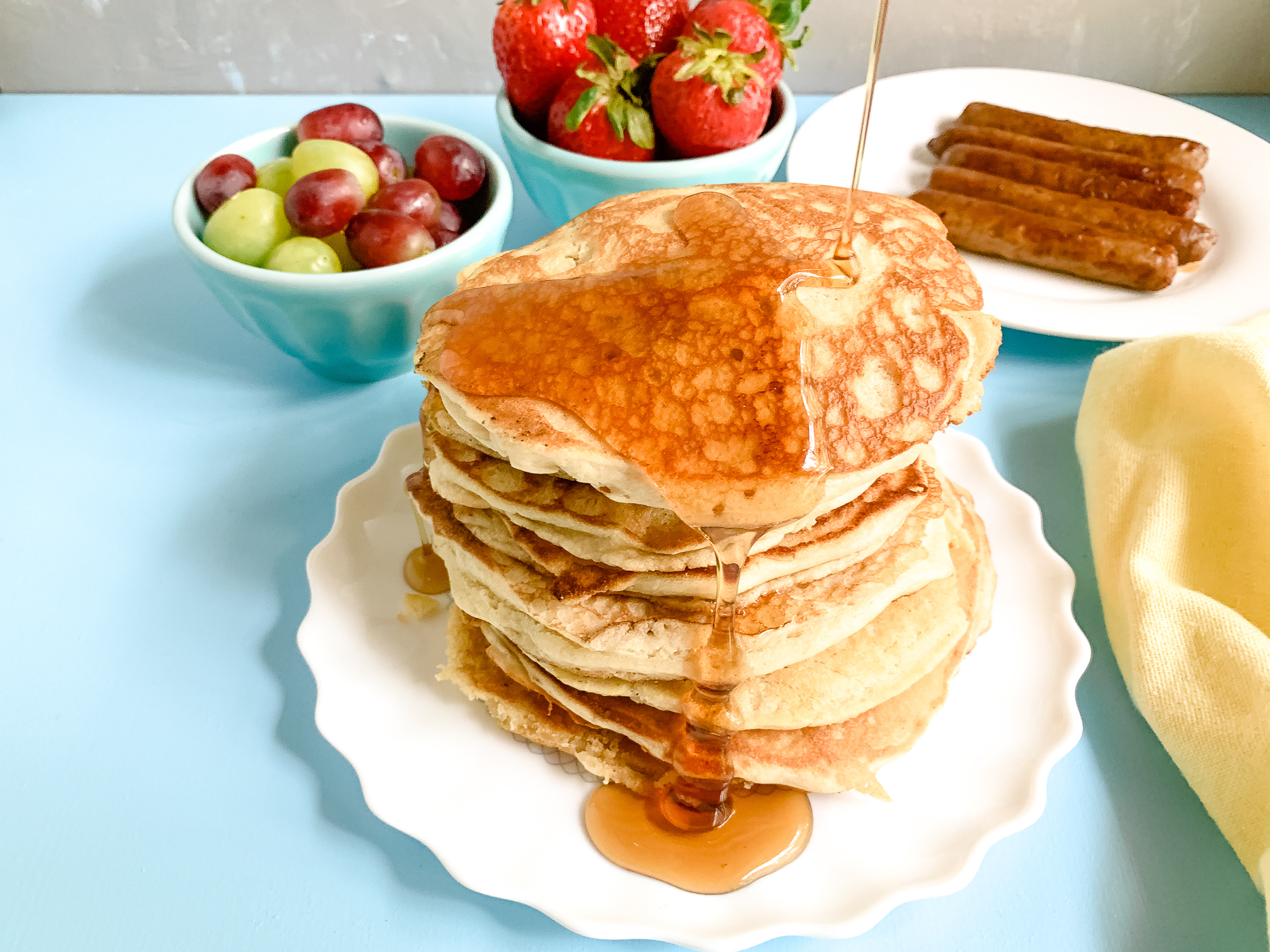 Dutch Baby Pancakes is a German pancake, and they are so easy to make and taste delicious! All you need is a cast iron or other oven-safe skillet, eggs that have been room temperature for about 20 minutes before cooking them (to prevent scrambled egg yolks), milk warmed in the microwave just enough so it's not too cold but still chilly on your wrist when held there for 3 seconds
What is a Dutch baby pancake?
It is basically a pancake that is put into a skillet in the oven and baked. It is never made stove top.
They are similar to Yorkshire pudding.
Which kitchen equipment am I going to need for this recipe?
That's it. These Dutch pancakes are simple and a great option to even make camping.
First, the size of your skillet matters in this case: You will need a 10-inch well-seasoned cast iron pan or any other ovenproof skillet to prepare this recipe as written. In addition, you'll want to make sure the eggs and milk are room temperature before using, so plan to let them rest at room temperature for approximately 20-30 minutes before preparing the batter.
Although it may seem easier to skip Step #2 (below) and blend all the batter ingredients in a blender from the outset, it is much easier to incorporate all the flour into the batter by pre-mixing it in a bowl, as described, first.
Finally, the actual cook time may vary depending on individual oven differences. As tested, the results shown were achieved after 20 minutes, followed by an additional 5 minutes once the oven was turned off. For best results, check after 16-17 minutes and adjust final cook time accordingly.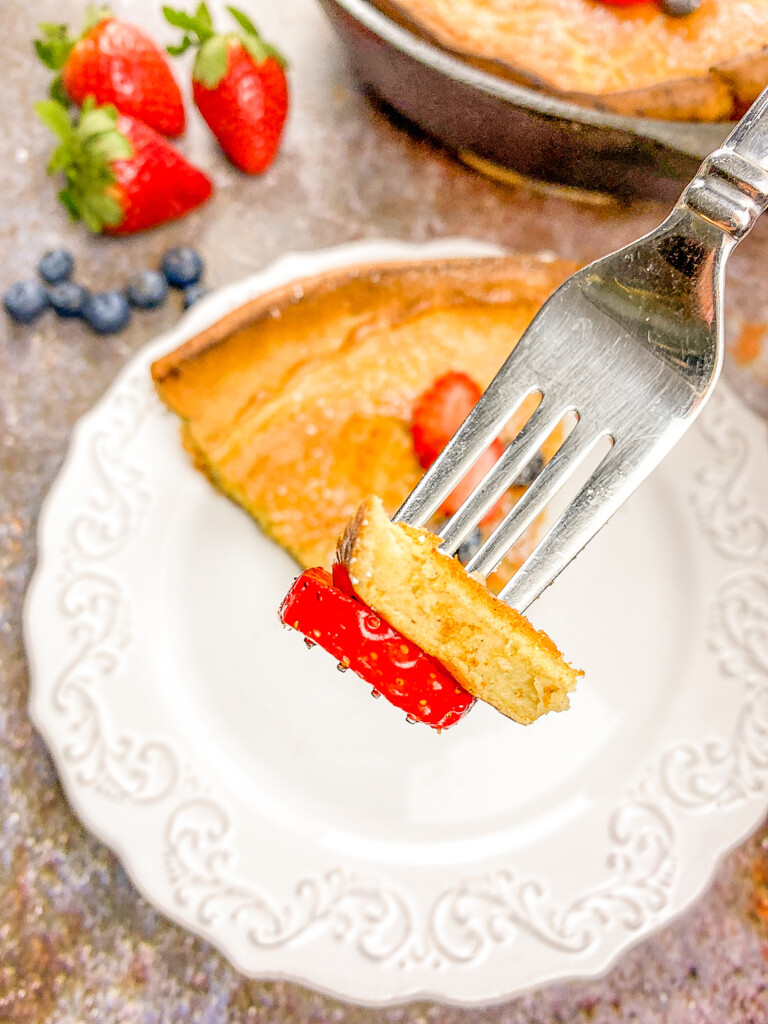 What ingredients are needed for a Dutch baby pancake
One of the things that I love about this recipe is that it uses simple ingredients that you can find at your local grocery store.
Basic Ingredients:
½ c. all-purpose flour
3 large eggs, room temperature
½ c. whole milk, room temperature
½ t. ground cinnamon
½ T. vanilla
1 T. sugar
½ t. salt
3 T. unsalted butter, cut into chunks
What would be a good topping for these little pancakes?
Sliced fruit
Powdered sugar
Maple syrup
Fresh berries
They were originally topped with powdered sugar and a squeeze of fresh lemon juice
How To Make A Dutch baby pancake?
Place top oven rack just above the center position and preheat oven to 425°F.
Combine eggs, the flour, milk, cinnamon, vanilla, sugar, and salt in a medium bowl and stir until just combined. Pour the batter into a blender and blend until aerated and no clumps remain, approximately 1 minute.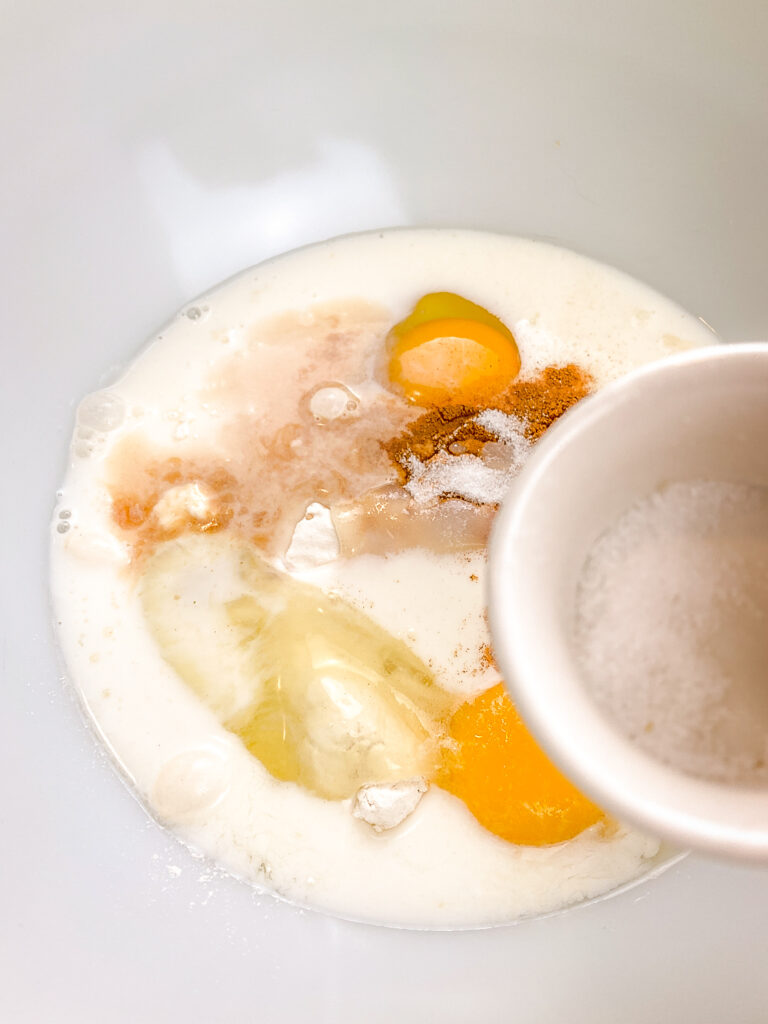 Use the butter to thoroughly grease the exposed surface of the skillet, as shown, and then place in the hot oven just until melted. Remove from oven and carefully swirl to ensure the butter is evenly distributed across the bottom of the skillet.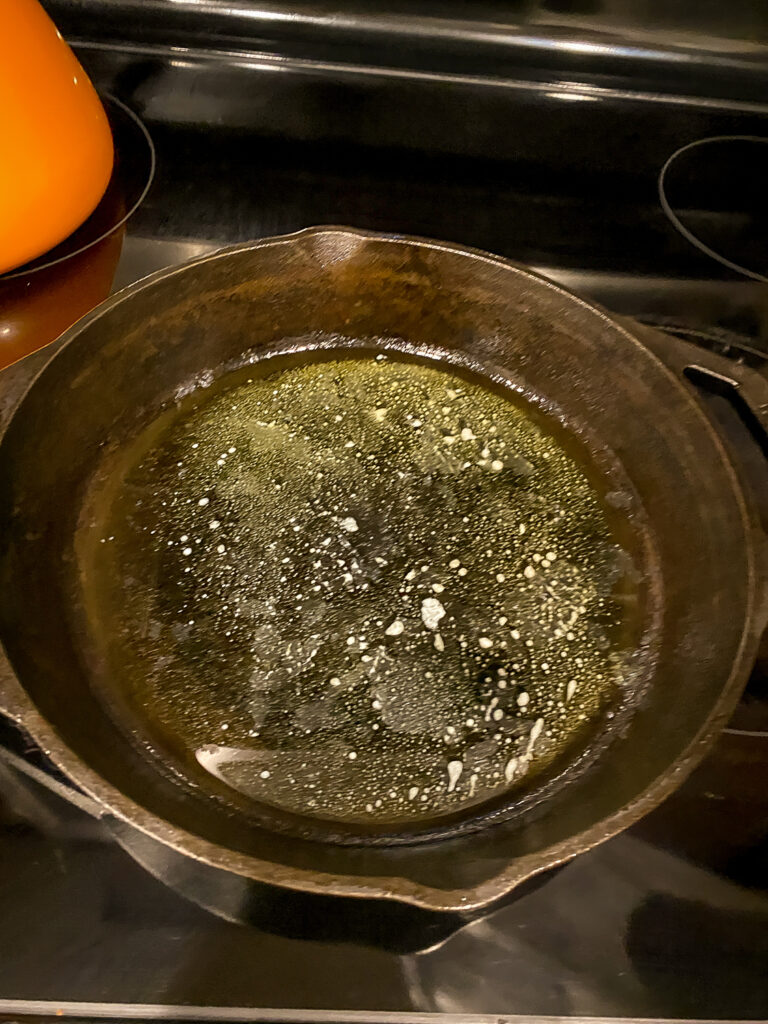 Pour the blended batter into the center of the hot skillet and place in the hot oven.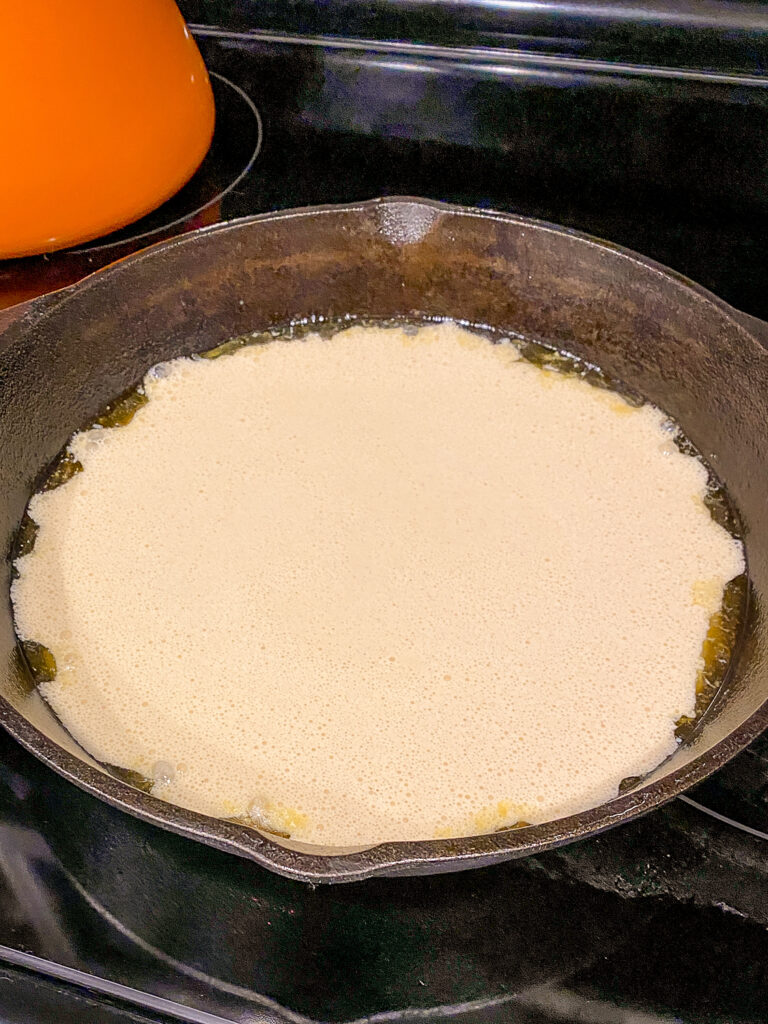 Cook until the edges are puffed up and golden brown, approximately 20 minutes. Turn off oven and allow the skillet to remain in the oven for 5 additional minutes.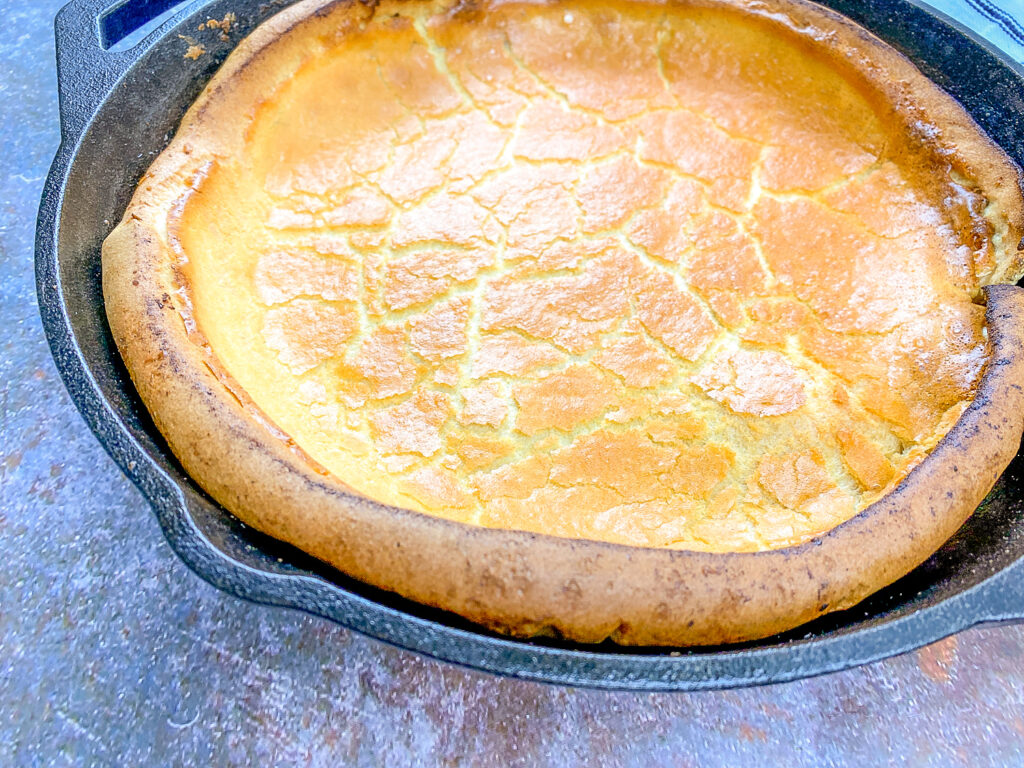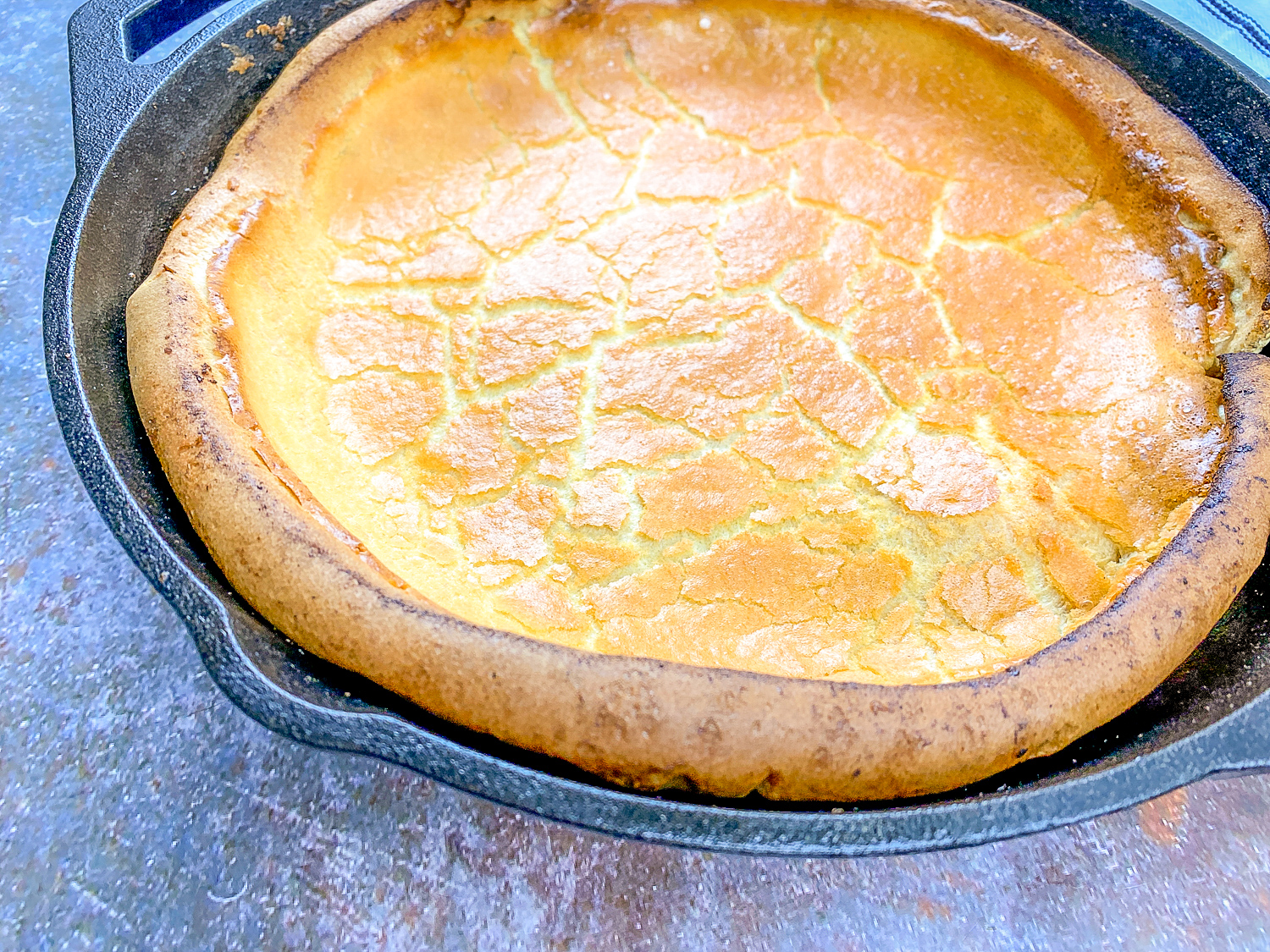 Remove from oven and cool for a couple of minutes before slicing. Serve immediately topped with fresh fruit, powdered sugar, and/or maple syrup, if desired. Enjoy!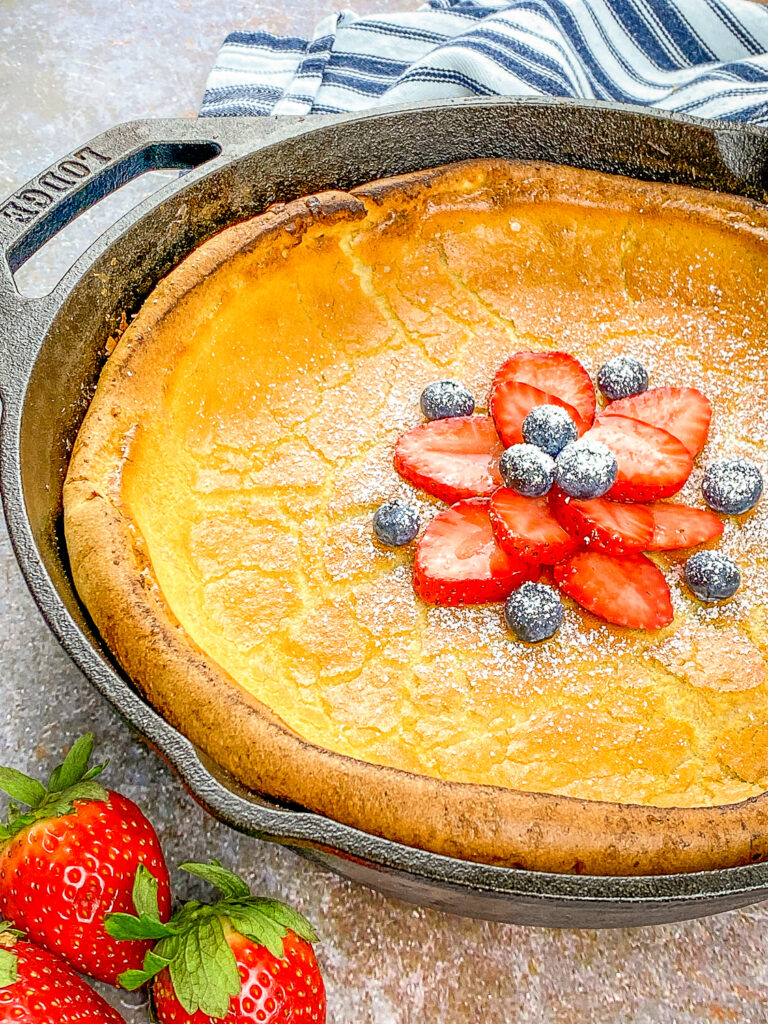 Why are these pancakes called, "Dutch babies?"
It seems as though they may have been coined this due to a mispronunciation or mishap in saying, Deutsch. It is a German oven-baked pancake.
Was named from an American restaurant owner.
What should I mix the pancake mix with?
You can mix them with a hand mixer, stand mixer, whisk or a blender. Whatever is easiest for you. I prefer the blender because it makes the recipe easy and less clean up.
Do you ever make the pancake batter without sugar?
I have not. But I am sure you may be able to substitute sugar and honey. But I have not tested it for this recipe.
More Recipes You Will Love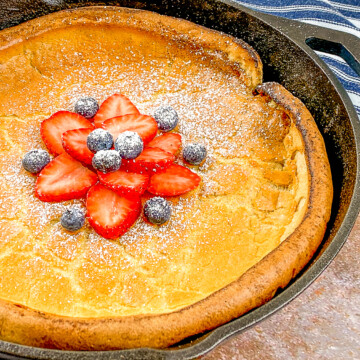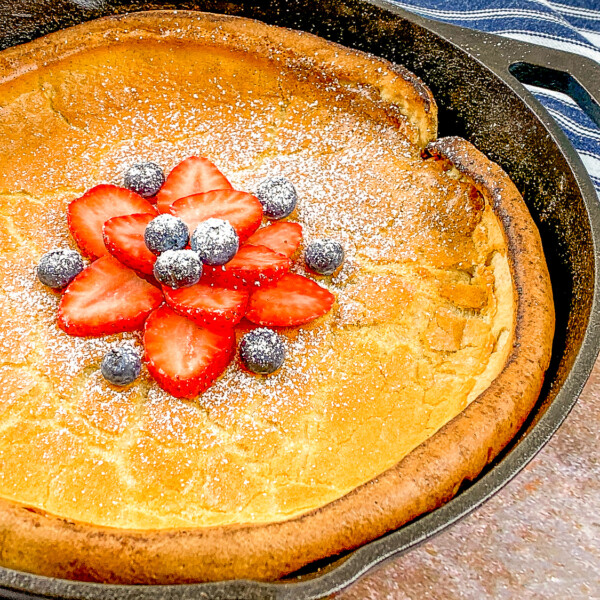 Dutch Baby Pancake (German Pancake)
Dutch baby pancakes are a fun and easy breakfast that can be whipped up in just minutes. They're perfect for busy families, and you don't need any special ingredients to make them!
Ingredients
1/2

cup

all-purpose flour
3

eggs

room temperature

1/2

cup

whole milk

1/2

tsp

ground cinnamon

1/2

tbsp

vanilla extract

1

tbsp

Granulated Sugar

1/2

tsp

salt

3

tbsp

unsalted butter
Notes
Do not stir or swirl the hot melted butter into the batter once you pour it into the skillet.
Sugar: You can reduce or simply omit the sugar in the batter if topping with something that is savory. For example pancetta, bacon, eggs, fresh herbs, and/or other savory toppings.
Nutrition
Serving:
1
slice
|
Calories:
215
kcal
|
Carbohydrates:
17
g
|
Protein:
7
g
|
Fat:
13
g
|
Saturated Fat:
7
g
|
Polyunsaturated Fat:
1
g
|
Monounsaturated Fat:
4
g
|
Trans Fat:
1
g
|
Cholesterol:
148
mg
|
Sodium:
352
mg
|
Potassium:
109
mg
|
Fiber:
1
g
|
Sugar:
5
g
|
Vitamin A:
491
IU
|
Vitamin C:
1
mg
|
Calcium:
61
mg
|
Iron:
1
mg
Did You Love This Recipe?
Follow me on Pinterest For More Inspiration! @KarlaHarmer