Corn is a sweet, creamy and nutty vegetable that we can't get enough of. And this Oven Roasted Corn On The Cob will let you enjoy the delicious taste of this summertime favorite any time of the year. 
One of the things I love about this roasted corn recipe is that there is virtually nothing to do with it. 
Try out more of my delicious side dishes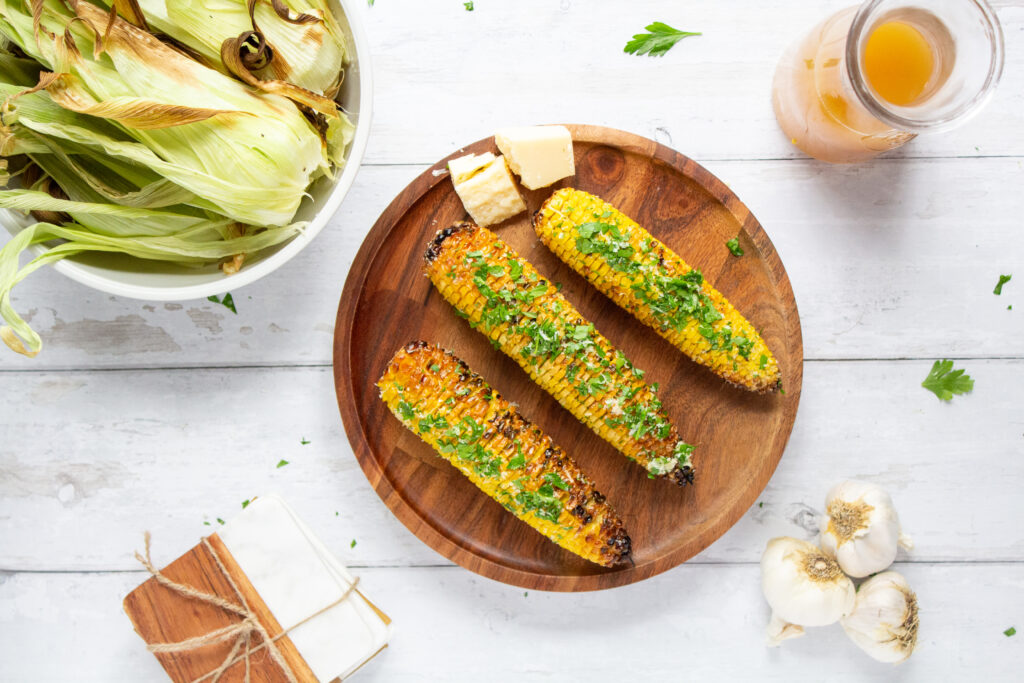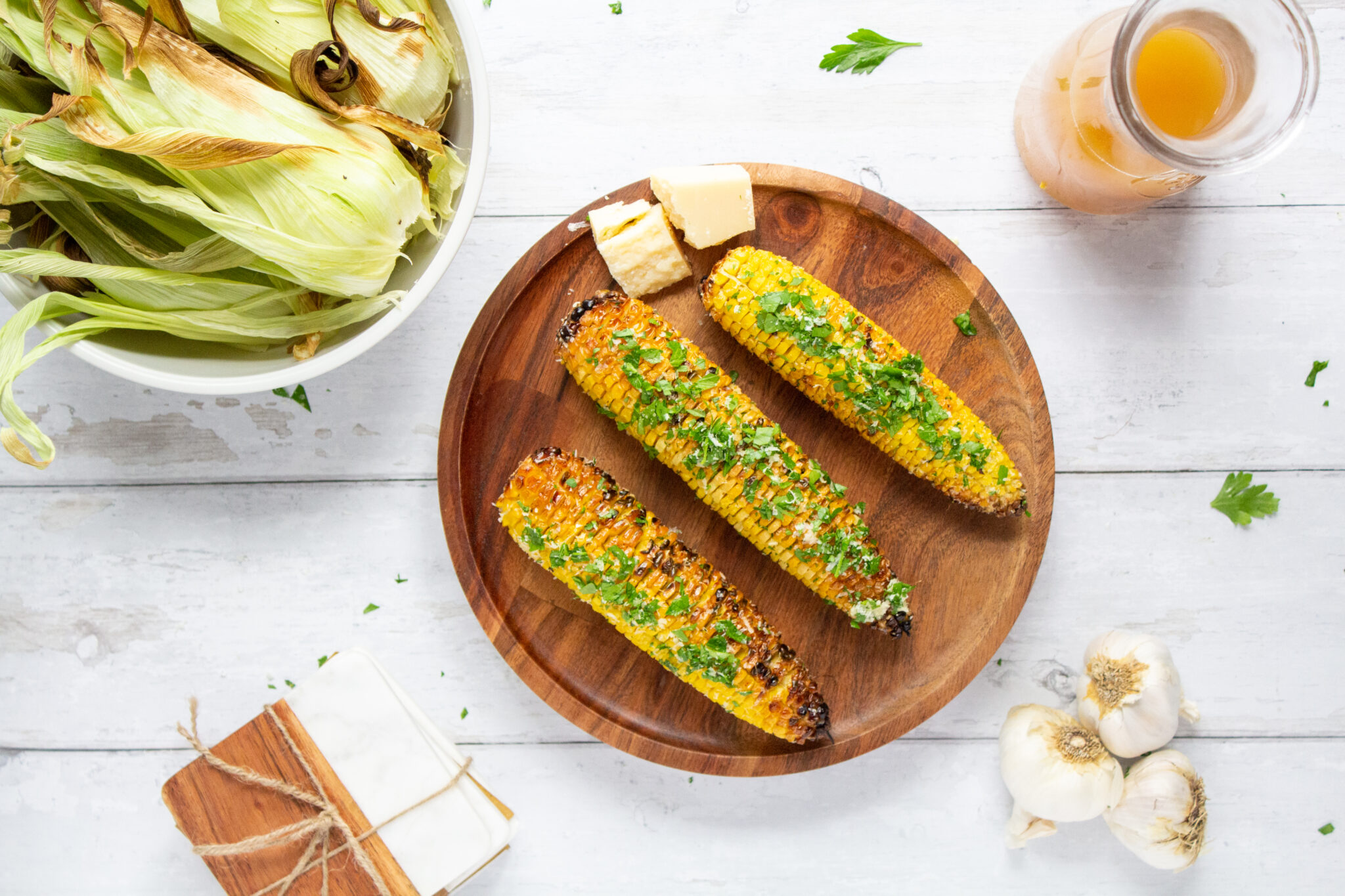 This post contains affiliate links, some of which may be Amazon links which means I receive a commission, at no extra cost to you, if you make a purchase using this link. Thank you!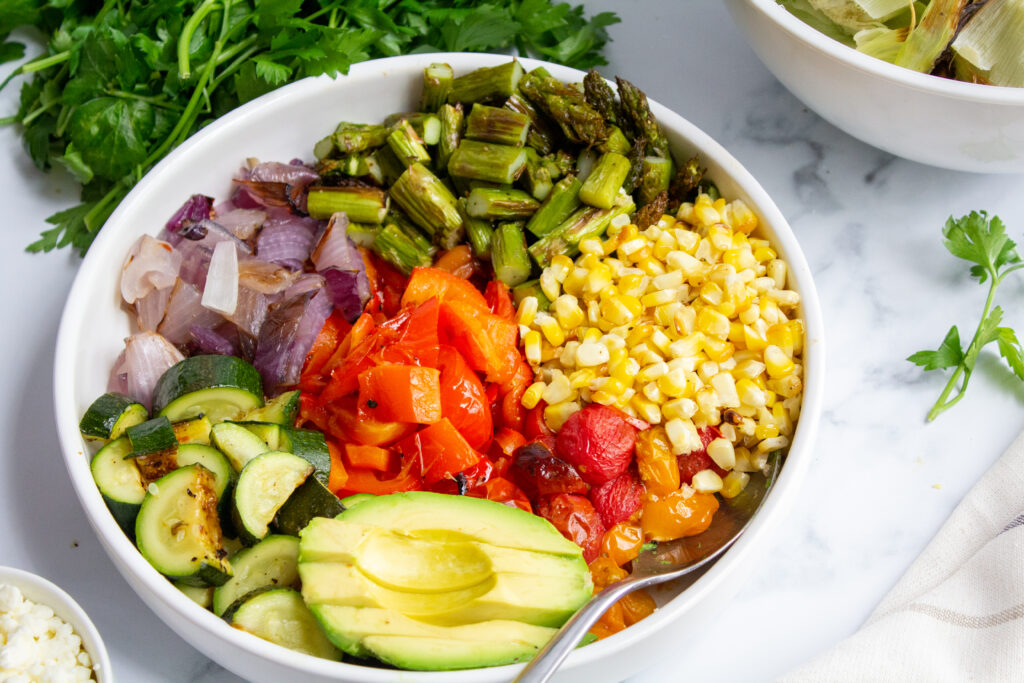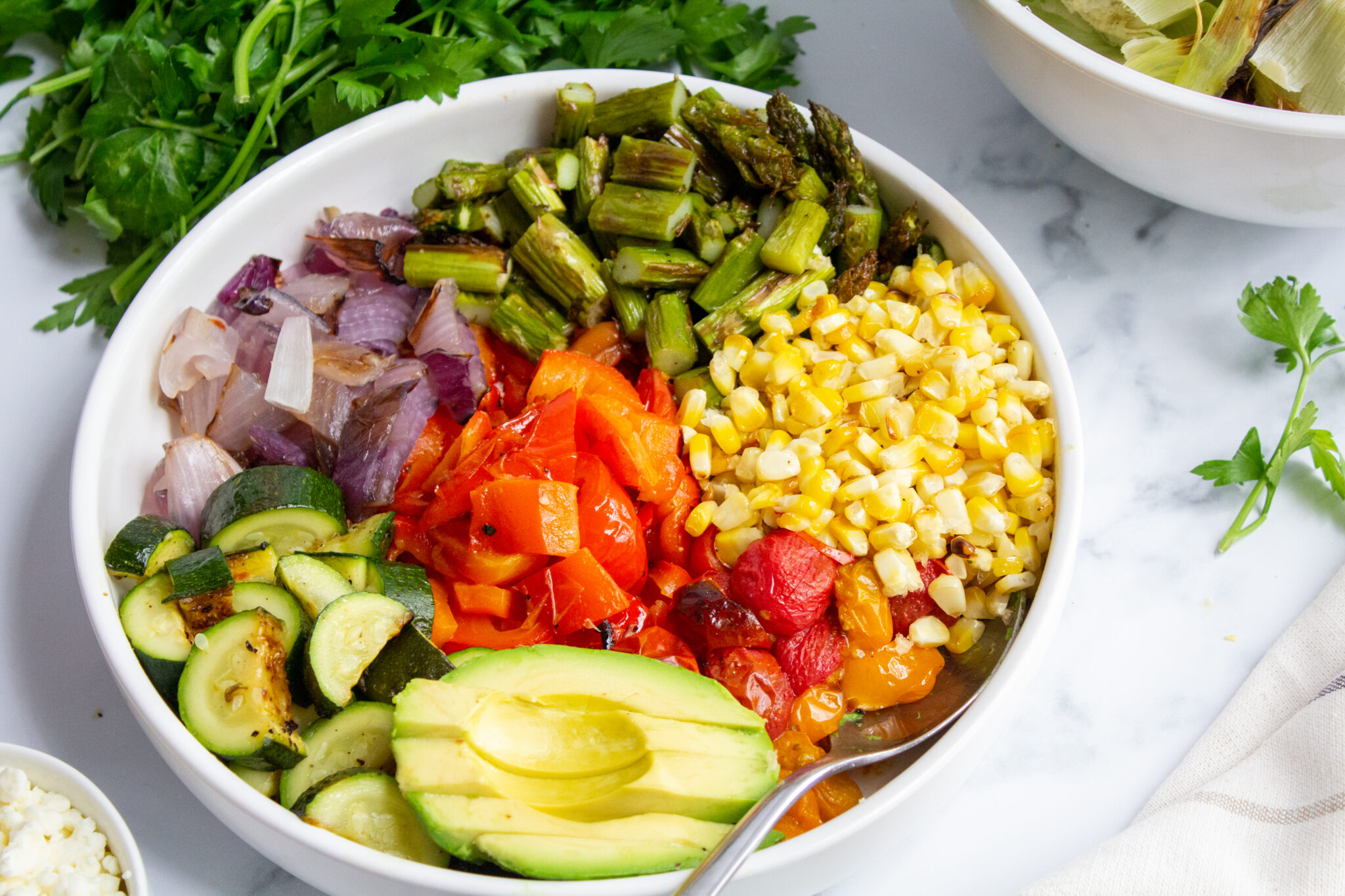 Meaning that it is so simple the kids can prep and roast the corn on the cob for you.
The only thing that you will have to do is handle the roasted corn while it is hot.
The prep time is limited and the ingredients are few. Which makes this corn on the cob recipe great for weeknight meals.
Since I could remember my family was cooking corn for all of the BBQs and parties.
As a kid I can remember getting the corn on the cob broken in half and having to share it with one of my cousins. You can imagine the look on my face was one of confusion.
As an adult, I get to have the entire corn cob just for myself, and so can you!
Ways To Season Your Corn Cob
Let's start with the fact that good baked corn needs nothing.
Maybe some butter or garlic butter (sprinkle in some garlic powder into your butter) if you like. The reality is it is perfection on its own.
Looking for some variety, then you can check out some of the variations below that you can try. (Changing the ingredients from the original recipe will alter the flavor, but if you are here it means you love cooking or at least love food and are trying to up your game).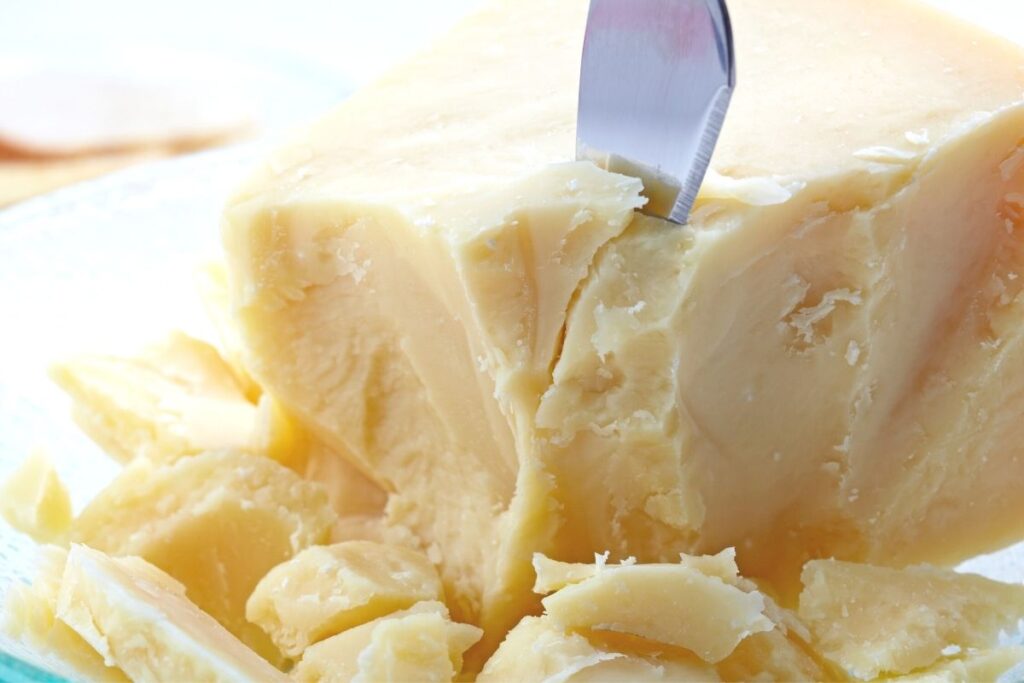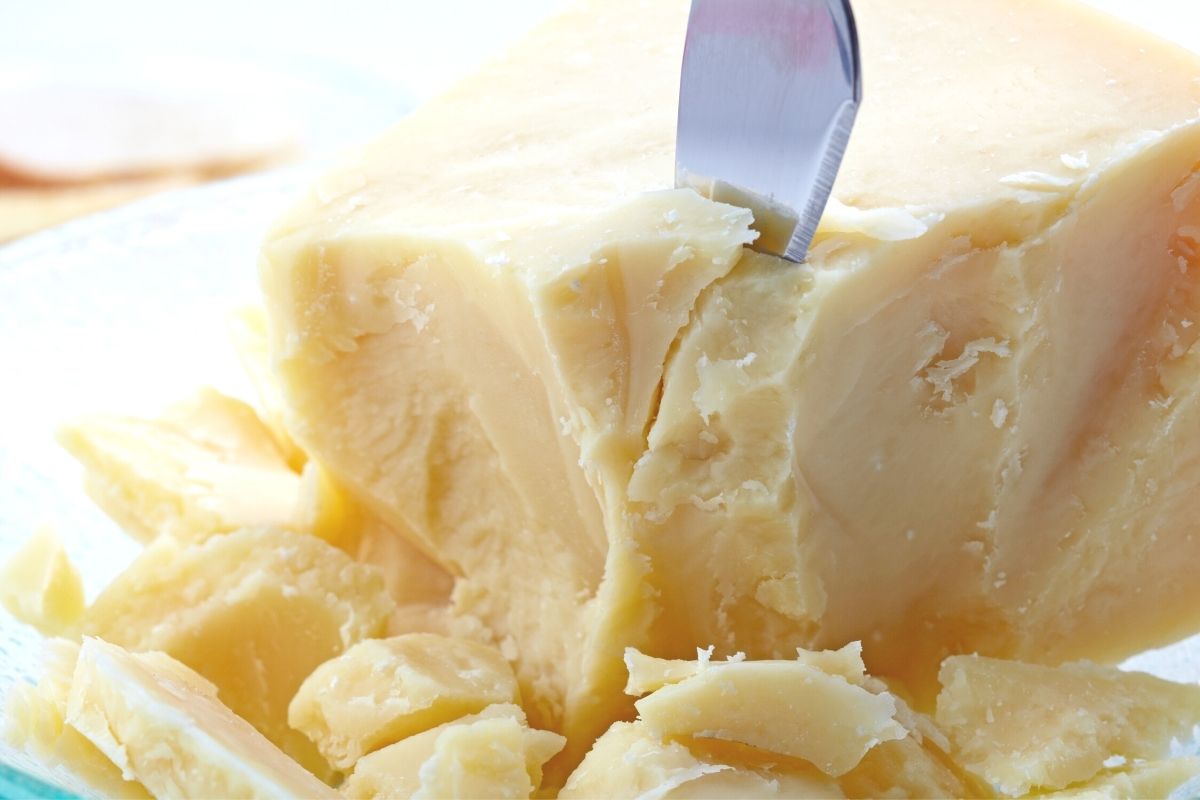 Mayonnaise: This is what gives the sweet oven roasted corn a creamy base when mixed with the sour cream. Greek yogurt can be used in place of mayonnaise, but this swap is only for if you are looking for a bit of a healthier touch. This will change the mixture and make it less dense as well. Be sure to get plain and not vanilla yogurt. Again, I want to warn you about the flavor difference when swapping this ingredient out for yogurt. It is not the same.
Sour Cream: This is what mixes with the mayonnaise as a base allowing the flavoring to soak into the corn easily. If you don't have sour cream or don't prefer sour cream you can use Mexican crema to mix with the mayonnaise instead.
Parmesan: This ingredient will give the corn more salty, nutty and buttery flavor. If you don't have parmesan you can use cotija cheese or feta cheese. Other cheeses that work well with on the cob oven roasted corn: shredded halloumi, gorgonzola, manchego or gruyere
Flavored Butter: If you wanted to jazz up your normal softened butter and turn it into garlic butter, go for it! It will take your roasting corn to a whole new level. You can use salted or unsalted butter and any combination of flavors. Oven corn on the cob goes with smoked paprika, creole seasoning, roasted garlic, or your favorite fresh herbs.
How To Cook This Oven Roasted Corn On The Cob Recipe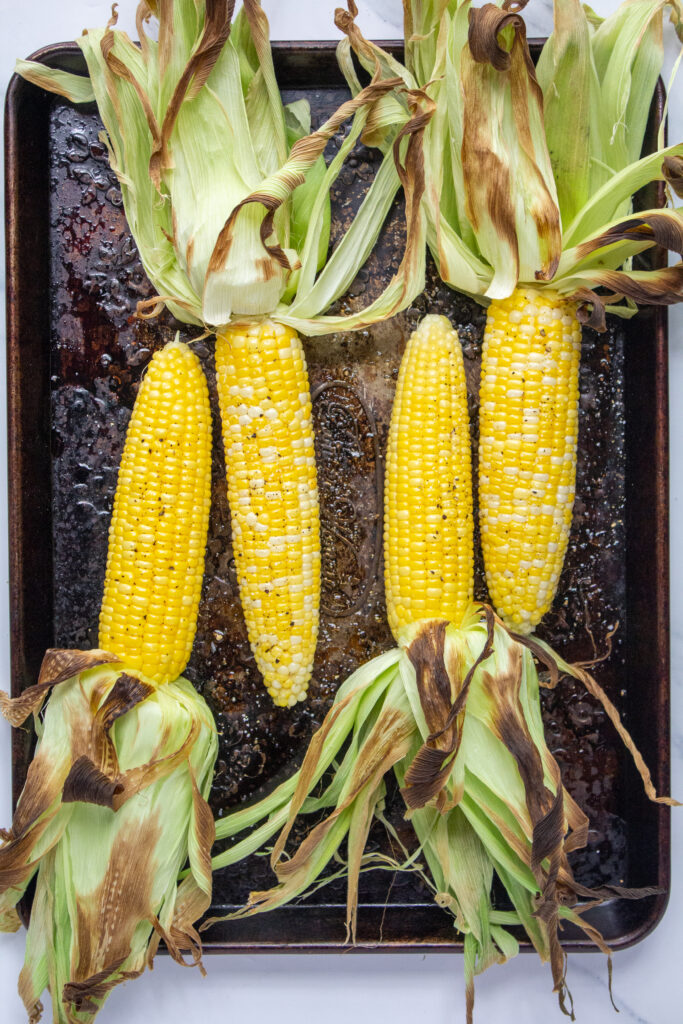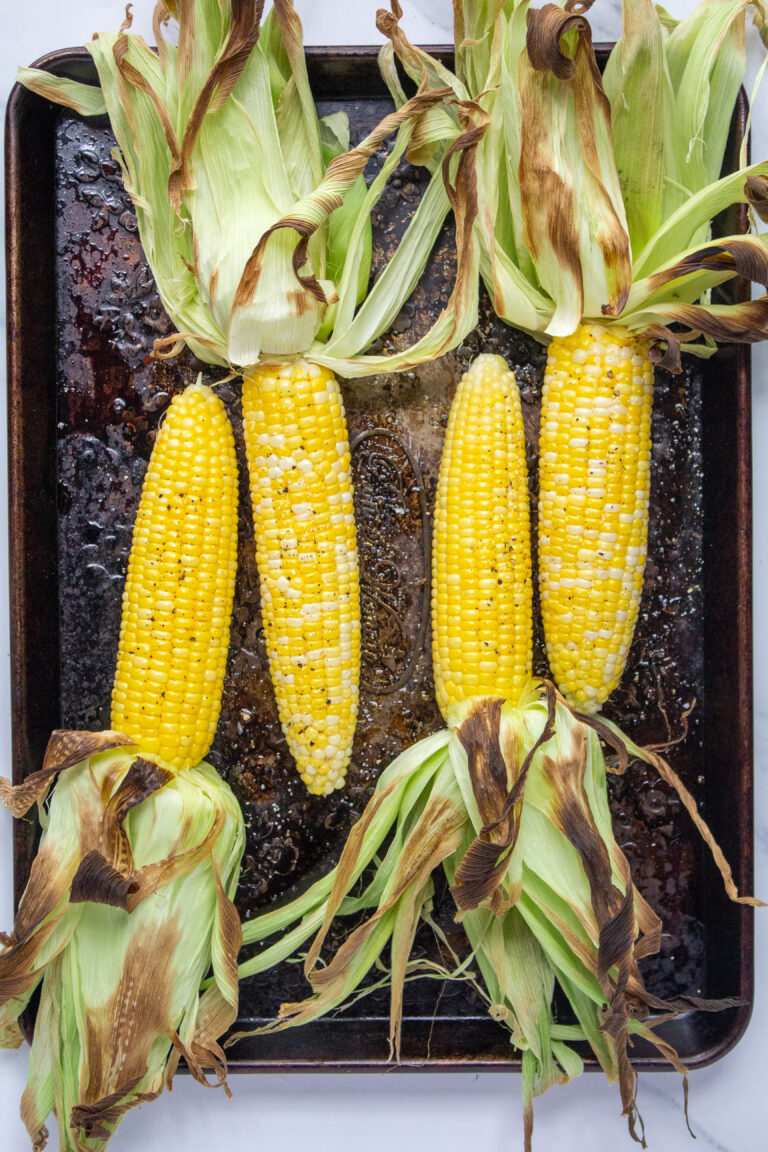 Not only is this recipe delicious and budget friendly, but it is also extremely easy to make.
With only six ingredients.
Corn: Make sure to pick the freshest corn for this recipe (tips on picking sweet corn below) 
Mayonnaise: Part of the mixture base 
Red Chili Powder: Spices to give it flavor. The spiciness is based on the preferences of each person making the roast corn .
Limes: Giving it that extra tang!
Parmesan Cheese or Cotija: Top it off with parmesan or Cotija cheese coated over the corn and base mixture.
Sour Cream: Part of the base mixture.
You will need to pre-heat the oven to 350 degrees Farenheight and once the oven is ready you can put the cook corn.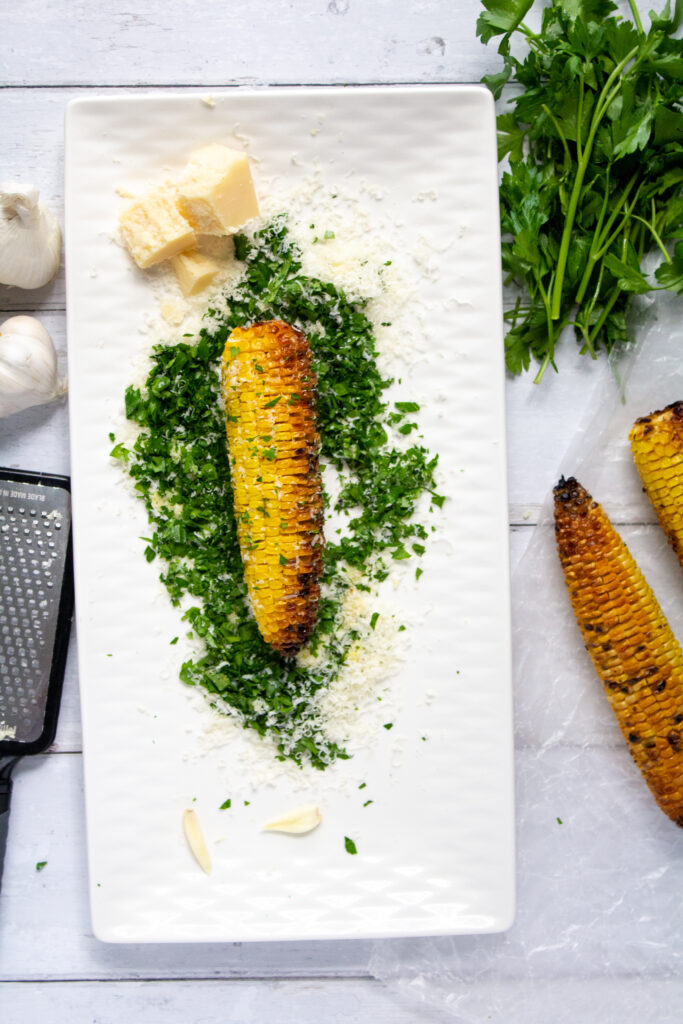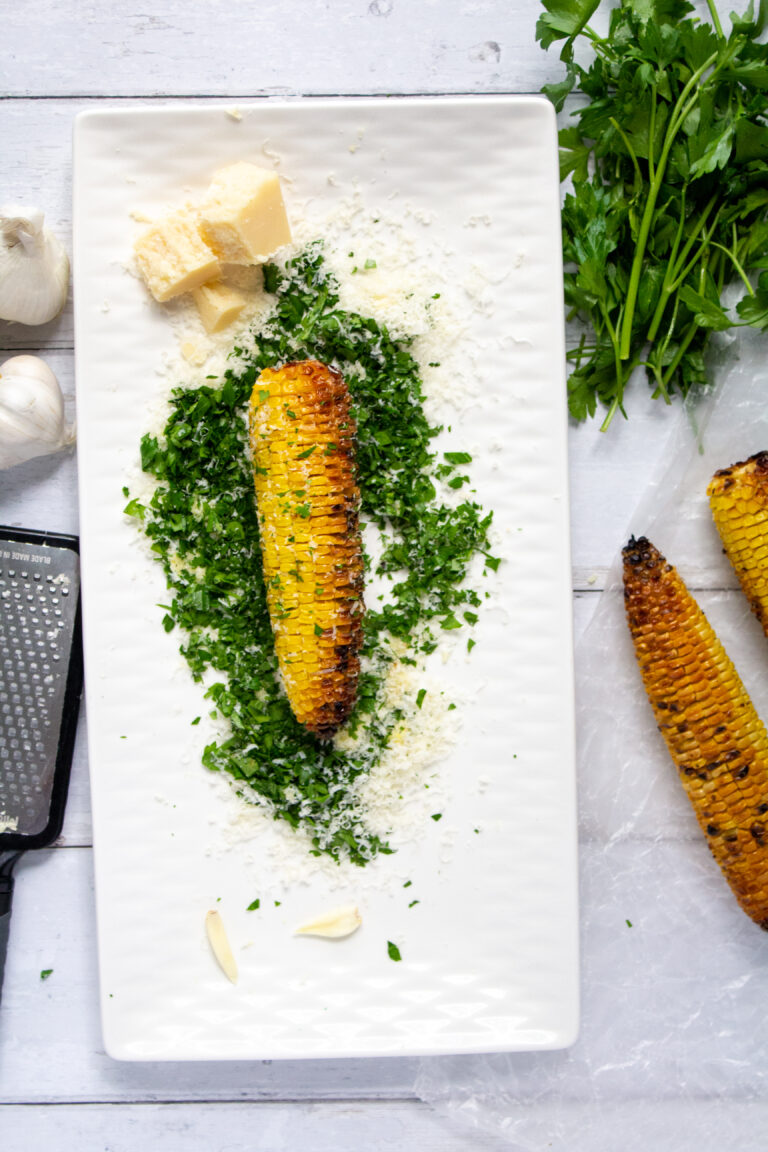 How Long Does It Take Roast Corn In The Oven
This corn on the cob recipe takes 40-45 minutes. This lets the juiciness and flavors develop to ensure that it is baked sweet.
You will know when they are ready when the corn is heated through and tender throughout!
What Can I Pair with This?
Corn on the cob in the oven can be paired with any amazing BBQ dish such as:
There are also many more dishes and recipes to choose from on my Meals Made Simple page.
Tips on How to Pick Fresh Corn!
When choosing the best corn for this dish you will need to look at the 'tassels' sticking up at the top of the corn; if they are bright green and tightly wrapped against the cob then that is when you know it is fresh. If they look dark and dry, then that corn is not fresh!
I promise you this recipe will make a great addition to your meals and become an all-time family favorite that you will want to make every summer, you may even have neighbors and friends come over just so you can make them this yummy oven roasted corn on the cob.
The good news is that this oven charred corn recipe isn't necessarily a seasonal dish, you can also enjoy this dish in the cold winters cozied up next to the fireplace!
The good news is that roast ears of corn aren't necessarily a seasonal dish, you can also enjoy and roast corn without a grill in the cold winters cozied up next to the fireplace!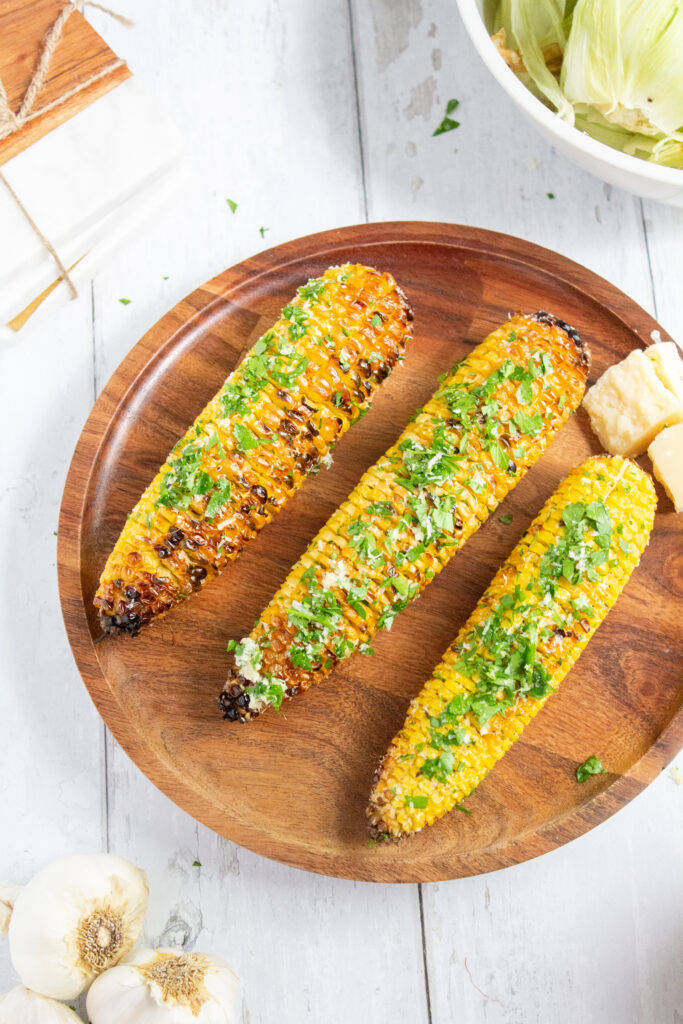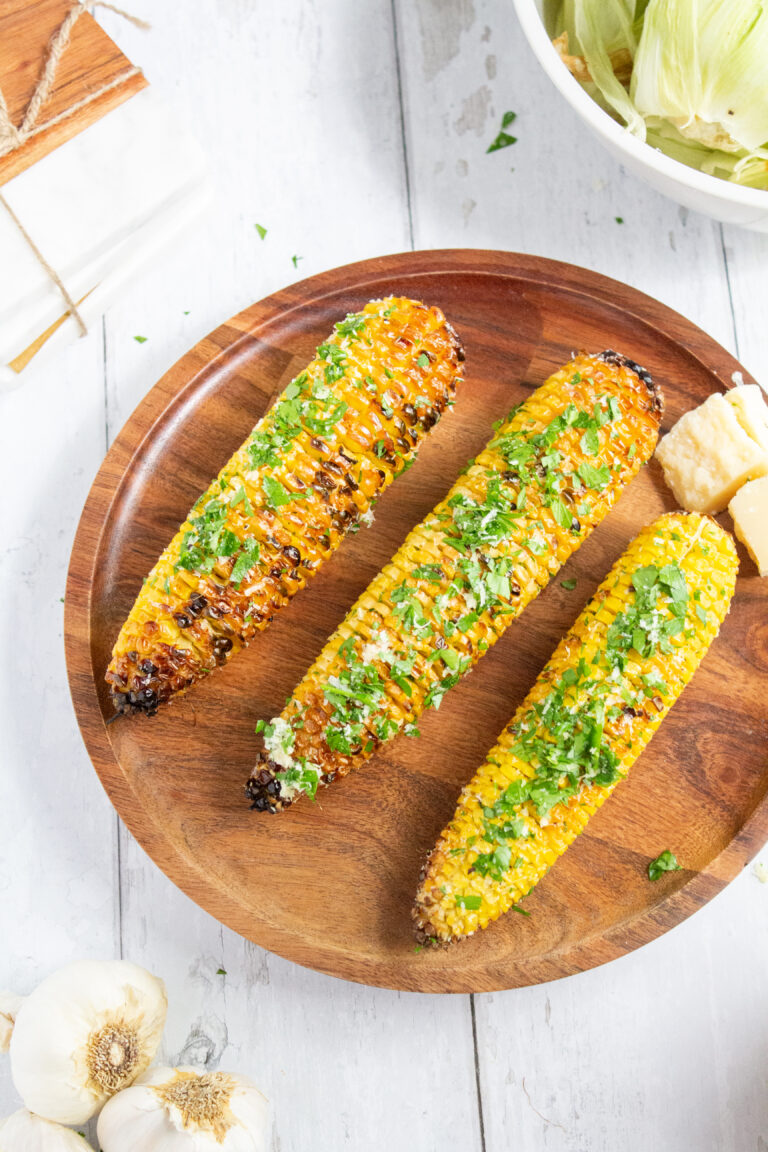 Nothing better than the sweet taste of roasted corn on the cob.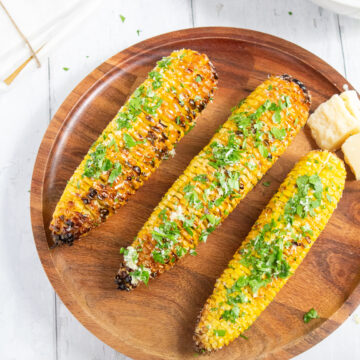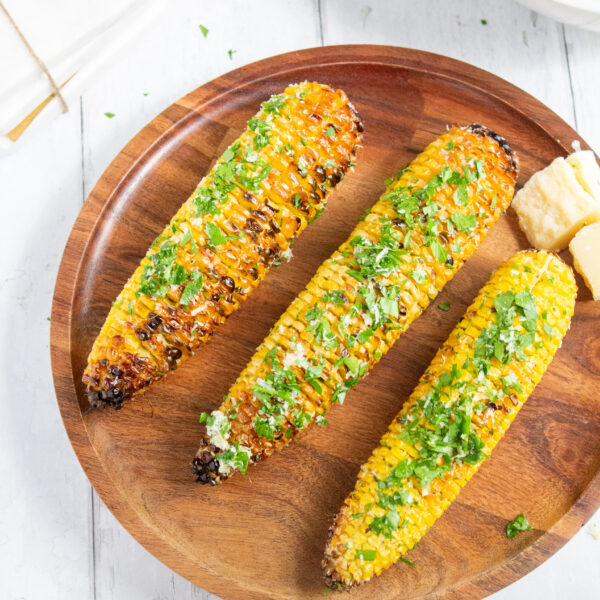 Oven Roasted Corn On The Cob
Corn is a sweet, creamy and nutty vegetable that we can't get enough of. And this Oven Roasted Corn On The Cob will let you enjoy the delicious taste of this summertime favorite any time of the year. 
Ingredients
8

ears

Corn

1/2

cup

Mexican crema or Sour cream

1/2

cup

Mayonnaise

1/2

cup

Cilantro

optional

1/4

tsp

Ground chipotle pepper

to taste

1/2

cup

Parmesan or Cotija cheese
Instructions
Preheat your oven to 350 degrees Farheneight

Shuck your corn, rinse it off and salt and pepper it

Add your first corn cob to your pan (you want to make sure they will all fit on one pan with space)

Add the remaining corn directly to the pan and place in the oven

Bake this recipe for 40-45 minutes. Or until you cook corn and it is tender.

While the corn is cooking, make your sauce.

Mix mayonnaise, Mexican crema. lime juice in a small bowl. Place in the fridge to let cool and combine for 40 minutes.

Once you are done cooking the grilled corn in the oven, remove pan and place on a trivet on the counter.

While the roast corn is still hot, use a basting brush to baste the corn on the cob with your sauce

Use tongs or a fork to rotate the corn on the cob to get all sides basted.

Once basted, use your tongs to hold and rotate as you add your cheese and seasonings.

Place on your serving platter, or back on your roasting pan when done with the baked corn.
Notes
Aluminum Foil: is a great way to cut the cooking time down. Individually wrap each ear of corn, season and cook corn. The baking time should go down to half (roughly 20 to 25 minutes to bake corn)
Corn Husks: can be left on or off your ears of corn. I use the corn husks in place of aluminum foil too! Great way to use what you have. I also think this enhances the flavor of the corn by using the corn husks to wrap corn.
Nutrition
Calories:
771
kcal
|
Carbohydrates:
3
g
|
Protein:
2
g
|
Fat:
84
g
|
Saturated Fat:
13
g
|
Polyunsaturated Fat:
50
g
|
Monounsaturated Fat:
19
g
|
Trans Fat:
1
g
|
Cholesterol:
47
mg
|
Sodium:
715
mg
|
Potassium:
82
mg
|
Fiber:
1
g
|
Sugar:
2
g
|
Vitamin A:
634
IU
|
Vitamin C:
3
mg
|
Calcium:
15
mg
|
Iron:
1
mg
Did You Love This Recipe?
Follow me on Pinterest For More Inspiration! @KarlaHarmer