I think I gained twenty pounds just looking at all these amazing Fall Breakfast Ideas, But is it really Fall if you are not having yummy and indulgent foods that warm the soul?
These recipes are a must-try for all the delicious flavors of Fall!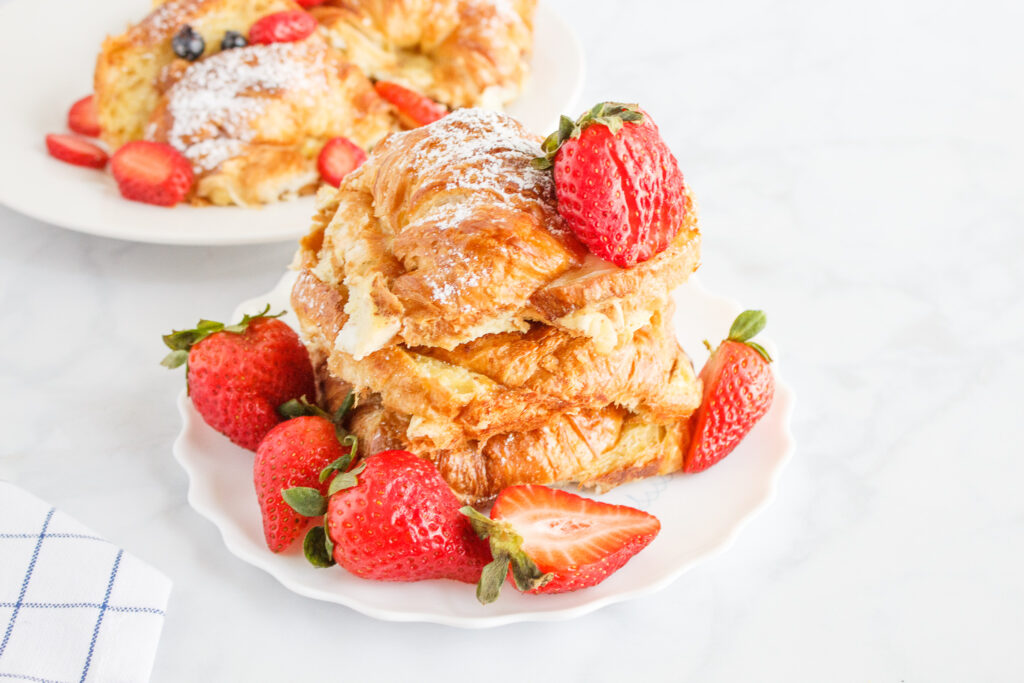 This post contains affiliate links, some of which may be Amazon links which means I receive a commission, at no extra cost to you, if you make a purchase using this link. Thank you!
There's something about Fall that makes us all want to cozy up with a warm cup of coffee and a filling breakfast.
Maybe it's the chilly weather or the changing leaves, but whatever the reason, we're here for it! If you're looking for some inspiration for your Fall mornings, look no further.
We've gathered up some of our favorite recipes for a delicious Fall breakfast. From pumpkin caramel sticky buns to apple cinnamon crumb cake, there's something for everyone on this list!
Easy Fall Breakfast
Let's start off with some of the easy Fall breakfast ideas. Most of these will be perfect for small and large families. The recipes have simple ingredients and require very little prep time.
1. Croissant French toast bake
2. Sourdough banana bread
3. Brioche French toast casserole
4. Banana bread French toast
5. Sourdough monkey bread
6. Sourdough challah bread French toast
7. Sourdough pancakes
8. Dutch baby German pancake
Fall Breakfast Ideas with Apples
These breakfast recipes contain fresh Apples – chopped, grated, sauced or just sliced. I like to use apples in my breakfasts because they add some wholesome sweetness.
9. Apple crumb cake
10. Sourdough apple cake
11. Cinnamon roll apple bake
12. Cinnamon rolls with apple pie filling
13. Apple fritter donuts with maple glaze
14. Apple and pear bread with apple cider glaze
15. Cinnamon apple French toast casserole
Fall Breakfast Ideas and Recipes that use Pumpkin
Pumpkins are delicious, high in antioxidants, and add a subtle sweetness to breakfast recipes. I hope you like these pumpkin-based autumn breakfast ideas. Pumpkin is a favorite fall ingredient in many fall breakfast recipes which also use it.
16. Baked pumpkin donuts with coffee glaze
17. Vegan pumpkin waffles
18. 3 Ingredient pumpkin muffins
19. Pumpkin cake donuts with cream cheese frosting
20. Pumpkin caramel sticky buns with pecans
21. Pumpkin pie oatmeal smoothie
22. Healthy pumpkin pie protein smoothie bowl
23. Pumpkin cheesecake bars
24. Creamy pumpkin spice latte overnight oats
25. Pumpkin chocolate chip muffins
26. Baked sweet potato oatmeal
More Fall Breakfast Recipes
27. Overnight gingerbread French toast breakfast bake
28. Sweet potato breakfast hash
29. Biscuits and sausage gravy
30. Sweet potato crust spinach quiche
31. Breakfast cookies
32. Shakshuka
33. Pecan sticky buns
34. Instant Pot steel cut oats with Earl Grey tea
35. Vegan and gluten free chai spiced teff waffles
36. Hash brown breakfast casserole
37. Butternut squash sausage frittata
38. Spinach mushroom quiche
39. Gingerbread waffles
More Fall Ideas