Meal planning is more than just choosing a bunch of recipes – it has multiple steps and variations of what can be done to help you meal plan less often. Today I'll break down some of my best tips and tricks to help you succeed at meal planning.
This post contains affiliate links, which means I receive a commission, at no extra cost to you, if you make a purchase using this link. Thank you!
Whenever you look up meal planning you will find a long list of meal prep services, meal planning menus, and a bunch of recipes. It is really hard to find the basic concept behind meal planning. So I wanted to talk a little about what meal planning is and how I meal plan in my home.
There are so many neat tips and tricks that can help you to become more of an expert at meal planning. It is not complicated and it really does not require a lot of work. You can even do a few methods instead of all of them. But they all work and they are all fabulous for saving money, reducing waste, and keeping you sane.
I first started to really focus on meal planning when I was first married. I wanted to be able to save money for a house and to pay down debt. The only real way to do that was to cut expenses, and one of those expenses was food, so I went and researched as much as I could.
I wanted to be able to make easy family meals that everyone would be able to enjoy.
Meal Planning Spices and Herbs
Buying in bulk
Taking my own jars.
Getting just what I need and not wasting spices. I am struggling a bit with this now since the pandemic. I am buying some spices in bulk, but also going more towards fresh.
Herb garden
It's simple and easy to set up an herb and sprout garden. You can grow from seed and start indoors or outdoors, or you can buy from a nursery. You can even get them from a community of local gardeners who have excess.
I keep an Italian herb garden now, because I know that this is something that I use for so many dishes. I also am starting a year round herb garden indoors, so that I do not have to worry about extreme temperature changes. I have an herb garden light that I set up for testing this year. I'll see how it grows in soil, and this will allow me to keep fresh herbs on hand.
In previous years my herbs were grown in a hydroponic herb garden indoors, which was fabulous, but I found it to not be cost effective, so I made some changes to the process.
Homemade spices
Oftentimes, if I know I am not going to be able to use something up, I will dehydrate it. It's quite simple to do – you can use a machine or the sun.
It is easy to make your own spice mixes. I have done it for years and love it. It allows you to really adjust to your family's tastes.
I have made Indian spice mix, ranch dressing mix, taco seasoning, Mexican spices, fajita seasoning, Italian seasoning mix, curry spices, Asian spice blend, no salt taco seasoning,
Vegetable seasoning blend, no salt seasoning – which is an all purpose seasoning, cajun spices, bbq rub, Greek seasoning and so much more.
Things like Italian spices can be used for so many things, like chicken parmesan, chicken cacciatore, spaghetti, Italian wedding soup, marinara, pizza sauce, and as a base for a vodka sauce. The list just goes on and on.
You can also toss them in the freezer if you do not plan to use the entire mix up in a few months.
If I had carrots, onions, onion tops, garlic, or hot peppers I would dehydrate them and put them into mason jars, that way I can use them and add noodles, maybe a protein or two and maybe a hard boiled egg and have soup.
Photo from 2012 when I started becoming a master at dehydrating
Save money and lower food waste
In order to have less waste I think it is important to focus on a few key solutions before, during and after the purchase of your food.
Lower food waste in 8 easy steps
FIFO: I am a firm believer in following a system, and the fifo method is perfect for any home kitchen. But I wouldn't say that I am rigid about it, I can forget things just like anyone else. I like to follow a simple system of FIFO (First in first out), so that I use up the ingredients before they go bad. Make sure to keep a list of groceries to buy so that you know what you need vs. what you want.
Freeze leftovers: If you have food in the fridge for more than two days, there is a really good chance that you will not eat it. Especially if you do not make a plan for leftover days. You can freeze the food. I have containers that I use for leftovers, and I freeze in three simple steps. First, I make individual tv dinners for those of us that loved the food and want to have it later. And since you can cook frozen meals, this method is great for fast dinners on busy nights, too! Second, I make family meals/sides if it can go with something else or there is not enough of it left to be a full meal. These freezable dinners have saved me on many occasions when I forgot to get something from the store. Third I freeze it in bulk if everyone loves it, but we've just had enough of it for now. I mark the date and put it in my family Google calendar as a pop up reminder to eat it during a certain week.
Food variety is good too. Switching it up can keep everyone happy. If you have excess meat, veggies or fruits that no one wants to eat, you can get creative and make new meals from them, even something that you have never made before. This will help use up things before they go bad and add a little adventure into your meal planning. For example: I had several pounds of chicken that I knew I was not going to make the same old dishes with, so I turned it into a dish that is a bit heavier with lots of herbs and butter, that I don't eat very often, which is lemon chicken. It was so perfect! And I have not had chicken since. I have moved onto ground turkey now. I keep a list of foods that are favorites in our family so that I can keep a rotation going, and this is part of my extended basic food list that I keep in my meal binder.
Compost – I know right. Of course we all know about composting kitchen scraps, but how many of us actually do it? I didn't start until 2020, but now I'm hooked. I simply keep a bowl on the counter top and drop in all of my scraps. I put in egg shells, coffee filters and coffee grounds, tops of carrots, onion butts, lettuce ends, cabbage butts, and peels of all fruits and veggies. I keep a small compost heap in the backyard just for kitchen scraps. I would like to eventually get a worm composting bin, but the worms just naturally come to my compost piles, so it seems like it's not really necessary.
Store your food properly. This was something that has been taught to me through the generations. You can save your food in the fridge or on the counter top for weeks if you take care of it.
Turn veggie scraps into soup stock. Before I went the route of composting, I used to just turn all of my veggie scraps into stock. I placed it in a container in the freezer and when I had enough for stock, about half a stock pot full, I added water and I let it cook for a few hours, minimum.
Inventory: It is wise to shop your home first before going to the store. It does not have to take a lot of time. It can be as much as 10 minutes. 4 minutes in your pantry, 4 minutes in your freezer and 2 minutes in your fridge. That's it. Make a list in the pantry of things that you need to use, but maybe really don't want to use. Do the same with the freezer. Working in those things each week will help you keep your inventory fresh, meal ideas flowing and variety in your dishes.
Buy less at the grocery store. Cut $100 off your grocery bill each month or even each week if you are daring, and see if this helps reduce waste. In my experience, people generally end up more focused on what they purchase if they remove the money aspect from their shopping.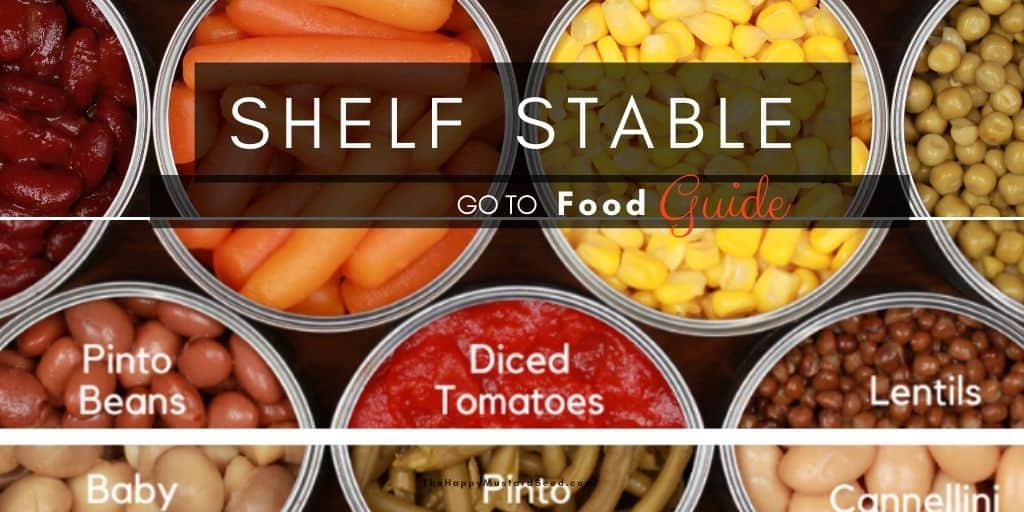 Learn More about incorporating shelf stable foods into your meal plan. Shelf Stable Food Guide
What is an easy thing to cook for beginners?
There are so many easy recipes for you to incorporate into your meal plan. You can start with chicken salad, homemade sloppy joes, steak with my homemade steak marinade, and eggroll in a bowl is always a hit.
What are some meal planning ideas for families?
My favorite suggestion is to keep a binder. This way you can keep everyone's favorite recipes in the meal planning binder and you can rotate meals. I also keep a list of everyone's favorite meals that we do not cook often, have not cooked, or that maybe they are the only ones that like it. This helps to get special meals set up for them on busier days.
Do you need free meal planning ideas?
Sign up for my 5 day meal planning course. It is absolutely free and you will be able to get started with meal planning right away!
Next Steps:
Do you want to learn how to meal plan step-by-step with instructions? Are you tired of wasting money, time and food? Do you order out because you can't figure out how to get dinner on the table in a short amount of time? That is exactly what I was going through. But now I have made it so simple to do that even your children can follow the systems. You'll learn the best resources to use to get good deals from the store (with and without coupons), you'll learn how to save time searching for recipes (by using quality recipe websites) plus you'll learn how to budget out the correct amount to spend in your family for your grocery budget, and more. Grab it here and get inspired to create easy family meal plans.


You've got this!
You will never have to spend an entire day cooking up a week's worth of meals. You will have a system that will help you to save money, time and also decrease the amount of waste that you have. Are you ready to get started? Start here
Recipes You'll Love: