Scalloped Potatoes And Ham, a classic dish that is sure to please the whole family. The combination of creamy cheese sauce and tender meat is such an easy recipe to make.
I grew up eating scalloped potatoes after Easter, Thanksgiving, and Christmas. However, they are also great for potlucks or parties because you can make them ahead of time and then simply pop them in the oven when you're ready to serve!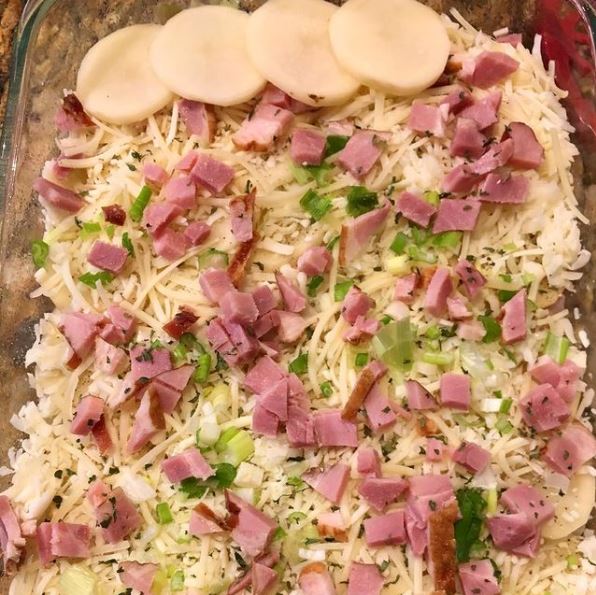 This post contains affiliate links, some of which may be Amazon links which means I receive a commission, at no extra cost to you, if you make a purchase using this link. Thank you!
What Is The Difference Between Scalloped And Au Gratin Potatoes
Potatoes au gratin is typically made with thinly sliced potatoes and layers of grated (grate is gratin in French) cheese sprinkled heavily between the potato layers and then topped with cheese and often filled with meat to be served around the holidays.
Scalloped potatoes usually have milk, heavy cream, or a combination of both added to the dish. It is filled with herbs, garlic, salt, and pepper.
Some of the recipes that I have seen floating around have canned soup (cream of mushroom, cream of chicken, cream of celery, cream of potato) added into them and calling them scalloped.
Although this is not the traditional way, it is ok to make the potatoes this way. It will depend on how you are trying to feed your family and what works for you.
This scalloped potato recipe that I am sharing today is more of a combination of scalloped potatoes and au gratin potatoes. Not sure if anyone else enjoys their potatoes and ham this way, but I thought I would share the way that my family loves to eat it.
Can You Make This Recipe Ahead Of Time
Yes! You can make this recipe ahead of time. If you are planning on making this for the holiday season or for a weekend brunch you can assemble and place it in the refrigerator overnight.
You can also bake it ahead of time and warm it up the next day. Whether you bake it ahead or refrigerate it overnight the recipe comes out delicious.
Why Are My Scalloped Potatoes Still Hard
My secret tip is that you must slice your potatoes first and put them in cold water. This will remove the extra starch that will cause the potatoes to cook longer.
This will help the potatoes to get a little crispness in the texture. Which is why I love scalloped potatoes.
Never put into hot water, it activates the starch.
How Long Do You Let Potatoes Soak In Water?
For this recipe, I would prep the potatoes first and then get your pan and other ingredients ready to go. Turn your oven on to preheat and you should be ready to then assemble your potatoes.
Do You Have To Peel Potatoes For Scalloped Potatoes
No. You do not need to peel your potatoes. You can wash them and slice them normally to bake.
I hope you love our family recipe! Let me know how you make scalloped potatoes.
More Recipes You'll Love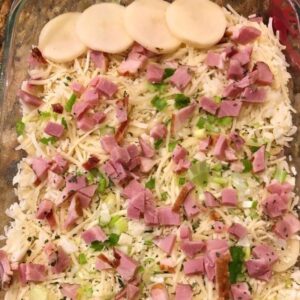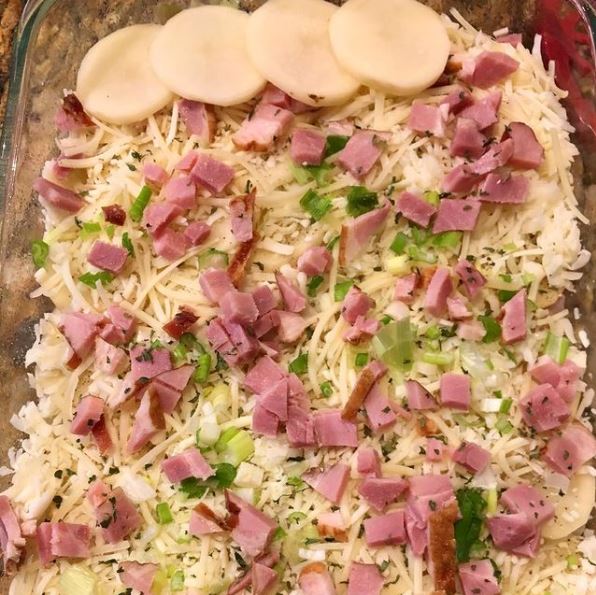 Scalloped Potatoes and Ham
Scalloped potatoes and ham is a classic dish that is sure to please the whole family.
Ingredients
9

potatoes

thinly sliced

6

slices of ham

cubed

3

green onions

thinly sliced

4

cups

mozzarella cheese

shredded

2

cups

parmesan cheese

shredded

salt and pepper

to taste
Instructions
In a cake pan put one layer of potatoes. 3 potatoes per layer

Cover potatoes with a handful of mozzarella and a small handful of Parmesan

Add a sprinkle of green onions and then add a handful of ham

Start steps 1-3 again until you fill your pan

Place cake pan on a baking sheet and put in a 400° oven until you can get a knife through your potatoes and cheese is melted.
Nutrition
Did You Love This Recipe?
Follow me on Pinterest For More Inspiration! @KarlaHarmer